In this guide, we will discuss the best exchanges to use in Singapore and their features, as well as their pros and cons when buying bitcoins. Thus, you will be able to stay tuned about all available services of this country.
Summary: How to Buy Bitcoin in Singapore Online
Open an account at an exchange of your choice (GDAX in our example).
At GDAX, you have to complete verification process by providing your scanned ID and proof of address.
Go to "Deposit" tab and transfer USD or EUR funds in order to buy BTC.
Go to your dashboard page and create a trade order by choosing "Market" function.
Input amount of BTC you wish to purchase and click "Place Buy Order".
Check your BTC and USD balance to make sure everything ran smoothly.
Withdraw coins to your external wallet by clicking "Accounts" and then "Withdraw".
Bitcoin is a cryptocurrency that derives its value from solving blockchain puzzles. In short, it is considered to be the currency of the internet, or the future, as some say. Most fiat currencies, like USD, EUR, or GBP, have a marketplace wherein people trade of the rise and fall of their values. These are called currency exchanges.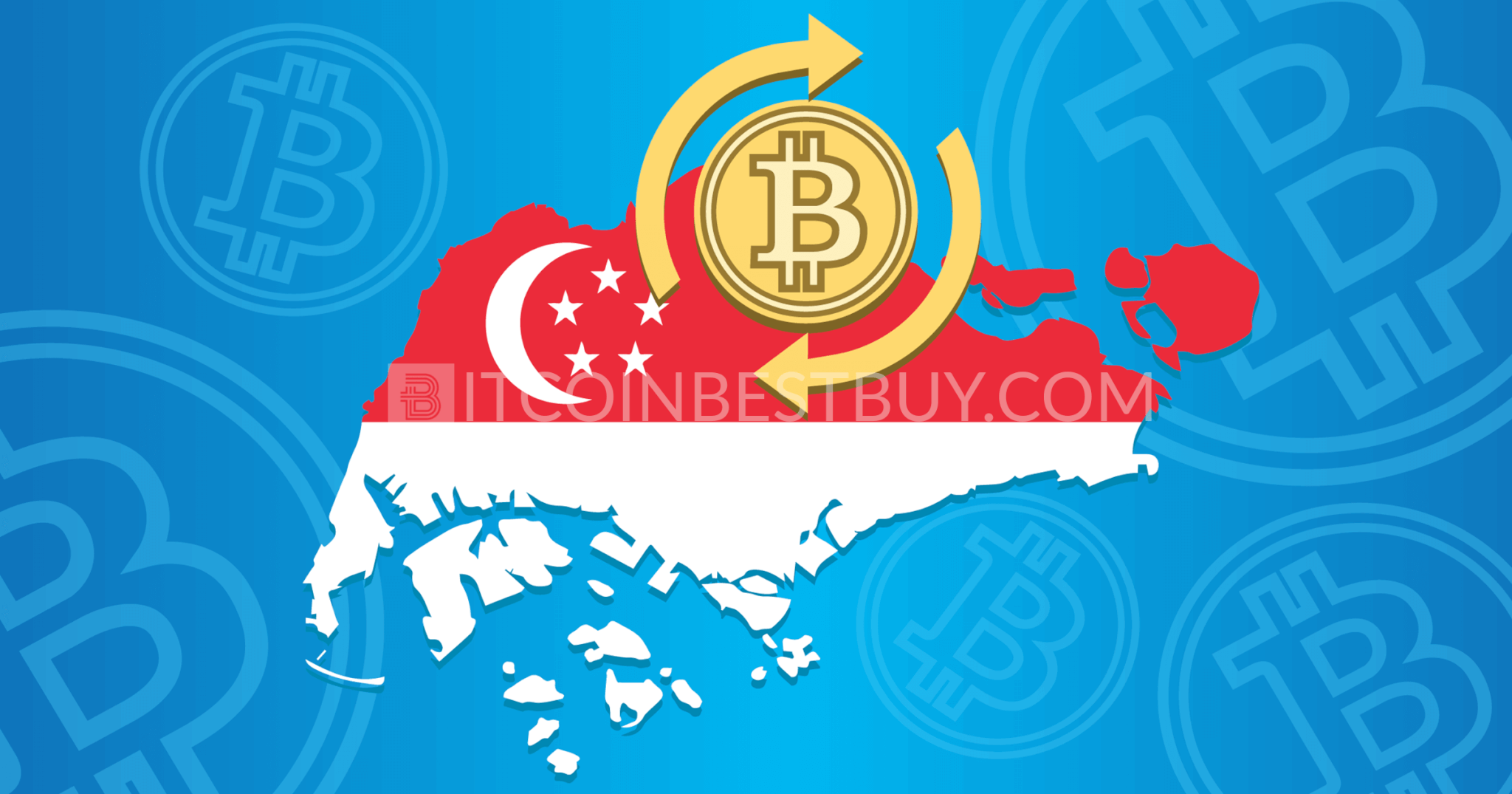 Bitcoin and other cryptocurrencies have these marketplaces as well, online exchanges in which people trade in them and use them to acquire the currency of their preference. Online platforms that allow you to purchase and sell coins exist all over the world, and Singapore is not different in that aspect.
Is Bitcoin Legal in Singapore?
Bitcoin and the whole concept of cryptocurrency are somehow, relatively, new. Some countries financial legal bodies found no harm in acknowledging the cryptocurrency concept and permitting people to buy BTC and other cryptocurrencies with no restraint.
According to various news sources, bitcoin is legal in Singapore, yet under the scrutiny of financial regulation. Singapore's central bank stated in many instants that they encourage the integration of bitcoin and other cryptocurrencies, only under the watchful eye of financial authorities. It is important to note that the currency is still waiting for full regulation policy. Currently, only fiat money is involved, bitcoin still resides in the gray area.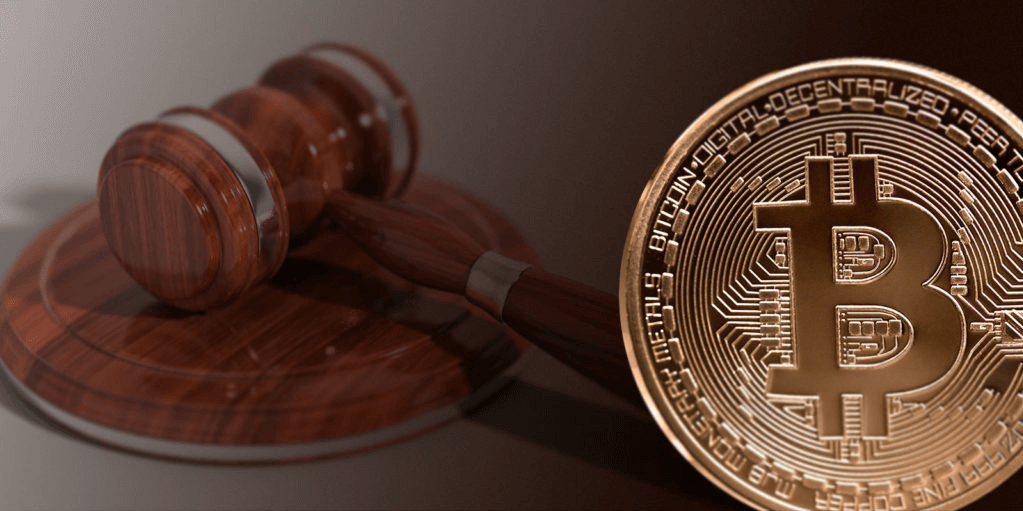 You are subject to a tax and insurance requirements only in case you trade the coin with BTC or SGD, which are treated as an online asset, not as a legal tender.
Available Payment Options
Online banking and e-commerce have widened the range of payment options available for people in Singapore. Besides the current globally acceptable methods of payments, such as bank transfers, cash, and cheques, there exists now other methods provides by financial derivatives provided by online banking companies. You can pay for bitcoin using USD from some marketplaces offering the service of purchasing BTC.

Credit cards, however, still hold the top place in terms of popularity, as these provide security and speed when buying bitcoins. Bank transfers come in as the next most popular method, due to low fees and availability in the market when it comes to exchanges. E-payments like PayPal and Skrill are slowly taking their own piece of market share though they are yet to reach the heights of bank accounts and cards.
Top Singapore Exchanges to Get Bitcoin
In this review, we will discuss the most optimal options to consider if you want to buy BTC in Singapore. The main criteria for choosing these exchanges is that they are safe, meaning that the exchanges themselves are not scandalous or spotting scamming behavior. Also, they offer a wide range of features that cannot help but be reckoned.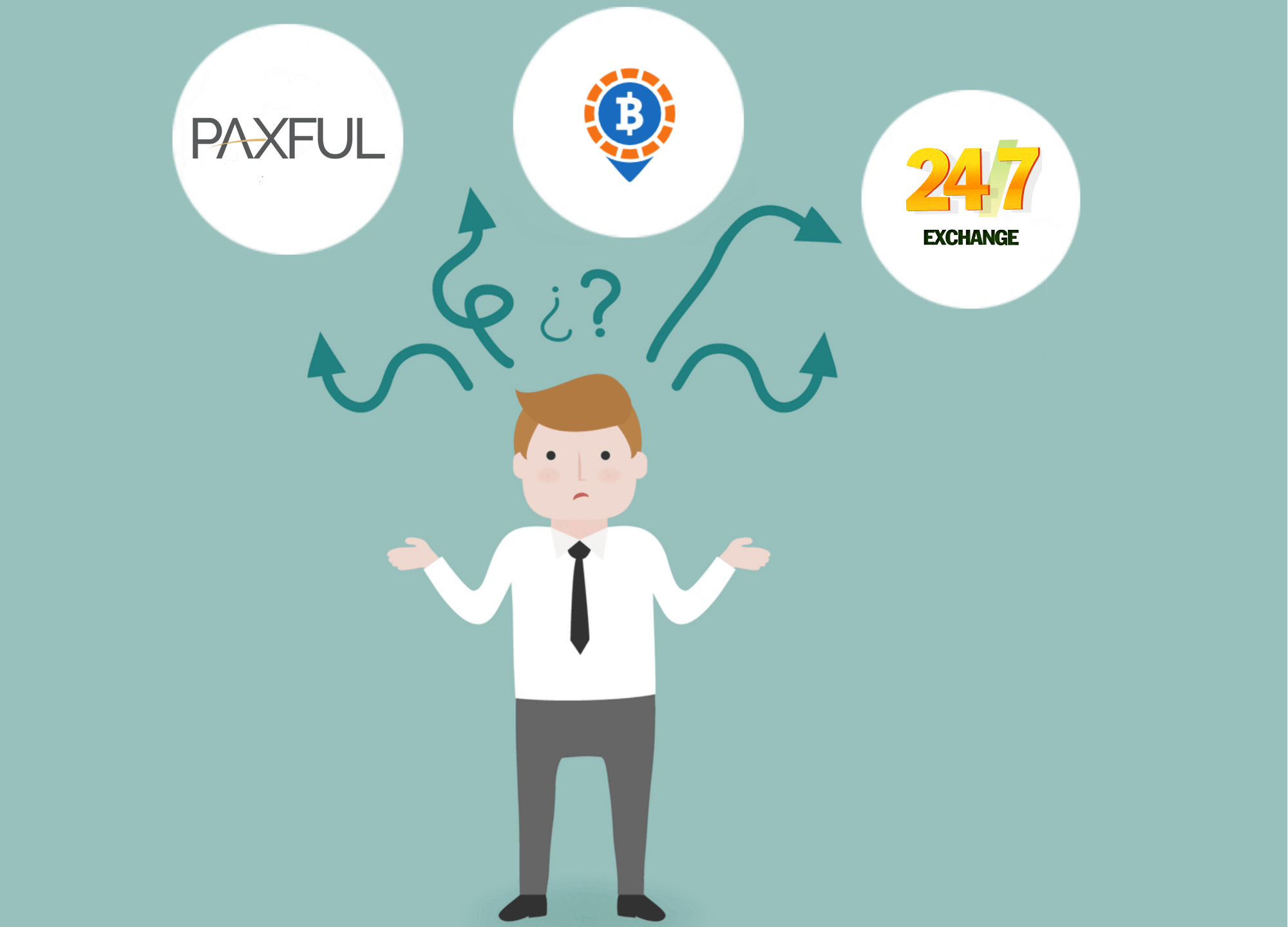 We will focus on the main features that traders consider when they choose the exchange to deal with.
itBit
itBit is a BTC exchange wherein you can buy and sell your BTCs and other cryptocurrencies. itBit is licensed by the NYDFS (New York Department of Financial Security) and considered to be a reasonable choice of an exchange if you want to buy large sums of bitcoins.

Moreover, itBit offers OTC (over-the-counter) trading services, offering a different variety than available in the exchange sometimes. As Singapore Dollar is one of the currencies supported by the exchange, it will not be such a problem to pay if you consider buying BTC in Singapore.
Pros
supports Singapore Dollar, making it easy to buy BTC from Singapore;
secure and legit;
offers a wider variety of rates due to OTC features;
fees are 0.20% on buying and no fees on selling;
withdrawing and depositing in SGD is free of charge.
Cons
requires identity verification. You can eliminate the element of privacy in this one;
limited payment options. itBit supports only the USD, EUR, and Singapore Dollar.
Coin Republic
Coin Republic is one of the renowned names to mention if you consider BTC trading in Singapore. One of its features is that it supports its own ATM machines, currently supporting up to 4 different machines, where you can liquidate your funds with ease. These allow you to withdraw amounts of money and easily cash out your funds with minimum fees.

The Coin Republic has its own blog. The website feature interviews with investors and influencers. Also, a list of helpful articles explaining the concept of bitcoin and cryptocurrency trade and investment. It is important to note that verification is mandatory while the interface can be quite confusing for starters.
Pros
secure and considered to be one of the most reputable exchanges operating in Singapore;
has its own ATM machines operating in Singфapore;
provides useful tutorials on BTC.
Cons
requires verification and your bank account information;
the site's interface can be confusing to the new or prospect traders.
FYB-SG
FYB-SG was founded in 2013, a cryptocurrency exchange based in Singapore. FYB-SG focuses solely on trading from one fiat currency to bitcoin, SGD to BTC and vice versa, in this case. This makes it very optimized as an option for traders based in Singapore. However, a far-fetched option if you are located somewhere else geographically.

Some traders multi-layer the trade by exploiting the exchange rates gains or declines by trading in other currencies using it. As for the security, it operates with 2-Factor authentication method and password manager while the website is fully encrypted.
Pros
based in Singapore, therefore, supports SGD;
no fees imposed on depositing BTC;
required only your email address as verification.
Cons
limited fiat currencies options other than SGD as USD and EUR are not available;
can take some time for the BTC deposit to be reflected on your account.
Coinbase Exchange
Coinbase is considered to be one of the largest BTC brokers in the World. Coinbase works with a moderate number of countries, 32 to be exact, Singapore included and fully supported by its own fiat currency available.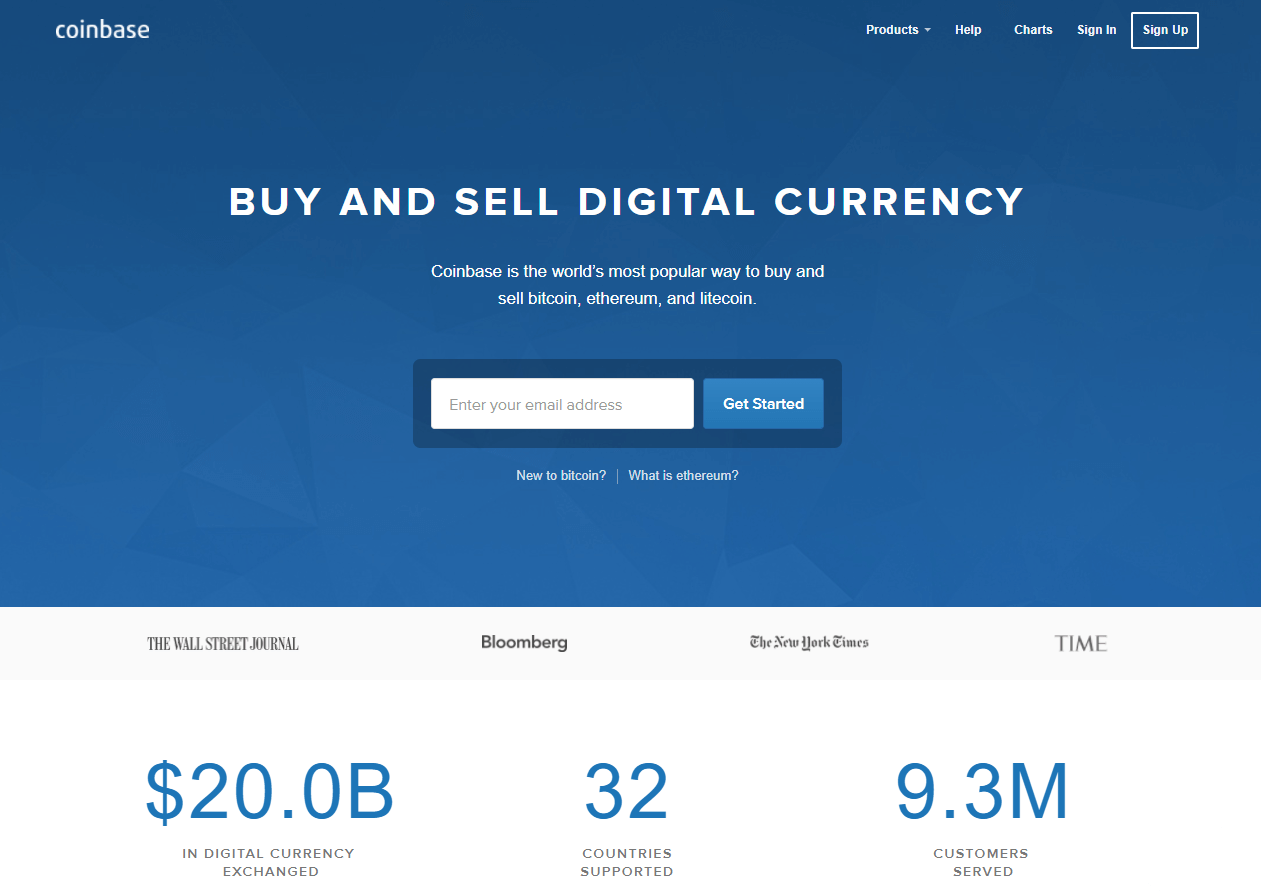 Coinbase approaches online exchanges and trading for currencies with an inclusive mindset, acting as a trader, broker, an exchange platform for their clients, and even offering an option of a wallet as an integrated solution for those who want to keep their funds digitalized. We have to mention that Cionbase applies strict KYC and AML policies, where identity check is extensive and requires scanned documents.
Pros
very flexible and versatile in terms of the services provided, acting as a broker and an exchange;
supports its own wallet;
supports a wide range of cryptocurrency.
Cons
requires identity verification, eliminating the element of privacy.
although the site's interface is considered user-friendly, it can be a bit confusing to the new user.
supports a limited range of payment methods: only bank transfers or credit/debit cards.
there have been claims that user accounts are monitored in favor of security and verification.
Indacoin
Indacoin is one of the exchanges that supports a wide array of cryptocurrencies. Indacoin was founded in 2013, basically, Indacoin operates in the European region. Yet, they support trading on bitcoin and other cryptocurrencies in Singapore.

Indacoin is well renowned for their support for a diverse global scale for trading, moreover, they provide an easy and secure environment for traders to benefit from.
Pros
the website is light and easy to use. We can consider it to be quite user-friendly.
there is no fee for depositing BTC.
no purchasing limits on the initial purchases. However, later on, high buying limits are imposed on buying.
requires only an email address and the wallet address.
Cons
the BTC trade rates are relatively high in terms of buying compared to other exchanges;
fees not shown in the calculation until the end of the transactions.
QUOINE
QUOINE is a fintech company, providing Financial Technology solutions in adversary to traditional banking and financial terms and institutions. QUOINE is regulated is listed and regulated in Japan, starting last year, 2017. QUOINE was licensed by the Japan Financial Services Agency. QUOINE operates in several counties, including in Singapore, Japan, and Vietnam. Since the platform is regulated, it provides a strong sense of stability and security.

On the other hand, due to regulation, privacy is not an option when trading bitcoins at this marketplace. QUOINEX is an exchange supported by QUOINE, adding to the supply.
Pros
supports referrals, rewarding both the referrer and the person referred with QASH;
provides a possibility of a demo account;
the exchange imposes no fees on withdrawal or deposits;
supports a decent range of fiat currencies.
Cons
the user interface for the exchange can be cumbersome to the new users;
required name identification in order to participate in the exchange.
Mycelium Local Trader
Mycelium Local Trader is a recurring name in all bitcoin forums and traders. The website allows people interested in buying BTCs to communicate and connect with sellers and browse through different rates and payment options, arranging a meeting in person.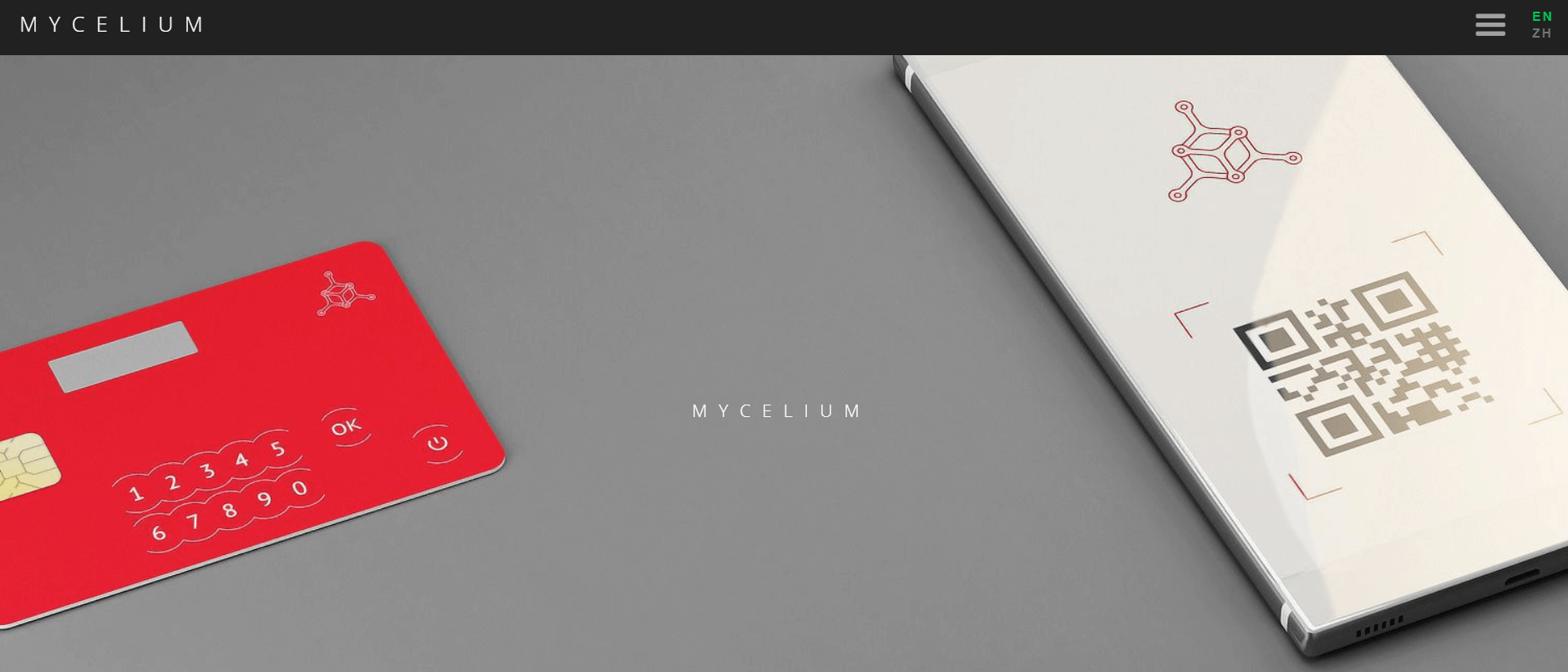 Mycelium supports its own wallet. If you are interested in trading on bitcoin, it is a reliable choice. However, if you are interested in other cryptocurrencies as well, it will not be much of an option. The wallet supports the storage of bitcoin only.
Pros
provides a variety of rates;
provides a variety of payment options;
requires only a cell phone number, allowing a higher sense of privacy to those who favor it;
supports its own wallet with well-reputed security regulations;
allows the integration of the exchange platform to buy BTC directly into the wallet.
Cons
limited options when it comes to the wallet, as it stores only BTC;
works only with mobile. Does not support desktop integration;
can be confusing to novice traders.
GDAX
One of the choices you should consider if you are thinking of joining the bitcoin Singapore scene is GDAX. GDAX is considered affiliated with Coinbase, even some hold it as Coinbase's online exchange platform extension. GDAX is one of the biggest BTC exchange marketplaces working in the USA. You can enrich your account with GDAX via bank wires.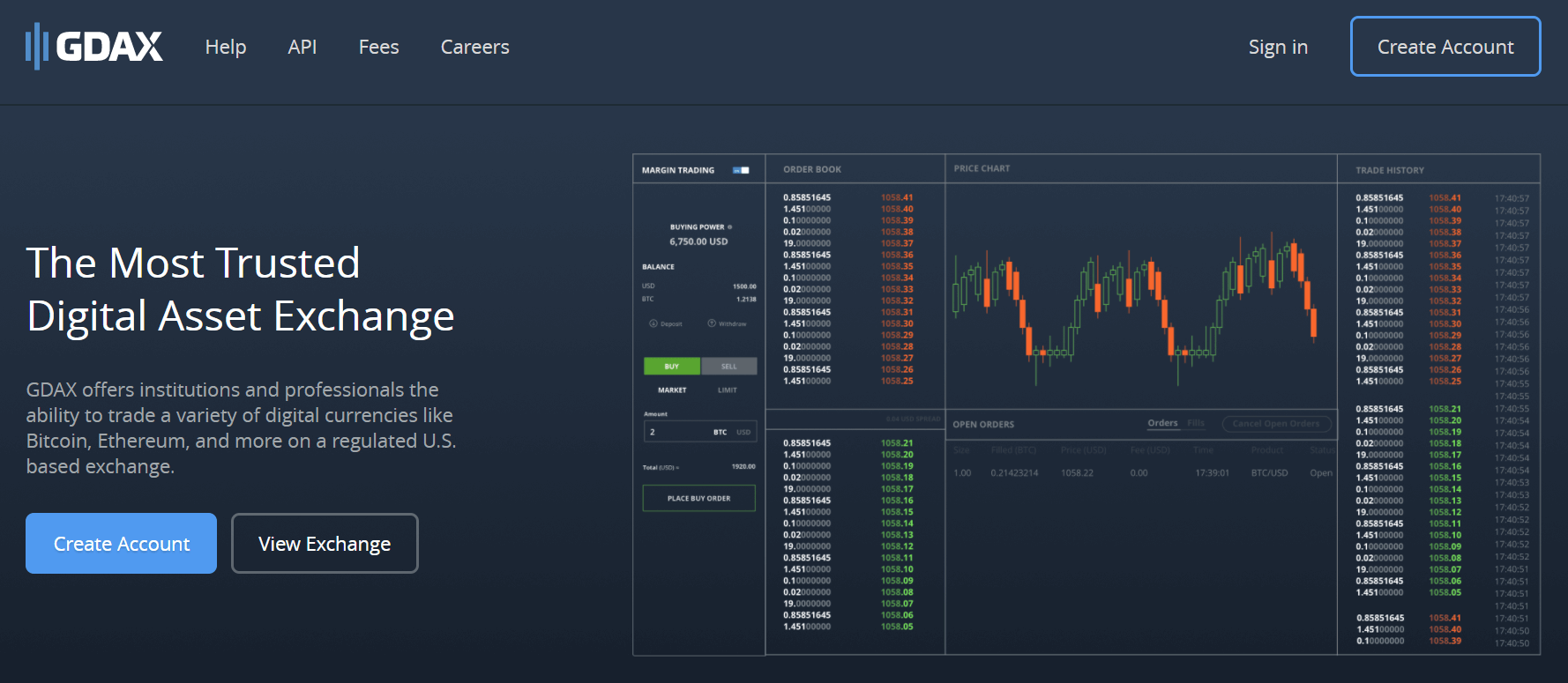 GDAX is operating in US, Europe, United Kingdom, Australia, and Singapore. The downside of GDAX would be that it does not support SGD. In the case of trading within Singapore, the supported currency pairs are Ethereum to bitcoin and Litecoin to bitcoin if you would like to purchase bitcoin other than using a USD or EUR currencies.
Pros
provides adequate support of fiat currencies;
supports other cryptocurrencies beside BTC.
Cons
the interface is somehow complex and convoluted;
does not support Singapore Dollar;
requires identity verification;
limited payment options if you do not have a Coinbase account.
ShapeShift BTC Broker
ShapeShift was founded in 2013 in Switzerland. ShapeShift started as a mobile supported exchange, operating only on iOS. Later on, ShapeShift expanded to support web and other mobile platforms. Now, Shapeshift operates actively through mobile and PCs as well. Shapeshift acts as an intermediate exchange, escrow of the sorts, holding the funds as a broker until the transaction is completed.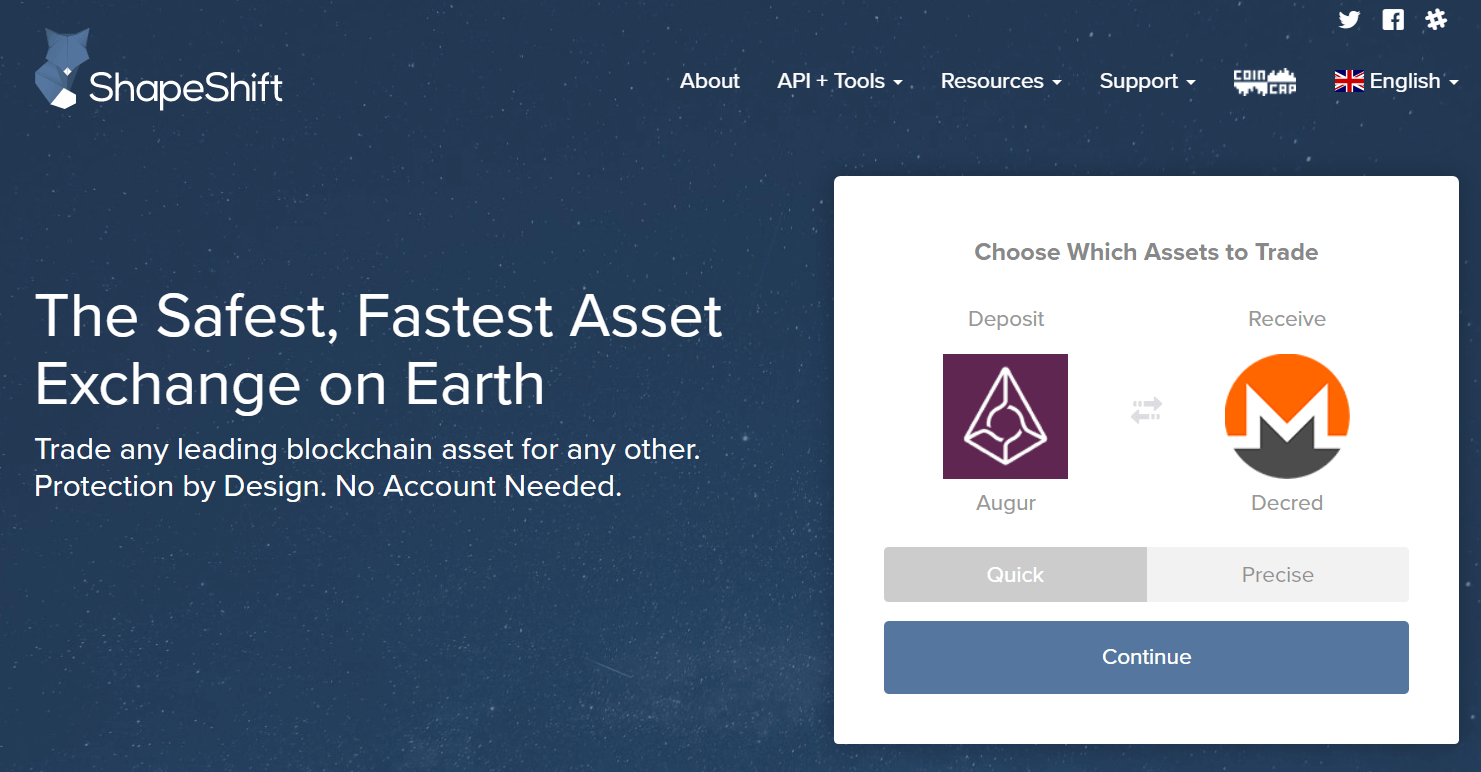 Shapeshift is optimal to swap cryptocurrency for another cryptocurrency. You can change your Ethereum to BTC with ease and almost instantly. However, they exercise a strict no-fiat currency policy. This can be hindering for customers who want to purchase bitcoin but do not have any other cryptocurrency.
Pros
the funds are never transferred to the exchange;
only miner fees apply to other costs are not directly shown.
Cons
strictly does not support any fiat currencies trade;
limited payment options, you need to have cryptocurrencies, Ethereum, in order to purchase bitcoin.
xCoins
xCoins is an online exchange platform that allows you to purchase BTC online using credit cards. It operates with a mindset of a bank; it generates revenues using the difference between loans' fees and lenders' interest. xCoins is partnered and affiliated with many reliable economic entities. In exchange for security and privacy, xCoins provide limited payment options.

Besides the active customer support, xCoins maintain a user-friendly and easy interface on their exchange. It looks welcoming to the new traders compared to other exchanges, which means it is a good starting point for beginning to learn about bitcoin trade.
Pros
provides excellent customer support;
provides a higher sense of privacy compared to other exchanges;
xCoins is one of the reputable and trustworthy exchanges out there;
can lend you if you are short of money to start investing;
Cons
limited payment options, as it works with credit cards only;
the economic institutions affiliated with xCoins may track your data and purchases.
Luno Bitcoin Market
Based in United Kingdom, London, Luno Bitcoin Market is a Bitcoin Company. Luno's reach extends to Indonesia, Malaysia, Nigeria, and South Africa. Luno Market supports a decent range of payment currencies, whether by cards or bank transfers. Credit card fees are one of the lowest in the market, equivalent to 1.34% while bank transfers are conducted for free.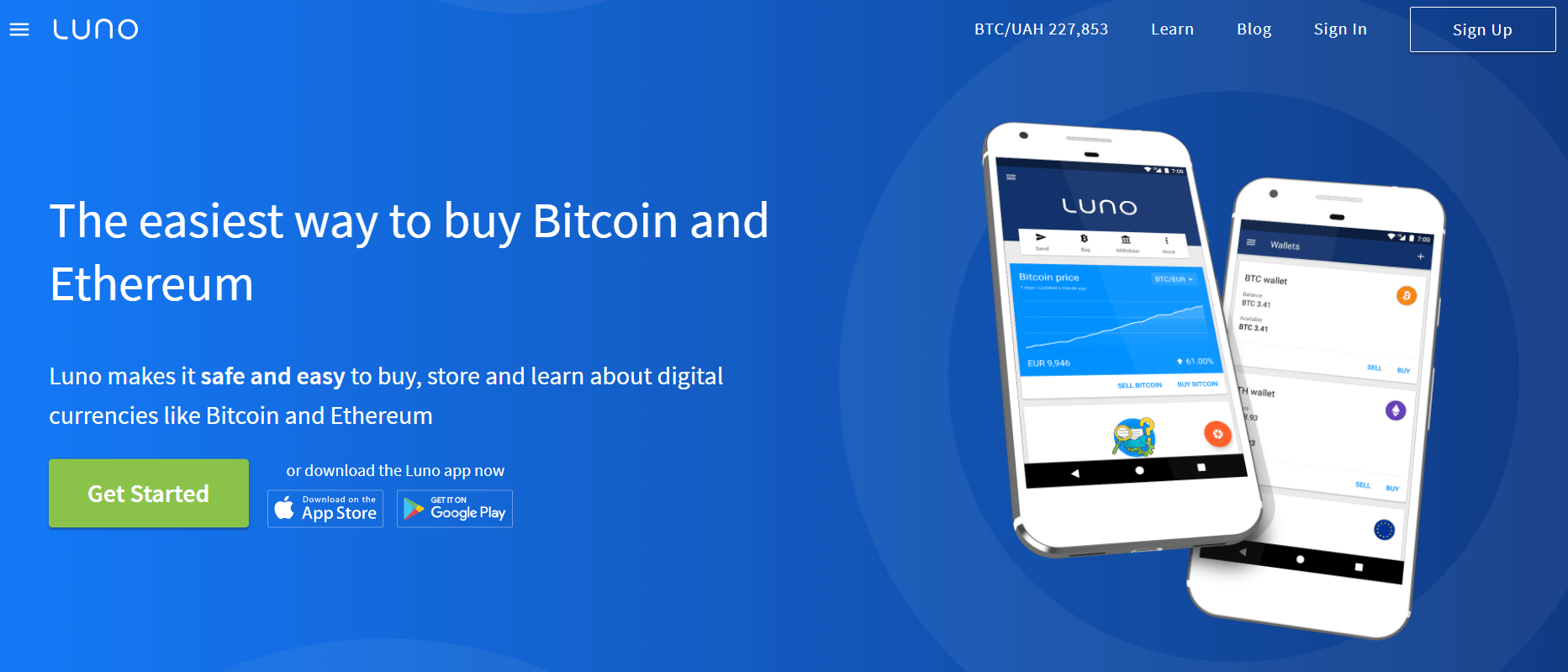 The platform offers BTC and ETH as cryptos available for sale while SGD payments are not supported. Luno exchange supports bank transfers, debits and credit cards, and many other online banking methods. Although verification is not required, purchase limits are quite low for more serious trading volumes.
Pros
adequate range of payment methods;
low trading fees;
supports a proper range of fiat currencies.
Cons
does not support SGD as a fiat currency to buy bitcoins;
higher limits require full verification from traders.
#bitcoin-otc
The #bitcoins-otc, as the name suggests, matches BTC buyers and sellers, acting as a third-party until the transaction is completed. The scheme or how #bitcoin-otc works is similar to the Hawala system. Despite cash deposits being its main method, some users may advertise for other payment methods preferable to them as sellers or buyers.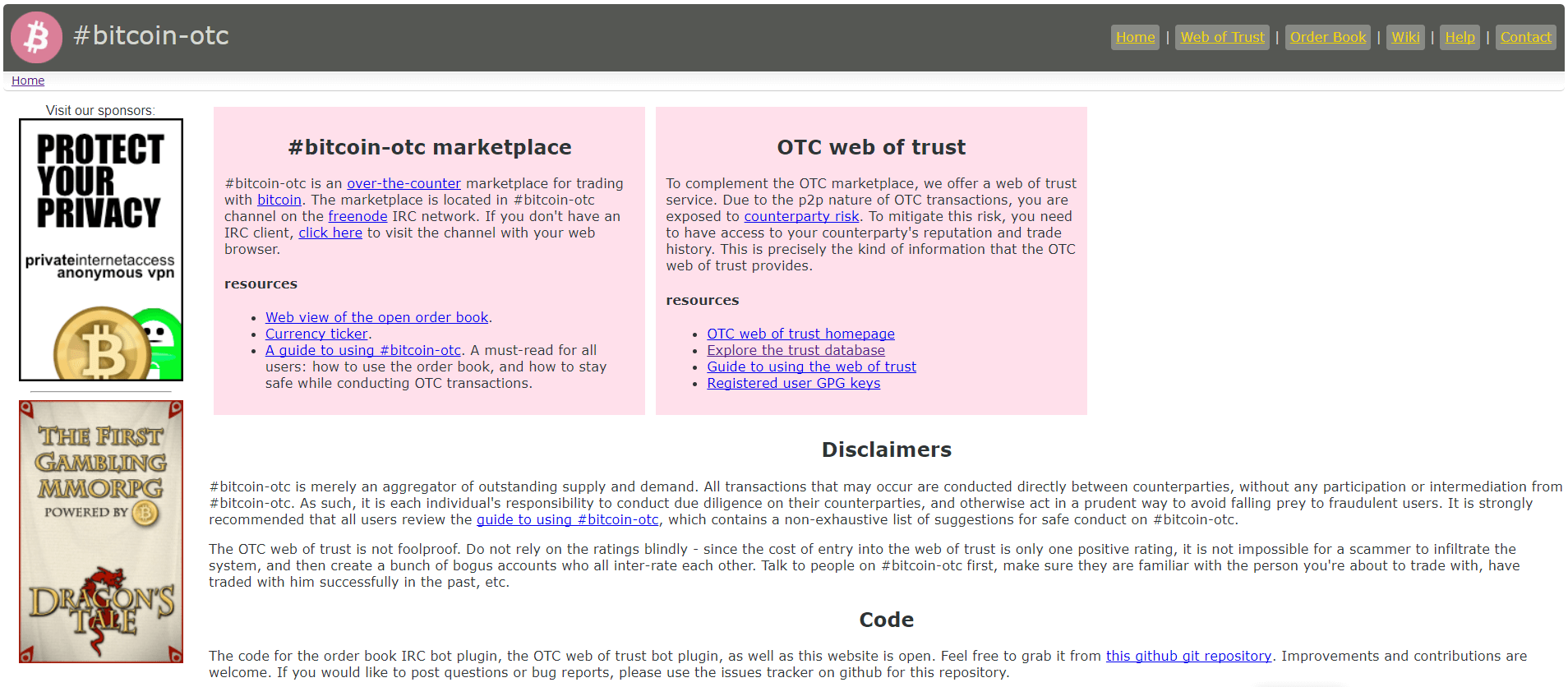 The platform supports a wide range of payments, as you can filter the ads on the sellers who match your criteria of purchase. The OTC also maintains a high sense of privacy, as some buyers and sellers who prefer privacy can get in touch with their counterparts based on the same criterion.
Pros
completely private to use with adequate sellers;
a large number of payment methods available;
can customize your ad for purchase based on the fiat currency of your choosing.
Cons
there is a high chance of frauds and scams;
SGD payments are hard to find.
Remitano Bitcoin Marketplace
Remitano bitcoin marketplace is yet another that supports other platforms besides PCs, or desktop interface, to be precise. Remitano is one of the exchanges supported in Singapore. Its forte lies in that it does not require multi-layered verification, needing only to verify email address as a start. That being done, you can proceed to trade on bitcoin, with limitations, of course.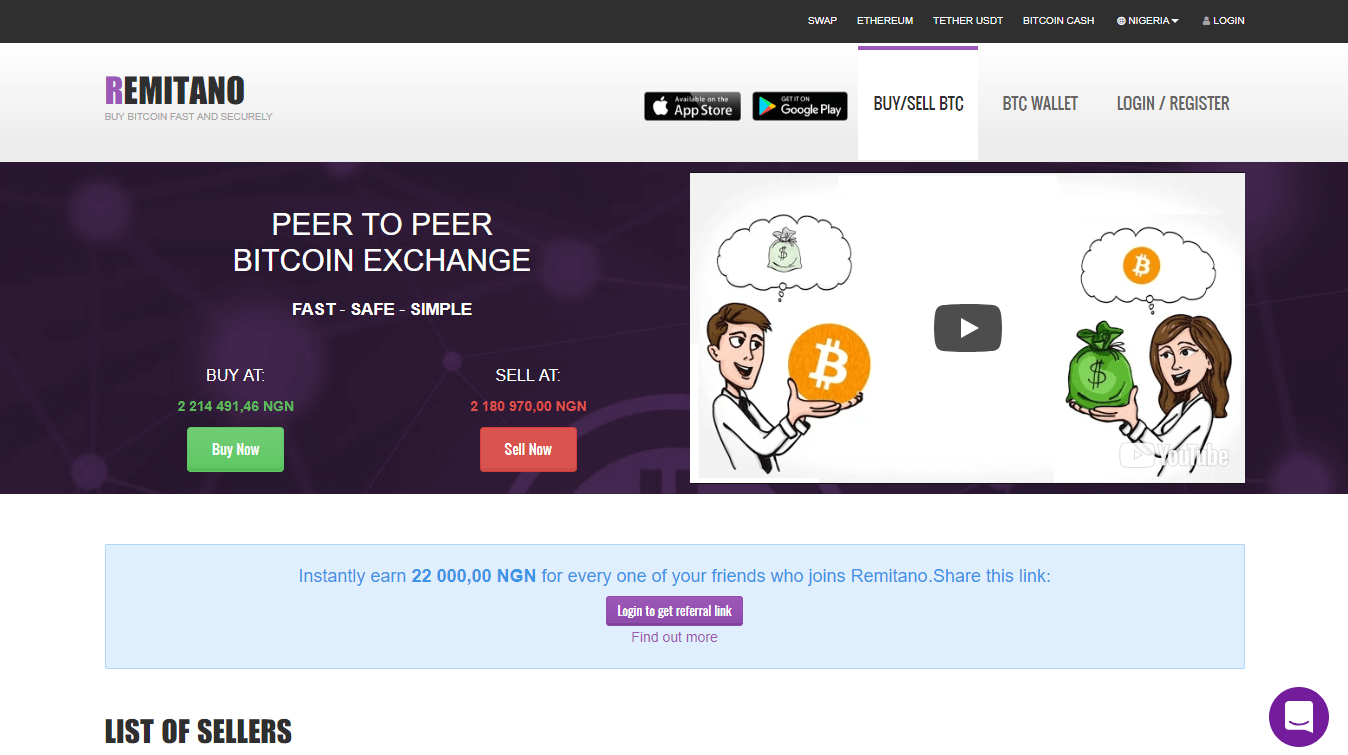 Remitano is a reliable choice if you are planning on buying a large amount of bitcoin. However, to further gain advantages of the range of the network provided by Remitano, you will need to further verify your information.
Pros
low fees on selling and trading compared to other exchanges;
does not require heavy verification process when buying small amounts.
Cons
supports a narrow range of cryptocurrencies, only bitcoin and Ethereum;
some sellers may specify the need to complete ID verification.
VirWoX
VirWoX started out as something far different from a cryptocurrency exchange platform. Founded in 2013, VirWoX was a hub for trading in Second Life Lindens (SLLs), an in-game currency for the popular online game known as Second Life. Second Life supports a large base across the World and thus, covers a wide range of countries.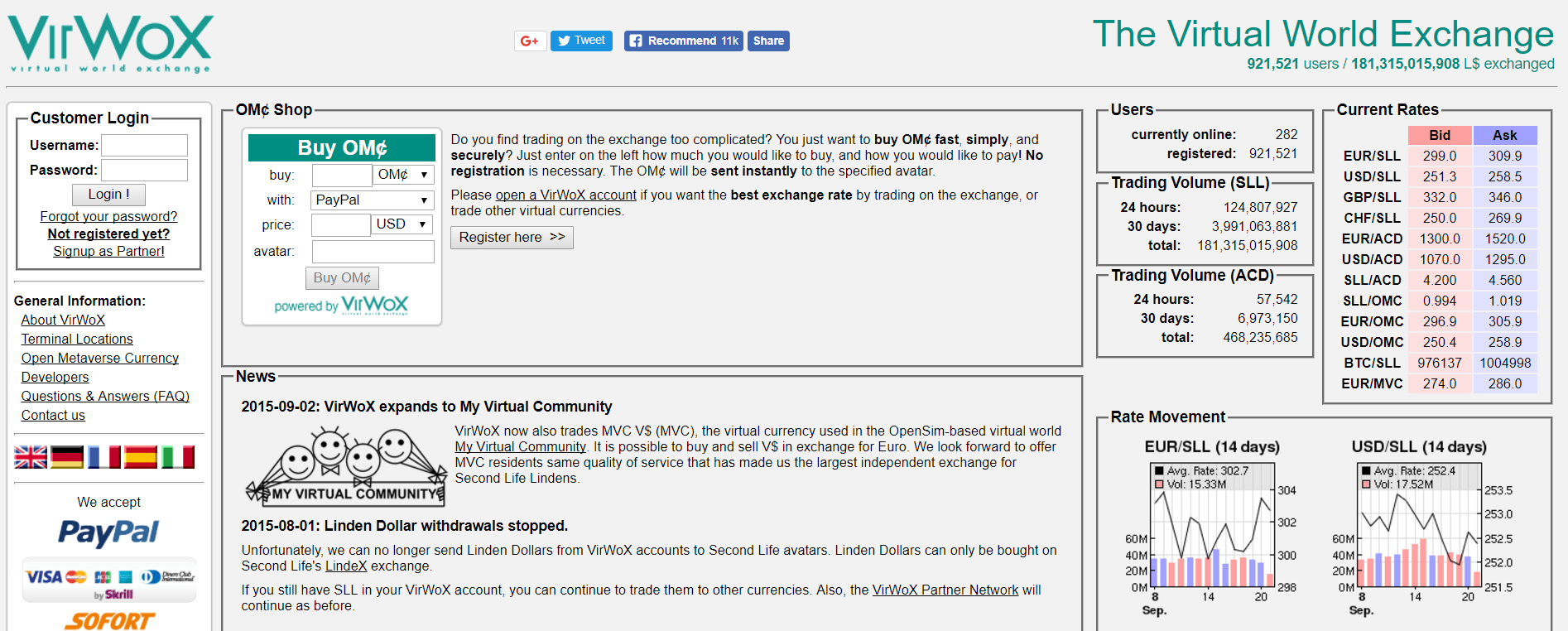 VirWoX expanded to include other currencies used in games and then include cryptocurrencies, basically bitcoin, making it one of the oldest online cryptocurrencies exchanges. It supports payments made in credit and debit card payments while its main strengths lie in the ability to purchase coins with the help of PayPal. You need to get SLLs first and then exchange them with bitcoins, incurring triple expenses along the way.
Pros
a wide range of payment methods;
allows users to buy and sell bitcoin in privacy;
Cons
no SGD available when buying bitcoins;
an indirect way to get coins through SLLs first.
CoinHako
To shift our focus to exchanges based in Singapore, CoinHako is one of the user-friendly exchanges allowing people to trade on bitcoin and Ethereum. As it is operating from Singapore, its main currency is SGD.

The only real security measure you have is 2FA while accepted cryptocurrencies for trade are BTC and ETH. Verification is needed for trade to take place. Bank transfers are the only available methods of payment within this platform.
Pros
provides simple and user-friendly interface;
one of the few insured cryptocurrencies exchanges;
supports its own bitcoin wallet;
SGP is its main currency, making it a valuable option for people who want to trade bitcoin in Singapore;
works with a fee of 1% on buying or selling cryptocurrencies.
Cons
limited fiat currencies options;
limited payment methods, only in bank transfers.
eToro Exchanger
eToro is an online exchange and trading platform founded in 2007. eToro is located in Tel Aviv, Israel. eToro is one of the exchanges that developed and implemented the concept of Social Trading. The concept revolves around giving access to its users to copy and follow the footsteps of other successful traders to ensure growth and profit maximization on trades and transactions.

Normally, eToro allows collection of patterns and historical data in order to provide them for beginning users, providing them with an approachable trading environment.
Pros
 can be a welcomed start for beginners who want to try their luck with small amounts of bitcoins;
 provides copy feature for starters made by experts in the marketplace;
supports multiple platforms, you can access it through your mobile as well as your PC or Laptop;
supports a wide range of currencies, fiat currencies, and commodities;
a wide range of payment methods to pay through.
Cons
social trading can be risky as it holds an aspect of gambling in it.
leaders' orders can be quite misleading if other industry factors are not taken into account.
Coinmama
Coinmama is one of the stable names in the field of online cryptocurrencies exchanges. Coinmama mainly focuses on trading in bitcoin and Ethereum of all cryptocurrencies. However, you can only buy from it but not sell cryptocurrencies on it. Meaning, it only acts as a source of cryptocurrency.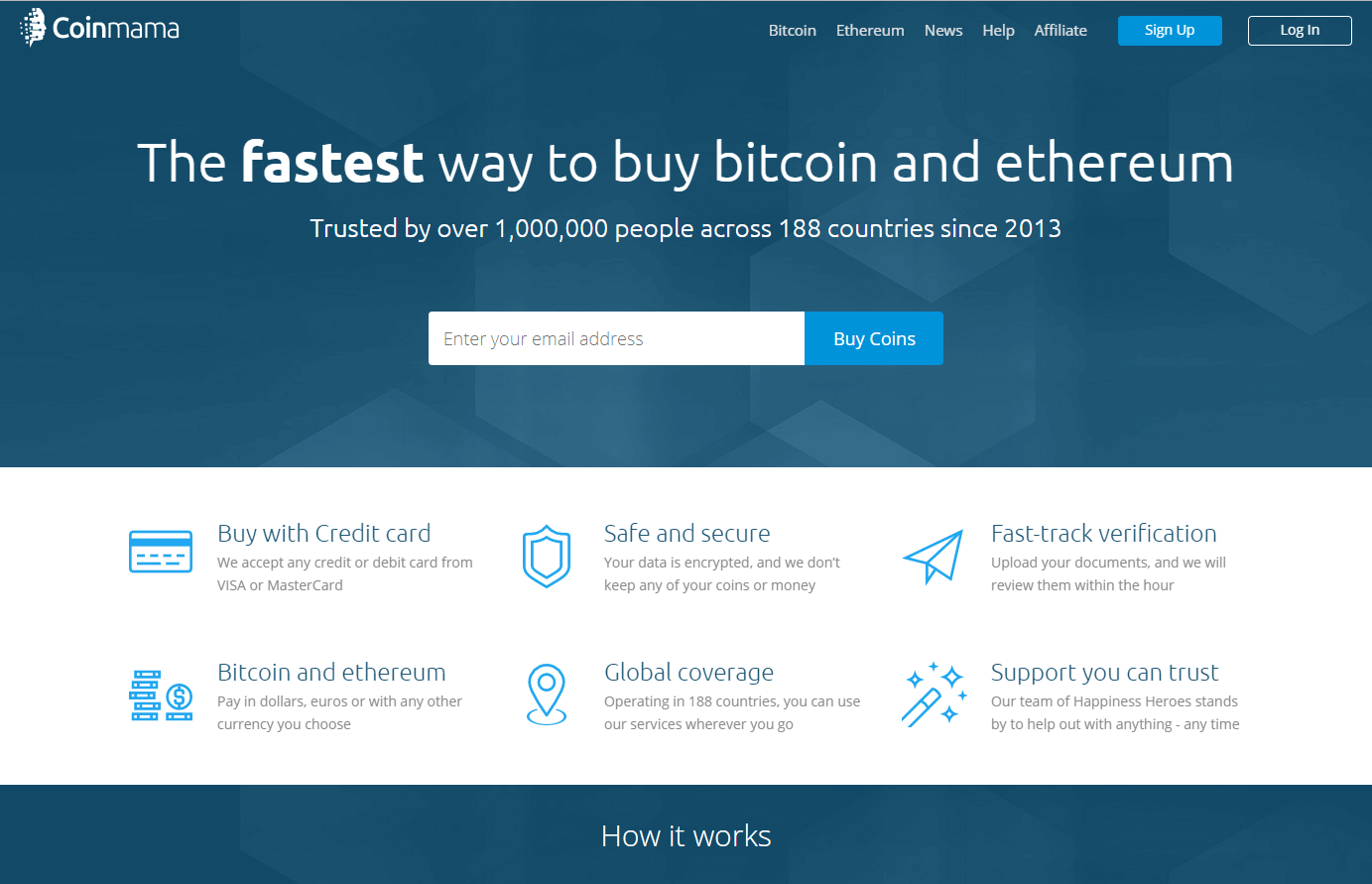 Coinmama supports payments through cash or debit and credit cards. It allows dealing with debit or credit cards, supporting a wide range of international banks. bitcoins are sent directly to your wallet while buying them, and you have an opportunity to buy coins without verification up to $150.
Pros
provides fast processed transactions;
considered to be easy to use for the average end user;
Cons
charges a 6% fee on each purchase;
supports only USD and EUR transactions;
requires identity verification when you create your account on their website, if you're going to spend above the $150 level.
CEX.IO
CEX.IO started to trade on bitcoin, offering money in currencies like USD, EUR, GBP, and RUB. CEX.IO supports many payment options and currencies.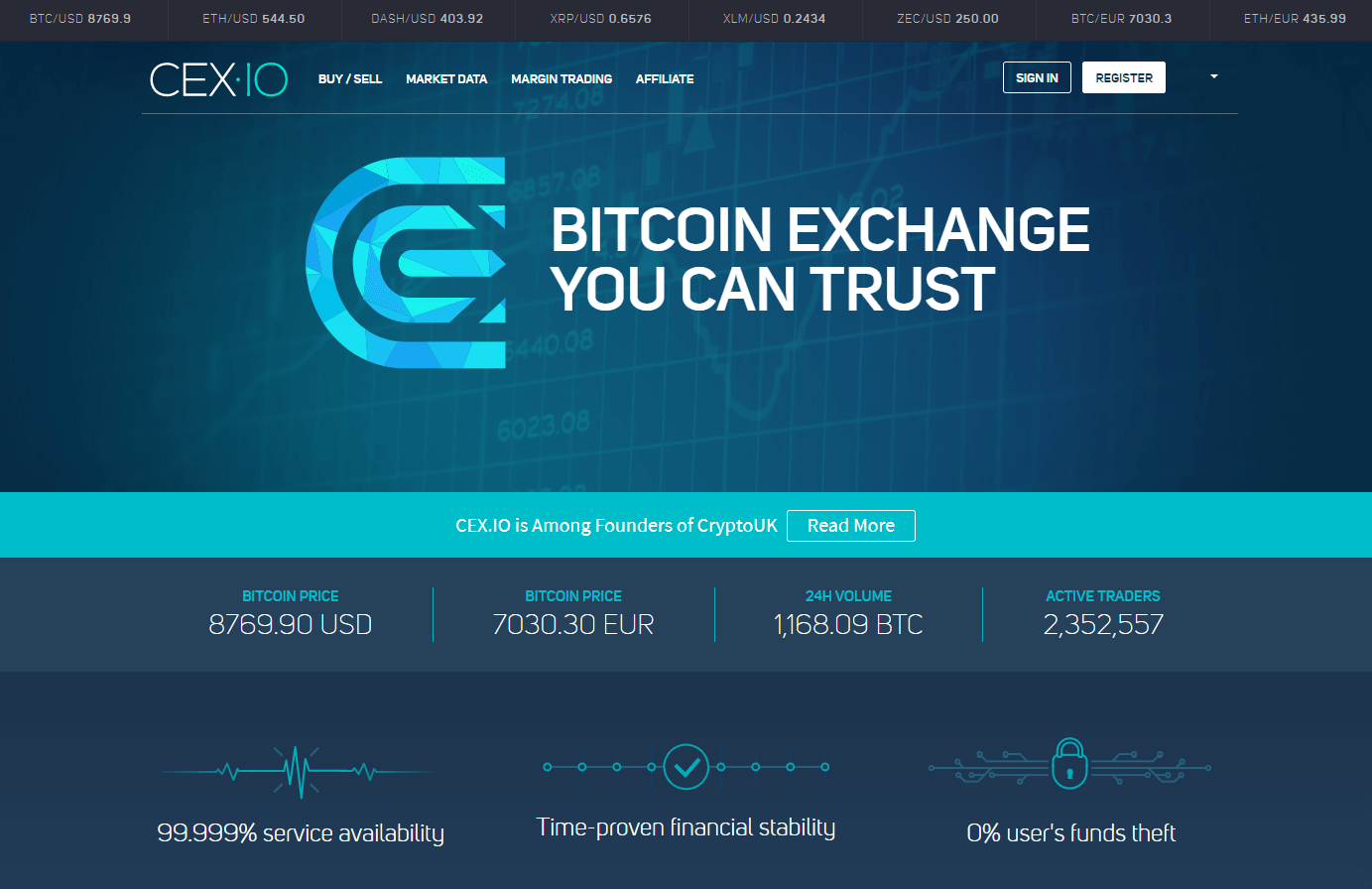 CEX.IO is one of the sophisticated online trading exchanges and that gives it the advantage of being secure and safe. This can be taxing in terms of requirement of verification for the customer, on the other hand. It is quite interesting fact that platform started out as a cloud mining provider while its services are available globally, Singapore included.
Pros
 works with a wide range of currencies;
support payments with Visa, Mastercard, and bank transfers;
strongly secured against DDoS attacks;
 supports a mobile app.
Cons
identity verifications via documents and elaborate documentation needed;
relatively high fees on transactions.
Paxful BTC Marketplace
Paxful is a reasonable choice if you want to buy bitcoins. Its approach is somehow similar to that of Mycelium, connecting buyers with sellers and vice versa. Additionally, Paxful provides an online exchange which connects you to various platforms. Thus, it allows you to fetch the best price at the moment.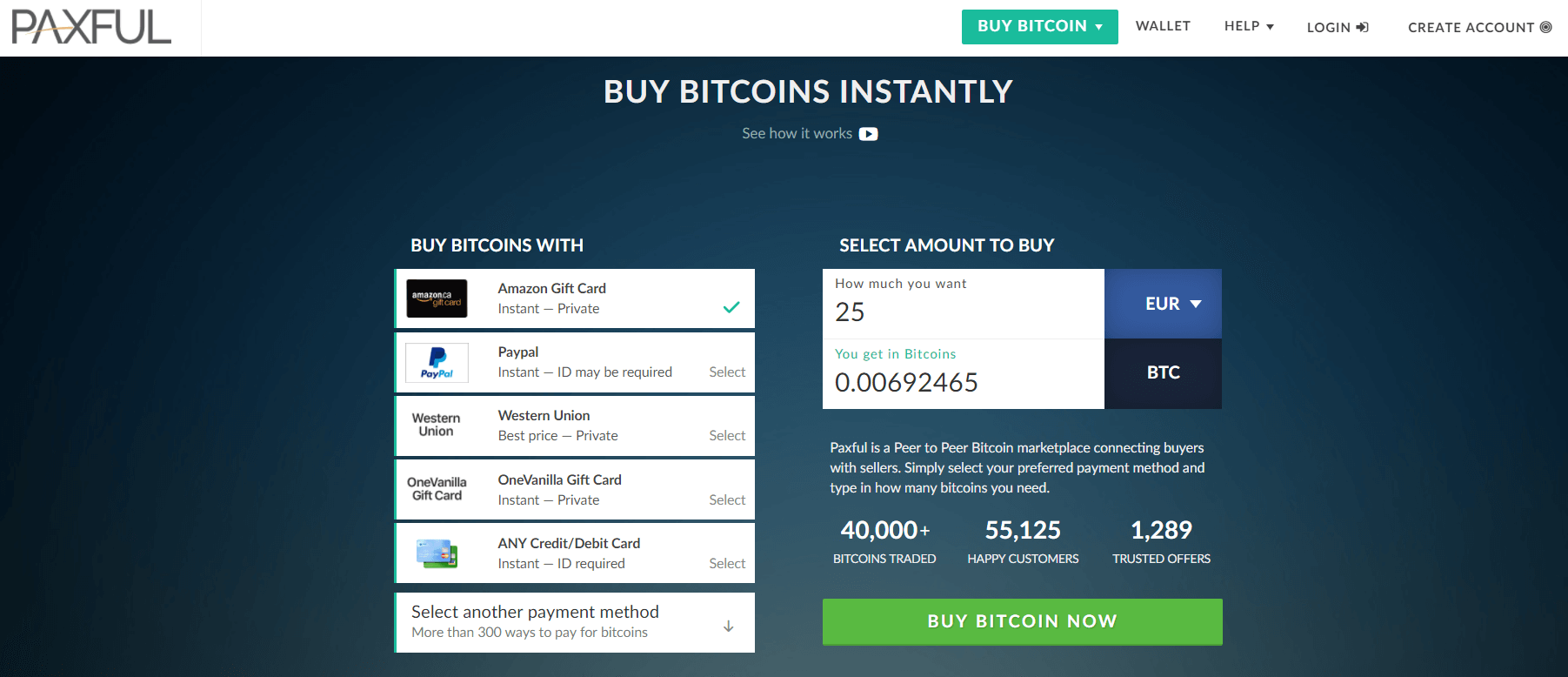 There is a high potential for scammers due to the lax verification requirement since ID checks are not made. These actually depend on individual seller only, making it quite a private platform to use if the right seller is found.
Pros
supports a wide range of fiat currencies into buying bitcoin;
requires no ID verification if you deposit via bank.
Cons
 scams are common knowledge in the market;
very small volume available on individual ads.
Changelly
Based in Prague, Czech Republic, Changelly is an online exchange that derived from a bitcoin miner pool back in 2014. Nowadays, Changelly focuses on trading between cryptocurrencies, their main goal is to encourage customers to embrace cryptocurrency culture and economic system in exchange for the traditional ones.

Also, Changelly has its own API to allow traders to trade passively, designating their PCs, laptops, or other compatible devices to bid sales on bitcoin and other cryptocurrencies. Although the easiest way to get BTC is through altcoins, you can purchase them with the use of credit cards.
Pros
very easy to use compared to several platforms;
instantly available coins through credit card purchases.
Cons
does not work with SGD, meaning exchange conversion fees apply;
rates are a bit higher compared to other crypto-to-crypto exchanges.
LocalBitcoins
Like Mycelium, LocalBitcoins matches BTC buyers and sellers, acting as a third-party until the transaction is completed. LocalBitcoins operates mainly with cash deposits, some users may advertise for other payment methods preferable to them as sellers or buyers.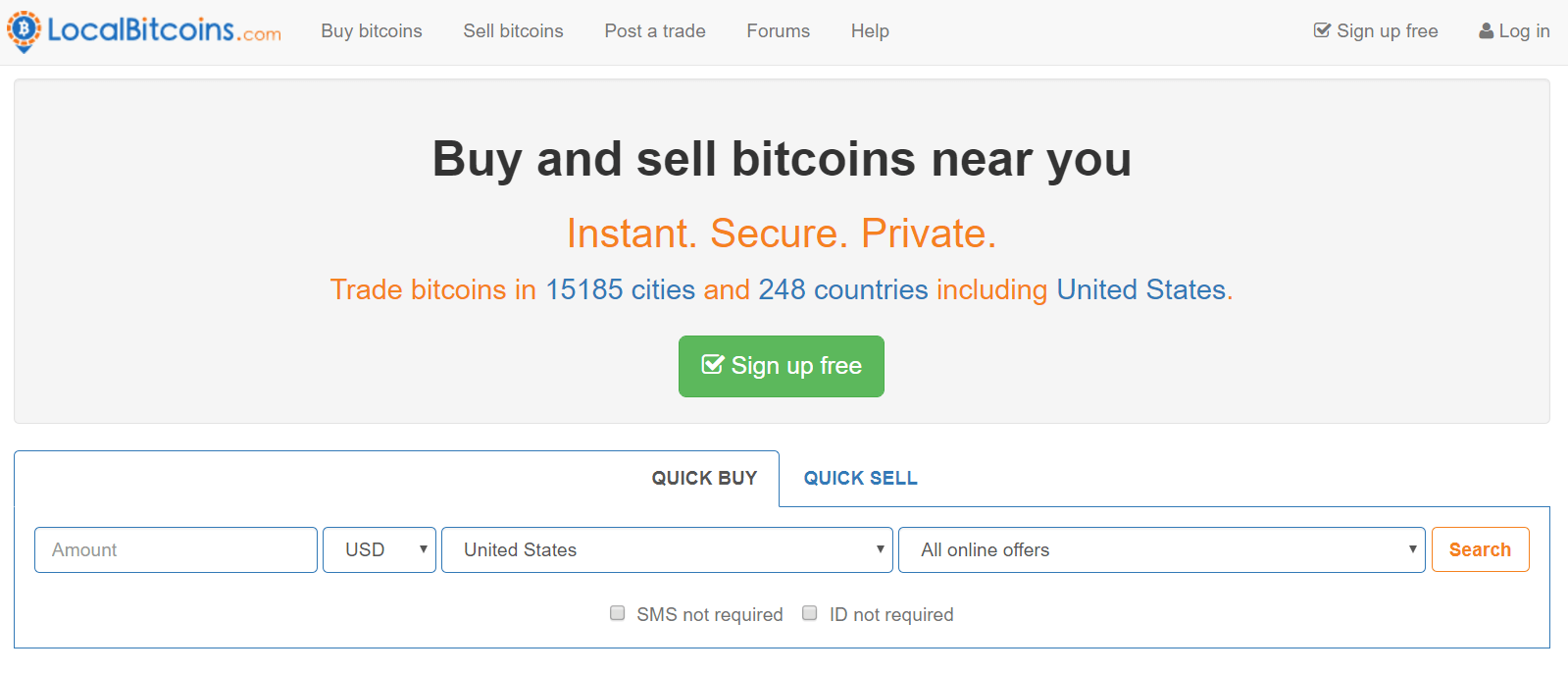 There are not many potential findings of good rates or varieties of areas that do not attract users. The volume of possible trades and having a good price depends on highly aggregated geographical location. There is also a possibility of being a victim of scammers or frauds, much like Mycelium. In order for people to trust and buy from you, establish a network of trust and successful historical transactions is needed.
Pros
variety of payment methods, depending on the buyers and sellers preferences;
potentially private way to get BTC;
the site is user-friendly and easy to use.
Cons
scams have been reported in the past;
large batches of bitcoins are a rare find.
Where to Buy Bitcoin in Singapore for Cash?
Mostly P2P platforms, like LocalBitcoins, Mycelium and Paxful, offer the cash payments when bitcoin is in question. Rare are sites like Bitit that offer the cash option when it comes to purchases due to severe security issues. To top it off, meetings in person are risky business for which we would recommend you to bring someone with you to ensure transaction to complete without problems.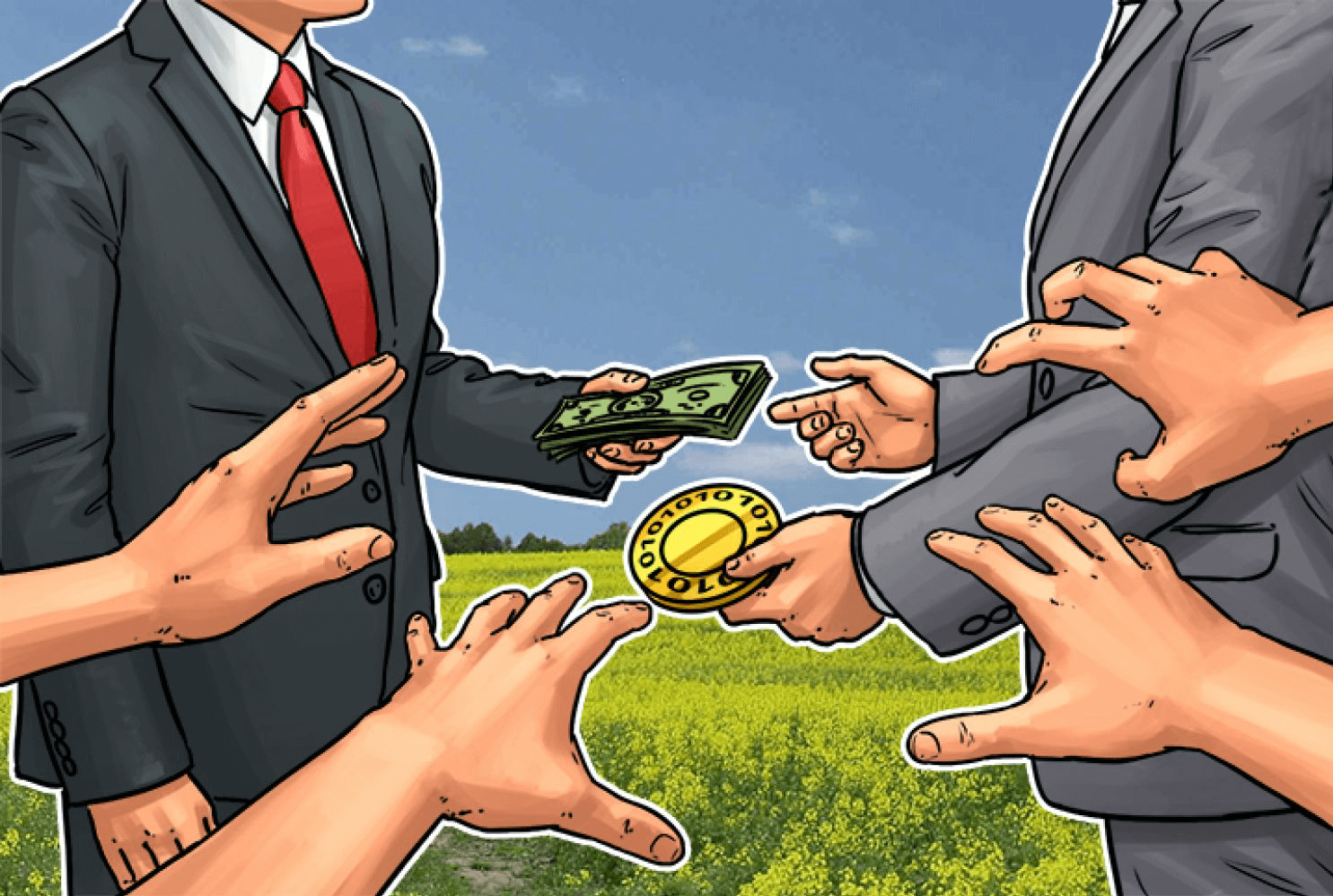 FYB-SG also supports cash deposits through the option comes with high fees due to above-mentioned issues. ATMs are a good source as well for cash deposits but these come sparingly and are not available everywhere.
Bitcoin ATMs
What separates this method from others is the sense of privacy when buying BTCs. ATMs allow traders to head over and instantly purchase cryptos without a need to provide their IDs or proof of address at any point. Suffice to say, these come in small numbers, especially in a country like Singapore where legislation is yet to completely design regulation policies.

At this moment, there are 6 ATMs in Singapore, which is adequate number due to the fact that country is limited to a city and is quite small. The average fee stands at 5% while daily limits go up to 5.000 SGD per day.
Pros
supports physical wallets;
supports most of the fiat currencies like usual ATMs;
provides anonymity and privacy.
Cons
can incur high charges and fees;
services might not always be available.
CoinSpot
CoinSpot is one of the prominent names when it comes to online exchanges. Based in Australia, CoinSpot. Although it is a local favorite for Australian bitcoin traders, that does not mean that people from outside the premises of Australia do not favor to trade with it.

CoinSpot is regulated, thus, to be in compliance with AML/CTF (Anti-Money Laundering and Counter-Terrorism Financing Act) issued on 2006, it requires identity verification and eliminates any chance for anonymous transactions if you will deal in Australian Dollars. Since this is not likely, it will not be much of a concern.
Pros
 a wide range of cryptocurrencies to choose from;
 many methods to buy bitcoins and manage your wallet, ranging from cash, BPAY, and others;
 secure, as it is regulated.
Cons
 high fees are incurred on transactions compared;
 this is a downside only if you are dealing with Australian Dollars, as it would require verification if you are to make withdrawals and deposits.
Cryptex24 Exchange
Cryptex24 is based entirely online, as they do not have any physical office. Though it is not regulated, Cryptex24 is verified by many payment providers and methods, it is well reputable to deliver in the utmost efficiency.

The most evident positive trait of Cryptex24 exchange is that it does not require identity verification, providing you with a high sense of privacy and anonymity about your transactions. As there are no physical offices, no one really knows much about Cryptex24 in terms of licenses and registration, besides its goodwill reputation. The platform has a robust customer support, which you can reach through website or Skype for quicker responses.
Pros
completely private platform to use when buying coins;
provides different transfer methods, including cash, Western Union, MoneyGram, and others.
Cons
owners and company's headquarters not known;
imposed service and administrative fee on all of its transactions.
So What Exchanges to Use?
To summarize our brief reviews of each exchange and our guide to buy bitcoin in Singapore, we proceed to ask the important question, which of these mentioned exchanges or any other I find out is suitable for me?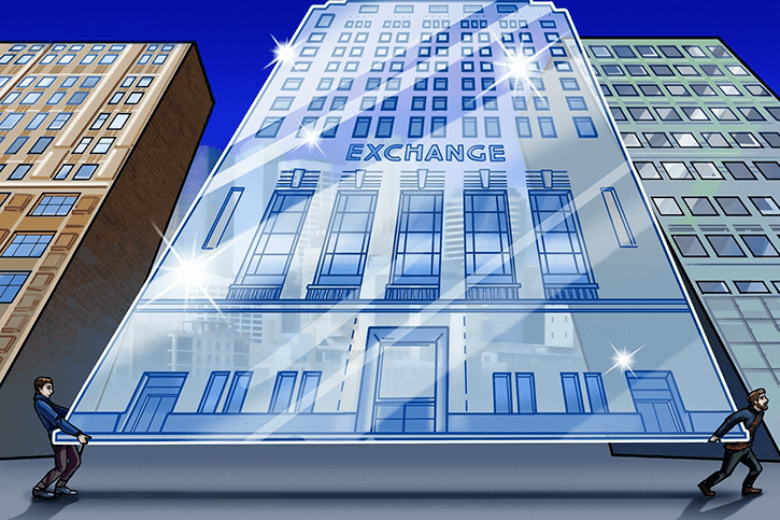 The answer to this question depends on many factors, the most suitable exchange to you depends on:
fees: if you will deal with large sums of bitcoin, higher fees should not bother you much as the average percentage does not surpass 1%.
security: obviously, you would prefer a secure exchange to deal within. However, security means verification and identity authentication. Some people have concerns regarding sharing their information online and for good reasons, lately, there are claims that there is no such thing as internet privacy. If this is one of your concerns, it is a trade-off for you.
the payment methods suitable and available for you.
How to Store Bitcoin Safely?
There are three common ways by which you can store you cryptocurrency, either on your exchange in your account, in a digital online wallet, or in a hardware digital wallet.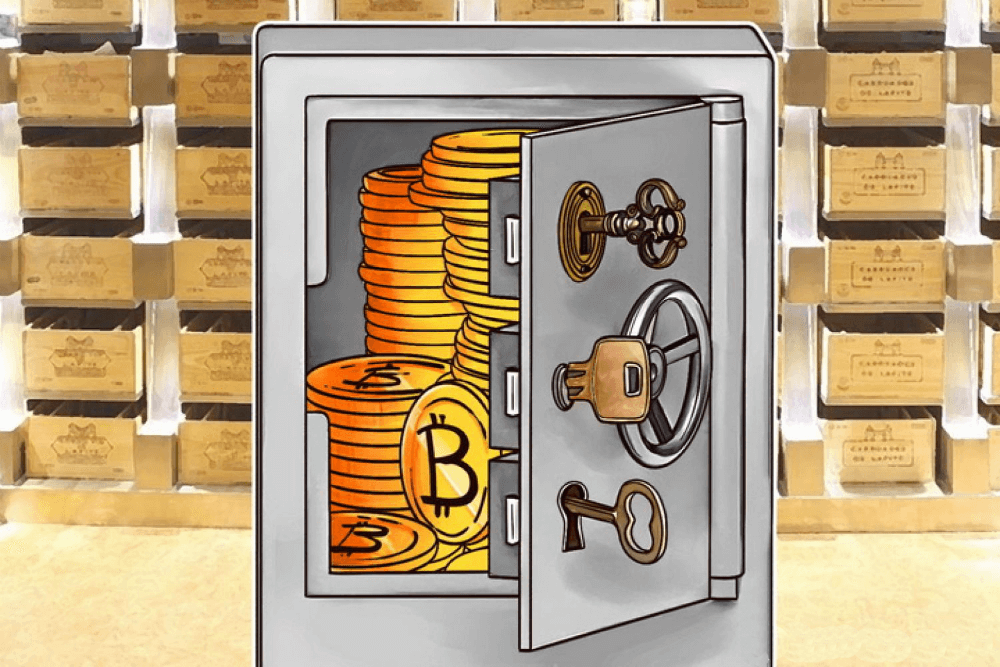 Normally, we believe that hardware digital wallets are the most efficient. As you can keep them locked offline, away from prying eyes and can be moved easily with you on the go. Some bitcoin ATMs even allow you to transfer-in bitcoins on those wallets through their addresses. Besides, online digital wallets providers can be hacked and breach your security. As for exchanges, it happens more frequently.
Hardware wallets are more common to provide you with the option to store your bitcoins in cold storage, more secured and offline. There are many types of hardware wallets, such as Ledger Nano S, TREZOR, and KeepKey. The most known name in the category being Ledger Nano S.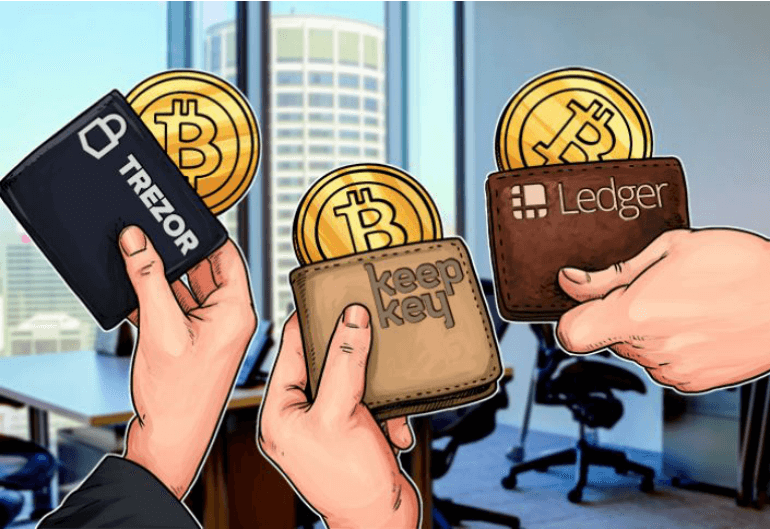 If you happen to notice an omitted piece of information in this guide, feel free to contact us at BitcoinBestBuy and we shall reflect upon your findings.