No matter if you are a bitcoin veteran or a beginner just who just heard about bitcoins, to buy bitcoin with credit or debit card is not difficult to master. In this guide, we will show you how to buy bitcoin with credit or debit card and save you time and effort needed to grasp the concepts. Be sure to use our referral in Coinbase exchange, as you will earn $10 of free bitcoin.
Summary: How to Buy Bitcoin with Credit Card
Coinbase allows you buy BTC instantly with a credit/debit card or bank account (ACH transfer). Here is a step-by-step guide to making the bitcoin buying process in the United States as smooth as possible.
Using a Web Browser
Proceed to Coinbase, it's the most popular bitcoin exchange in the US.
Complete the verification process (if needed).
Go to the Buy/Sell page.
Enter the BTC amount you want to buy.
Select the wallet you wish to have your funds deposited into.
Select your desired payment method (credit/debit card or bank account).
Confirm the buy order is correct and click "Buy Bitcoin Instantly".
Your bitcoins will be delivered to your Coinbase BTC wallet immediately.
Transfer them to your hardware bitcoin wallet to securely store your bitcoin for the long term (optional).
Using the iOS & Android Apps
Tap the menu icon near the top left of the screen to open the Navbar.
Select Buy from the Navbar.
Enter the amount in bitcoins (BTC) that you wish to buy.
Select the bitcoin wallet you want to deposit into.
Select your preferred payment method (credit/debit card or bank account).
Review your order and tap Buy bitcoin.
Please note:
When you fully complete identity verification and build a history of successful purchases, you will receive higher bitcoin buy and sell limits.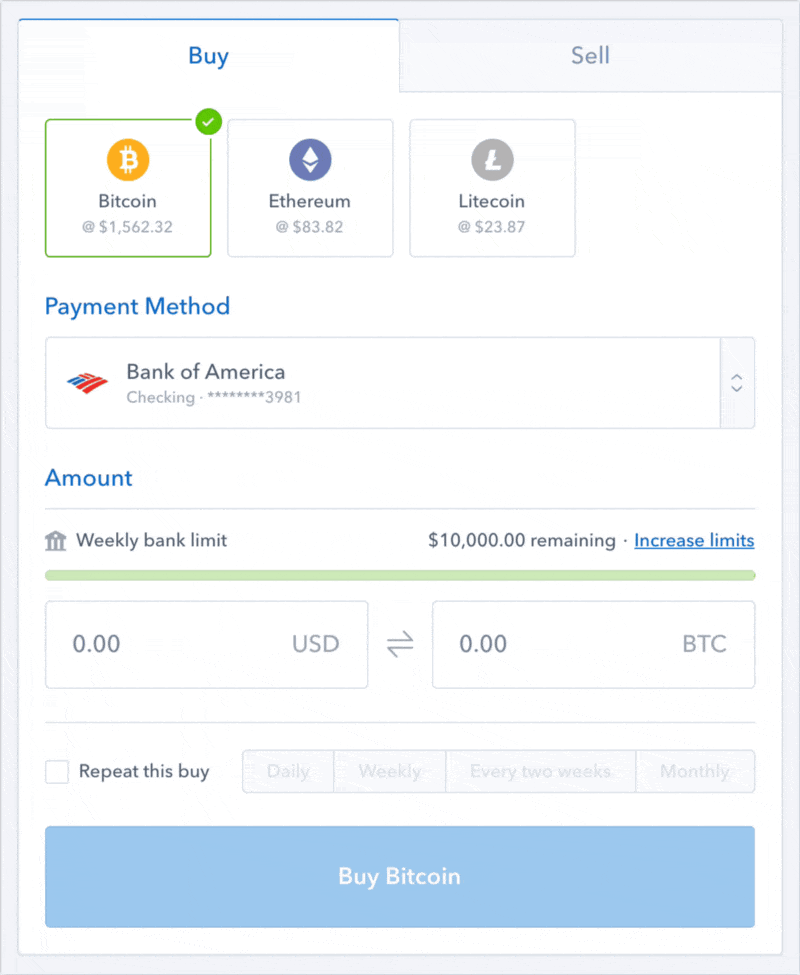 Whether you are a veteran investor or a first-timer considering options around various markets, information about bitcoin could be confusing to analyze and digest. Bitcoin is not controlled by a single entity and it exists digitally only.

If you feel lost about how to purchase and make a profit out of bitcoin trades, you are at the right place! This blog post shall give you the detailed explanation and step-by-step guidelines on how to buy bitcoin with credit/debit cards. The blog shall also cover some very important questions that you need answers to in order to successfully trade with bitcoins with credit/debit cards:
What are pros and cons of buying bitcoin with credit card?
What bitcoin exchange brokers are out there?
How can you trade in web-based platforms with credit card?
How can I buy BTC anonymously with a credit card?
What are most known scams and frauds when buying bitcoin with credit card?
Bitcoin Exchanges with Credit or Debit Card
Internet transactions have been on the rise in the recent years, and there is no reason to expect the trend to change in the following period. Visa, MasterCard, and Maestro cards are now equally part of our lives (if not even more) as cash is. Purchasing of bitcoins with credit/debit card passes through similar stages that all other products go through.
Exchange
CC/DC Fees
Countries
Buy
Coinbase
3.99%
BUY
Changelly
Depending on the amount
including
BUY
Coinmama
7.25%, minimum 10 USD
including (22 states)

At this moment, Coinmama supports 40 U.S. states.

BUY
Blockchain.info
3-4%
BUY
BitPanda
3-4%
BUY
Coinhouse
6-10%
BUY
Spectrocoin
5.5%, minimum 1.5 EUR
including
BUY
CEX.io
3.5% + $0.25
including
BUY
Various exchanges offer different markets that you need to consider when deciding where and how you wish to invest in bitcoins. The crucial factors that would help you reach a decision on where to invest are transaction fees, security, and privacy offered by the exchange providers.
Coinbase
Considered one of the largest bitcoin providers, Coinbase offers credit/debit card purchases up to $150 and/or €150 per week (other currencies are also accepted), charging 3.99% fee for all purchases. Its services are available in the United States, Canada, Europe, UK, Australia, and Singapore.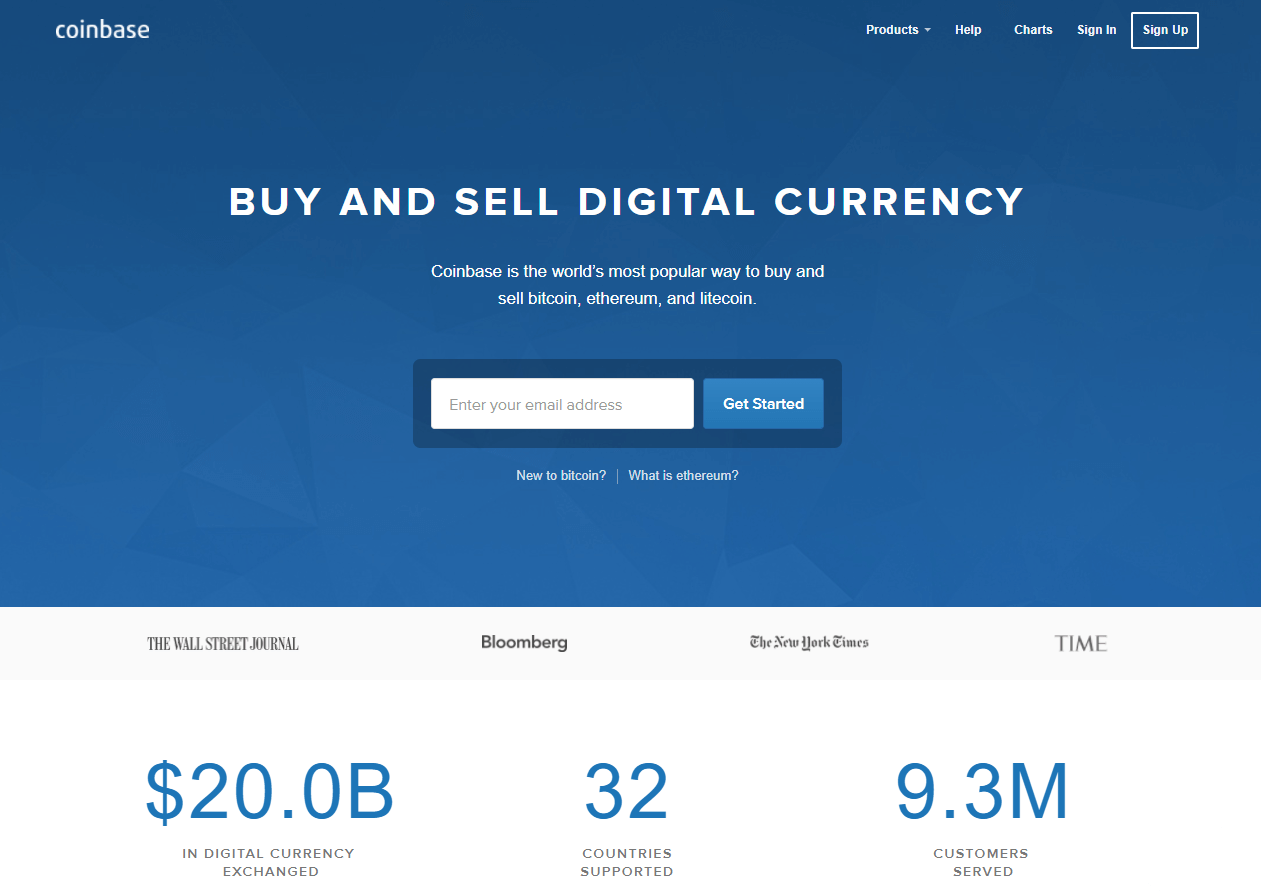 Pros
"Instant Buy" option for credit/debit card purchases and U.S. bank account (ACH);
high liquidity.
Cons
low privacy (ID verification needed and Coinbase tracks your bitcoin activities);
bank transfers could last for 1-2 business days for SEPA transfer (Europe & UK), 3-5 days for wire transfer, instant in the US (ACH).
Coinmama
An exchanged specialized in credit or debit card transactions, Coinmama offers high purchasing limits but at a high cost as well. You are limited up to $5,000 daily and $20,000 monthly of bitcoin worth at 7% transaction fee. Coinmama is available globally though it is worthy to mention that some US states are not covered.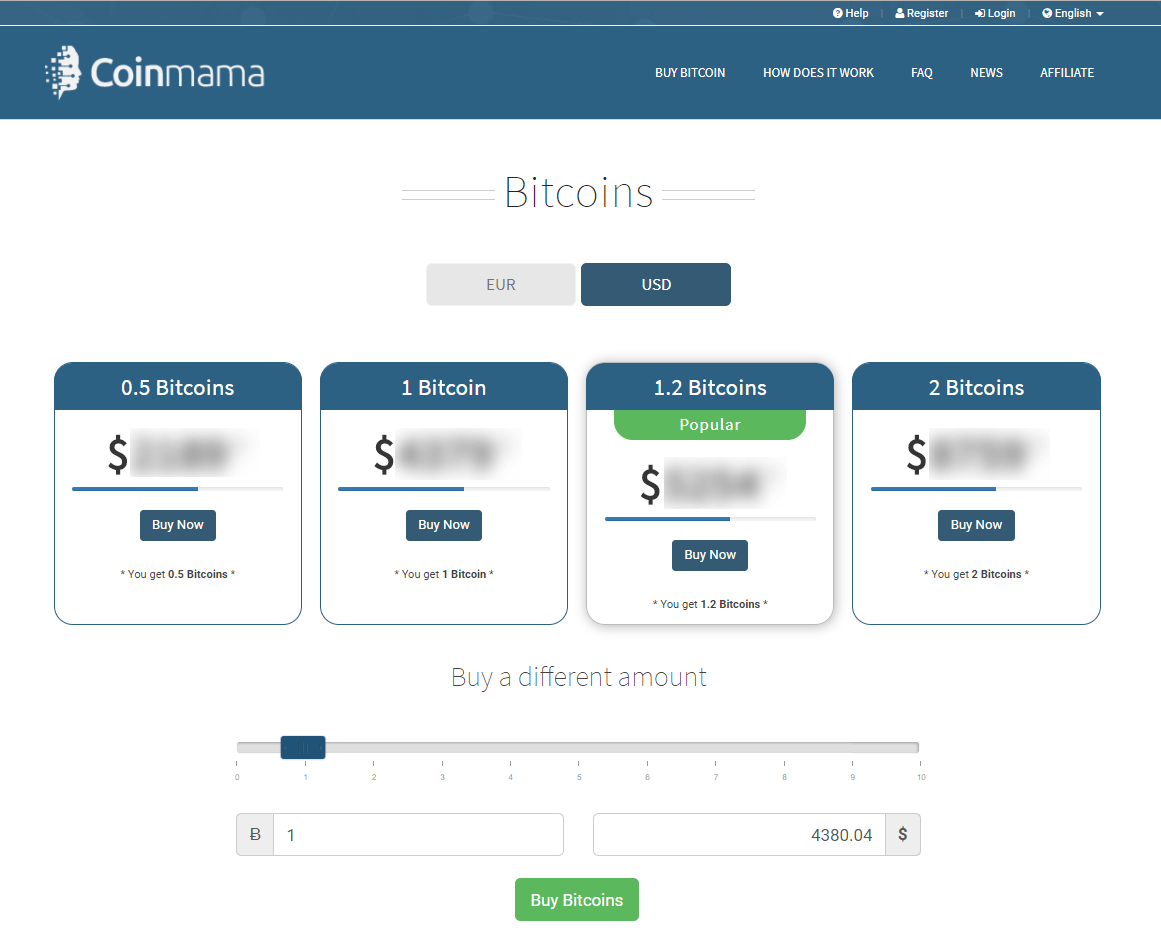 Pros
available globally;
high purchase limits.
Cons
very high transaction fee of 7%;
not available in all of the USA.
BitPanda
Based in Austria, this European exchange offers bitcoins purchase with credit or debit card at 3% to 4%. The purchase limits are set on the level of account verification, with email verification not granting you the buying rights, phone verification giving you €50 daily and ID verification securing €350 daily and €10,000 monthly.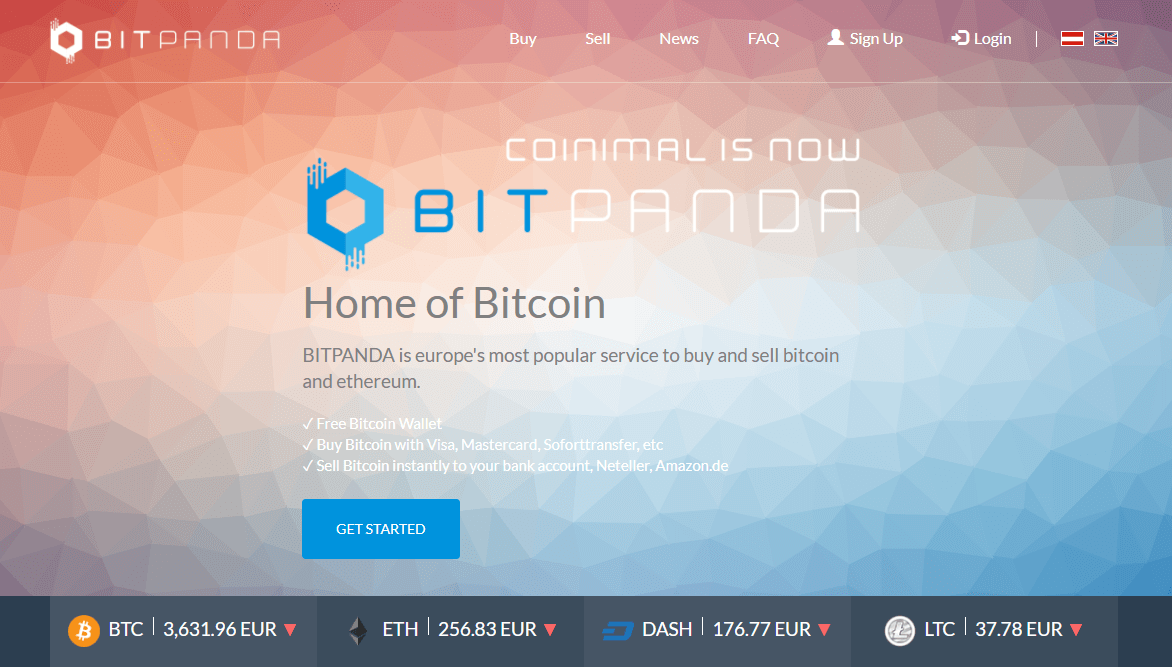 Pros
low bitcoin purchase fee in Europe;
huge variety of payment options.
Cons
fees are hidden within purchase price;
low privacy due to the verification limit;
not available outside of Europe.
CEX.io
Another exchange that allows buying bitcoins with credit cards, CEX.io is one of the oldest bitcoin exchanges and is available in US, Europe and partially in South America. CEX.io offers $300 daily and $1,000 monthly purchase limits and with verification $10,000 daily and $100,000 monthly while the fees stand at 3.5% + $0.2.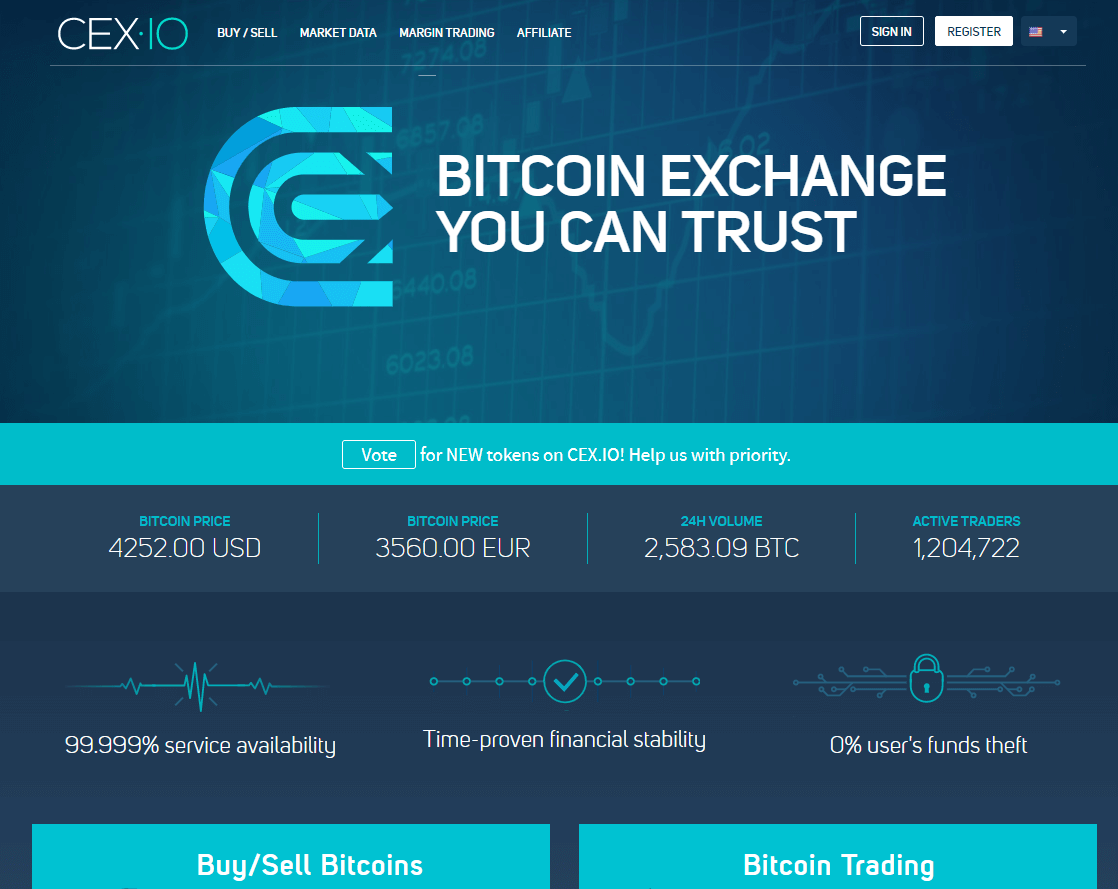 Pros
established player in the market;
fast buying process;
responsive support.
Cons
verification needed and could be extensive (30 minutes procedure, even photo included);
lack of liquidity for GBP (Update June 20, 2017: Resolved).
VirWox
Although not directly engaged in bitcoin exchange, the VirWox offers payments via Second Life Lindens, a currency used in the virtual world, Second Life. With your credit/debit card, you could purchase the Lindens and then sell them for bitcoins through Skrill (the virtual credit card). The fees consist of €0.39 + 3.5% of each purchase and service is available globally. Purchase limitations depend on the age of the account.


Pros
rare exchangers with PayPal payment option;
no ID verification required.
Cons
complex indirect purchase;
limits low at the beginning.
Coinhouse
Established by bitcoin Embassy in France, Coinhouse is known for its unique 3D secured credit/debit card purchases and is available in Europe only. Depending on the purchase volume, the transaction fees vary between 6% and 10%. Depending on the verification level, purchase limits can go up €2,000 daily and €10,000 monthly.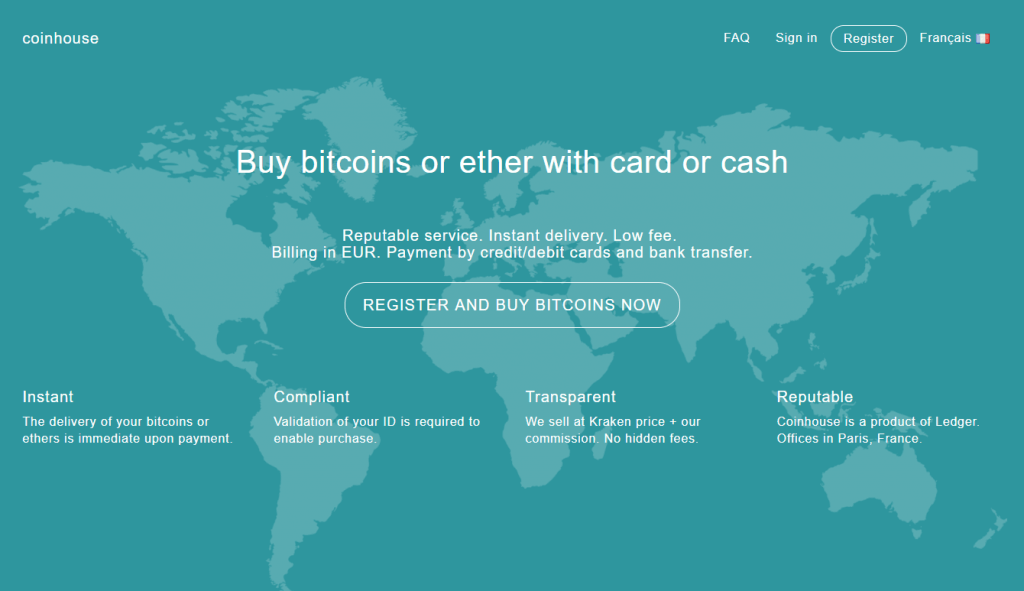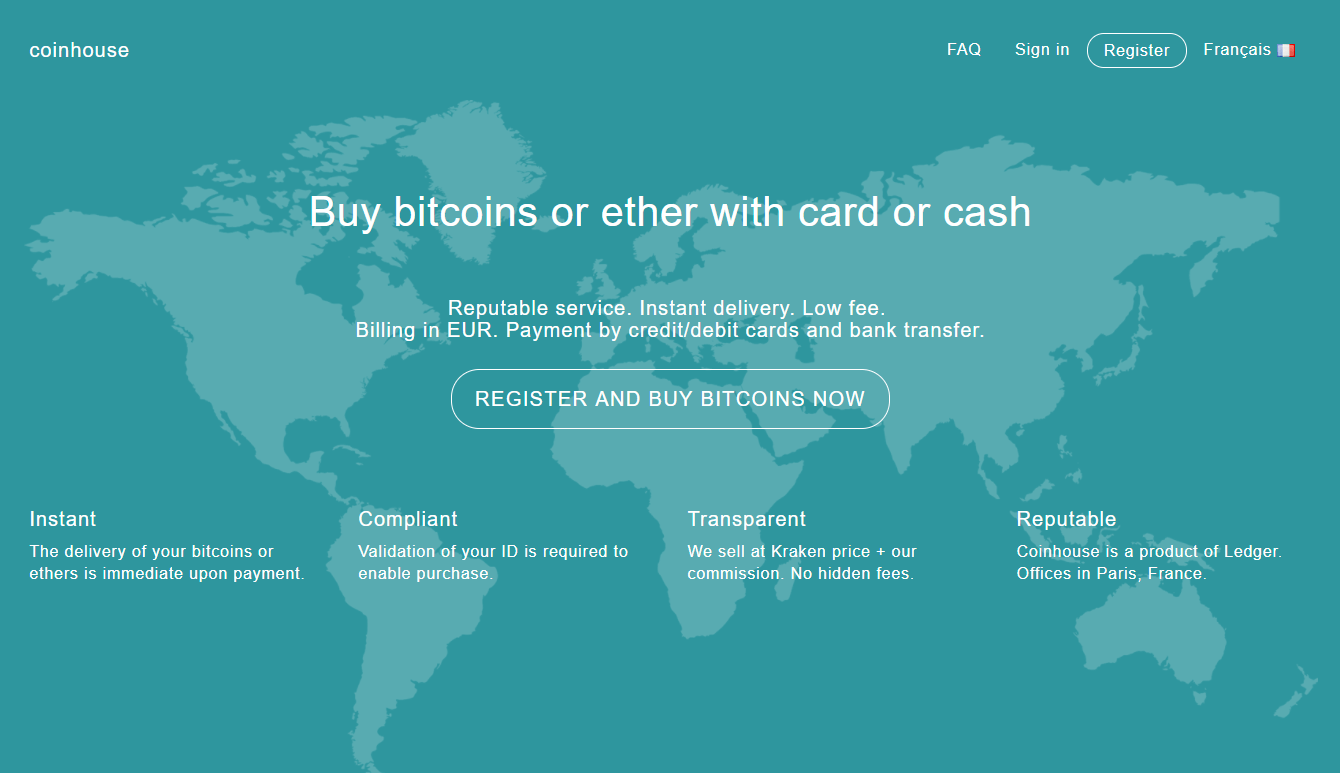 Pros
3D card purchases (both credit and debit cards);
easy to use.
Cons
high fees of between 6% and 10%;
extensive verification needed.
Bitstamp
Bitstamp, although available in the UK, Slovenia, Germany, and Italy only, offers purchases in both USD and EUR and has recently opened credit card payment option for traders. The purchase limits are up to $300 daily and a $1500 weekly with the fee of 8%.


Pros
very high limitations with fully verified account;
well-funded and reliable exchange;
low transaction fees.
Cons
extensive verification;
high transaction fee of 8%;
limited regional availability.
247Exchange
247Exchange offers credit/debit card purchases at 7% + $0.5 with limits set by the age of account, starting from $150 daily and $300 monthly and ends at $3,000 daily and $30,000 monthly after a month. The service is available globally except in the US.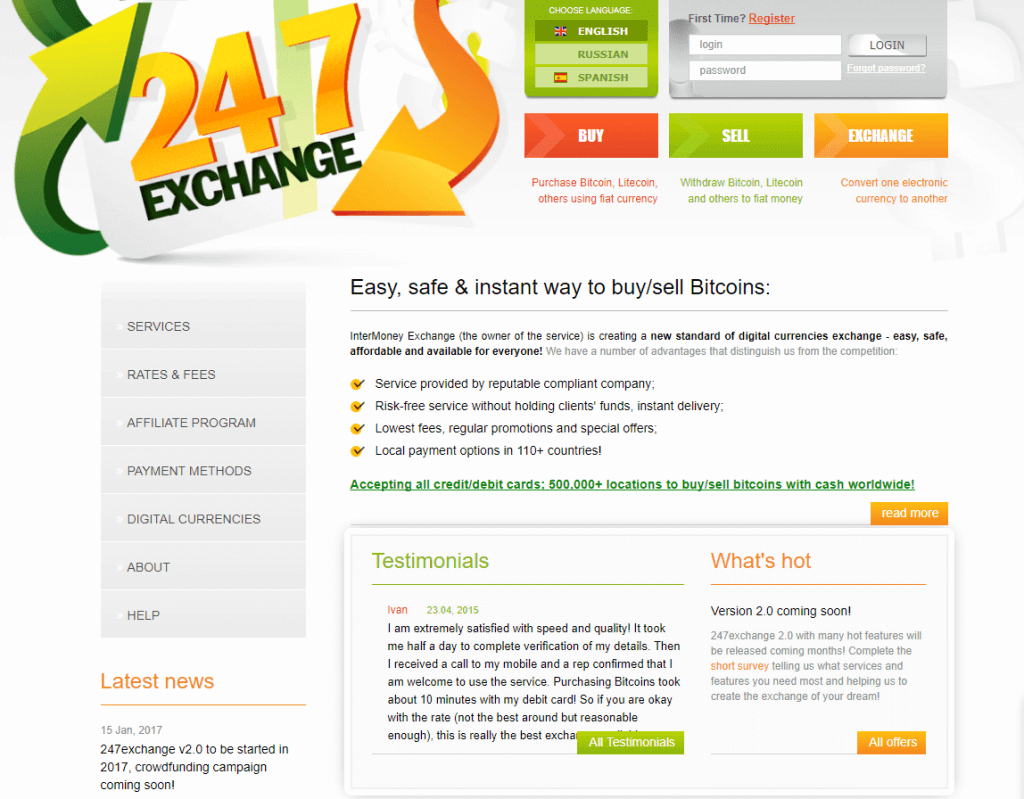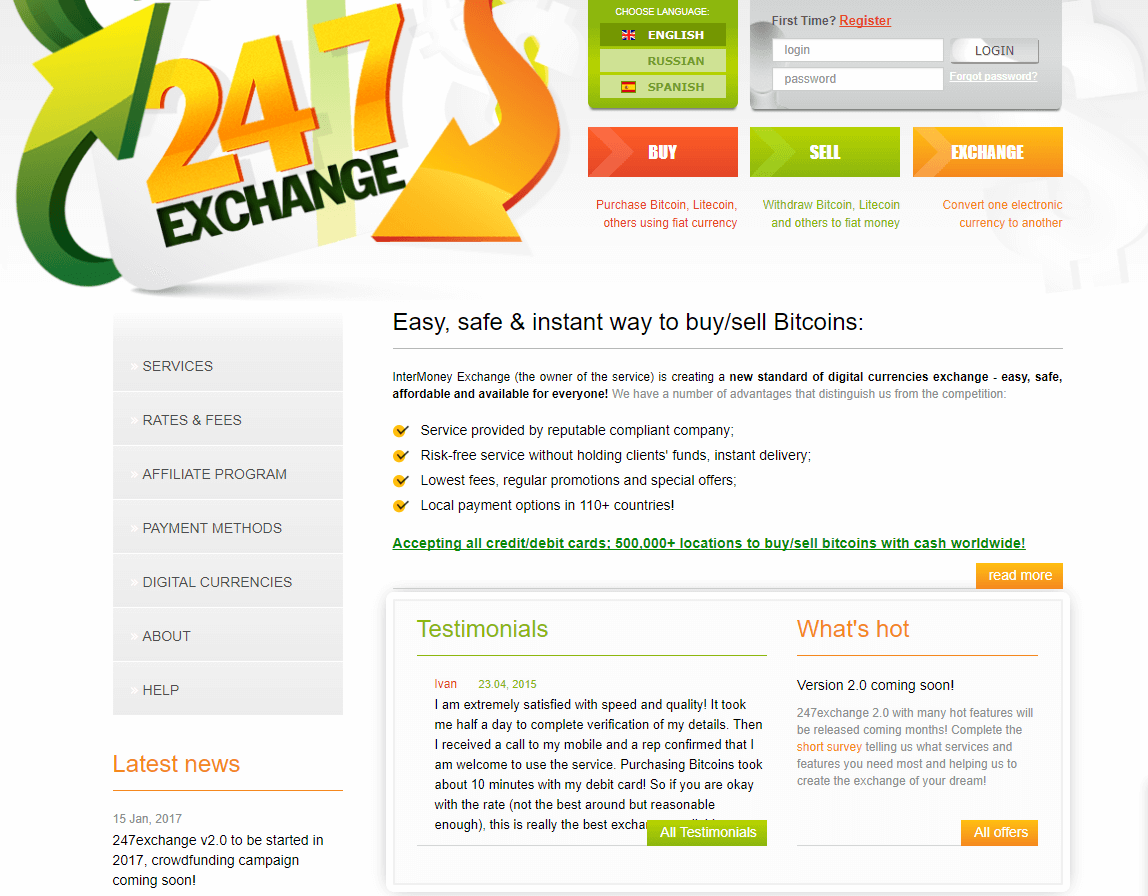 Pros
available globally;
PCI compliant;
video tutorials.
Cons
high fees of 7%;
complex verification process.
Bitcoin.com
The bitcoin.com is not directly an exchange in terms of purchasing and selling bitcoins, but it is definitely a useful source of information as well as a link to other exchanges out there.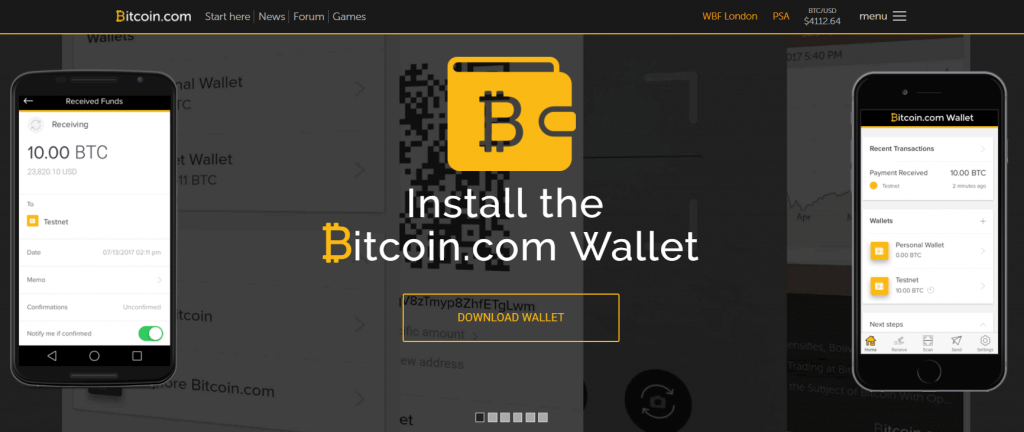 Pros
detailed list of exchanges;
very informative of bitcoin trends.
Cons
does not offer purchase of bitcoin by itself;
too many referral links.
IndaCoin
Based in the UK, the IndaCoin exchange offers bitcoin purchase with credit/debit cards (3D cards are also available) at 4% charge and scaled limits of purchase amounts. The limits are scaled by days, starting at $50 for the first purchase, to unlimited amounts available to purchase after 30 days. IndaCoin is available globally and requires no ID verification to actively trade bitcoins with bank cards.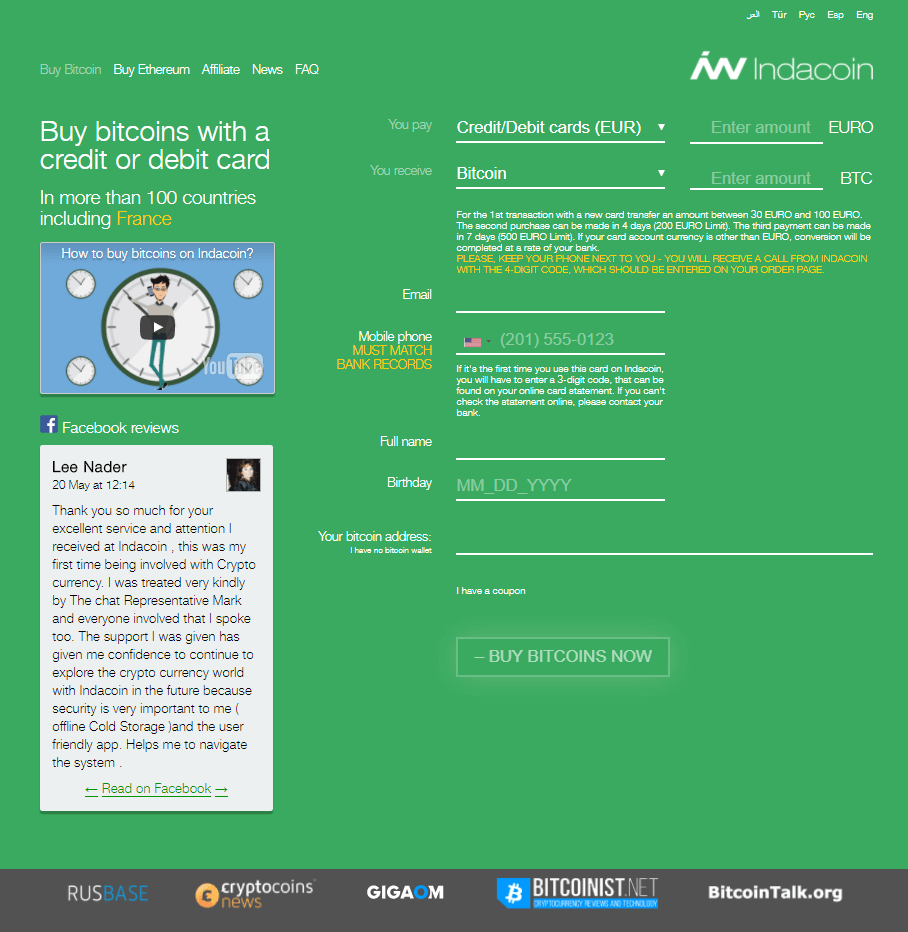 Pros
no purchase limitations;
3D card available;
no verification or registration.
Cons
complex and very technical site;
very high fees;
low limits.
BitBay
Located in Poland, the site offers credit/debit card purchases at the transaction fee of 5% with limits being 5,000 EUR or USD daily and 20,000 EUR or USD monthly.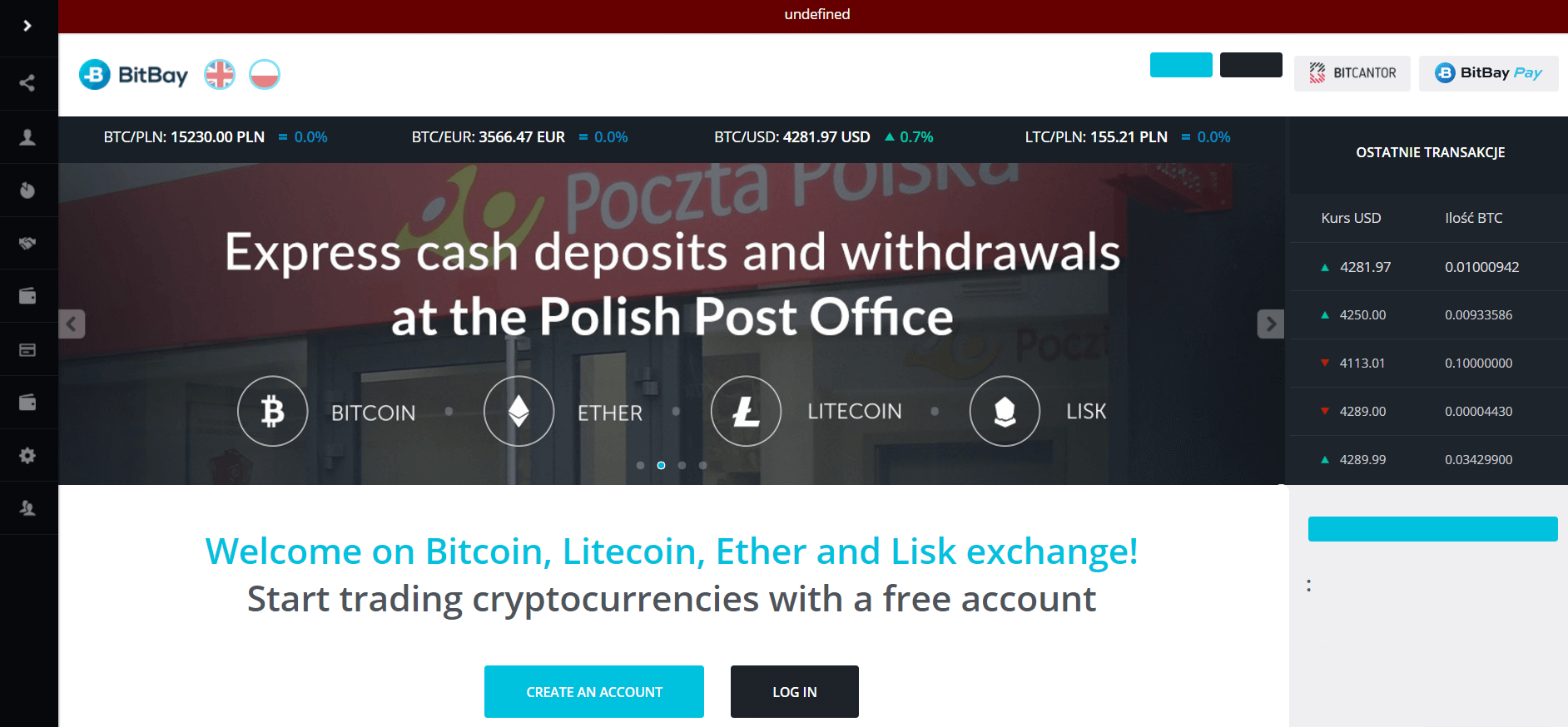 Pros
offers MasterCard debit card to pay bills and make local purchases;
high limitations.
Cons
complex verification;
limited regional availability.
Tutorial: Buying Bitcoins with a Credit/Debit Card at Coinbase
The first step would be to create an account at Coinbase's sign-up page, fill out the details and verify your scanned ID.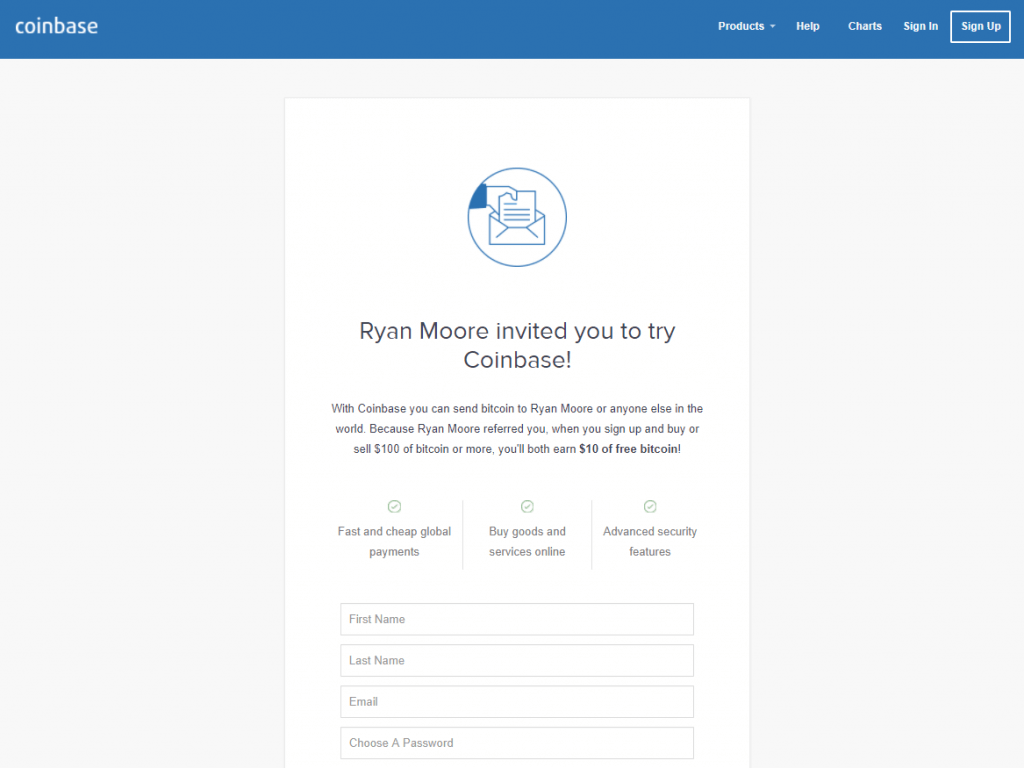 Once you have been verified, find your name on the top right corner and choose "Payment Methods" to add your credit/debit card by filling out the needed information for successful card verification.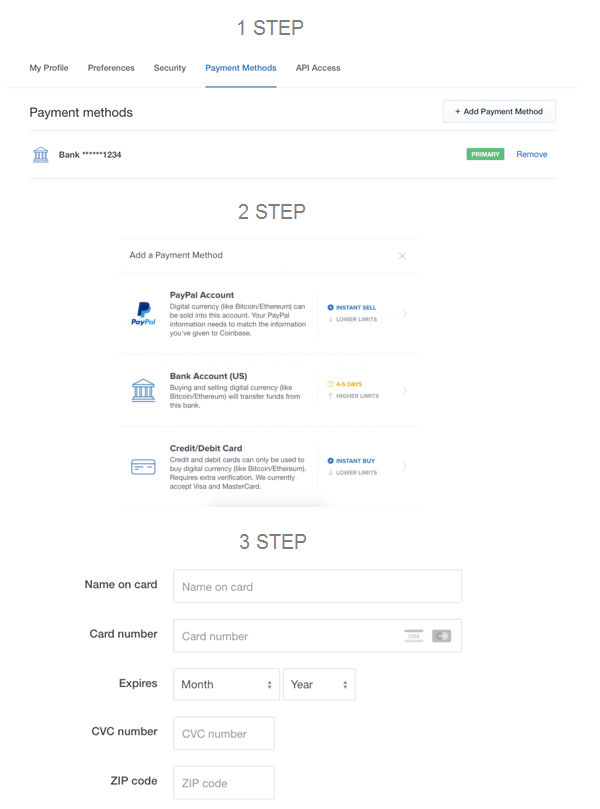 Once you have successfully added the credit/debit card, go to the buying page and enter the amount you wish to purchase and click "Buy bitcoin Instantly". The bitcoins then would be deposited to your wallet as the transaction ends.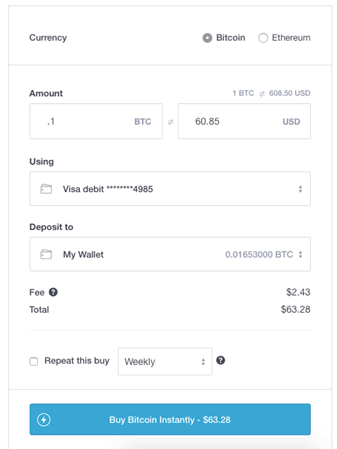 | Country | Payment Method | Deposit Fees | Funds Available |
| --- | --- | --- | --- |
| USA | Credit / Debit Card | 3.99% | Instant |
| USA | U.S. Bank Account (ACH Transfer) | 1.49% | Instant |
| USA | U.S. Bank Account (Wire Transfer) | $10 | 3-5 Business Days |
| Canada | Credit / Debit Card | 3.99% | Instant |
| Australia | Credit / Debit Card | 3.99% | Instant |
| UK | Credit / Debit Card (3D Secure) | 3.99% | Instant |
| UK | Bank Transfers (SEPA, euros) | Free | 1-2 Business Days |
| EU | Credit / Debit Card (3D Secure) | 3.99% | Instant |
| EU | Bank Transfers (SEPA, euros) | Free | 1-2 Business Days |
| Singapore | Credit / Debit Card | 3.99% | Instant |
Get Bitcoins with a Credit/Debit Card at Coinmama
You would need to create your account and fill out your personal information to be able to trade in Coinmama.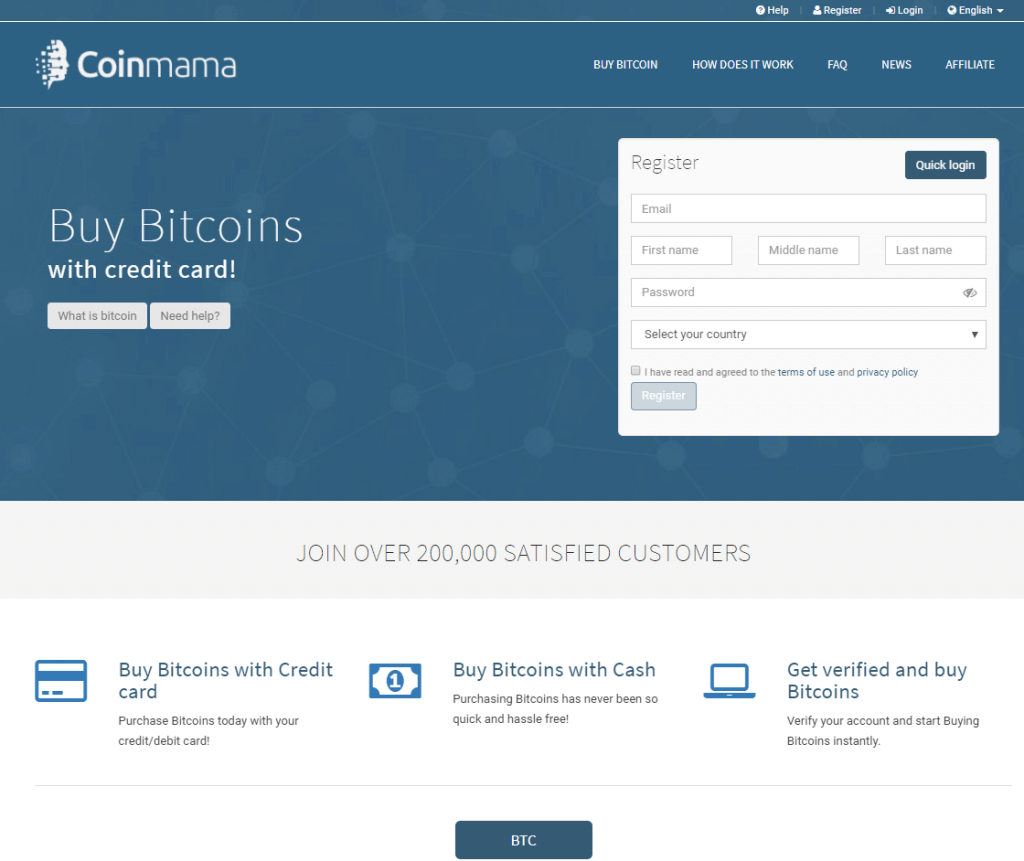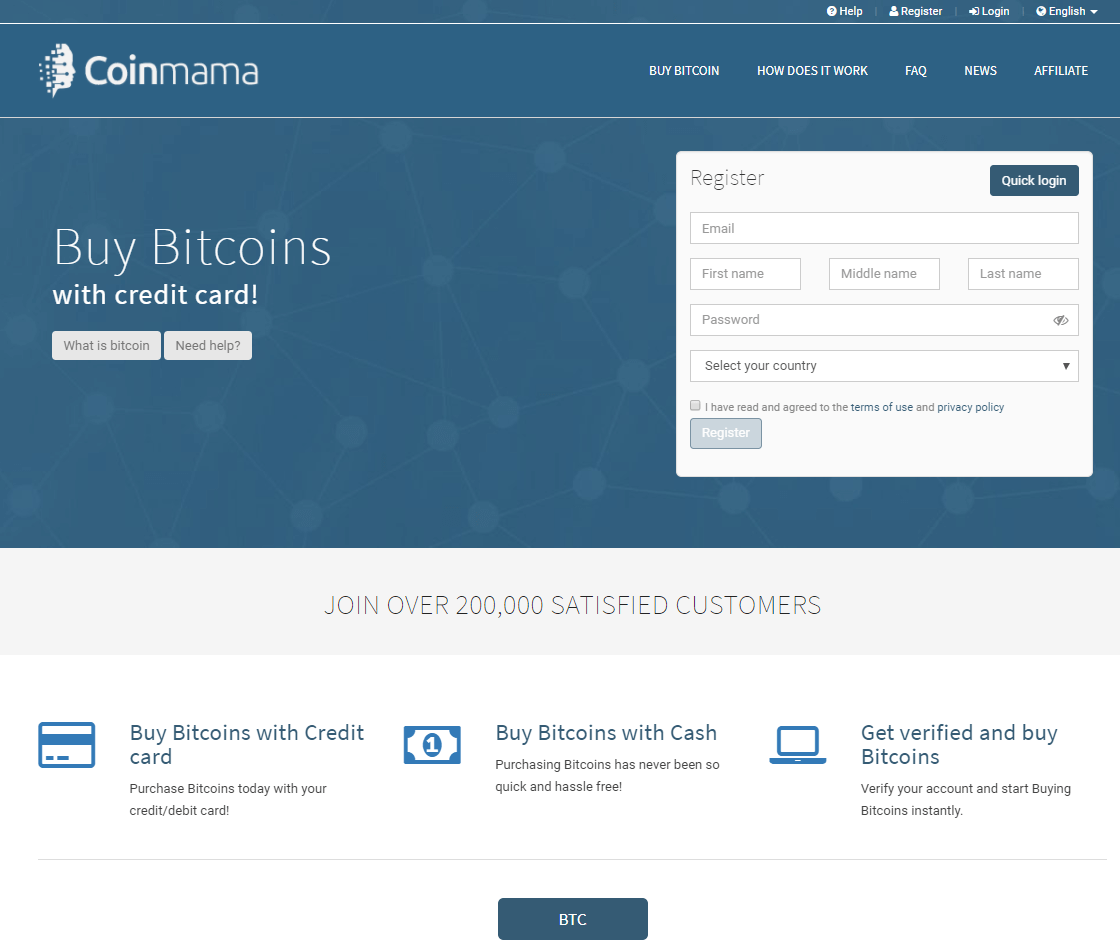 After the profile completion, click "Buy bitcoins" in the navigation bar at the top of the page and set the bitcoin amount you wish to trade.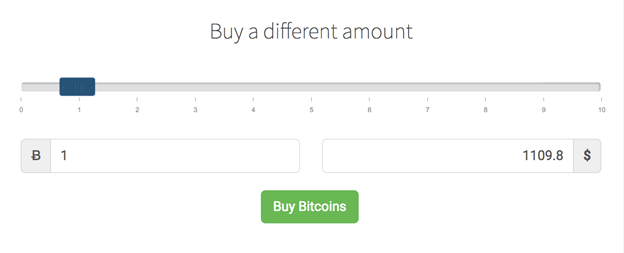 Next step would be to choose your payment method and to add your wallet address.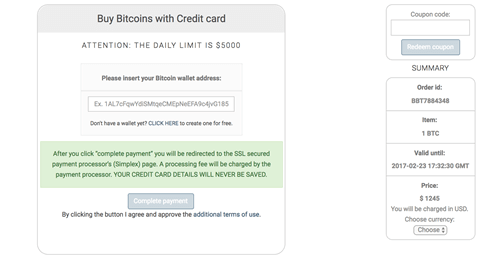 In the following step, fulfill your billing information and address, enter the credit card information and verify your phone, email and scanned ID.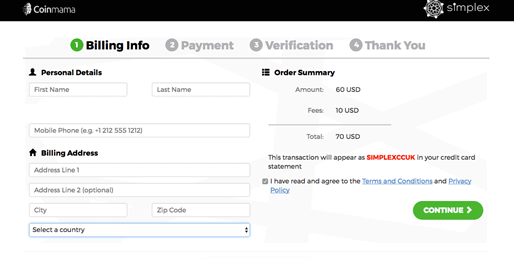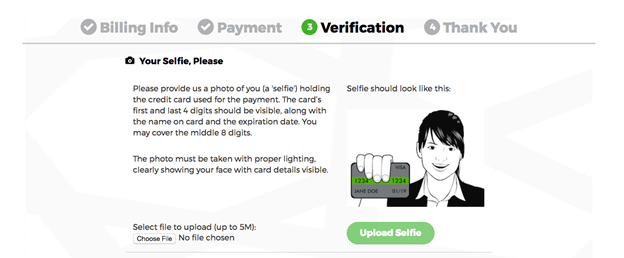 Once your verification has been confirmed, you will receive a confirmation email where your bitcoin transaction has been carried out and your verification process has been finished.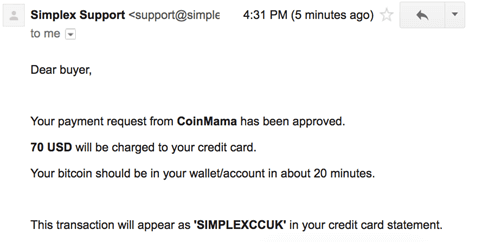 How to Get BTC Through CEX.io with a Credit or Debit Card?
On the top right menu list, click on "Card Manager" and fill out your credit card information and proceed to your ID verification.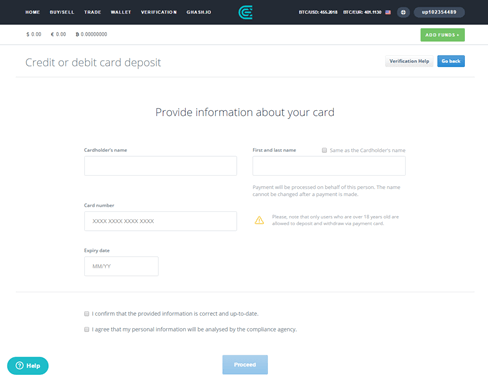 Once your card is verified, deposit value that you wish to purchase bitcoins with and proceed to choose credit/debit card for payment method.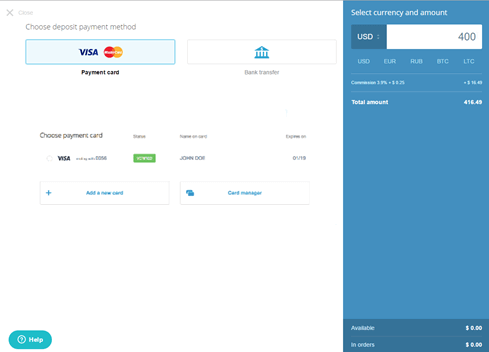 Now go to the "Buy/Sell" button and buy bitcoins at the amount you wish to gain.
Purchase Bitcoin with a CC/DC at Coinhouse
To start, you need to create your account in Coinhouse by providing your email address. Once email confirmed, you would need to verify your ID document and provide selfie picture with that ID. Additionally, you will be asked to provide utilization bill as a proof of your address. Your bitcoin wallet information is also a must in order to receive them.
Next step would be to choose the payment method section and click on "Add Payment Method" and click on credit/debit card. Fill out the details of your CC, and choose the value of bitcoins you wish to purchase.
Once CC is verified, your transaction shall be processes and bitcoins transferred to your bitcoin wallet.
Order BTC with a Credit or Debit Card through BitPanda
Open your account at BitPanda, and after email verification chose "Visa/MasterCard" payment method in the "Buy" section on the top menu bar.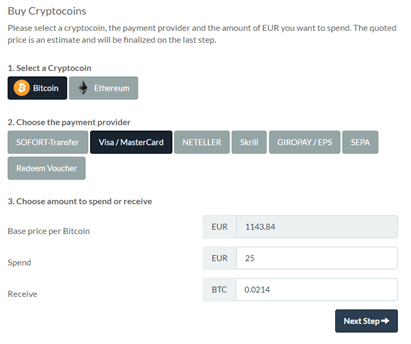 Click on the CC/DC payment method and confirm the amount you wish to buy.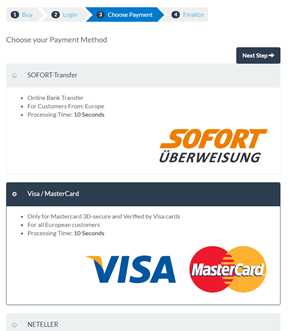 Now you need to confirm the method and exchange rate at the bottom of the finalization step (note that you have only 60 seconds to do that).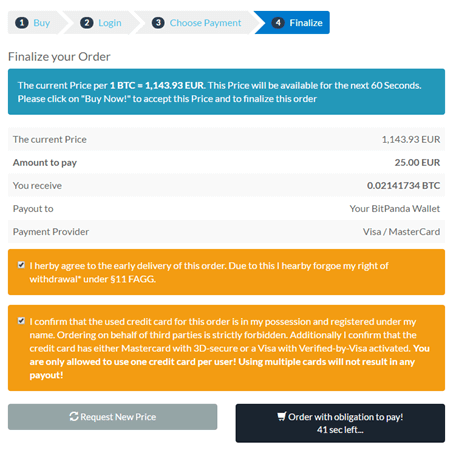 Verify your purchase through SMS PIN code by sending the PIN you have received on your phone.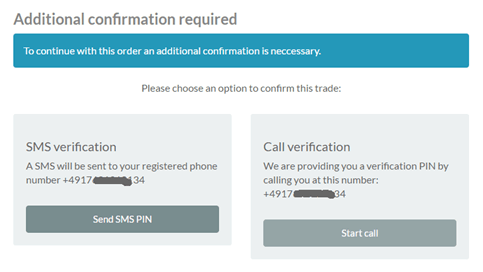 Once verified successfully, click "Click here to start the payment process" and wait for the email confirmation process to start.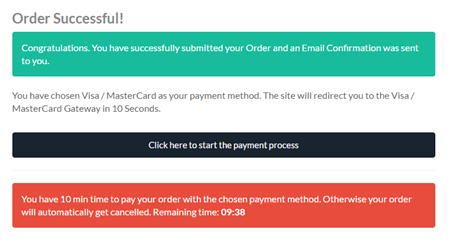 Once email checked, enter your credit card details through mPAY24 and press "Bezahlen" to complete your purchase process.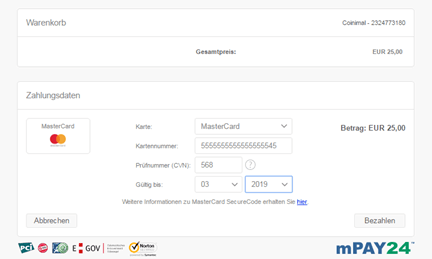 Buy Bitcoins on Bitstamp (Credit/Debit Card)
First, you need to register yourself in Bitstamp and get your email verified.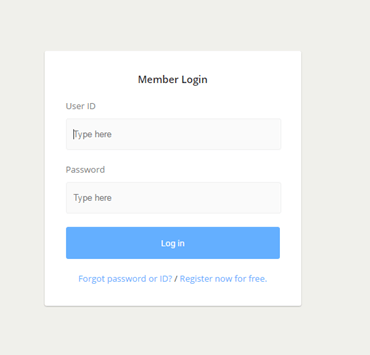 Now click "Deposit" on your account page and choose "Buying" credit/debit card method of deposit.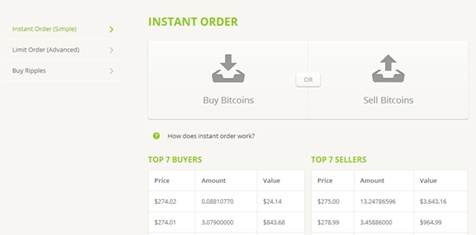 Your next step would be to choose credit/debit card method of deposit. Enter your card details, the number of bitcoins to trade and finish the verification process for your purchase transaction to be completed.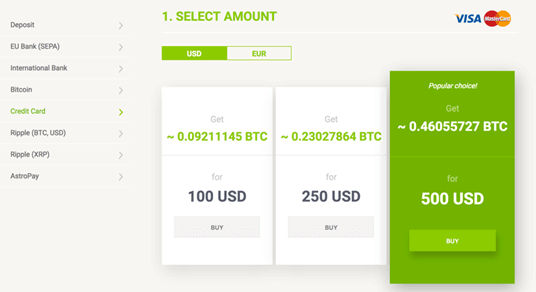 How Can You Buy BTC with a CC/DC Through VirWox?
To start the purchase process in VirWox, click on "Not registered yet?" option and enter your username and email.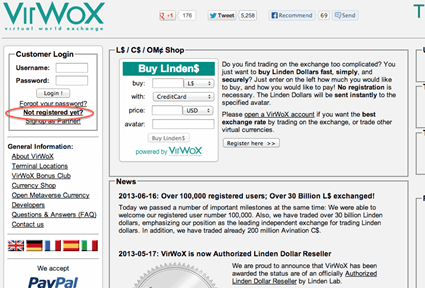 Once logged in, go to "Deposit" and click "Credit Cards/Debit Cards" where you would enter the amount of money you want to deposit.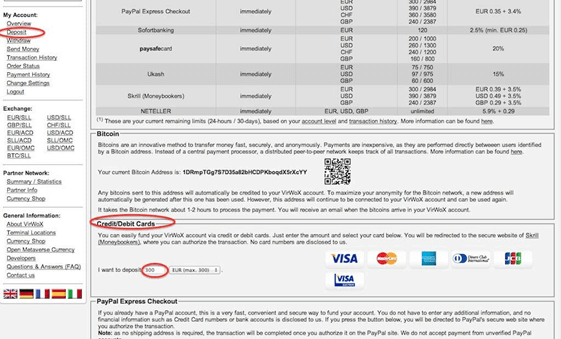 Now you need to purchase Second Life Lindens by clicking on "SLL/USD Exchange" and with the SLL amount, now you can purchase the wanted amount of bitcoins, finalizing the process.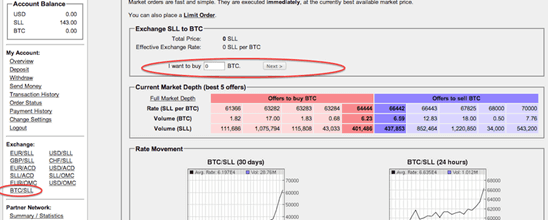 Guide – How to Buy BTC via IndaCoin (Credit/Debit Card)
The first step would be to choose the CC payment method and amount in USD that you wish to exchange for bitcoins. Provide your email and bitcoin address and then click "GO".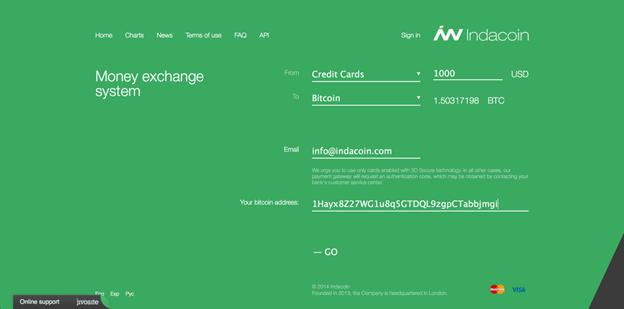 Next step would be to provide your CC information and to confirm your email address.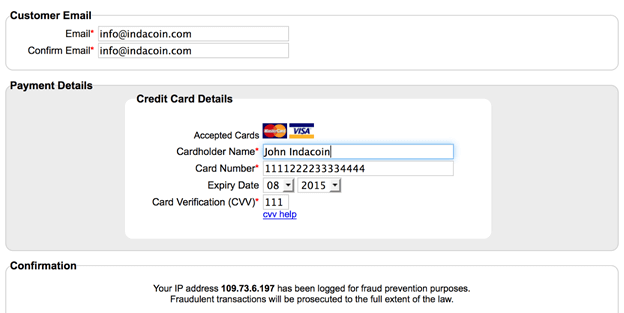 Once the CC and email verification are done, your transaction would be processed automatically and your bitcoins transferred to your bitcoin wallet.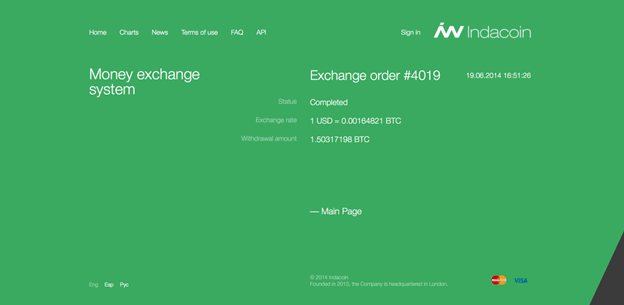 Tutorial: How to Get Bitcoins with a CC/DC at 247Exchange
In this exchange, you need to click on "Buy" option and then fill out information in the purchase window (email, bitcoin amount and CC purchase method).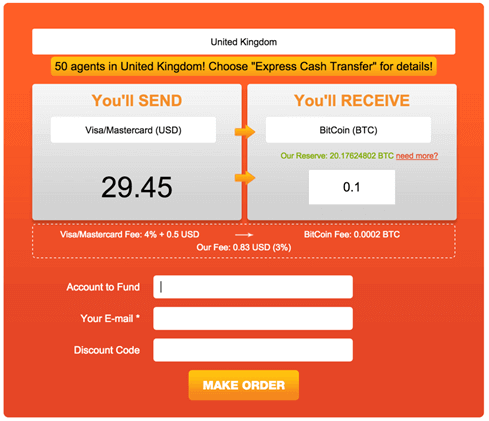 In next step, you will be asked to verify your ID and phone number. In next step, you need to enter your CC information and wait until the verification of your CC is complete. Once done, your transaction will be carried out automatically and bitcoins purchased would end up in your bitcoin address.
Buying Bitcoins with a Credit/Debit Card on Bitcoin.com
As mentioned before, the bitcoin.com offers other websites as options on buying bitcoins through various payment methods, credit/debit cards included. The page where you can view these exchange providers offers a list according to your location while singling out the featured brokers that bitcoin.com has deemed as most suitable for your needs.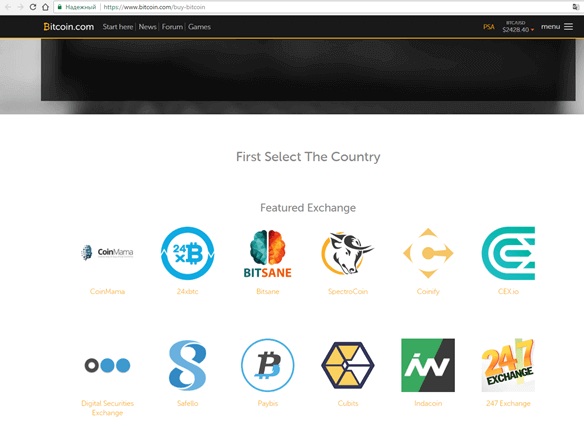 How to Purchase BTC with a Credit or Debit Card via BitBay
The first step that you need to take is clicking "Create an Account" button at the top of the website. Fill out the registration form and then click on the confirmation link sent to your email.
Next step would be to choose "Deposits" from the unfolding menu on the left, choose a credit/debit card method and the amount you wish to purchase bitcoin for. The amount, after the card has been verified would then be deposited in your BitBay account.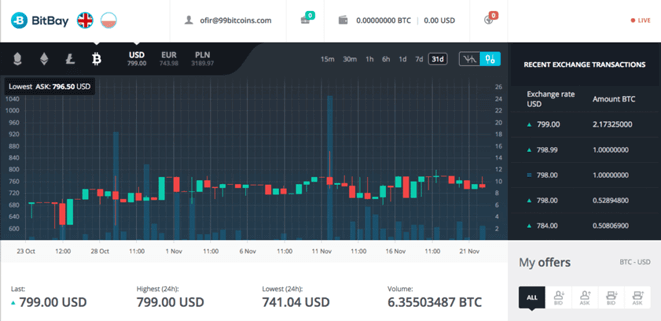 Choose "Exchange" from unfolding menu and use Instant Buying option. As you purchase the bitcoins from the account directly, they will appear on the BitBay wallet and mark the transaction complete.
How Else Can You Buy Bitcoins?
Apart from credit/debit card purchase method, you may also use cash payments, PayPal, NETELLER and many other options depending on the exchange broker in question.
Each of these methods varies in speed, safety, your location, and fees so be sure to compare them to each other to gain a clear picture of what is the best option for you at the moment.
So What Exchange Should I Choose?
There are many out there to choose from and all of them have their own pros and cons that you should be aware of. Ultimately, it comes down to what payment options are available, what locations are served, how secure they are and fee that they take from your purchases.
There is no best place to purchase BTC so list the exchanges out, see what do they offer and choose the most suitable one (or more) for you to trade with. You could use the template provided below and enlarge it for your own needs.
Bitcoin Exchange
Quick Take
Countries
Deposit Method
Coinbase
The best way to buy bitcoin online in the United States, Canada, Australia, the UK & Europe. Liquid, low-fee US-based bitcoin exchange that holds multiple currencies. Due to our referral program, when you sign up and buy or sell $100 worth of bitcoin, you will earn $10 of free bitcoin!
USA, Canada, Australia, UK, EU, Singapore
Credit Card, Bank Account
Changelly
Instant cryptocurrency and BTC exchange with user-friendly interface. Fees are higher than the average as it provides speed and privacy (no ID verification).
Global including USA
Credit Card
VirWox
Buy bitcoins with PayPal: one of the main methods that people use to buy bitcoin is through PayPal. They charge a 10% commission fee for PayPal/BTC trading.
USA, Canada, UK, EU
PayPal
LocalBitcoins
The most private way to buy bitcoins through a peer-to-peer exchange. Operates everywhere.
Global including USA
Cash, Bank Account, PayPal, Gift Cards
CEX.io
Well-funded reputable and liquid bitcoin exchange. Great option worth checking out.
Global including USA, UK, EU, Russia
Credit Card, Bank Account, Crypto
Coinmama
Allows purchases of bitcoins with credit card to nearly everyone in the world.
Global including USA (22 states)

At this moment, Coinmama exchange supports 40 U.S. states

Credit Card, Cash
FAQ
Risks While Buying Bitcoins with Credit/Debit Card
The provider could use your credit card details to make fraud purchases with you finding out about it too late. Make sure the exchange has a good reputation and has been in the market for a while.
There are also brokers who could ask for advance payment of both bitcoin value and fees without releasing bitcoins in return. Again, make sure you research the exchange well to avoid unpleasant situations.

Buy Bitcoin with Credit Card Anonymously
There are exchanges that offer the anonymous purchase of bitcoins without any sort of verification, apart from a credit card, but take into account that limits, in that case, are low in most exchanges.
Coinmama, you could purchase bitcoins with CC/DC with a limit of $150 for the first time buy and $5,000 daily after. Coinmama is one of the rare cases of brokers who allow bitcoin purchase without the need for verification but the broker makes you pay for it – 7% fee.
What Are Advantages and Shortcomings?
Advantages
buying bitcoin with credit card is one of the fastest ways of BTC purchase;
similar to shopping various products online.
Disadvantages
small amounts of bitcoin available for purchase;
high fees compared to other payment methods;
low possibility for CC details theft and frauds.
How to Buy BTC with Stolen Credit Card?
There is no way to purchase BTCs with stolen CC as all exchanges would ask you to verify your card. Also, such transaction is illegal.

Can You Get BTC with a Prepaid Credit/Debit Card?
Most of the exchanges that specialize in credit card purchases would not accept the prepaid CC/DC method, so use LocalBitcoins if you would prefer that purchase method.
Buying Bitcoins on Multiple Exchanges
Yes, it is possible to purchase bitcoins with credit card in different exchanges at the same time. If you feel the limits are too small for you in one exchange, an example being CoinMama and $150 for a week, you could always go to Coinbase, open your account there and gain additional bitcoin in the value of $150.
Difficulties with Purchasing BTC with a Credit or Debit Card
The exchange brokers also face risks when selling their bitcoins to you. Namely, the payments through credit/debit card could be reversed by you, while merchant cannot reverse the bitcoin transaction. Result: you take your money back and gain bitcoins for free, while merchant loses bitcoins.
That is why merchants are always on the lookout for frauds, creating complex verification processes to ensure you don't run away with both money and bitcoins. Some other brokers might not offer payments through CC/DC at all while others would impose severe limitations and other constraints on your purchases for the same reason.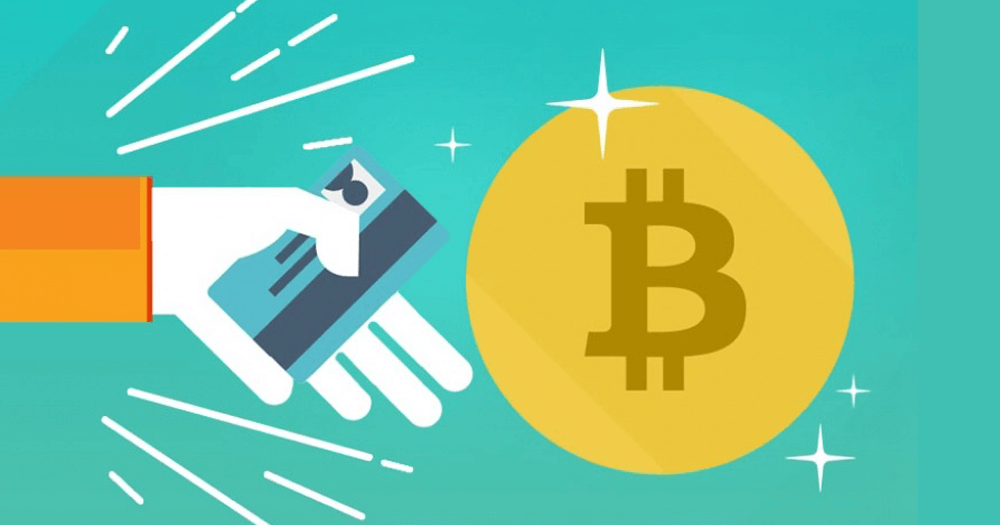 Can I Buy Bitcoin with Credit/Debit Card Without Verification?
Yes, as some exchanges do offer the CC payments without the card verification like Bitit.io though they are rare. Also, take great care as there is a chance a scam might be involved, so make sure you properly research a broker before attempting any purchasing activities with the said exchange.
Is It Risky to Enter My ID?
Depends on the exchange itself and what you are afraid of. The information that your ID contains should be protected and the broker is obliged by the law to not give such details to any other party.
As the bitcoin exchanges have a history of bitcoin attacks, they have raised the defense systems considerably in the last few years. Again, watch for the reputation and what bitcoin community thinks of the broker at the moment to be sure.

Is It OK to Leave My Bitcoins on the Exchange?
Though same as with ID information, bitcoin thefts in the past have happened, so we clearly do advise you to keep your bitcoins in your own wallet. There is always a chance you might lose bitcoins, no matter how strong broker's defense system is or how good and clean reputation the exchange has. As the saying goes "Better safe than sorry."
Scams and Frauds with BTC Exchanges
The BTC exchanges could use your credit card details to make purchases without your knowledge and withdraw all your funds against your will.
Frauds could also be of external nature, such as the hackers attack and theft of bitcoins stored in Exchange's wallets.
Finally, the bitcoin price is not centralized, thus the pricing depends on the exchange itself. Research the price in other brokers, so you don't pay above the price beyond what is reasonable.