If you've already heard about the Bitsquare trading platform you need to know that it has changed its name to short one – Bisq. Nevertheless, this marketing ploy is not such important as quality of service. So let's see if there are any more changes in their work at this detailed review about Bisq cryptocurrency trading platform.
Summary: Get Bitcoin on Bisq (Bitsquare)
Go to the Bisq's homepage, download the program and install it.
Arrange your profile according to the payment method, currency and other trade indicators that are acceptable to you.
Click "I want to buy BTC with USD" button and search for the best offers in the market.
Once an offer is found that satisfies your needs, click "Buy BTC".
Check the trade agreement and follow the steps provided by the seller.
You should withdraw the coins to your hardware wallet once received.
Cryptocurrency peer-to-peer (P2P) marketplaces are favored by traders due to many advantages these platforms hold over more traditional exchanges. They usually require very little details about your identity, fees are low and regional coverage is vast. That is why we made a review about one of the most popular bitcoin P2P platforms in the world called Bisq bitcoin exchange (formerly known as Bitsquare).

Keep reading as we go through exchange's history, interface, security, fees and payment methods. We have also provided you with step-by-step guides on how to install Bisq and how to get BTC. Finally, we propose pros & cons of the company, which can be used when benchmarking the platform with other, similar exchanges.
What Is Bisq?
Bisq is a decentralized cryptocurrency platform, where traders from around the world can buy and sell each other's digital coins. The marketplace uses a variety of fiat currencies and is installed on your computer. The team behind the P2P exchange opened up the operations in 2014, with the leader being Manfred Karrer. Since then, numerous updates have been implemented on the system, further expanding the trade functions and services available for users.

In 2017, exchange changed the name from Bitsquare to what is now known as Bisq. The reason for the change was that efforts were made on rebranding the marketplace, providing it with the more suitable name. The change of the name was part of marketing efforts, to reach larger customer base.
The platform is decentralized in every aspect and offers open source services for its clients. Wallets are secured by using 2 to 3 confirmations from the blockchain, while all transactions are recorded in the ledger book open for public.
Interface
The overall look, although slightly confusing for beginners, is quite simple once you get used to it. Functions, markets and settings are all visible while providing numerous charts and historical records of the market. The exchange provides simple buy and sells functions while analysis tools are similar to functions in margin trading.

It is customizable up to a certain point, since you can change only few interface commands, mostly revolving around what orders and ads to be shown.
Bisq Security
Most of the security found in Bisq is related to the wallet protection. You can set up a wallet transaction password and you get a recovery phrase in case your program is compromised by a hacking attempt. You also have the ability to backup your files in case your desktop device malfunctions.

Account protection does not have enough available tools since there is no two-factor authentication (2FA) nor email notification system for you to use. You are responsible for scam detection since platform does not employ checkups on users.
Which Currencies Does It Support?
Bisq offers trade related to over 40 altcoins with bitcoin, Litecoin and Dash being the main cryptocurrencies of trade. You can purchase these three cryptos through altcoins like Monero, Mycelium Token, Zcash and Siafund. Apart from digital coins, there are several fiat currencies available to you, as USD, EUR, GBP, AUD, CAD, INR, RUB and UAH.

Fees
The exchange employs maker & taker fee structure to its market. The maker fees are minimum 0.0002 BTC and depend on the volume and market movements. You should head over to the FAQ section of the platform and seek out how to calculate the fee, as the process is a bit complex. You can also take a look at the snapshot below, though costs are subject to a daily change.

Takers also have the same level of costs, with the difference – orders are paid three times more miner fees, which vary form 20 satoshis per byte to 400 satoshis per byte.
Payment Ways Supported
At the time of the investigation we have uncovered several options available to use at Bisq. These are: AliPay, Cash App, Cash Deposit, Chase QuickPay, Faster Payments, Interac, MoneyBeam, OKPay Perfect Money, Popmoney, Revolut, bank transfers, SEPA, Swish, Uphold, US post, Venmo, Western Union and Zelle.

You set these up at "Account" page by creating a separate profile of the payment method. You can create several of these profiles, and choose one of them when seeking out sale ads.
Bisq Functionality and Features
In this section of the article, we go over various tools and functions that you can use when buying bitcoins at Bisq. We will show you how does the platform work and what it means to trade in the Bisq marketplace in terms of analysis, purchase functions and user background checks.
How Does Bisq Work?
There are several steps that need to be taken in order to buy BTC at Bisq platform. The first would be to set up your account by choosing your preferred payment method(s) and fiat currency. Next would be to secure your wallet through wallet password code and backup of the platform. Then, the marketplace would be open for you though only offers that match your purchase method would be available.

Unlike other platforms where price is updated every 5 minutes or so, the orders available depend on individual traders. Thus, the price of the coin might change rapidly or stagnate depending on the supply only.
Trading on Bisq
You can set your own orders regarding bitcoin purchase and sale. The value depends on you and fellow traders, applying standard market supply and demand trends. Since users themselves set the price, trading on competitive prices is the strategy that works at Bisq. The cheaper price you have the bigger chance to sell it out fast.

You can also set your own purchase order and leave it until a seller picks it up and sell you coins under your requirements as well. Thus, trading at Bisq can be seen as limited margin trading, with a difference that there are neither functions providing you with limits nor long or short positions .
Guide to Use Bisq
In this section, we provide step-by-step guides on how to install the platform on your desktop, with the Windows OS. We shall also provide guidance on how to configure your account, add funds to your wallet, buy BTC and sell them later on.
Install Bisq
Go to the "Downloads" page and choose the version compatible with your operating system. The platform includes versions for Windows, Mac, Debian, Ubuntu and Linux.

Once downloaded, run the .exe file and click "install" button to start the process.
You will get a window showing you the process of the installation, much like with other programs.
In next step, we would recommend you to read the "User Agreement" before you proceed and click "I agree" button.

Your firewall might ask you to block/unblock the program, depending on what OS you use. Unblock Bisq and proceed further. Once installed, you will get a page similar to the picture below.
This means that Bisq P2P marketplace is all set up and ready to be used by you. Your account is already registered and now is up to you to organize the interface, data and your profile.
Account Configuration
Before you will be able to purchase coins, you need to configure your account in terms of fiat currency used, main cryptocurrency and preferred payment method. The first step would be to choose a payment method and fiat currency. Head over to the "Account" page, located on the top-right corner of the Bisq window and click "National currency accounts".

Here, you need to provide details regarding your preferred payment method. Usually, those are your name, last name, address, region and account number of the chosen payment provider.
In next step, click "Altcoin accounts" and select "Add new account" to add altcoins funding and trading currency if your preferred method is through cryptocurrencies.

Now, head over to the "Settings" page and under "Preferences", choose bitcoin as base currency, while below is located a section that helps to choose your own fiat funding option.
How to Secure Your Wallet?
Once you are done with preferred payment method and currencies, it is time to set up your wallet protection. Head back to "Account" and click "Wallet password" to set up the code for all transfers, in and out of your storage capacity.
Lastly, you should click "Wallet seed" to create a recovery phrase in case your desktop device is compromised. Copy the code outside of your computer, preferably on a piece of paper and keep it safe at all times.

Add Funds to the Bitcoin Wallet
To fund your bitcoin wallet, head over to the section called "Funds" at the top of Bisq window and scroll down to the bottom. You will find that QR and address codes have been generated for you. These codes are then copied to your external wallet, where you would use the information provided by this window and send BTC over to your Bisq account.

For additional security, you might want to click "Generate new address" to get new pathway other than what you had for some time.
Buy Bitcoin via Bisq
You are now able to buy your first bitcoins using Bisq platform. After account settings and wallet protection, you can start the process by clicking "Buy BTC" button on the top-left part of the P2P's window. You will see the supply market with different ads concerning BTC, which you can filter out according to the desired payment method. From the drop-down list, choose the preferred method that you have created a profile for.
Once you find the right offer, click "Buy BTC" and check out trade details regarding your chosen order. The name of the window is "Take offer" and it is up to you to choose the amount of BTC you wish to buy. Check other trade terms and if they acceptable, click "Transfer funds", to end the process with BTC being transferred to your wallet.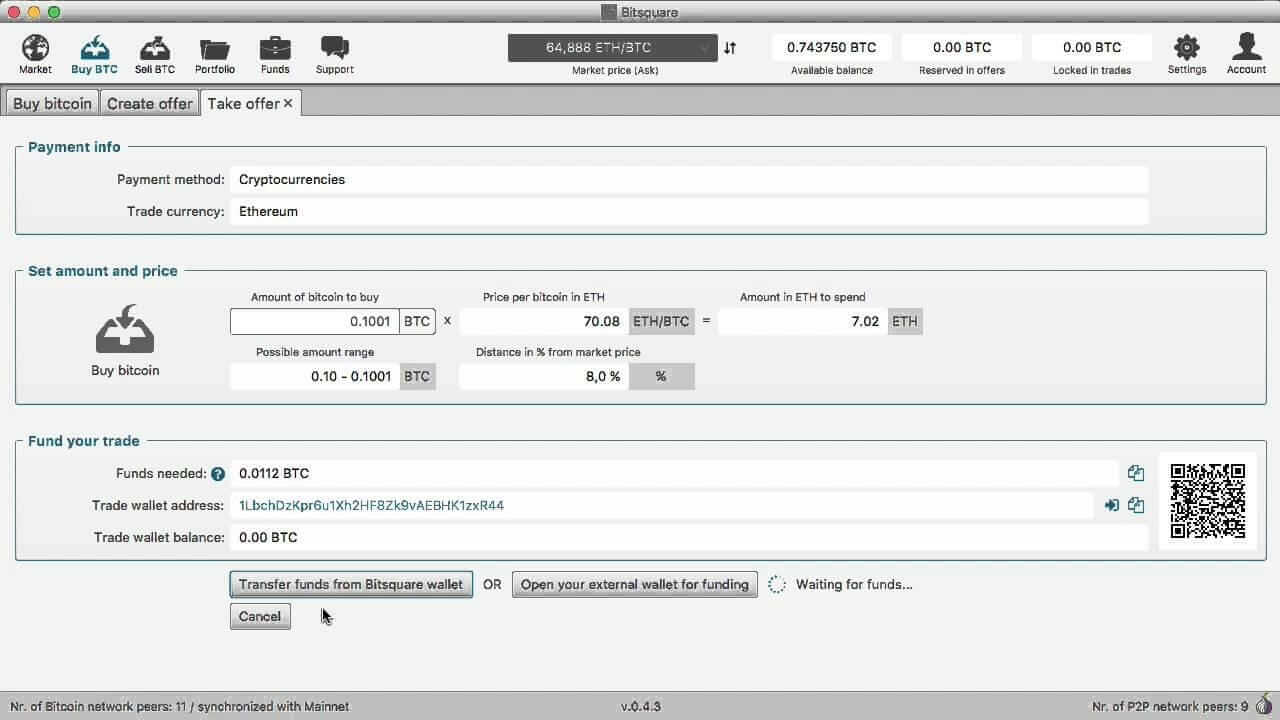 How to Sell BTC on Bisq?
As you can buy bitcoins, so you can sell them through the Bisq marketplace. Head over to the "Sell BTC" section and either choose a sell order from the available options or create your own sell ad.

To create your own order, simply click "Create new offer" button and trade form will open. Put the possible volume range you wish to sell and price value at which you are willing to accept offers. You can choose different payment methods that suit you other than the one you use for the purchase.
Bisq Pros and Cons
Pros
possibility to purchase and sell coins without scanned documents uploaded from your side;
ability to trade using your own domestic fiat currency and altcoin of your choice;
P2P marketplace available around the globe;
possibility to trade using your own pricing strategies.
Cons
some methods like Western Union are not popular;
supply of coins comes usually with low volumes;
lack of account protection functions such as 2FA.
Learn More About Other Exchanges
Apart from Bisq, we made a number of reviews about exchanges that are currently active in the cryptocurrency market. They differ in terms of verification requirements, fees and payment methods, so head over to our other articles, in which we investigate platforms like BitPanda, Gemini and Coinbase.
Read BitPanda Review
We made a detailed guide on how to use BitPanda exchange, one of the largest European bitcoin marketplaces in the industry. You may give it a read as we go through platform's fees, privacy, expense structure, regional availability and fiat currencies offered for BTC purchase.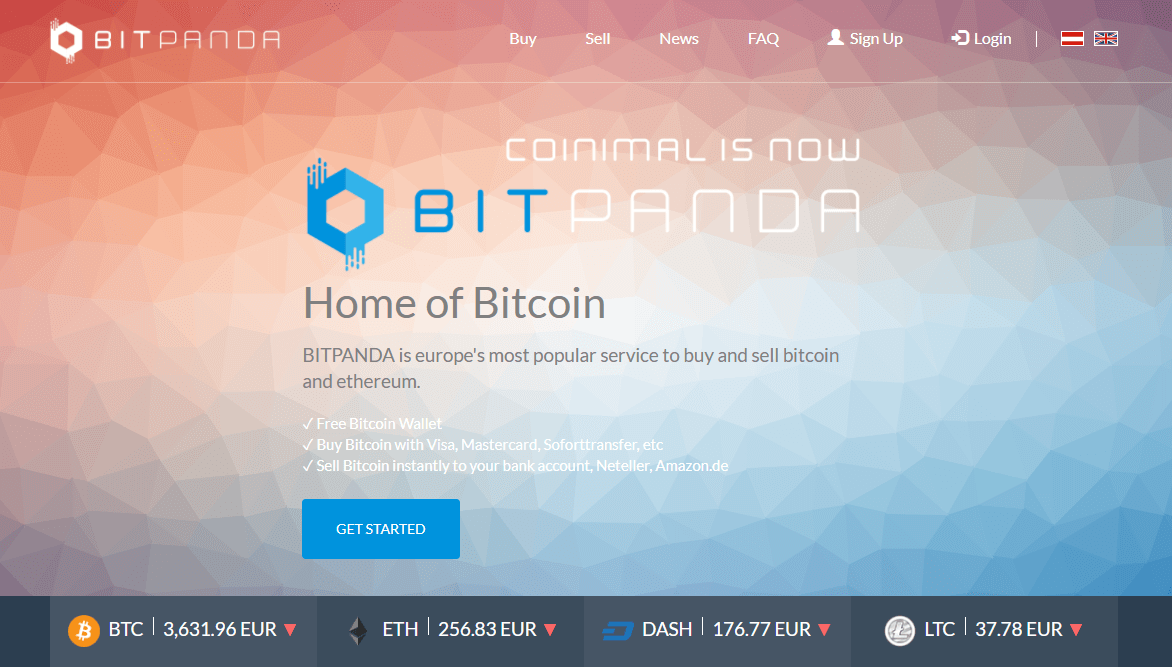 We also provide step-by-step guides on how to purchase coins from BitPanda.
Gemini Exchange – See Details
There are many crypto companies out there offering BTC to USD trade and Gemini is one of those. The exchange has been limited to certain countries so far. Thus, it would be the great value to you to read our review of the platform, in terms of countries supported, accepted fiat and cryptocurrencies and verification demands.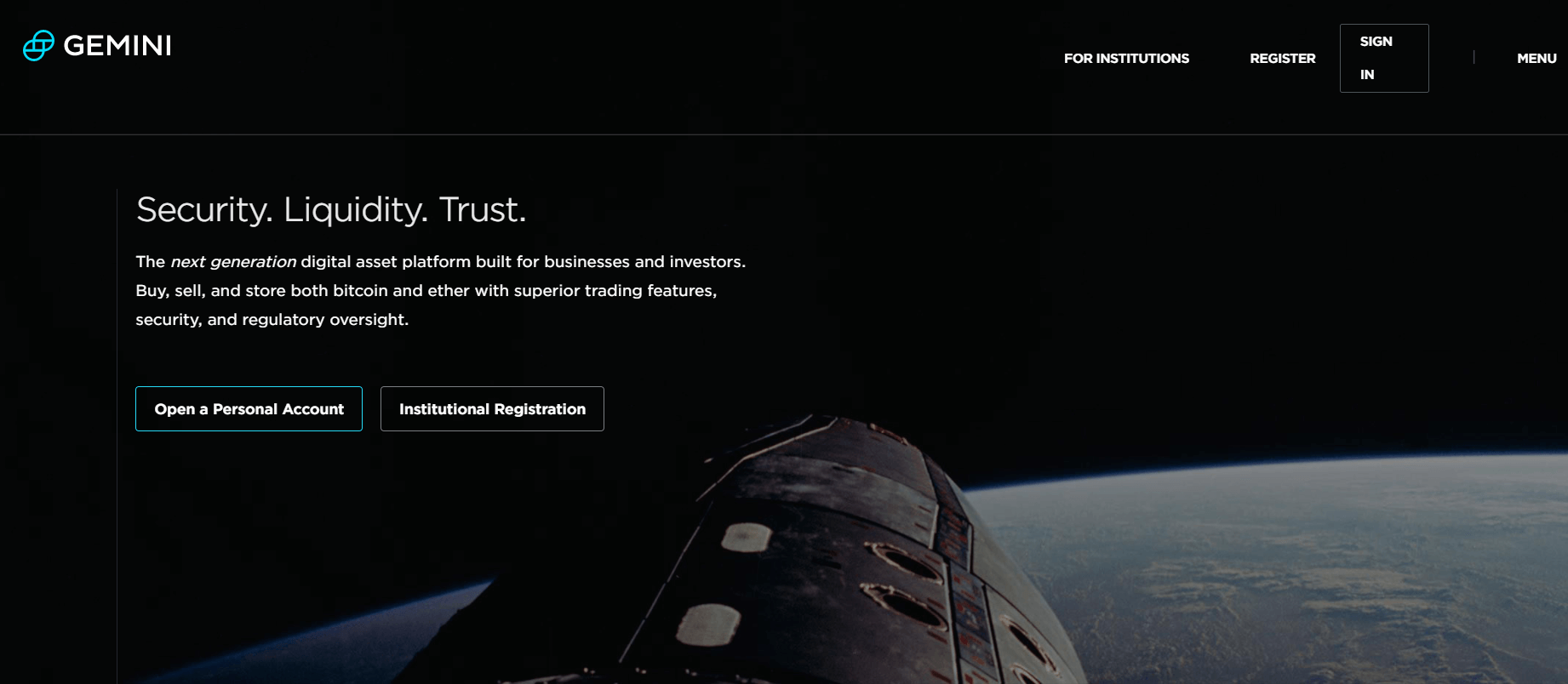 See Coinbase Article
If you are looking for popular yet certified exchange that offers to make a purchase with credit card, then Coinbase would be the right choice for you. The issue with this platform is that not everyone can enjoy its services since only 32 countries are supported at this moment. Check out our review of the platform, as we point out advantages and disadvantages of trading BTC at Coinbase.

Although we have created a detailed report regarding Bisq, we would ask you to send questions directly to us at BitcoinBestBuy if answers in this guide were insufficient.