Buying BTC on itBit exchange has never been easier with the use of our itBit exchange review. This review will provide you with information regarding exchange's purchase limitations & methods, verification requirements, fees, pros, and cons that you should be aware of prior to investment efforts.
Summary: How to Get Bitcoin on itBit
Create an account for free at itBit's website.
Provide personal details at next stage (name, last name, country and address).
Upload your scanned ID to verify your account.
Go to "Funding" page and click "Deposit".
Fill out the bank transfer form and proceed to fund your itBit account.
With growing network, traders are faced with an abundance of choice when it comes to bitcoin purchase sources. A number of online businesses have taken up to the cryptocurrency market, offering services for investors who are bent on making a profit from bitcoin's fluctuating value.

This guide reviews one of such businesses, an American platform called itBit which offers exchange and OTC (Over the Counter) services for its clients.
What Is itBit?
Based in New York, itBit is a platform that offers financial exchanges between fiat currencies and bitcoin. The services are divided into two major sections, the BTC exchange and OTC trading.

The platform offers products globally through wire bank transfers, used to attain both small and large volumes of BTC. Accepted fiat currencies are euro (EUR) Singapore dollar (SGD) and US dollar (USD) while bitcoin is the only accepted cryptocurrency.
itBit Services
itBit offers two major types of services, each having a distinctive purpose for company's clients. The first is the regular exchange platform, where traders can swap fiat currencies for bitcoins. The service works as any other regular exchange, with accepted fiat currencies being USD and SGD.


The OTC trading works for investors who are interested in larger, more personal trade transactions (over 100 BTC). The OTC service functions much like an exchange, except you have larger volume orders that are executed on the same day to capture the favorable bitcoin value.
Bitcoin Exchange
The exchange platform at itBit offers bitcoins through purchases made in USD, EUR and SGD. The service is available globally with the only exception being Texas. In order to engage in trade with itBit exchange services, it is required of you to verify your account as a part of the registration process.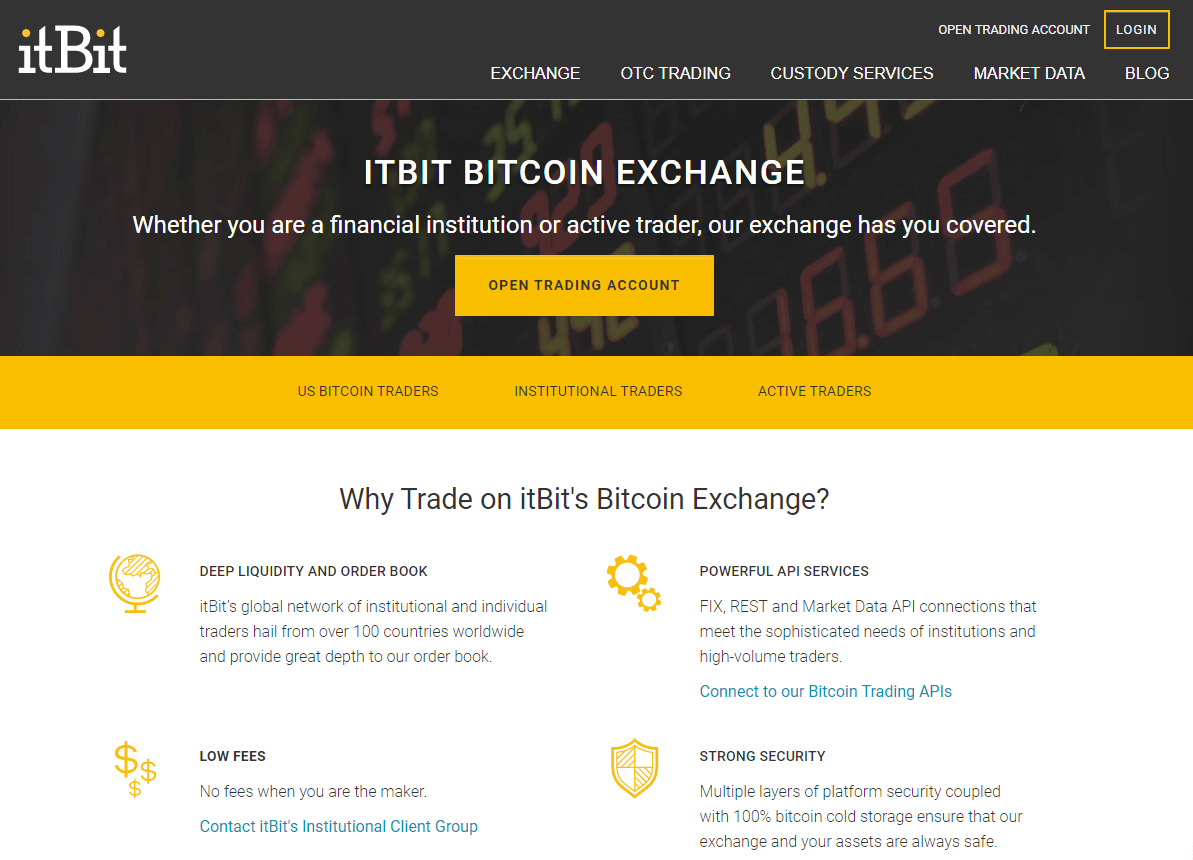 The trade is organized by the orders you make with enhanced API tools are available for traders that look for more serious engagement with the market.
OTC Trading
The over- the-counter (OTC) trade is similar in many ways with exchange service, with the major difference being the support functions, API available and purchase limits. The OTC service also requires full verification of trader's identity and comes with low transactions fees.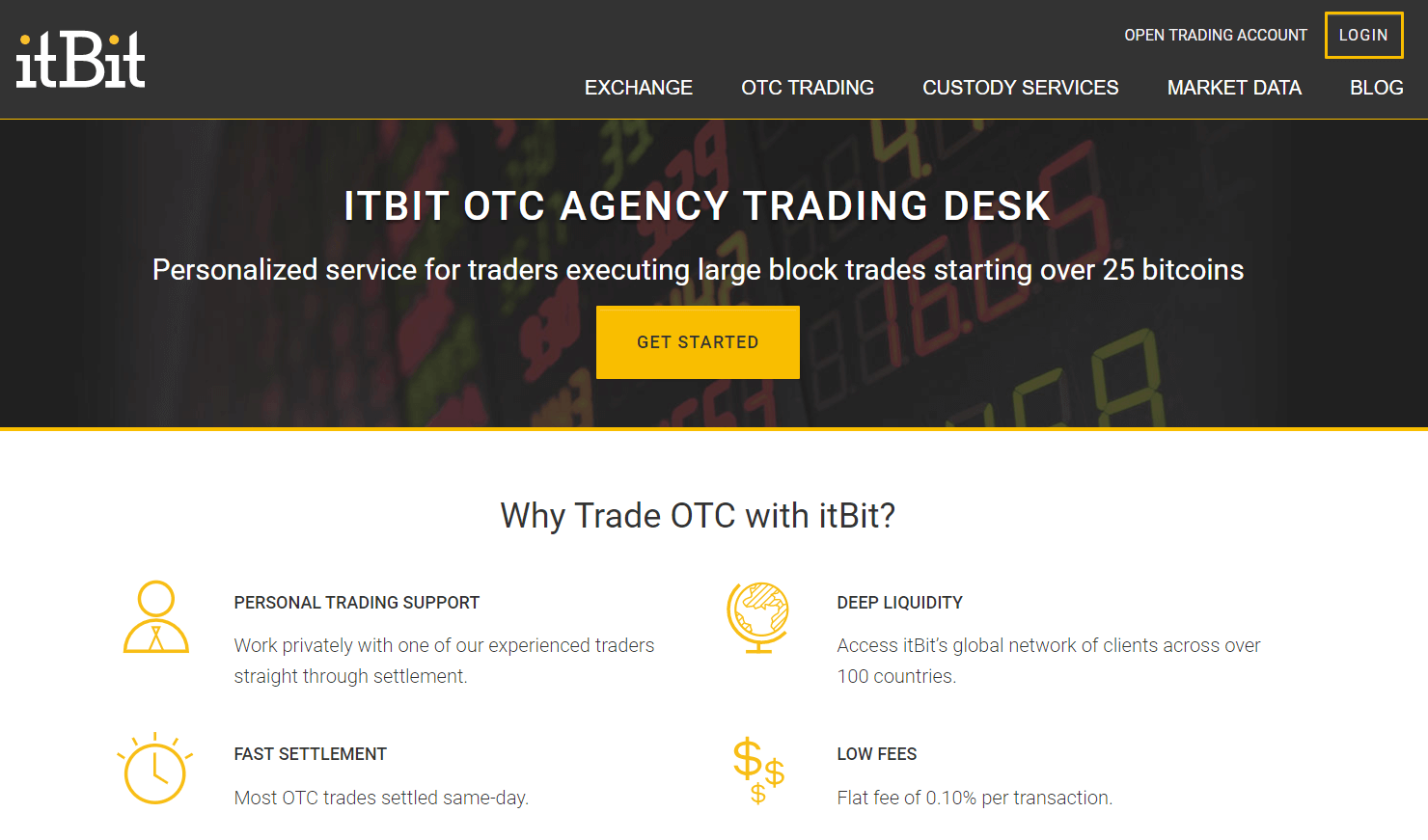 More importantly, the settlements are carried out within the 24 hours since their start since itBit's deep liquidity allows a lot of bitcoin orders to be processed.
Available Payment Methods
itBit accepts only wire bank transfers at the moment, with other methods such as credit/debit cards or e-payments not available. The deposit is conducted without charge though you should keep in mind that the bank you would use to fund your itBit account might apply charges for your transactions.
itBit Exchange Legitimacy
itBit received a legal business documentation and acceptance from New York State Department of Financial Services. The exchange was one of the first to receive the allowance for operations and since then has operated without any sort of hacking incidents. Thus, all traders should verify their accounts as the company vigorously follows consumer protection and financial conduction laws.

Thus, the exchange is deemed as one of the safest places to purchase and sell bitcoins at though at the price of your privacy.
About Fees
The exchange does not have any fees for wire transfers. Rather, the costs are structured according to the type of transaction made – maker and taker fees. Apart from the purchase costs, traders are also charged when they withdraw their funds from the website back to their bank accounts.
Deposit Fees
As mentioned before, the exchange purchasing transactions are divided into two forms, the taker and maker transactions. Taker fees stand at 0.2% while maker orders are free of charge. Additionally, the transaction fees at OTC platform stand at 0.1% while the costs might even go further done with sufficient volume.

US bank deposits cost $10 for any value of funds you wish to upload to your itBit account while non-US deposits expressed in USD cost $40. SEPA deposits in value of less than €50,000 would cost you €3.70 while over that number would require from you €35.15
Withdrawal Fees
The SWIFT withdrawals currently cost $40 plus additional intermediary fees (usually your bank) for any value you wish to push out from your itBit balance. SEPA withdrawals cost €8.14 for transaction value of less than €50,000 and €7.32 for over €50,000. US ACH transfers are conducted for free.
itBit Customer Support
The itBit's customer support offers several communication channels that you should have in mind when trading bitcoins on its platform. You can reach a representative of the company through phone or email, or by posting a ticket on the support page of the website.

Additionally, the FAQ is extensive and provides answers for most of the important aspects of the OTC and exchange services.
How Secure Is itBit?
The security of the platform is expressed two-fold, represented by your own personal protection tools and the platform's guarantee of your fund's safety. The tools available for you are two-factor authentication (2FA) and passwords for account login & transactions.
The overall security of the marketplace is ensured through powerful anti-hacking equipment possessed by the company, as well as the FDIC insurance of all funds that require the itBit's management to always have cash on its balance at any point of time.
In What Countries Is itBit Available?
The platform offers its services all around the globe, with different bank transfer options available for traders based on their location. European investors can use SEPA or International Bank Transfers, American traders can use ACH transfers while everyone else can use SWIFT deposits. Texas is the only exception, being the only US state that is not supported by itBit.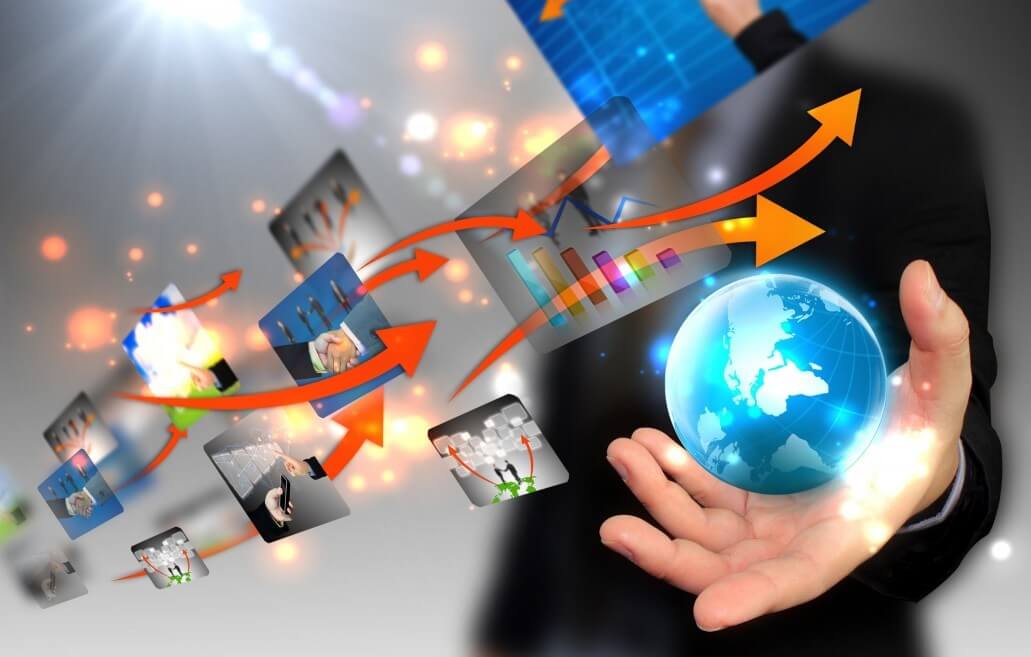 Privacy
If you are looking for privacy when purchasing bitcoins, itBit might not be the choice for you. Verification is a regular part of the registration process, meaning that you should provide your scanned ID and proof of address before you even access trading platform. The reason for such rigorous control is that exchange is FDIC insured, with US laws obliging the company to track the activity of all customers and prevent money laundering.
How To Use itBit?
The first step is to register an account at itBit, which is free of charge, by clicking "Open Trading Account" at the top-right part of the website. Choose the type of the account that represents you (individual or institutional) and provide the username and password.

In next stage, you would be asked to provide personal details that represent your identity, so make sure you put data that matches your legal documents.

Once you are done with the verification process, you will be able to fund your account and start trading with bitcoins.
Verification at itBit
As soon as you have provided your personal details, you would be asked to upload documents that verify your identity and place of residence. The accepted documents are ID cards, driving license, international passport and proof of address, as long as they hold the same information you have provided at the registration phase.

itBit Comparison
There are numerous other exchanges that you should benchmark itBit against, as they differ in terms of fees, purchase limitations, verification requirements and many other aspects of the trade. This guide will show you how to compare itBit with other popular platforms, them being Coinbase and Kraken.
itBit vs Coinbase
Coinbase's major advantage over itBit lies in the fact that exchange offers more payment methods – bank transfers, credit/debit cards and PayPal for its clients. itBit, on the other hand, has an upper hand in terms of regions it serves, as Coinbase offers its services in only 32 countries.

Fees are higher at Coinbase, ranging from 1.49% to 3.49%, depending on the payment method chosen while both exchanges require full verification of your account for trade to be possible.
Does Kraken Better Than itBit?
Kraken and itBit are very similar when it comes to available purchase options and fees. Both exchanges accept only bank transfers and fees range 0.1% and 0.26%, while services are available around the globe in both cases. Verification is mandatory on both platforms to be able to purchase and sell bitcoins, though Kraken uses different tiers for purchase limits.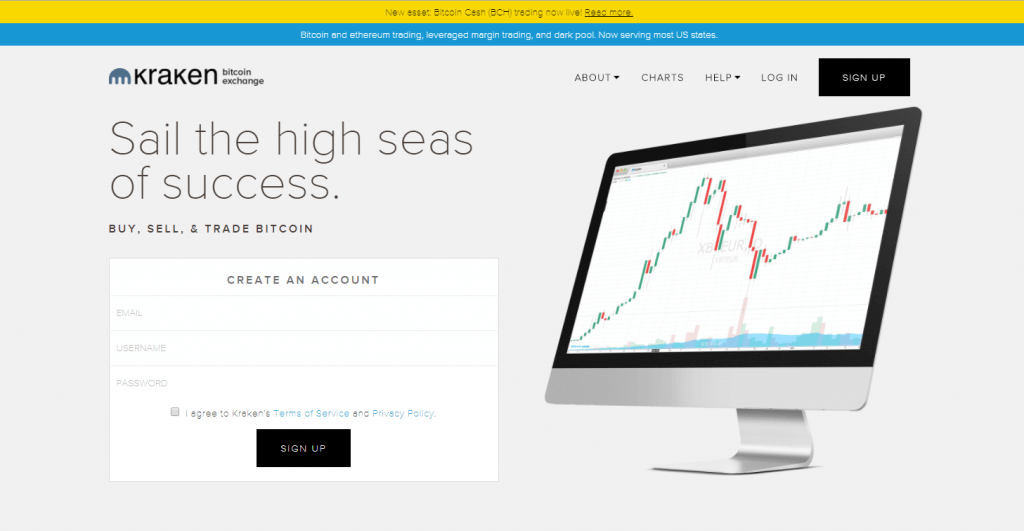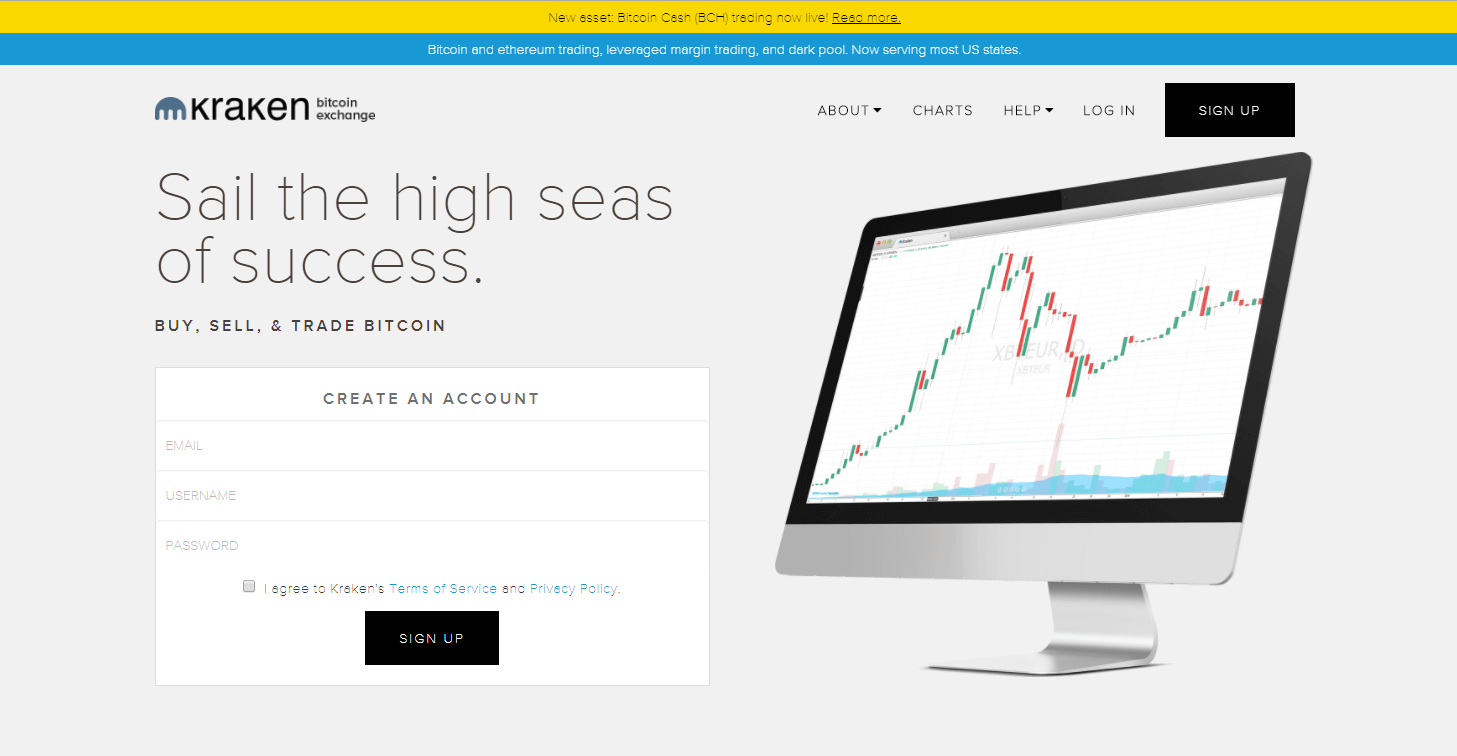 The only real difference lies in the fiat and digital money accepted, as Kraken accepts 15 cryptocurrencies and 5 fiat currencies while itBit works with only bitcoin and three fiat currencies.
FAQ
itBit Purchase Limits
The buying limits are structured according to the service you wish to use with exchange being limited to 100 bitcoins per month while institutions can use OTC platform for larger orders. Currently, the 100 BTCs are valued about $560,000, which is more than enough for most traders to work with.
Account Funding
Currently, itBit accepts bank and BTC transfers only as a means of deposit. Once you create an order at your bank (either online or from the cashier) the funds would need from a day to 5 business days to be processed.

The funds are then checked by the itBit's support department as per anti-laundry laws and would land your money in your account's balance once the fund control is done. The deposit control usually takes a day to be finalized.
Is itBit Trusted?
The exchange operates according to the US financial laws, protecting trader's funds while ensuring fair market rules are implemented. Moreover, the company established operations in 2013 and has been hacking-free so far, constantly improving its security measures and systems. Thus, we trust that itBit is a safe platform to purchase your bitcoins at any given time.
Transaction Speed
When purchasing bitcoins, the transaction takes less than a minute to be finalized, from start to finish. What takes time is to have funds in your account in the first place since bank transfer can take up to 5 business days to be completed.

Selling Bitcoins on itBit
itBit allows selling transactions to take place as well, with fees being the same as when purchasing bitcoins. itBit aims to establish long-term relationships with its clients and keeps exchange rate between buying and selling prices very low.
Is It Necessary to Verify My Account?
Since itBit is required by US regulation bodies to provide a secure environment for all clients, as well as actively participate against money laundering, the company requires you to verify your identity at the registration page.

Does itBit Have a Wallet?
itBit offers wallet service to its clients as it specializes in large quantity trades. In addition to balance keeping, the platform offers multisig wallets that are as secure as any other type of online wallets, especially due to the fact that itBit employs a wide range of security options and features for its traders.
How to Withdraw BTC from itBit?
To withdraw your bitcoins from the itBit wallet, login to your account and click "Funding" at the top of the screen. You will see a "Withdraw" option on the right side of the funding page.

Enter the currency and your personal BTC address and click "Withdraw". Be sure to apply 2FA to your account in order to cut down withdrawal wait time from 24 hours to instant transaction.
What Is itBit Bankchain?
The Bankchain is a blockchain settlement process which provides instant settlement of the transactions to reduce theft and scam risks. It is designed to improve the operational activities of all transfers within the itBit, speeding up the transaction while creating a safe environment for traders to work with. Bitcoin is currently not part of the system but your funds definitely are.

itBit Mobile App
itBit does not offer mobile app services as of yet and the only function connected to your phone is two-factor authentication security measure. You should regularly check the itBit's news feed as the company might release the phone app in the future.
Advantages of itBit
ItBit has several advantages for traders deciding to get bitcoin through its platform:
itBit offers possibility for traders to buy large stock of BTC;
low transaction fees that can go even lower with sufficient trading volume;
services are available globally;
one of the most secured and regulated platforms in the world.

itBit Analogues
Apart from itBit, we at BitcoinBestBuy have compiled reviews on a number of popular BTC exchanges, many of them similar to itBit in terms of fees, service availability and security. Be sure to check these articles and compare the exchanges with itBit to see what site suits your needs the most.
Coinbase Review
Available in 32 countries, Coinbase offers bitcoins with the help of bank transfers, credit cards and PayPal. The fees range from 1.49% to 4% depending on the method used while accepted fiat currencies are USD, EUR, GBP, CAD, SGD and AUD.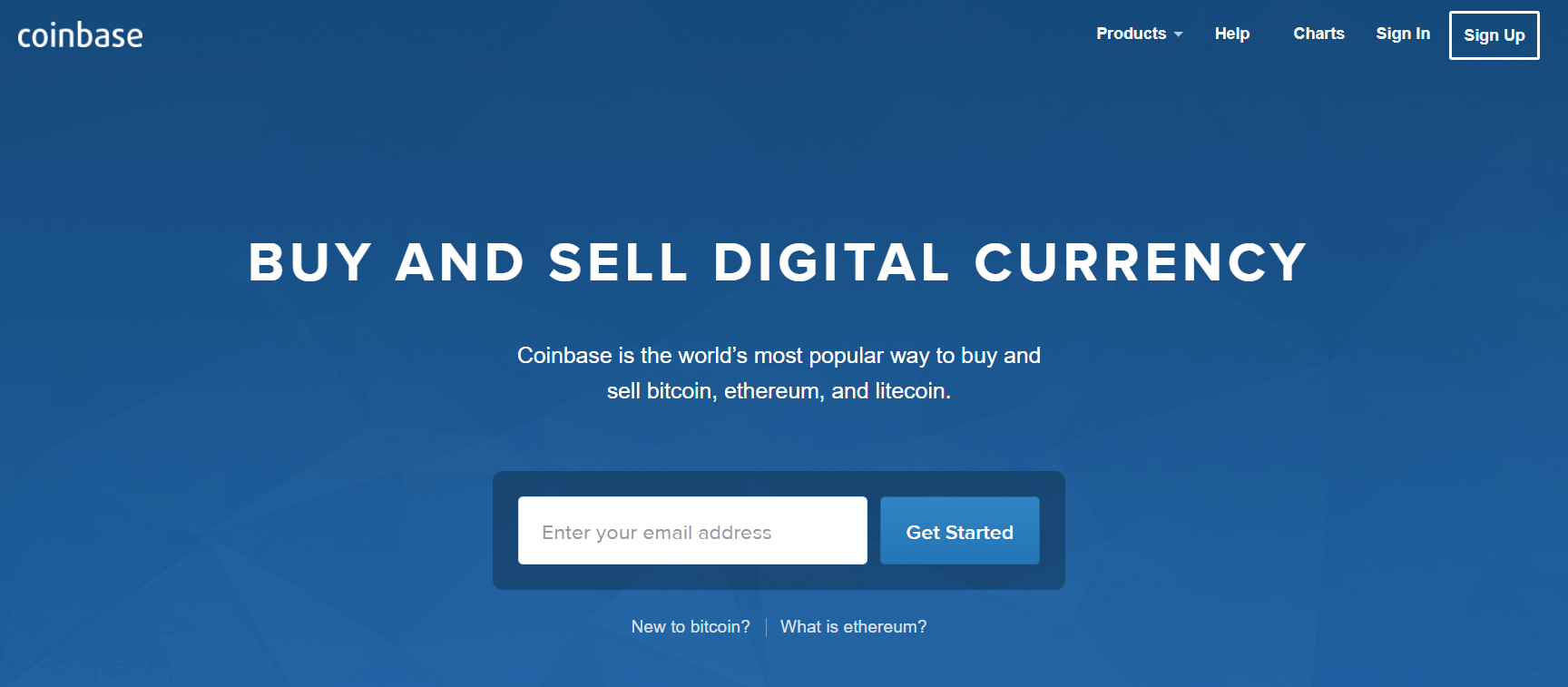 Be sure to check our review of Coinbase, as we list pros, cons, fees and verification requirements of the exchange while providing step-by-step guides on how to purchase, sell and withdraw BTC from Coinbase.
See Details About LocalBitcoins
If you are looking for a more anonymous way to get bitcoins, LocalBitcoins would be a right choice for you. We have compiled a report about the platform, listing all relevant details that you should be aware of before you start the trade operations with the P2P marketplace so be sure to check the review out.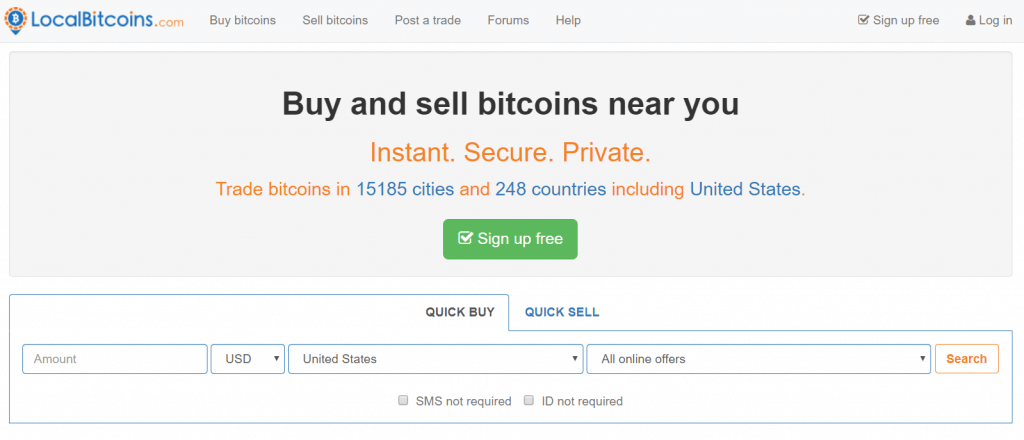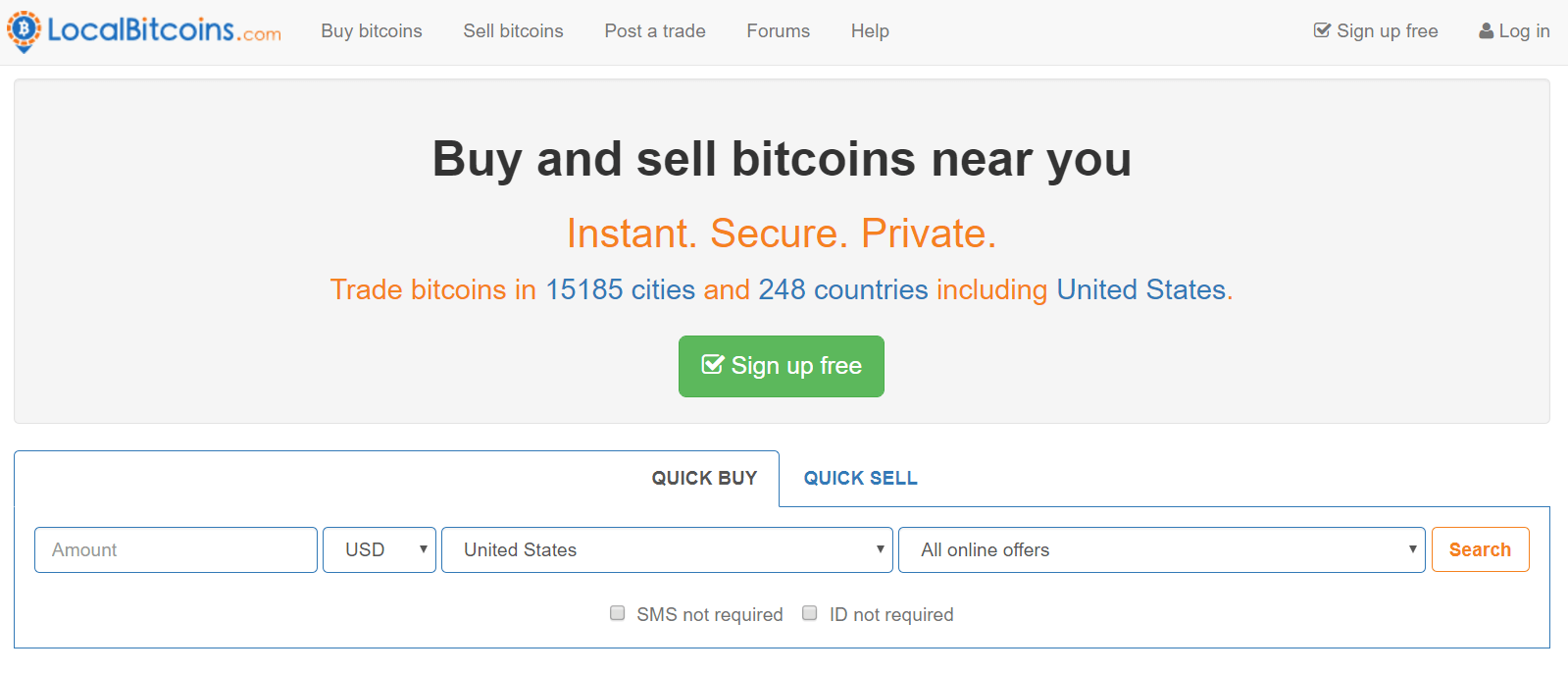 BitPanda Tutorial
If you are based in Europe then BitPanda would be a good choice as a source of your bitcoins. The site offers three other altcoins in addition to BTC, while numerous purchase methods are accepted, from bank cards and transfers to online e-payment systems.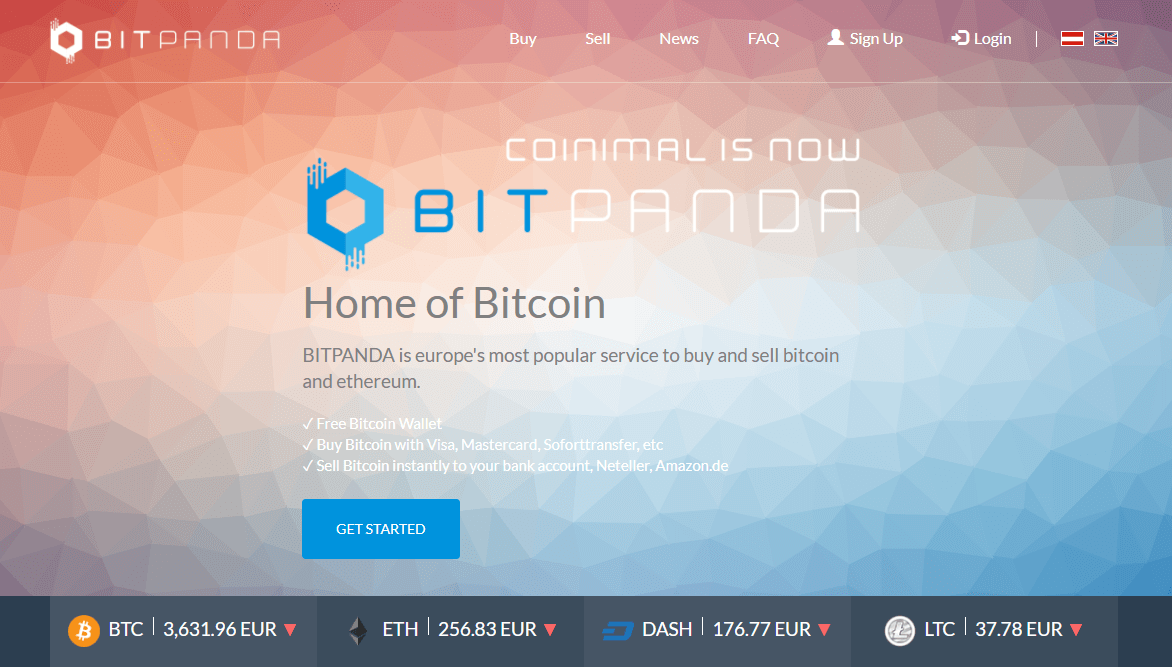 We tried to provide you with as much information as possible, but if you didn't find the answer to your question about buying bitcoins on itBit exchange, immediately contact us on BitcoinBestBuy.