In this review we will present you Gemini exchange pros & cons, purchase limits, verification requirements, as well as some step-by-step guides like how to buy BTC at Gemini. If you are beginner to the market of bitcoins, then we advise you to read our quick guide.
Summary: How to Buy Bitcoins via Gemini
Register an account at Gemini and verify email code sent to you.
Set up two-factor authentication (2FA).
Provide scanned ID as part of the verification process.
Add bank account.
Deposit money by clicking "Transfer Funds", "Deposit into Exchange" and then choosing the type of bank transfer.
Click "Buy" button and fill out the purchase form to get BTC.
With growing value and network, bitcoin is poised to become the leading online asset in the world of investments. People that have never heard of the cryptocurrency before are now seeking ways to actively trade with digital money with growing number of businesses offering just that.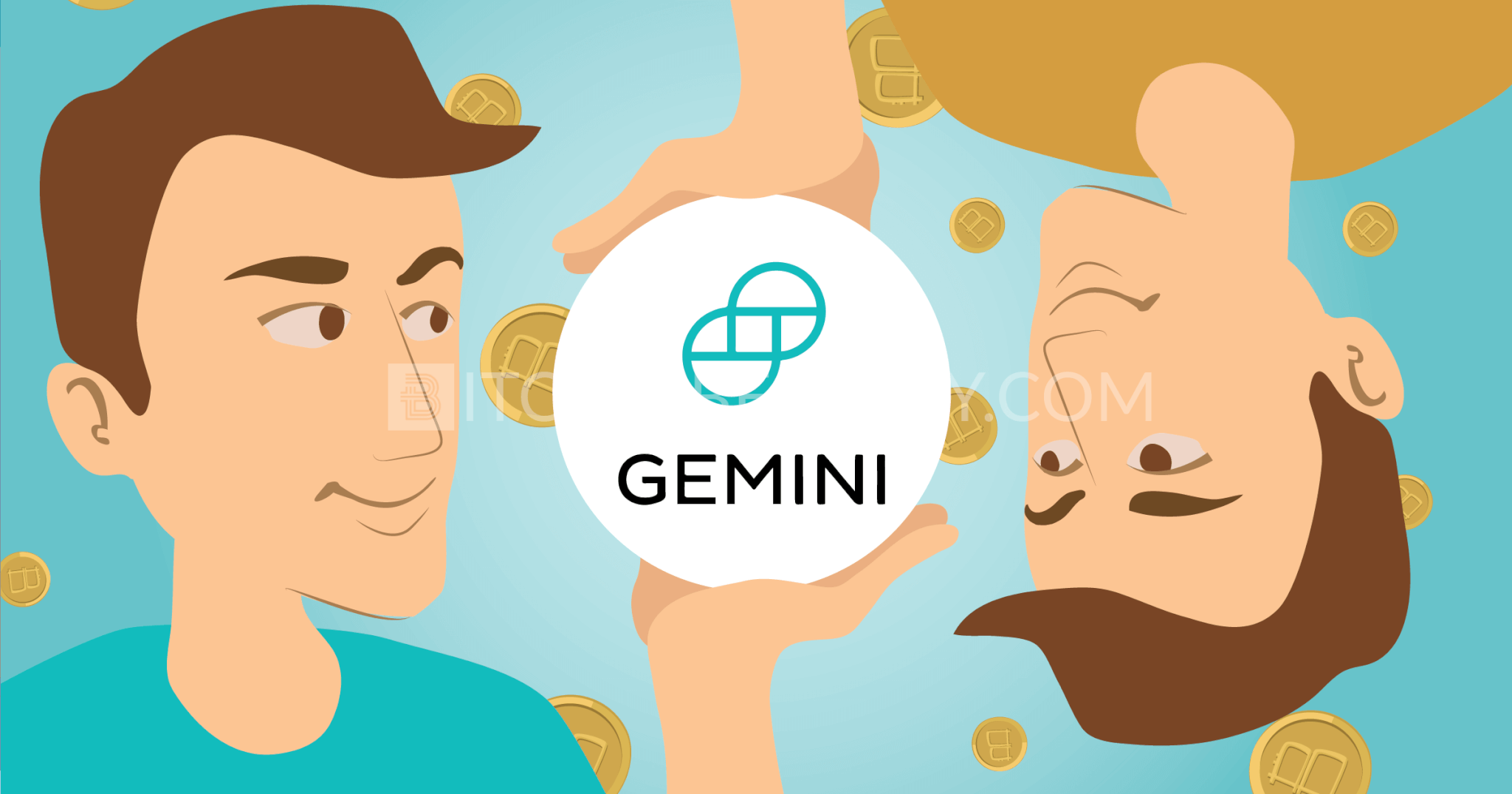 This article is concerned with one of the most popular exchanges when it comes to BTC trade, Gemini.
What Is Gemini?
Gemini is one of the known cryptocurrency exchanges that offer a variety of trade tools for investors that have some experience in the industry. The company that owns the platform is registered as LLC in New York State, USA, offering USD to BTC and USD to ETH trade exchange.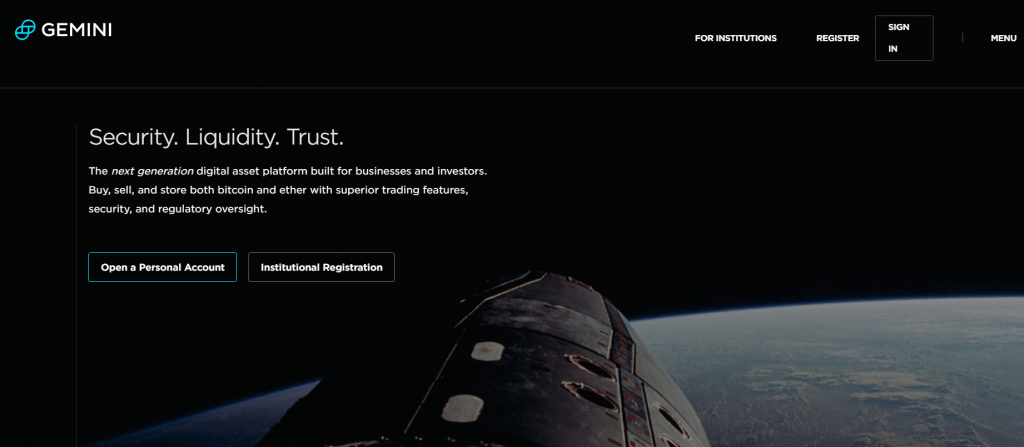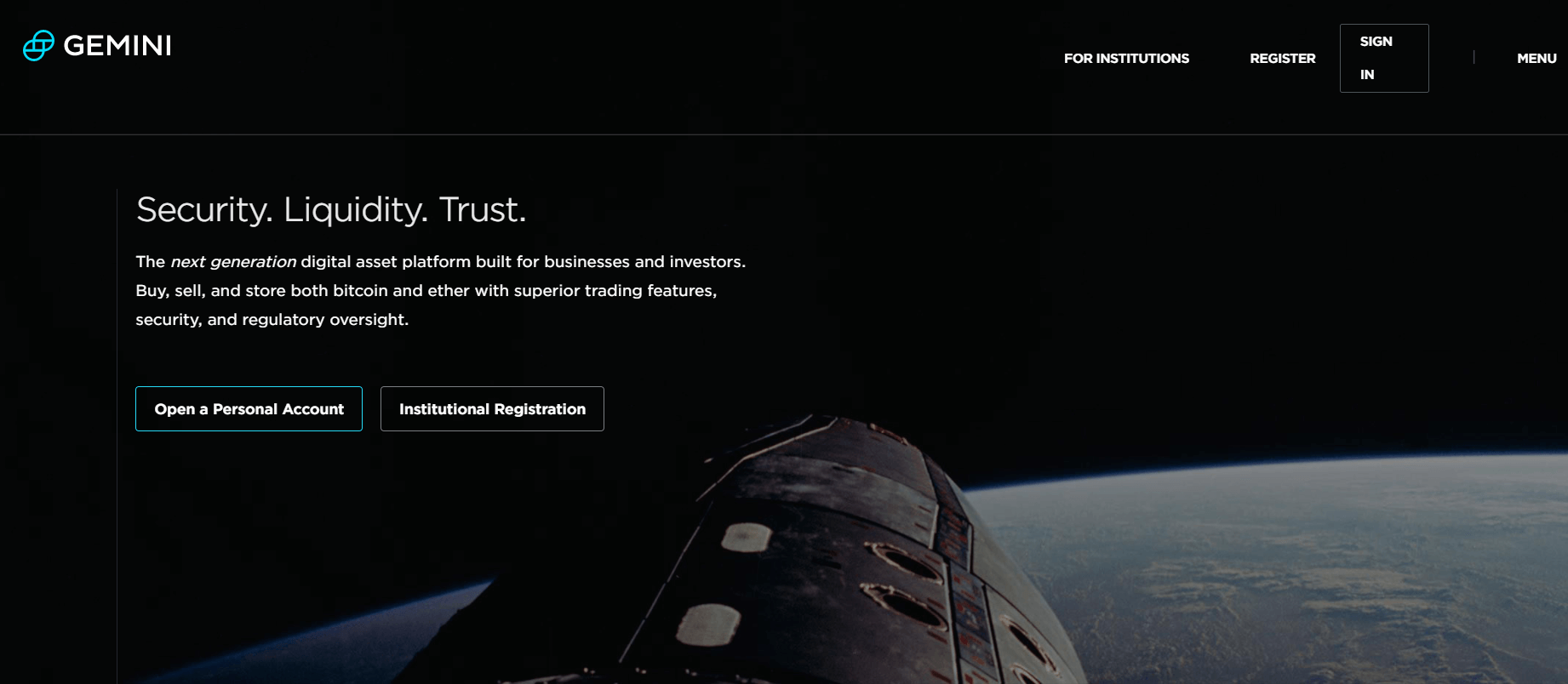 Launched in 2015, Gemini offers two distinctive marketplaces, them being:
regular exchange services;
bitcoin auctions.
Upon its arrival, the platform offered its services in the US only, gradually adding other countries in the process. The company is owned by the Winklevoss twins, who claim that they are possess about 1% of the total BTC volume.

Gemini Security
When it comes to the safety of your funds, Gemini applies three sets of security measures that need to be mentioned. First, the platform applies digital currency security measures by offering hot and cold storage wallets, where cold wallets have multisig functions to prevent hacking attempts at your balances.

The second measure is related to the trade where all of the transactions at Gemini are conducted through pre-funded accounts, meaning that sellers and buyers cannot post orders if they do not have sufficient BTC or fiat currencies in their balances. Lastly, the website protection consists of two-factor authentication (2FA) and HTTP encryption of all information regarding traders and platform's transactions from third parties.
Available Payment Methods
Currently, Gemini accepts deposits expressed only in ACH (for US traders) and wire transfers (for everyone else) expressed in USD. Credit or debit cards, cash deposits, PayPal and many other options are planned to be included in the future but are not available right now.

You should subscribe to the Gemini news feed since the company will definitely advertise the new deposit method through that channel of communication.
What About Fees?
When depositing or withdrawing your funds expressed in fiat or digital currencies, traders would find that the services are carried out completely free. On the other hand, Gemini charges trade fees are charged based on a monthly gross trade volume. Taker fees can range from 0.15% to 0.25% while maker fees from 0% to 0.25%.

Does Gemini Have Limits?
Cryptocurrency and wire deposits and withdrawals do not have any limitations imposed on traders, meaning that if you use the said services, you can purchase, sell and withdraw bitcoins without any hindrances. Individual American investors using ACH transfer, on the other hand, have $500 daily and $15.000 monthly while institutional members have $10.000 daily and $300.000 monthly deposit limits.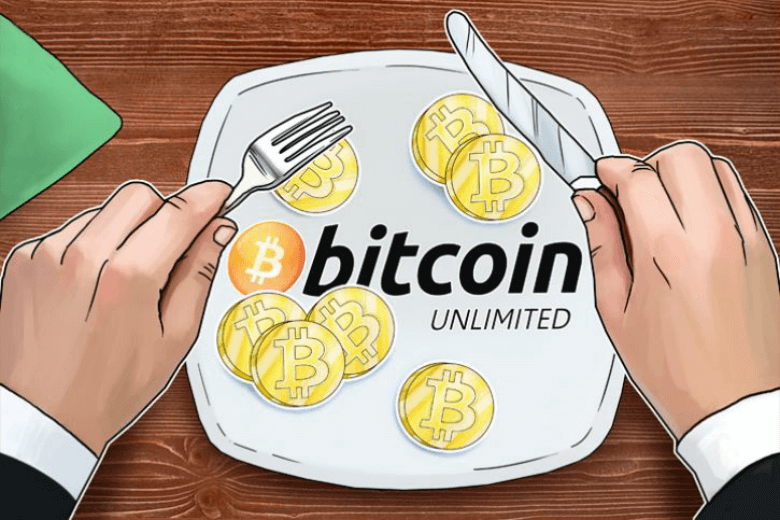 Gemini Comparison
When considering trading at any exchange, you should look to compare the services, fees and limitations with other similar platforms. Thus, we have compiled a comparison analysis where we benchmarked Gemini against two other popular choices when it comes to BTC purchase: Kraken and Coinbase.
Gemini vs Kraken
Kraken, just like Gemini, accepts bank transfers only, with the major difference being that Kraken allows 5 fiat currency deposits. In addition to bitcoin, there are 14 more altcoins that you can trade with at Kraken while both exchanges impose verification on their clients as they are both regulated companies.

Kraken is very similar Gemini in terms of fees, as maker/taker fees range between 0% and 0.26%. Bank transfers do come with small fees at Kraken while Gemini accepts deposits for free. Lastly, whereas Gemini trades in a couple of countries only, Kraken is globally available.
Coinbase vs Gemini
Coinbase is considered to be one of the largest bitcoin providers in the world, offering its services in 32 countries, USA included. The payment methods at Coinbase are PayPal, bank transfers and credit/debit cards, two more than Gemini.

Verification is a must have at Coinbase, much like in Gemini while fees are a lot lower at Gemini, as you pay between 1.49% to 3.49% from transaction's value at Coinbase. Both exchanges offer BTC vaults and wallet services while Coinbase also trades with Litecoin which are unavailable at Gemini.
Gemini BTC Exchange in Different Countries
Gemini's services are available in a handful of countries around the world, them being the US (5 states not supported), Canada, Japan, South Korea, Hong Kong, Singapore and the United Kingdom. The five US states that are not supported are Alaska, Arizona, Hawaii, Oregon and Wisconsin.

Is It Legal?
Gemini is an American LLC that follows New York Banking Law regulations, implementing BSA (Bank Secrecy Act) and AML (Anti-Money Laundry Compliance Program) policies, meaning that regular audits of the BSA/AML programs are being implemented. Furthermore, the firm requires all traders to have funds pre-deposited prior to the trade.

Another important factor of the platform's legality is the fact that since its start, Gemini has readily available financial report dating 7 years back.
Does Gemini Support Its Customers?
Concerning the customer support, Gemini has an exhaustive FAQ page where most of the trading questions have been answered. In addition to the FAQ, you can also fill up a form and submit a request to the Gemini team regarding any issue that you might face on the platform.

Due to the frequent maintenance of the website's services, Gemini has a "Status" page where investors can see which services and API tools are functioning at the moment and which are not.
Guide to Buy Bitcoins from Gemini
Once you have received the money at your Gemini account, click "Buy" button on the dashboard page.

Now, fill out the form on the right, providing order type, volume or value of BTC you wish to get and click "Buy" to get bitcoins in your account instantaneously. Make sure to check the BTC price at the top-left part of the "Buy" page to make sure it has not changed at the time you have started the purchase process.
Registration
It is completely free to register an account at Gemini bitcoin exchange and the process starts once you click "Register" button at the top-right corner of the website. Provide your full name, email address and password in next step and click "Create My Account".

You will receive an email code which you should copy-paste into the Gemini's verification page.

The following steps will open up for you to complete, thus you need to setup your 2FA protection tool, add a bank account and provide scanned ID to complete the registration procedure.
How Long Should I Wait for Verification?
Verification phase can take between an hour and a day, depending on a number of registration applications Gemini has at the moment you have started the process. You should prepare all necessary documents before you start and arm yourself with patience as a platform might take time to process your information.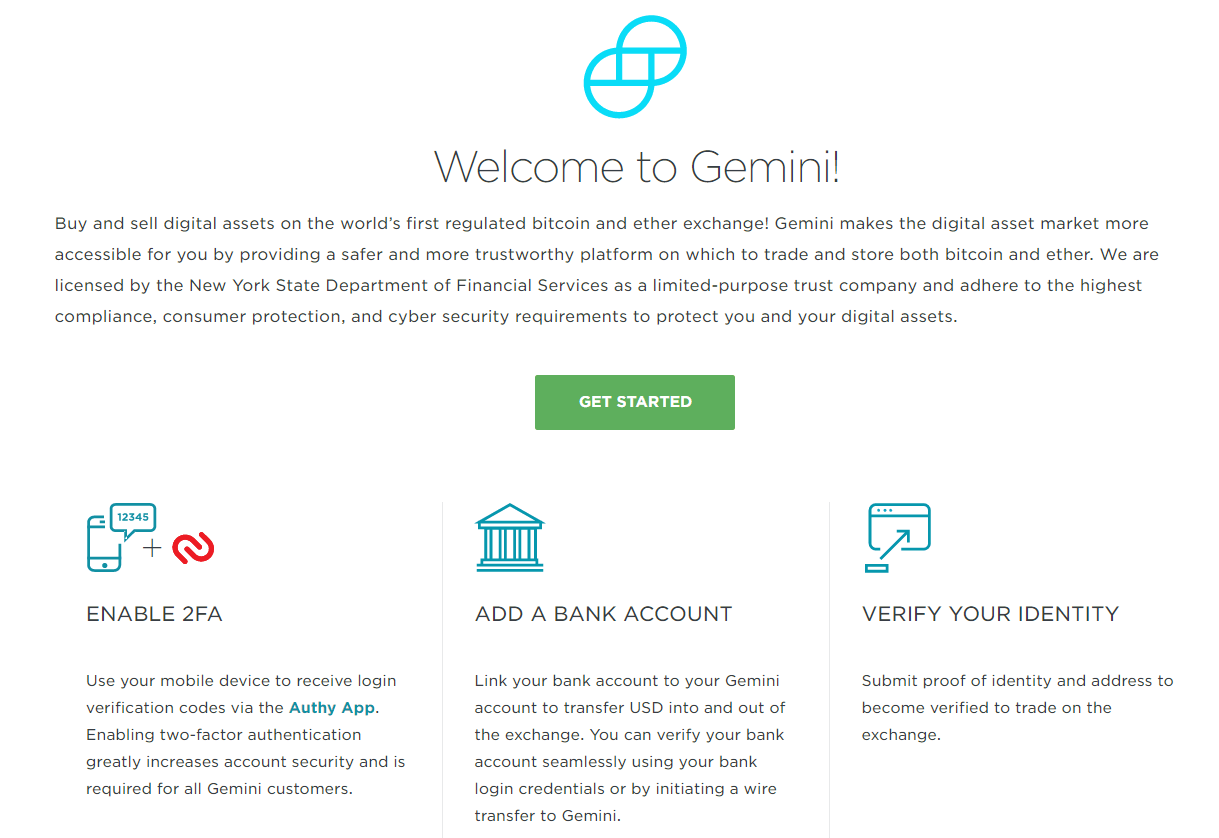 Can You Get Bitcoins Without Verification?
At the registration page, you are required to verify your identity and toad your bank account. Once you have submitted the documents, you cannot enter the platform's trade page until the support confirms your details. Thus, it is not possible to purchase stock of bitcoins without verification.


How to Add Money to Account?
Once you have completed the registration and verification of your account, click button "Transfer Funds", located in the top section of your dashboard page. In next step, click "Deposit Into Exchange" and choose either USD or Wire option, depending on what bank account you have added at registration phase.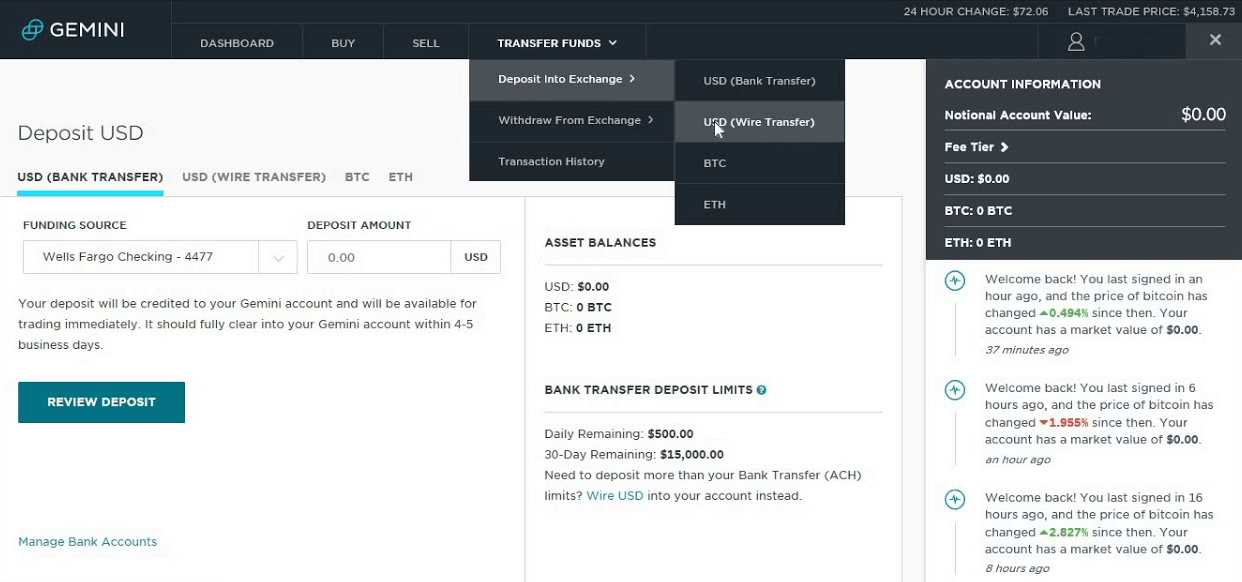 You can also deposit bitcoins in your Gemini wallet as well.

At the last stage of wire transfer funding process, you need to provide bank's wiring information such as your account number and other relevant information that can be found by clicking "Bank Settings".

Once information has been provided, simply click "Deposit" button which will appear at the bottom of the page.
Secure Your Account
Keep all of your account and wallet passwords out of the hacker's reach by constantly changing them. Keep track of the new password by writing them down on a piece of paper as to not forget them in the meantime.

You already have 2FA from the registration phase and do not provide your private information to any other trader on the platform.
FAQ
How Long Does It Take to Make Transaction?
It takes 4 to 5 days to deposit funds in your Gemini account while transactions themselves are carried out immediately after you the trade commenced. Different order types have different duration, depending on what trader wishes to achieve.

Can I Buy Bitcoin with PayPal at Gemini?
At this point, traders are unable to use PayPal as deposit method at Gemini. You should subscribe to the exchange's news feed as to get notifications if the method becomes available to deposit option in the future.

Does Gemini Have a BTC Wallet?
The platform offers two types of wallet services, one being "hot" wallet and another being vault storage. Both are based only, with the main difference being that vault storage provides additional security keys that are used when transferring bitcoins in and out of the wallet. Thus, vault services are deemed as more secure than the standard BTC wallet.

Withdrawing Your Bitcoins from Gemini
At the dashboard page, click "Transfer Funds" and then "Withdraw From Exchange" to start the process. Choose bitcoins to proceed towards the withdrawal form. Specify the amount of BTC you with to get out of the exchange and provide your wallet address. Click "Review Withdrawal" and check the information. Once you are satisfied, click "Confirm" to end the process. Your coins will arrive within 24 hours to your desired location.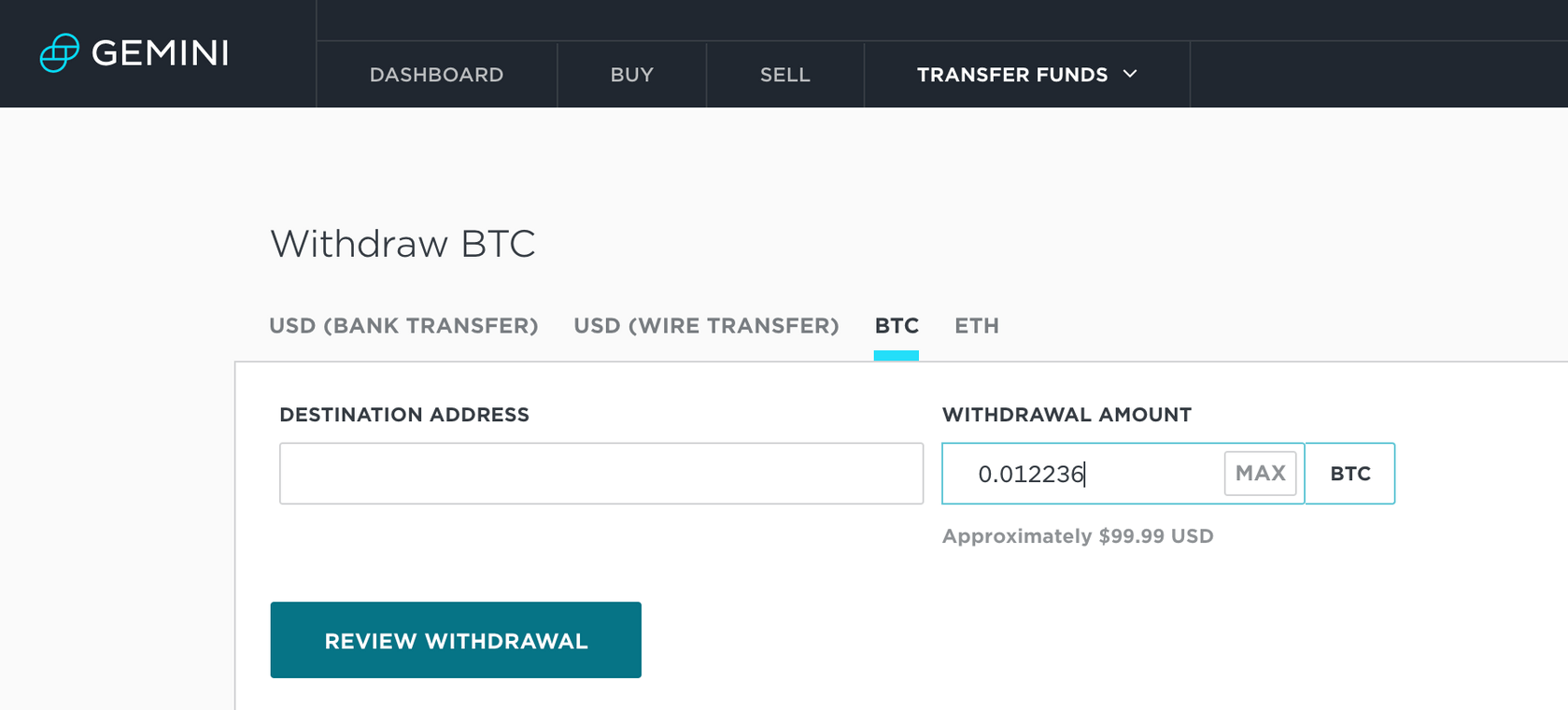 How to Order BTC with Credit/Debit Card at Gemini
As with PayPal, it is not possible to purchase bitcoins with the help of credit or debit cards at Gemini, since the option is not available at the moment. Keep up with exchange's news and announcements as the CC/DC option might become available in the future.
Gemini Mobile App
Mobile platforms are yet to be developed by Gemini, meaning that trade is available on browsing platform only. Keep an eye on the announcement, as the company might make the push towards phone trade in near future.

Gemini Analogues
Apart from Gemini, we at BitcoinBestBuy have reviewed many other platforms that can help you get bitcoins easily and safely. They all vary in terms of regional availability, fees, purchase methods and verification requirements, so do make sure to check other articles as well.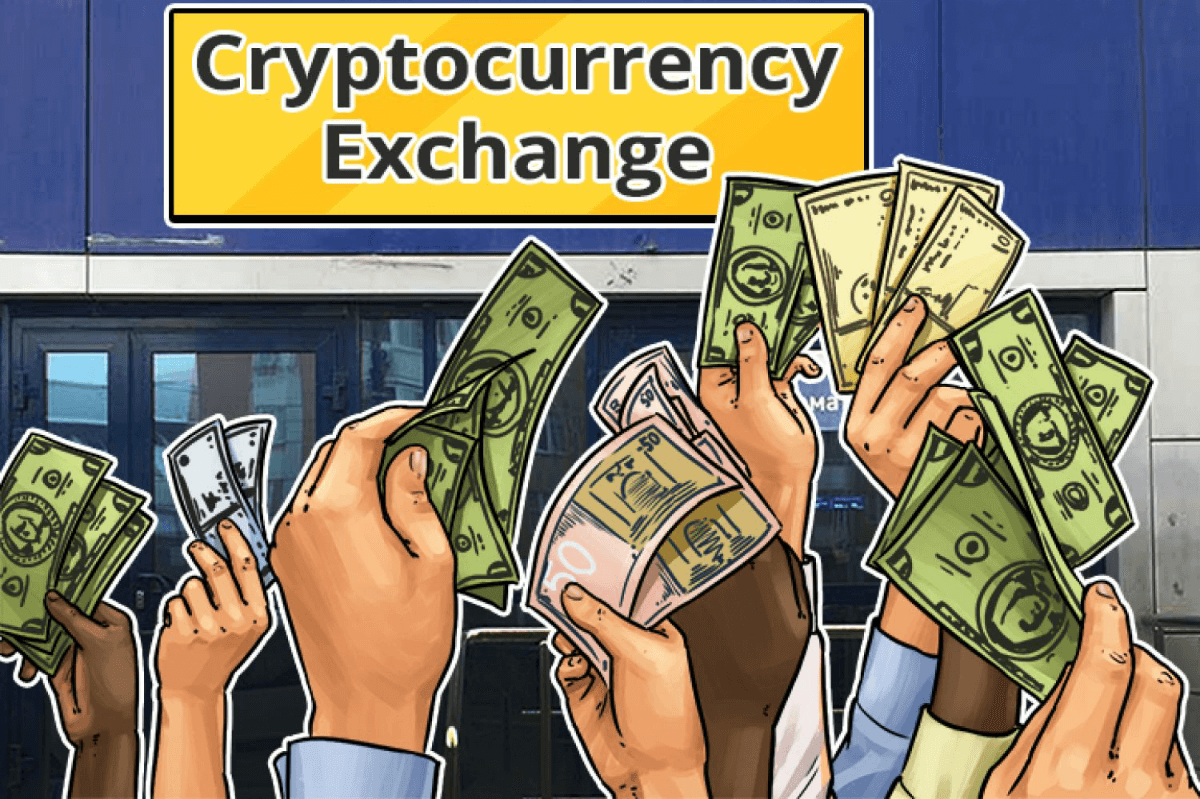 Coinbase Exchange Review
Being one of the largest BTC trading platforms in the world, we made a review of their fees, deposit options and other relevant information regarding the exchange. We have also provided step-by-step guides on how to purchase and withdraw funds and coins from Coinbase.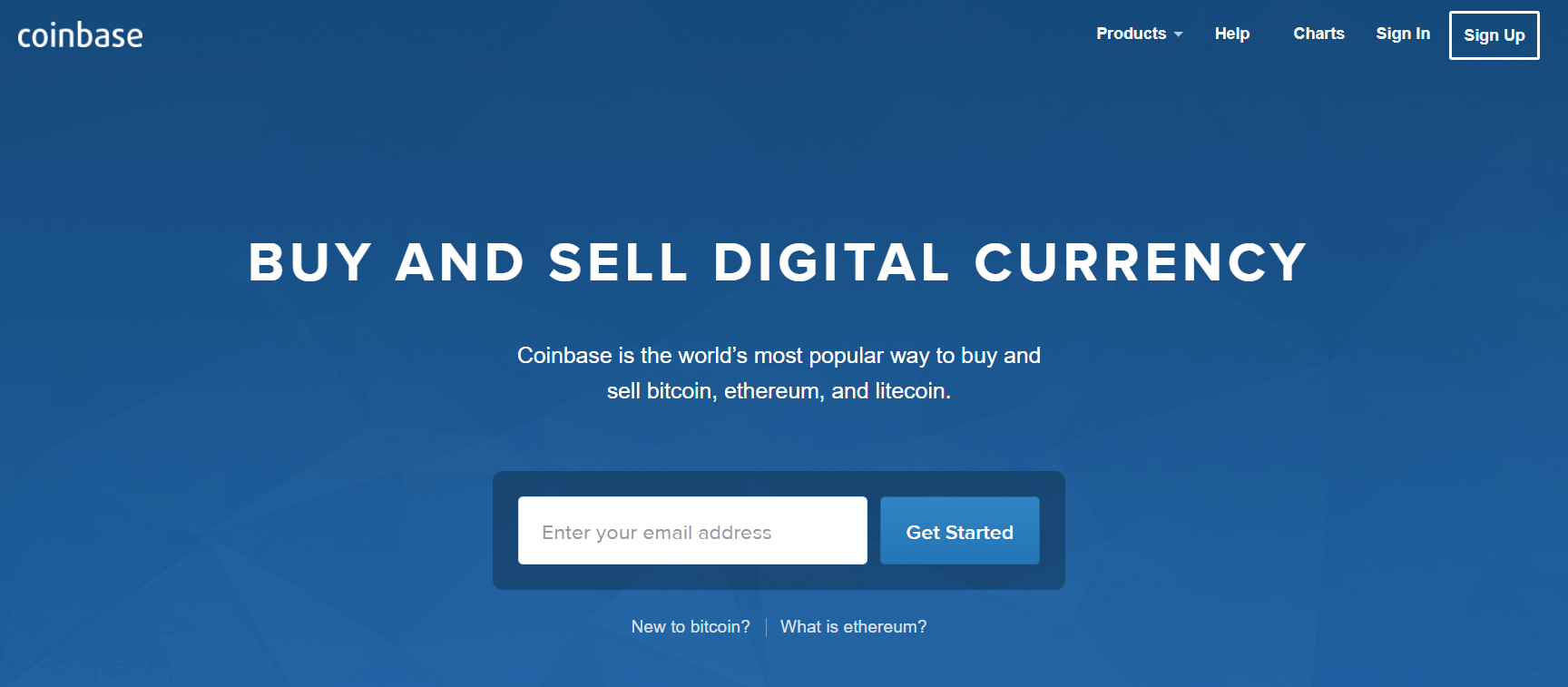 Read About Kraken
Kraken is another exchange that offers bitcoins through bank transfers and its services are globally available. We made a review of Kraken's pros and cons, giving our clients an overview of the exchange in terms of fees the company charges, verification requirements and purchase processes of the platform.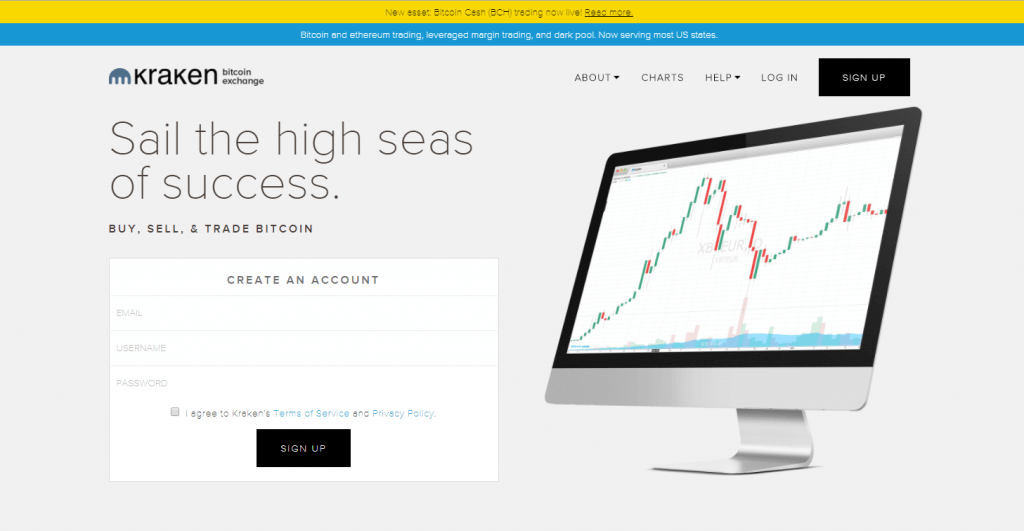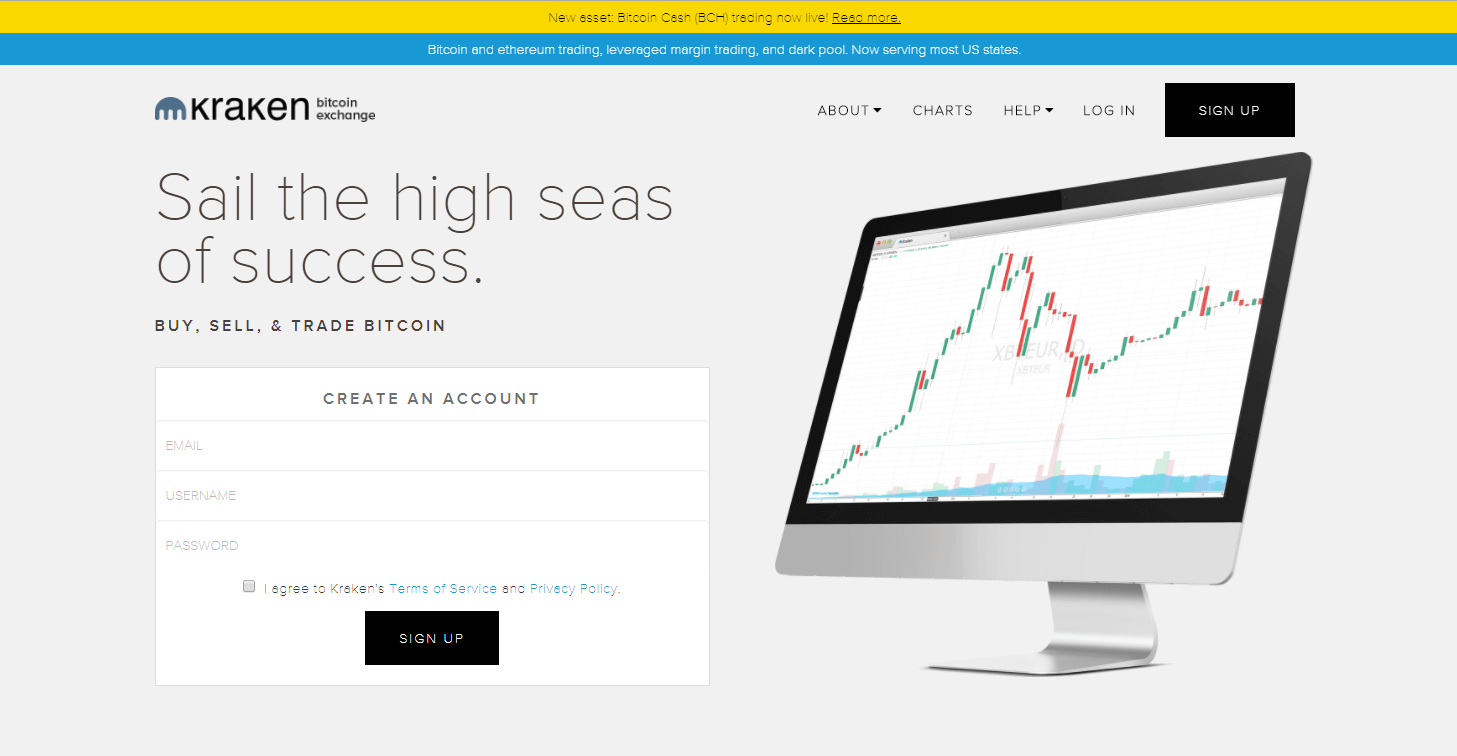 VirWoX Review
If you are looking for a private way to get bitcoins, VirWox is probably one of the best choices out there for you. We made an extensive guide on how to use the platform, providing you with step-by-step guides on how to register an account, purchase bitcoins and withdraw funds out of the exchange.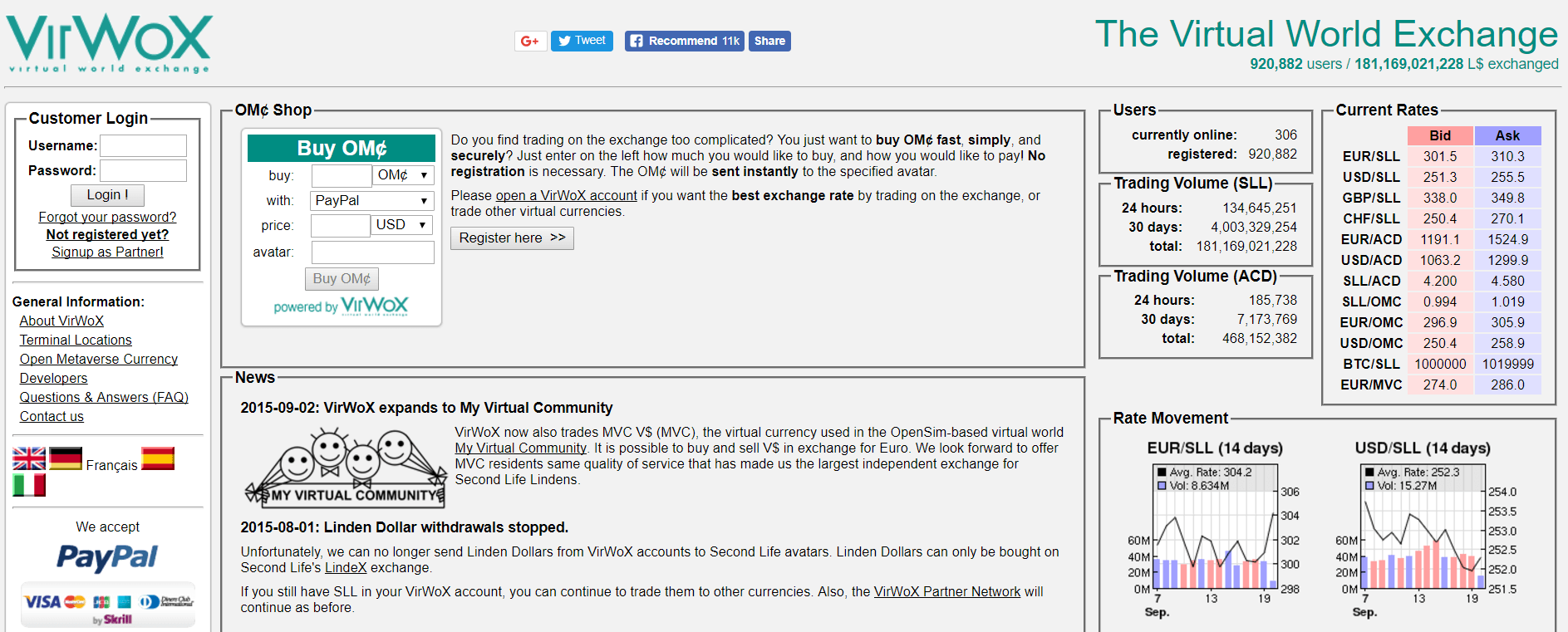 Feel free to drop by BitcoinBestBuy and post your issues or questions to us regarding Gemini. We would be glad to meet any inquiries you may have.