Living in India, you have several choices when it comes to bitcoin purchase sources. Thus, our bitcoin guide will help you differentiate them by listing pros and cons of the ZebPay platform. With ZebPay bitcoin exchange review, you will have the necessary tools to compare other Indian brokers with ZebPay.
Summary: How to Buy Bitcoin at ZebPay
Go to ZebPay.
Make sure that there is money in your account.
Сlick "buy/sell bitcoins" button.
Select "Buy" page and enter a number of BTCs.
Click "buy" button.
BTC would automatically appear in your wallet.
If you live in India, ZebPay might be a right solution for you should you wish to trade bitcoins with domestic currency. The exchange operates on mobile platform only and is considered to be one of the most secure bitcoin providers to trade. This article will provide you with step-by-step guides on how to verify your account and purchase bitcoins while comparing the exchange with other players in the Indian BTC market.
What Is ZebPay?
ZebPay was the first bitcoin exchange based in India and was the first to offer mobile apps as a trading platform. Started in 2012, the company grew to be one of the biggest providers of BTC, hand-in-hand with Unocoin and Coinbase since the mobile applications were designed to attract Indian investors to start trading the bitcoin.

The application, available for both smartphone and iPhone users, is deemed as one of the most advanced mobile technologies on the market, which has an aim to provide a clear explanation of bitcoin trading for beginners.
Is Bitcoin Legal in India?
India faces an interesting situation right now when bitcoin trading is in question. Currently, banks are forbidden to endorse payments that include cryptocurrencies. The order came from India's Central Bank as a result of the government's fears of the decentralized marketplace. Since authorities could not control the growth of the market, the "solution" included the ban of financial services through fiats. Thus, although not illegal, traders from India can buy bitcoin through altcoins only.

Mining operations have the largest obstacles right now, due to the lack of fiat liquidity in the market. The new draft from December would really put off the pressure that bitcoin miners feel right now. Although the supply of the market is legal, without a steady income expressed in domestic currency, bitcoin farms cannot really thrive. The draft should come into power during 2019, though the exact date is yet to see the light of the day.
Thus, crypto traders should exhibit patience and engage in crypto-to-crypto transactions for the time being. Due to the current banking ban, only peer-to-peer (P2P) platforms work without issues, including Paxful and LocalBitcoins. Domestic exchanges, such as ZebPay, offer another getaway for bitcoin purchase but not through INR payments. We also strongly suspect that the draft includes KYC and AML policies, meaning that privacy will be very hard to achieve in the future.
How Does ZebPay Work?
ZebPay operates as a mobile exchange only; meaning that web browsing from your computer won't work. You would need to download iOS or Android platform on your phone in order to trade bitcoins.

After the app installation, you would be required to undergo full verification of your details, including email, phone and ID to be able to purchase and sell bitcoins within ZebPay platform.
ZebPay Exchange Rate
The current buying and selling rate difference stands at around 5,000 INR (approx. $79), which makes it quite wide price spread. What compensates the large price difference is the security of the platform and high fluctuation of the BTC, creating space for traders to make a profit from the BTC transactions.
Services
Apart from the mobile applications, the exchange offers auto buying and selling options for bitcoin traders. The bitcoin transfers are done instantly through internal API service that keeps trader's BTC in custody as to avoid complex BTC network protocol.

The company also offers vouchers that you could use to purchase goods and services online, through voucher's promo codes.
ZebPay Security
At the registration of your account, you would receive a 4 digit PIN code that you should keep with you safely. The PIN code works as two-factor authentication measure, preventing hackers to gain access to your ZebPay funds.

Wallets and all transactions are multisig as two signature codes would need to be used to push the transaction process towards its completion. Finally, in order to trade bitcoins at ZebPay, traders would need to complete the full verification process, creating a safe environment to buy and sell BTC.
Fees
Currently, all fees concerned with purchasing and selling bitcoins are part of the bitcoin value. Sending and receiving BTC from other members of ZebPay network are free while withdrawing and uploading bitcoins would cost you 0.0001 BTC.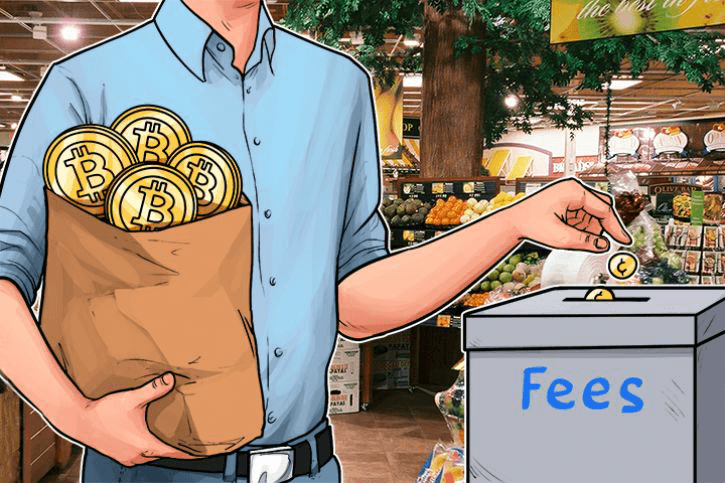 Note that ZebPay adjusts the fees depending on the volume of the trade conducted.
Payment Methods
The accepted payment methods at ZebPay are:
RTGS;
NEFT;
IMPS;
net banking.
Cash payments and credit/debit cards are not accepted while the only tradable currency is INR.
Which Countries Does ZebPay Support?
ZebPay only supports India at the moment, while accepted currency is Indian Rupee. If you live in the USA and wish to purchase bitcoins with USD, ZebPay would not be a choice for you.

ZebPay Comparison
In this section, we will compare ZebPay with Unocoin and Coinsecure exchanges as both brokers are based in India and are direct competitors that are bent on attracting Indian bitcoin investors.
ZebPay vs Unocoin
When comparing ZebPay and Unocoin, the first thing that traders should have in mind is that Unocoin has platforms available for PC while ZebPay is an only mobile-based platform. If you do not possess smartphone or iPhone, you won't be able to trade in ZebPay while Unocoin is a possible solution. Fees presentation is also a difference, since ZebPay includes these costs in the price of the bitcoin, while Unocoin lists them transparently.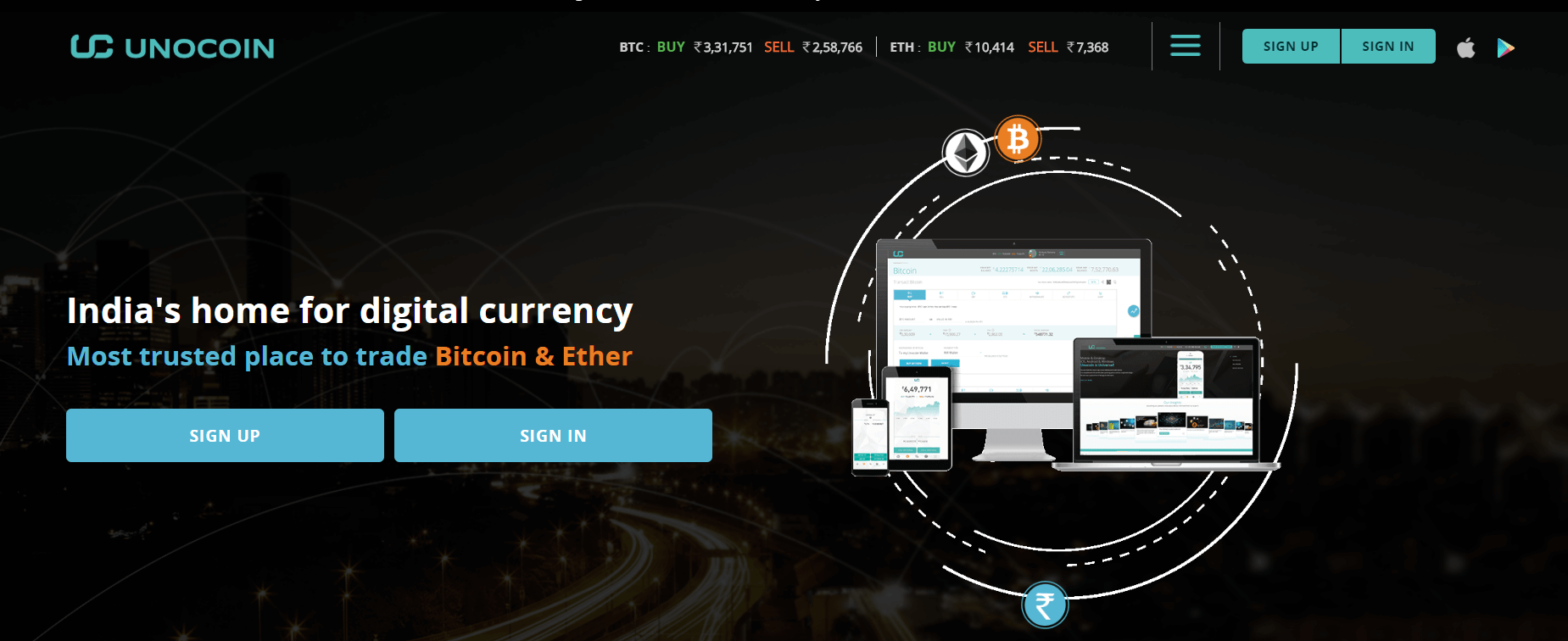 Customer care is held in higher regard at ZebPay, as the support is active and responds quickly to inquiries, while Unocoin has a bad reputation due to the prolonged ticket response. Everything else is very similar as both accept only INR transactions and require verification of your account.
Coinsecure Versus ZebPay
Coinsecure is very similar to ZebPay and Unocoin, as the company is based in India, accepts only INR payments and requires full verification to start trading bitcoins. The fees at Coinsecure are one of the lowest in the Indian market, standing at 0.3% for bank transfers.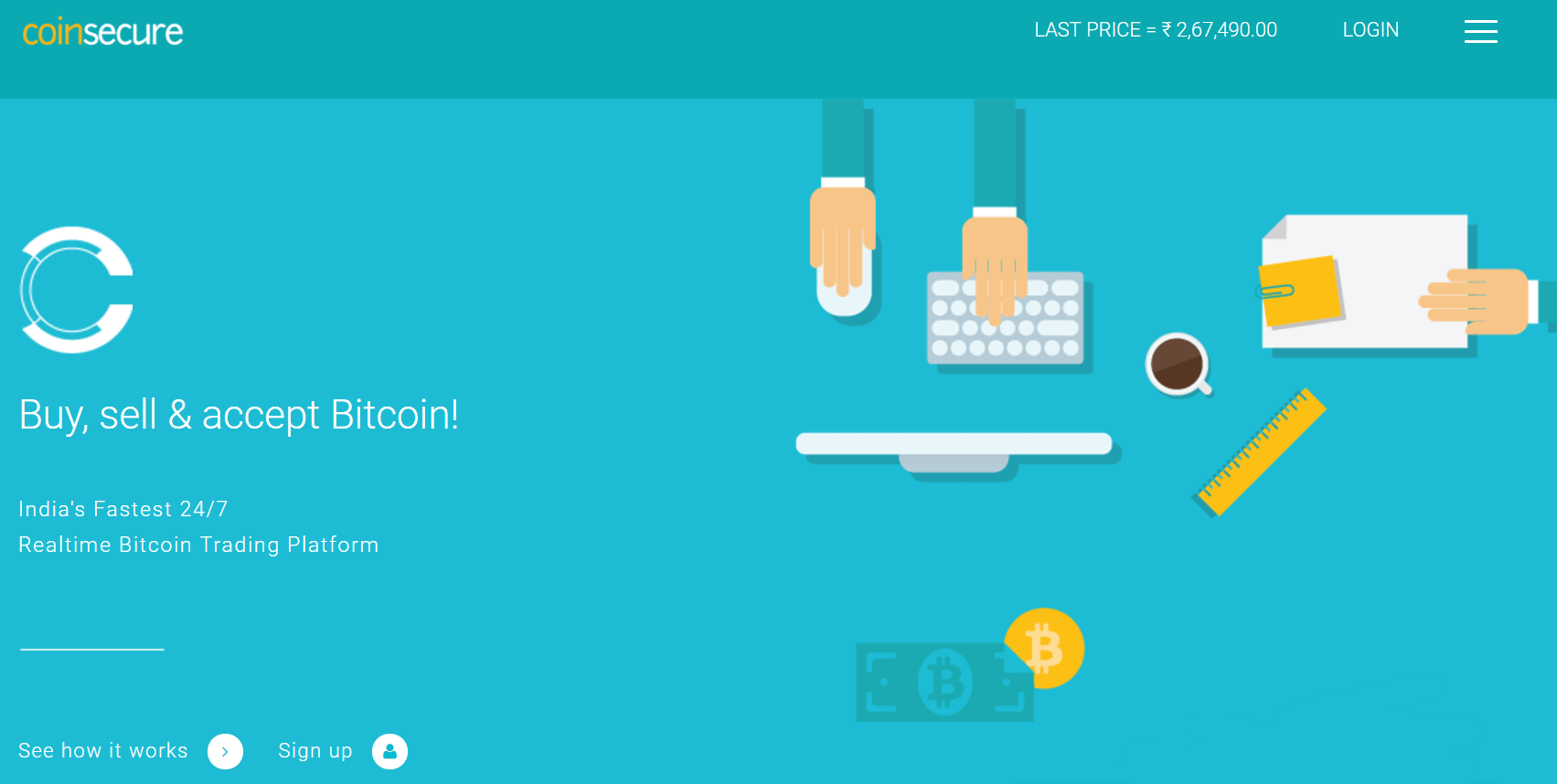 Buying Bitcoin Through ZebPay Tutorial
To start buying BTC, you would first need to have funds in your account.

The bank deposit should be done prior to the purchase process as no other methods are accepted at ZebPay. To start, click "buy/sell bitcoins" button.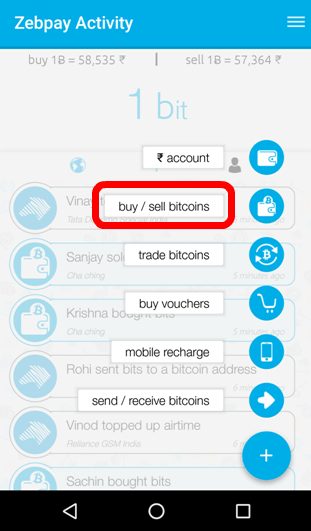 Select "Buy" page and enter a number of bitcoins you wish to purchase and then click "buy" button.

The BTC would automatically appear in your wallet, as you have deposited funds prior to the purchase.
Registration and Verification
First, choose the applicable installation option, depending on the type of phone you have.

Next, you should enter the number of your phone and complete the code challenge in order to verify it.

Once you have verified your phone, now you should create your PIN code and proceed to your account page.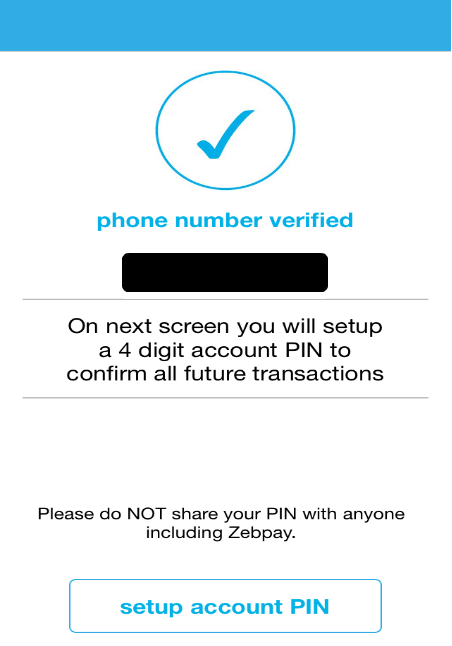 Click "verification" button and you will be directed towards details page, where you would need to upload the scanned copy of your PAN card. At the last stage, simply fill out details about your PAN card and bank account and click "submit". The verification can take up to 3 business days, so be armed with patience.
Purchasing Bitcoin
Purchasing BTC can be done only after you have completely verified your account details, which includes phone, email, ID and bank account. Bear in mind that purchasing bitcoins can only take place when you have a fund already in your online wallet. It would mean that prior to BTC purchase you would need to deposit the funds into a bank account.
FAQ
Do You Need to Verify ID?
At ZebPay you are required to verify your profile fully to be able to trade bitcoins. The verification includes scanned PAN card and your personal details.

Does ZebPay Have Any Coupon Codes?
ZebPay offers discount vouchers that can be gained through promotions and bitcoin trade. These coupons can be used to purchase goods and services of online companies that have signed partnerships with ZebPay.
Selling BTC via ZebPay
You can sell your bitcoins to ZebPay by clicking on the "Sell bitcoin" button at dashboard page. Then, simply put a number of bitcoins or their value you wish to sell and click "sell".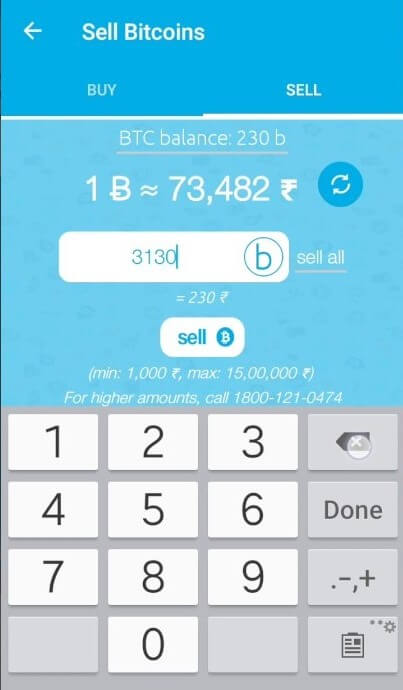 In next window, you would be required to enter your PIN code. With correct code, the transaction would be carried out instantly.
Does ZebPay Have a Bitcoin Wallet?
With account registration, you would get automatically a ZebPay wallet that functions as any other BTC storage address. The keys provided are private, thus can be used in other mobile devices should you happen to change or lose your phone.
ZebPay Alternatives
There are other Indian and international exchanges that are available for bitcoin trade. Although they could be similar to ZebPay, they differ in terms of fees, limitations and available platforms. We have investigated them for you so check our reviews about Coinbase, CEX.io and Unocoin.
Coinbase Bitcoins Exchange
Although not Indian-based, the exchange services are available for traders that are located in India. We have compiled a detailed report on Coinbase's fees, purchase and withdrawal methods as well as the availability of currencies and coins.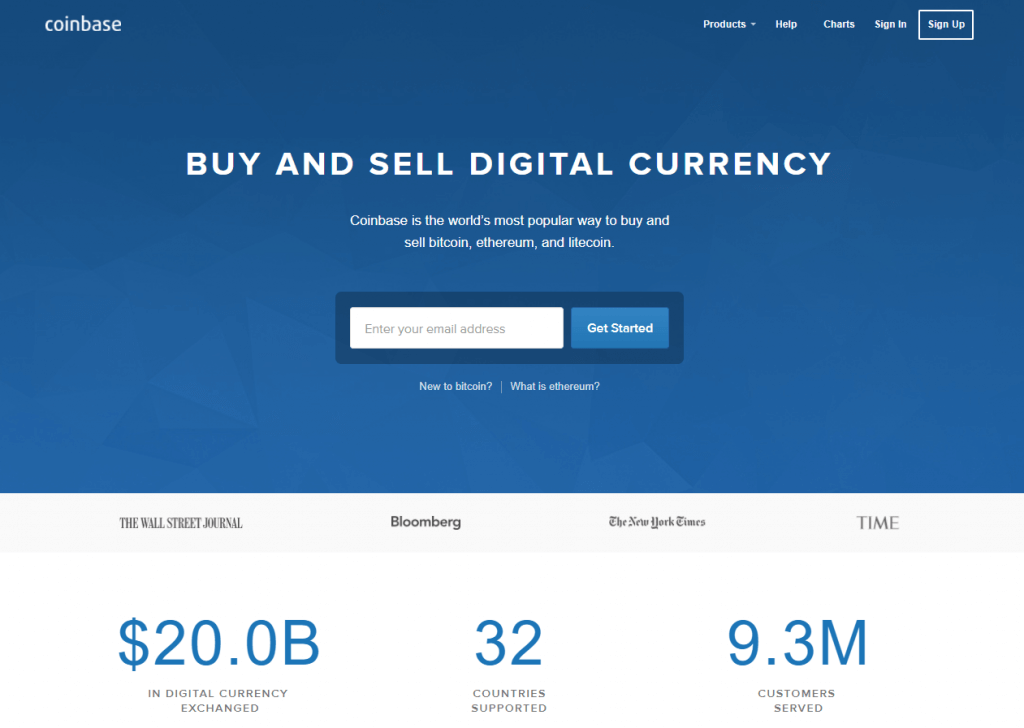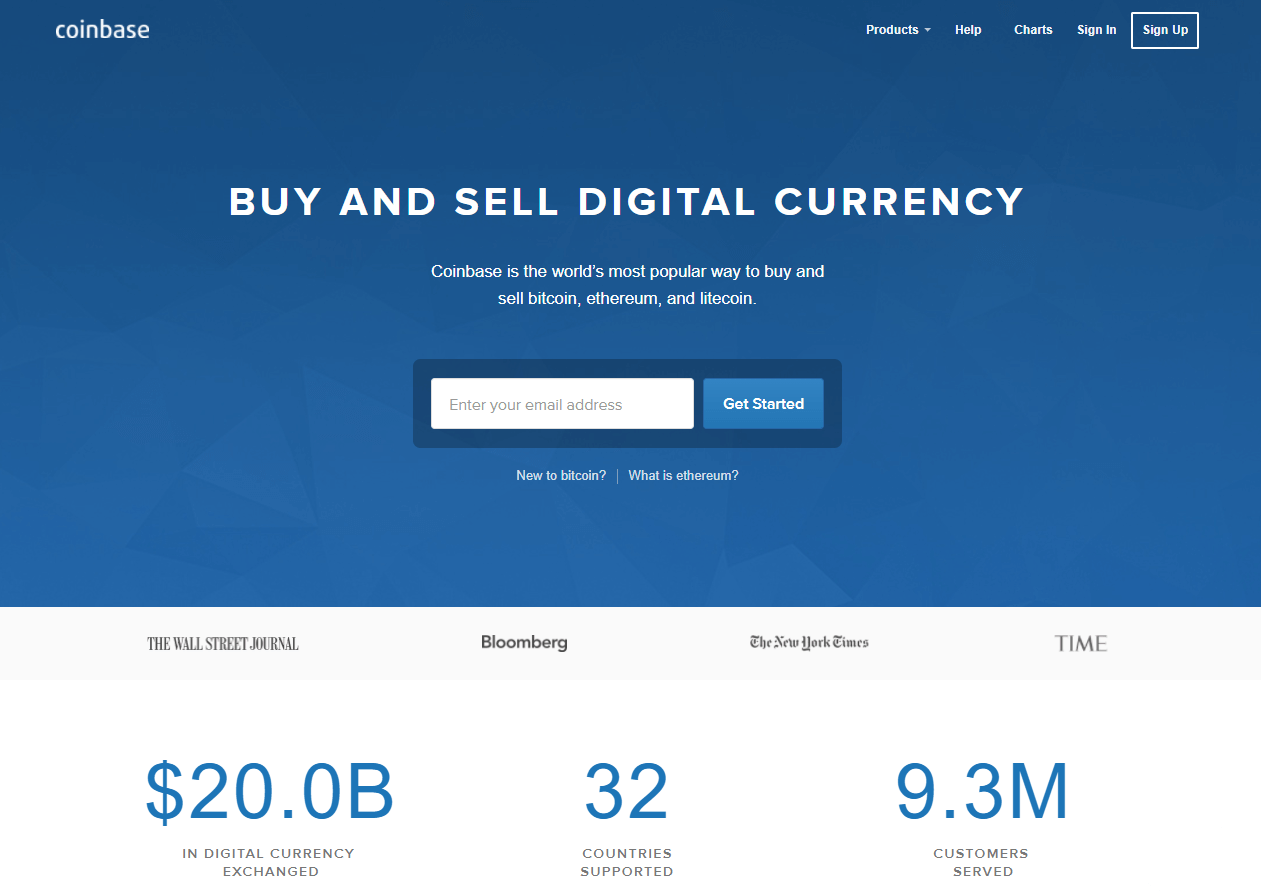 See Details About CEX.IO
CEX.io is one of the most popular bitcoin exchanges, thus we have created a detailed review of the broker so you could decide easier on which broker to work with.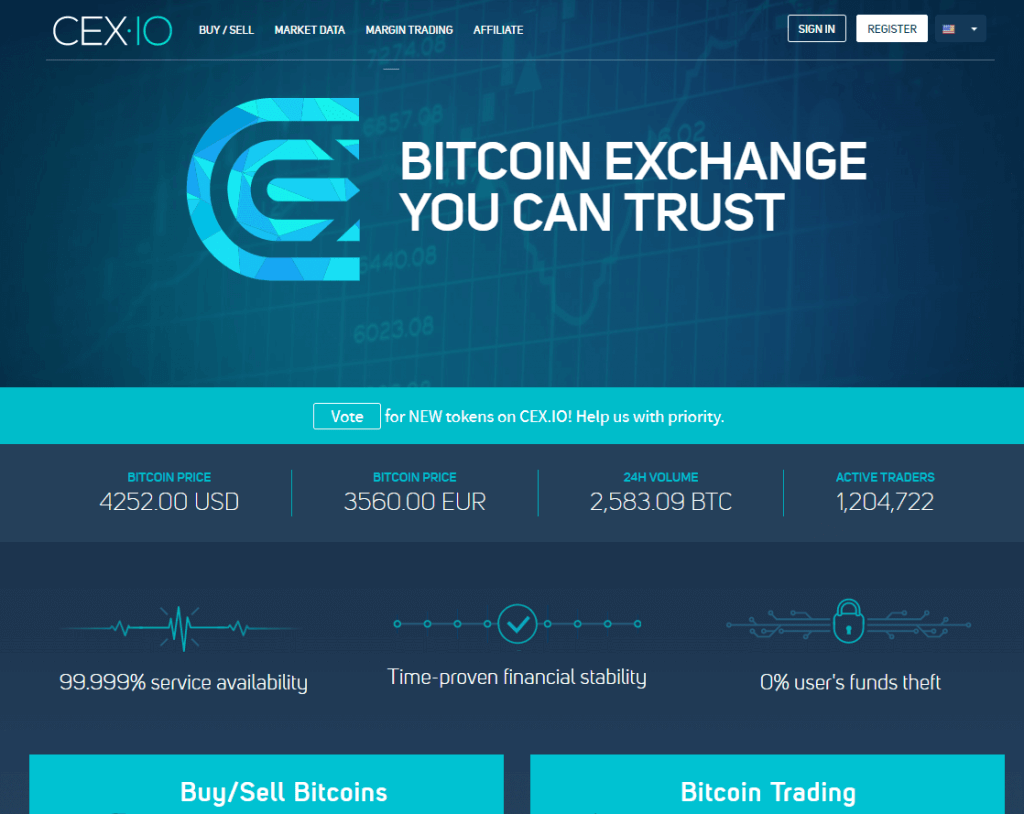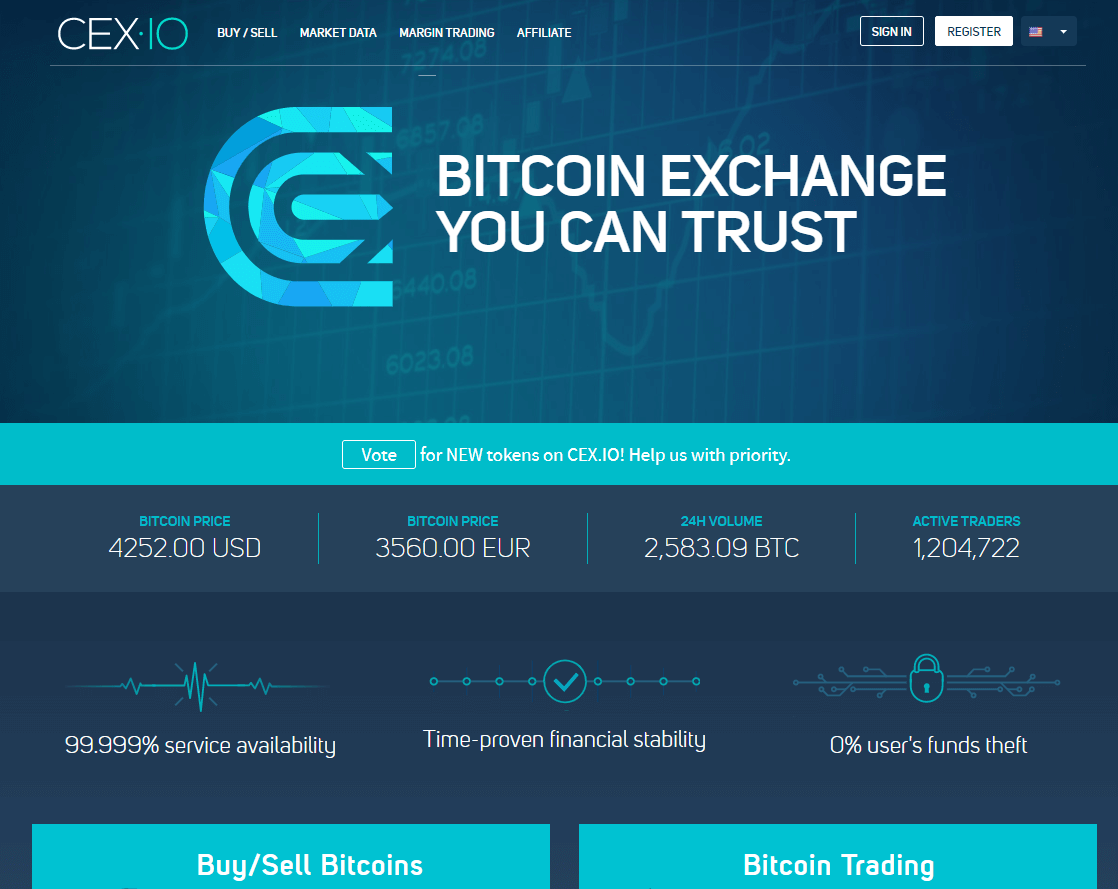 More about Unocoin
Unocoin is also an Indian-based exchange that offers INR purchase methods for their clients. As a direct competitor of ZebPay, we have made a review about Unocoin so you can benchmark these two brokers in terms of fees, payment methods and ease of use.

Should you have any question concerning ZebPay that has not been covered by this guide, feel free to contact us at BitcoinBestBuy.