Exodus is a multi-asset wallet with wide range of supported currencies. This review contains a brief guide to downloading and using this cryptocurrency wallet. We will help you to descry its advantages and disadvantages and will provide a short list of alternatives.
Summary: How to Use Exodus BTC Wallet
Go over to the Exodus website and choose the appropriate OS version for download.
Download and install the wallet on your PC.
Once installed, click the button "Receive" on the "Wallet" page.
Use the QR or address code to receive coins by sending them to your other wallets or to BTC seller.
Once you have transferred some coins inside your wallet, create a backup of your wallet (optional).
Exodus is one of those popular desktop wallets that have gathered a lot of attention in recent years within the cryptocurrency communities. Thus, we made a review about this crypto wallet platform, investigating its features and functions offered to customers. The tools we go over are its design features, security of funds, ease of use, supported cryptocurrencies and customer service.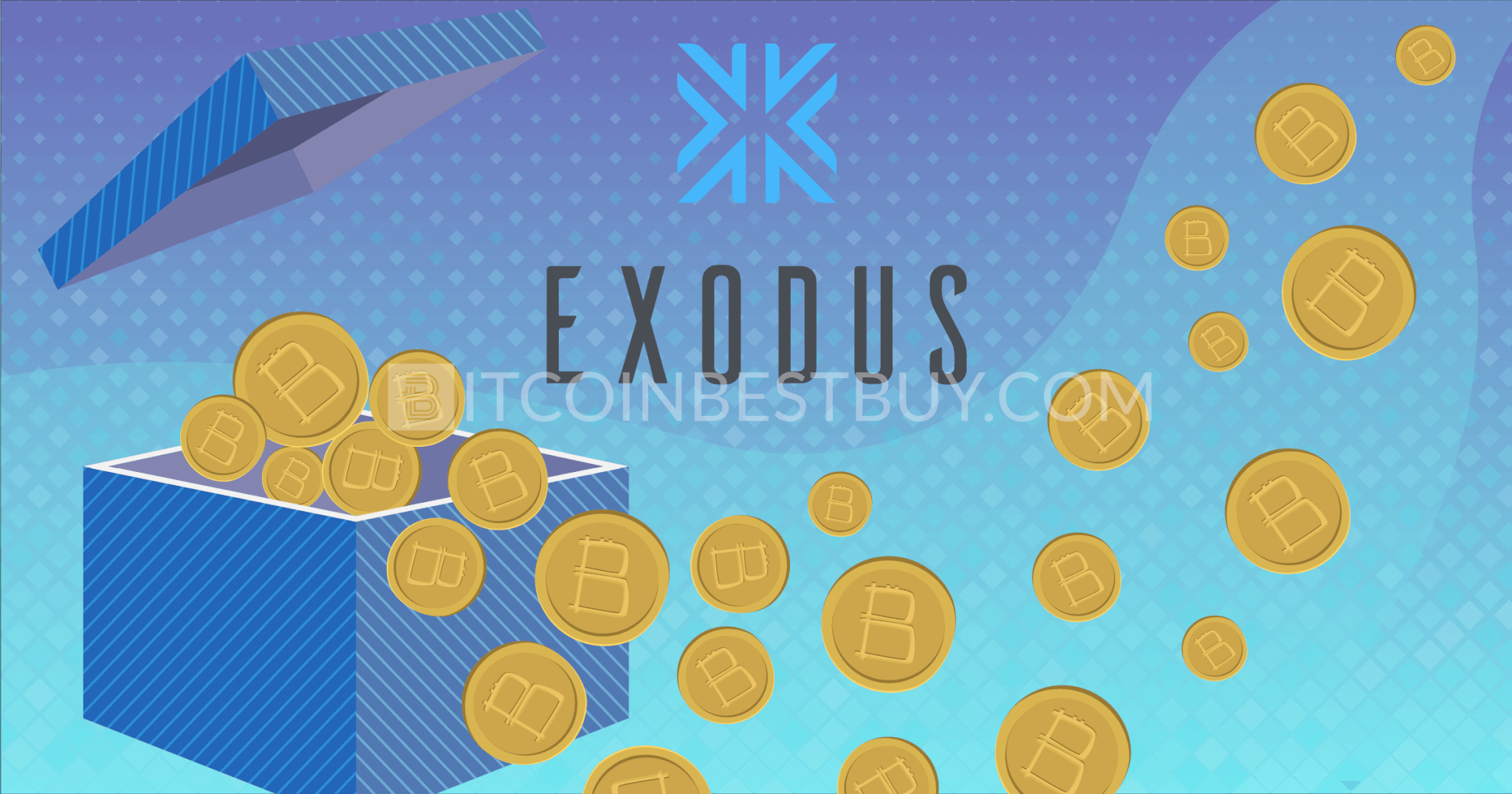 We also provide a detailed tutorial on how to send and receive coins using Exodus wallet. At the end of the article, we propose pros and cons of the platform, which can be benchmarked against similar products from the crypto market.
What Is Exodus?
Exodus is a cryptocurrency desktop wallet, offering its services globally as anyone with a computer and space in the disk can download and use its services. The platform was launched in 2016 and has since then gathered support and sufficient customer base to be taken notice of. The founders, Daniel Castagnoli and JP Richardson, aimed to create an easy-to-use wallet platform since many of the desktop storages were complex to setup and use.

It positions itself as a blockchain service provider, meaning that it is not solely bitcoin-oriented. It is also worthy to say that many updates were made since 2016, mostly concerning new crypto coins. There have not been any major hacking incidents but individual problems did occur.
Design Features
Exodus has a unique service when the design is in question. The platform has 25 default skins at your disposal to implement, many of them very neatly designed and aimed to provide eye-catching background to your wallet. You also have personally-made skins from cryptocurrency enthusiasts that have submitted their work to Exodus.

Background change is instant and, while cool to have, does not really offer anything of value when functions and transaction records are in question. You have neither price or volume charts, nor access to blockchain orders.
Exodus Security
The wallet platform does not really offer any security feature apart from a backup of your wallet's balance. Even the said backup is not available to you immediately as you need to deposit coins first. Although oriented towards simple use and starters, we do deem lack of security functions as a major drawback of the wallet, especially since there have been reports of missing funds recently.

That is why we would recommend you not to use this wallet if you are planning to transfer large volumes of crypto assets. Better use hardware wallets or even other desktop platforms that provide tools to secure your assets, since Exodus does not offer these whatsoever.
Ease of Use
Exodus was brought into the market with a sole purpose of being one of the easiest wallets to use and handle. The installation process is probably one of the fastest in the market, as it takes simply to download and run the .exe file. The program itself takes it from there. As for the usage, you have sent and received functions and security options, all visible and designed to set up with a couple of clicks only.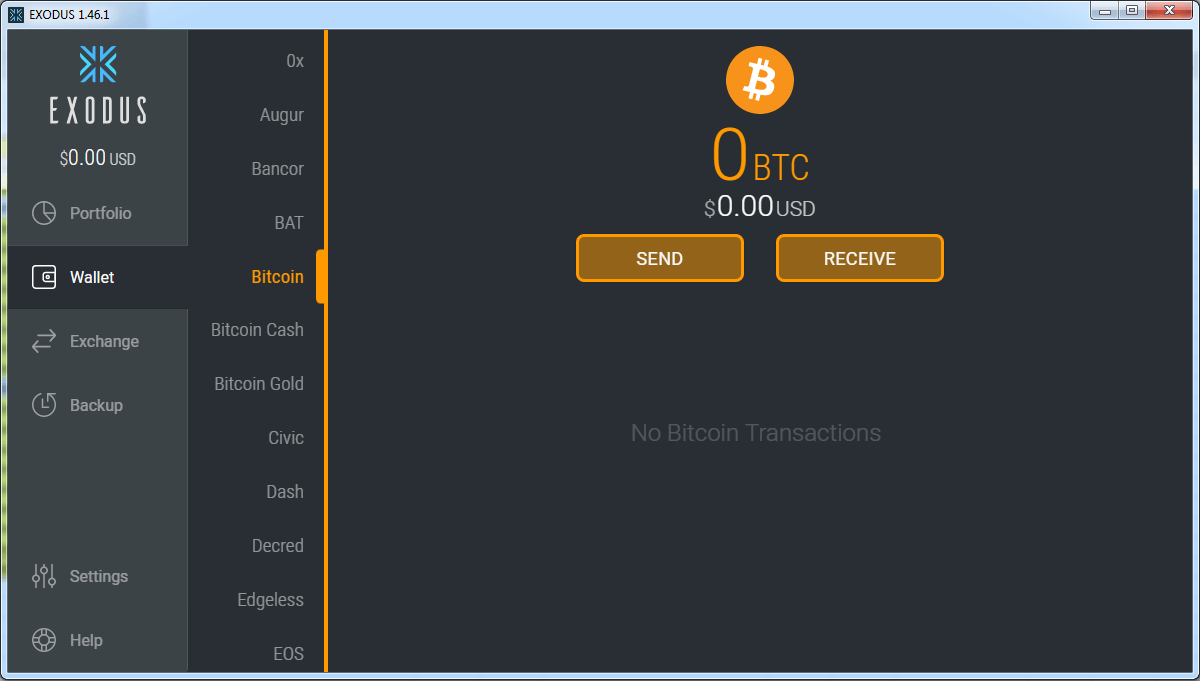 Thus, we do deem it to be very easy to use but since 2016, many other wallets have been created that are also very simple and as eye-catching as Exodus.
Accepted Cryptocurrencies
Another perk of the Exodus is the number of cryptocurrencies supported for wallet services.

At this moment, you can store and transfer any of the following coins: Aragon, Augur, Basic Attention Token, bitcoin, Bitcoin Cash, Civic, Dash, Decred, district0x, EOS, Ethereum, Ethereum Classic, FunFair, Gnosis, Golem, Litecoin, OmiseGo, Qtum ERC20 and SALT.
Does Exodus Wallet Support Its Customers?
The support department has several services available for its customers. You have more than sufficient FAQ section that can be reached through either desktop wallet or online on Exodus's web page. You also have a ticket system that allows you to contact the customer support directly.

The wallet itself also offers status of its services and servers, updates regarding new versions and live chat. The last tool, the live chat is very rarely seen in the industry since many providers offer ticket system and FAQ only most of the time.
Guide to Add Funds to Exodus Wallet
The process of transferring your crypto assets to Exodus is quite simple. Simply click "Receive" button, found under "Wallet" section to open up a window containing QR and address code.

In next step, simply copy the address code or send the QR image to your other wallets and transfer funds to your Exodus account. The same works with exchanges and traders that have sold you their coins. Below the image there are also functions to make the job even easier, as you can send the said codes using links for printing, emailing and blockchain view of the codes.
How to Make Payments with Exodus?
As with receiving funds, payments using Exodus balance takes less than a minute to complete. You click "Send" button under the "Wallet" page. Once opened, you will see a small transfer window containing information about the volume you wish to send and the empty field where you are supposed to provide the receiver's code. You also have the ability to receive QR code and scan it as well.

Once you have filled out all needed information, click "Send" and transfer will take place immediately.
Fees
At the moment of this article's writing, the network fee applicable for all outer transfers stood at 0.0000234 BTC or approximately $0.27. It is important to note that the cost itself is charged flat, meaning that no matter how small or large your transaction is, you will be charged the same.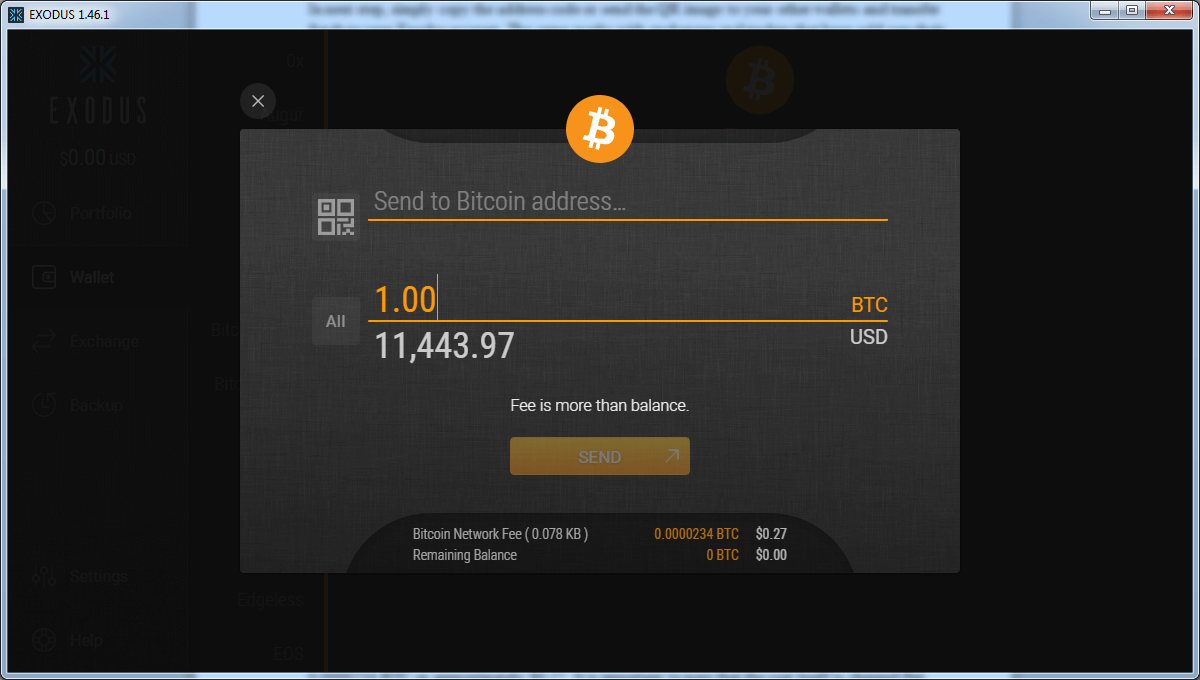 Unfortunately, you do not have the opportunity to choose your own fee level. Since costs are low, the transfers are a lot slower to reach their destination.
Frequently Asked Questions
Does Exodus Have a Mobile App?
Since its release in 2016, the platform has offered desktop versions of its product only. iOS and Android users are still waiting for mobile apps to be released though there have not been any plans regarding phone platforms to be developed in so far. Management did mention that these apps are on the horizon but there still are not any concrete plans on making them happen anytime soon.
Can I Use Exodus for Storing Altcoins?
As mentioned at the beginning of this article, there are many altcoins supported by Exodus at this moment. Through forks and ICOs, Exodus has added them as their popularity increased over time.

We would still caution you with keeping altcoins in this wallet as security is virtually nonexistent. Additionally, there is a certain chance of less popular coins being dropped from the wallet if market volumes drop.
Supported Operating Systems & Exodus
At this very moment, all three major OSs are supported, them being Windows, Mac and Linux. Take into account that Windows version of 64-bit is the only one supported. Currently, other platforms like mobile phones, Chrome extensions and web browsers are not developed.

In any case, no matter the chosen OIS, download and installation is pretty much the same for all three of them, since Exodus installs itself without any interference required form you.
Exodus BTC Wallet: Pros and Cons
Taking everything into account, we have constructed advantages and disadvantages of using Exodus as your primary wallet.
Pros
installation and usage is one of the simplest in the industry;
a large number of altcoins supported (21 of them plus bitcoin);
very low miner fees that are charged flat.
Cons
no security functions apart from backup;
to create a backup of your wallet, coin deposit is required;
the fee structure is not flexible as only one network transfer speed option is available;
no other platforms, like mobile apps.
Exodus Hardware Alternatives
Judging from the cons of this wallet, it is evident that Exodus is not the best crypto wallet out there for you to use. There are numerous alternatives and we made reviews for a number of them, such as Ledger Nano S, TREZOR and KeepKey.
Ledger Nano S USB Wallet
Ledger Nano S differs from other hardware wallets in fact that it acts as the mini chipset. The USB wallet offers superior security features and is almost impossible to break into due to its ability to operate in both online and offline environments. Read our review about this HD device, as we list out its price tag, security functions, private keys and setup.

TREZOR BTC Wallet
TREZOR, unlike Ledger Nano S, acts as a small computer, since it does not need to be plugged into a computer to be installed. The wallet uses the screen for installation and balance inquiry while transactions are confirmed using physical buttons on its sides. Check out our article about TREZOR as we go through its advantages and disadvantages for you.

Read More About KeepKey
Designed form by the same development team as TREZOR was, KeepKey offers very similar services as Ledger Nano S and TREZOR do. No wonder, as it is also a hardware wallet, bent on providing you with great security to keep your coins safe. Head over to our review about the device, as we list out its functions, features, advantages and disadvantages. We also provide a step-by-step guidance on how to setup and use the wallet properly.

In case you have questions or inquiries regarding our opinion about Exodus, feel free to express yourself directly to us at BitcoinBestBuy, as we value views of our readers.