If you are thinking over which bitcoin buying method is appropriate for you and heard about AstroPay, but don't know how it works, so  you've reached the right place. Here is the latest and useful information concerning the buying bitcoins with AstroPay method.
Summary: Buy Bitcoins Using AstroPay
Open an account at AstroPay or purchase a debit card at the desired value.
Transfer funds from a bank account, credit card or through another method to your AstroPay balance/card.
Register an account at the desired exchange (LocalBitcoins for example).
Find a seller at LocalBitcoins that accepts AstroPay payment method and check out his/her trade terms.
Purchase bitcoins using the funds deposited or trough AstroPay transfer to seller's account.
Withdraw BTCs to your wallet address.
The buying of bitcoins has never been easier. With the growth of the network, traders around the world are able to use a variety of payment methods now. In this review, we provide a quick guide on one of those methods, called AstroPay. No matter where you live, this article is meant for you as guidance on how to buy bitcoins with the help of AstroPay.

Stay tuned as we list out exchanges that accept the purchase option, listing out their trade features, security options, verification requirements and fees. At the end of each platform review, we provide pros and cons on AstroPay trade so you can use it when comparing different online exchanges.
About AstroPay
AstroPay is a money transfer company that offers online financial services for both individuals and businesses. The company's headquarters are based in the United Kingdom, while the organization was established in 2009.
Since its beginnings, the company chose Latin America is its main market where its efforts shall be concentrated. Today, the company operates in Brazil, Mexico, Argentina, Chile, Peru, Colombia, Uruguay, Turkey and China primarily, though the rest of the world can also use its services. The company has offices in London (United Kingdom), Shenzhen (China), Montevideo (Uruguay), Curitiba (Brazil) and Swatar (Malta).
The company offers a variety of funding sources by which you can put your money into AstroPay, from credit cards (Visa and Mastercard), bank transfers, to NETELLER, PayPal and paysafecard. There also a variety of fiat currencies available for the countries mentioned before, allowing you to use your own domestic currency when buying bitcoins. The connection with other payment methods is done through a program called "AstroPay Direct", with numerous options available for funding your account.
You have the ability to use Internet Explorer/Chrome and mobile platforms (both iOS and Android), adding to the flexibility of online purchasing process.
You also have the option to purchase a debit card that lasts for a year. The duration is fixed and the card cannot be used after the end of term. The price of the card ranges from $10 to $500 and it is nonrefundable.
AstroPay does not charge any other fees for transfers. You should take into account costs that you might incur while funding AstroPay account through other providers. NETELLER, for example, charges its customers 5% to 7% depending on the region.
Safe Places to Buy BTC using AstroPay
AstroPay is not one of the popular methods of online payments when it comes to cryptocurrency trade. The reason primarily lies in the fact that only Latin American was served initially, with other countries and regions being added as the time passed. Thus, only a handful of exchanges accept the payment method at this moment.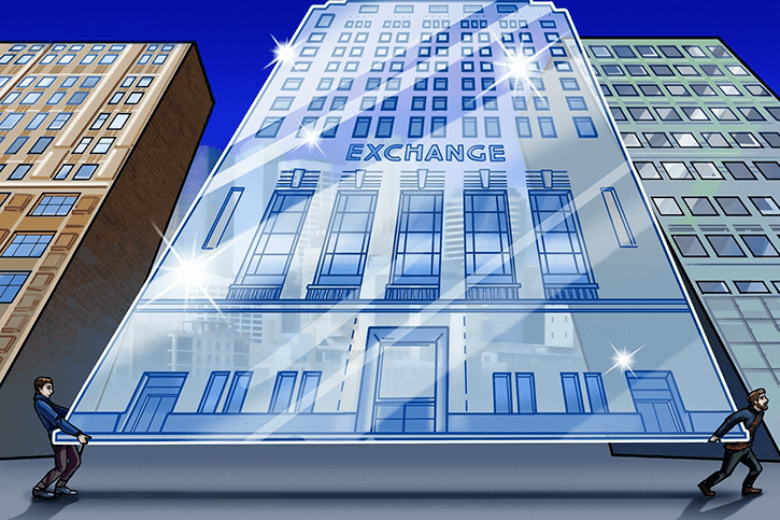 The exchanges that do and that we are comfortable recommending are one of the top players in the industry, each of them having a separate set of pros and cons that you should be aware of. These platforms are CEX.IO, Bitex, LocalBitcoins, ALFAcashier and Paxful.
CEX.IO
Apart from bank cards and account transfers, CEX.IO also allows AstroPay as a method of deposit for bitcoin. TheCEX.IO exchange offers its services globally, meaning that anyone with the AstroPay card can deposit funds into the CEX.IO balance and trade with BTC.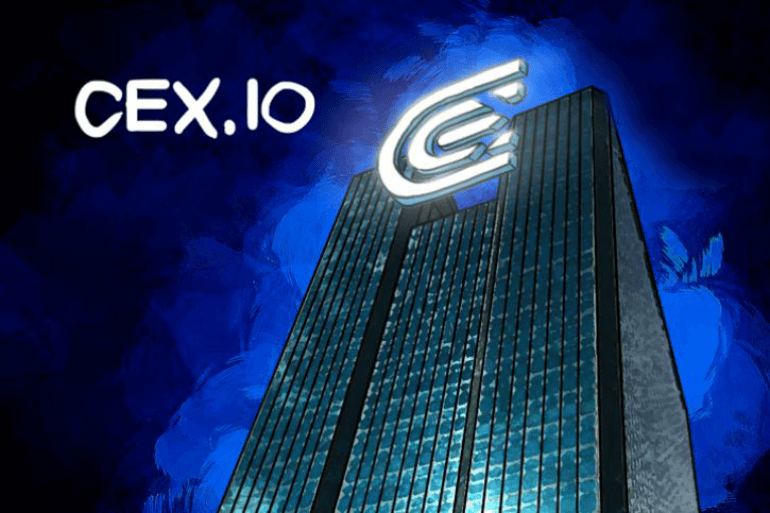 The verification of the account is a must-have, even for AstroPay as you have to provide identity and address proofs to the customer support department. The fees for the AstroPay card stand at 3.5% + $0.25 while the trading cost stands from 0% to 0.25%, organized by maker/taker fee structure. These costs depend on the monthly volume achieved at CEX.IO.
As for the security measures, CEX.IO offers only two-factor authentication (2FA), which is inadequate when compare to other exchanges in the market.
Pros
service available worldwide;
adequate trade volume depth.
Cons
verification is a must;
lack of security features;
exchange rate/spread wide when compared to industry.
Bitex Exchange
Bitex is a money transfer system that offers a peer-to-peer (P2P) marketplace where you can post orders and purchase bitcoins from fellow traders. You have to provide scanned ID and proof of address to be able to use the exchange's services.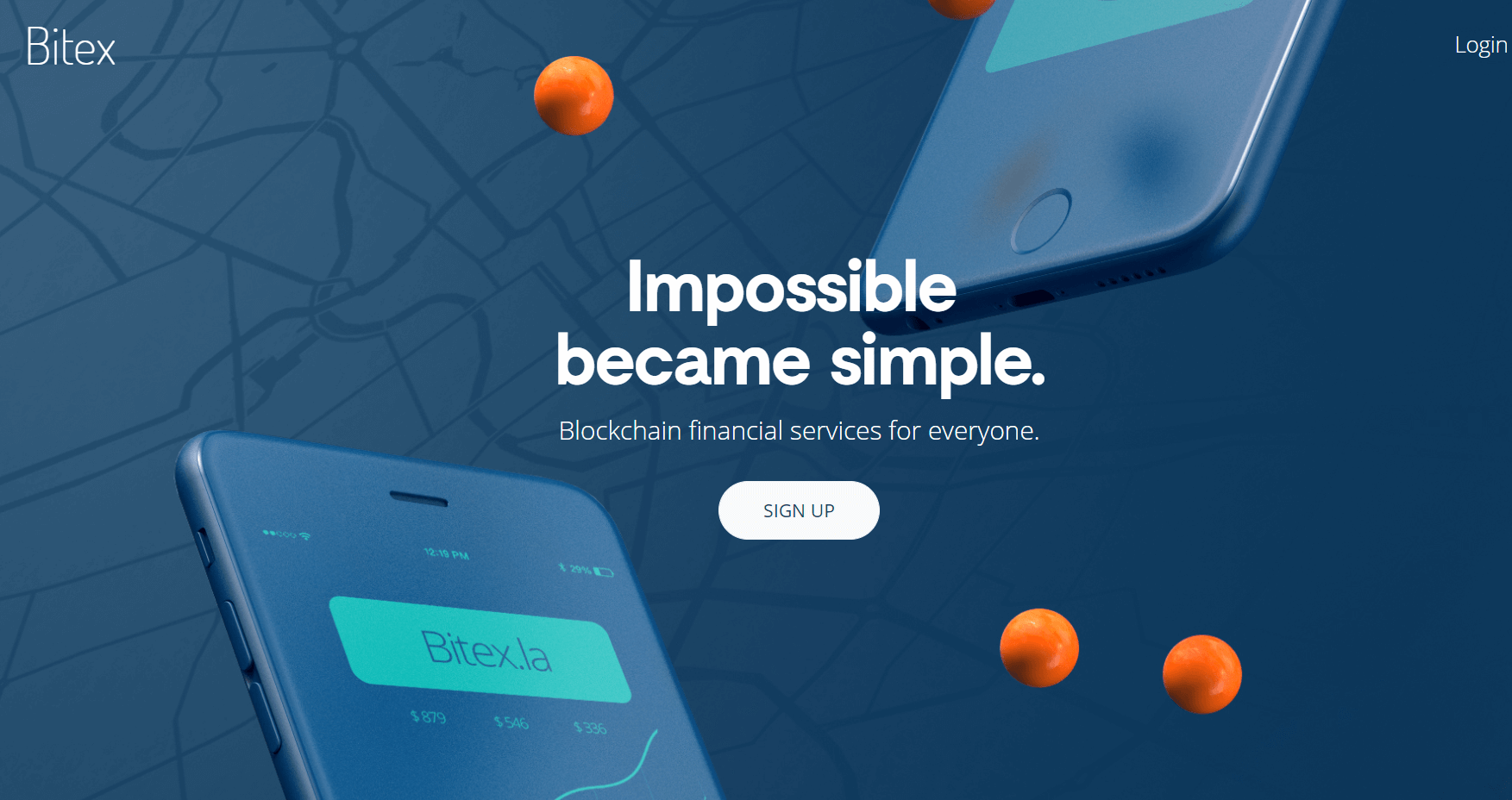 The bitcoin at Bitex is available for traders around the globe, as long as you have the bank transfer and AstroPay Direct at your hands. The fees stand at $10 + 0.5% of the trade value though you should also account that non-USD fiat currencies will be converted to the American counterpart, incurring additional costs.
Since only two transfer options are available, the AstroPay deposit may take up to 5 business days to be processed.
Pros
globally available bitcoin purchase;
low transaction fees of $10 + 0.5% when compared to the industry.
Cons
only USD accepted while other currencies will be converted for additional costs;
traders have to complete the verification process;
transfers might take up to 5 business days to be completed.
LocalBitcoins
LocalBitcoins is perhaps the most popular choice when it comes to P2P bitcoin trade in the cryptocurrency industry. The platform offers a large number of purchase options, AstroPay included. All you have to do is to find the suitable seller that accepts the method and has a positive trade history.
The verification depends on individual traders though the lack of regulations can be considered as a double-edged sword. Scams and frauds have been reported in the past due to the light market control in terms of identity checks.

You have 2FA as a security measure while service is available as long as there are available traders in your country. Fees stand at 1%, no matter the payment method is chosen while escrow service can be used to secure both funds and coins from theft while conducting trade.
Pros
Cons
scams have been reported in the past;
AstroPay not really a popular choice of payment.
ALFAcashier BTC Exchanger
At ALFAcashier you can purchase bitcoins with the help of AstroPay in Brazil, Chile, Mexico and Uruguay only. The exchange offers other methods that include regions from around the world but when talking specifically about AstroPay, only four countries are available.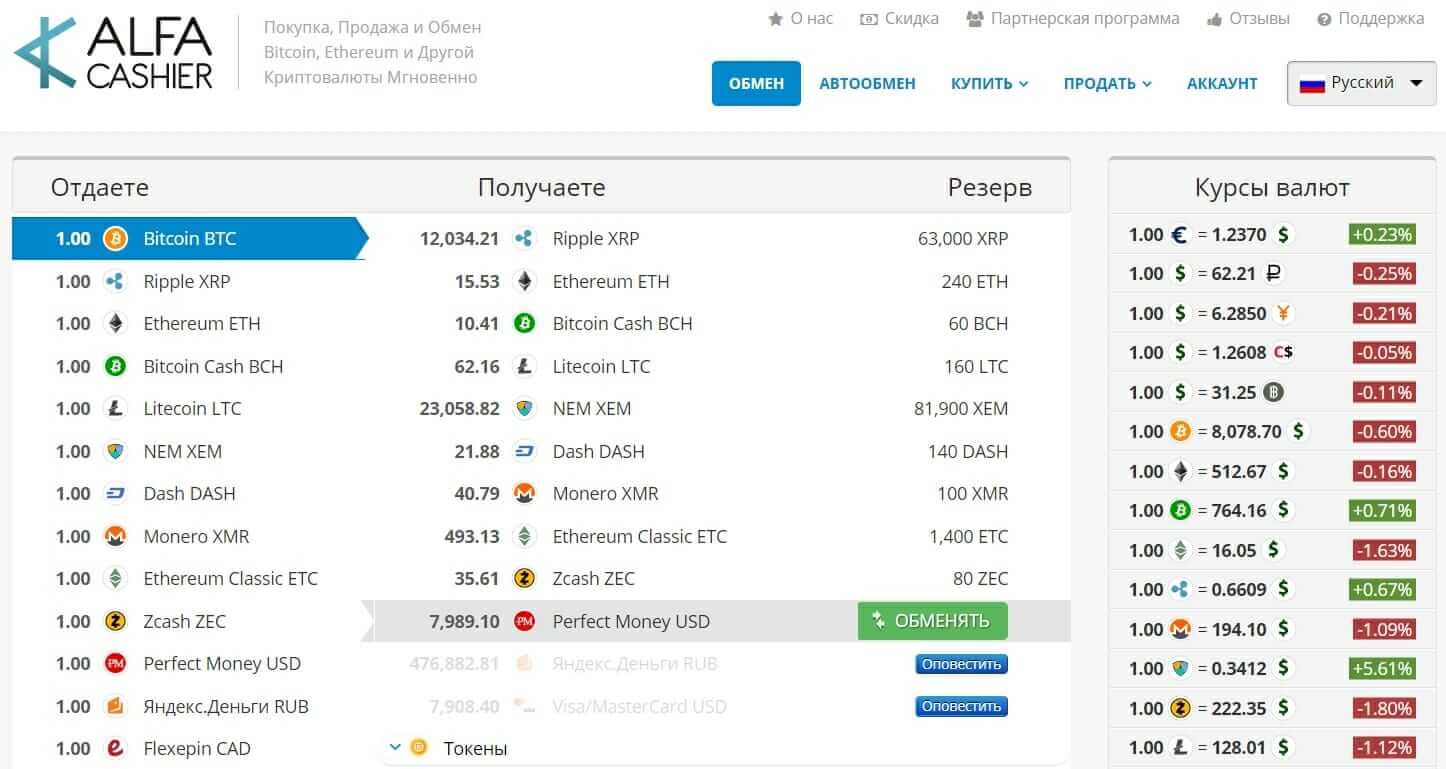 The transaction costs stand at 1% with many other cryptocurrencies available for trade apart from bitcoins. You do not need to register an account at ALFAcashier in order to purchase bitcoins, though you might wish to do so the purchase limit of $3.000. The verification of any sorts, apart from your email, is not needed.
Pros
 many other cryptos available apart from BTC;
 low 1% commission fee;
 no verification needed to purchase cryptocurrencies;
 instant access to the coins.
Cons
 only several countries available if AstroPay is to be used;
 AstroPay comes with a lower purchase limit of $3.000.
Paxful
Paxful is very similar to LocalBitcoins in many aspects, as it is also a P2P platform where traders can buy and sell bitcoins using AstroPay bitcoin payment method. The trade fees stand at 1% and seller pays them while buyers do not have any direct costs.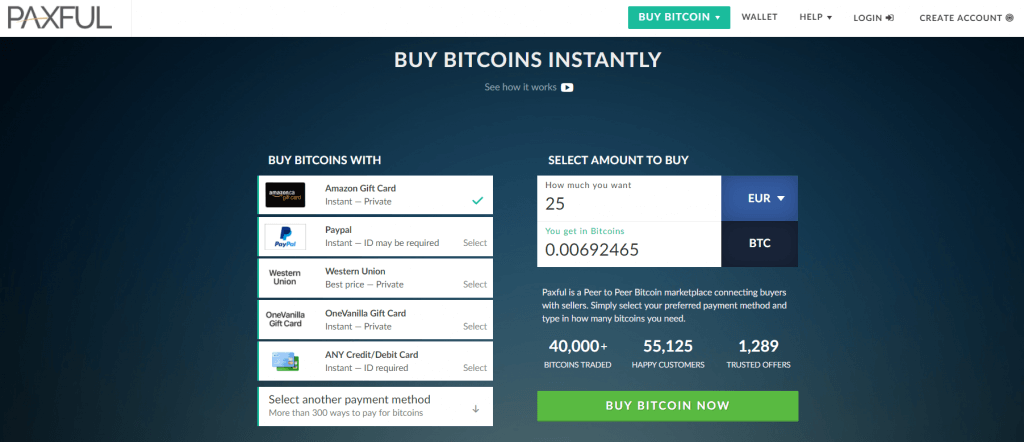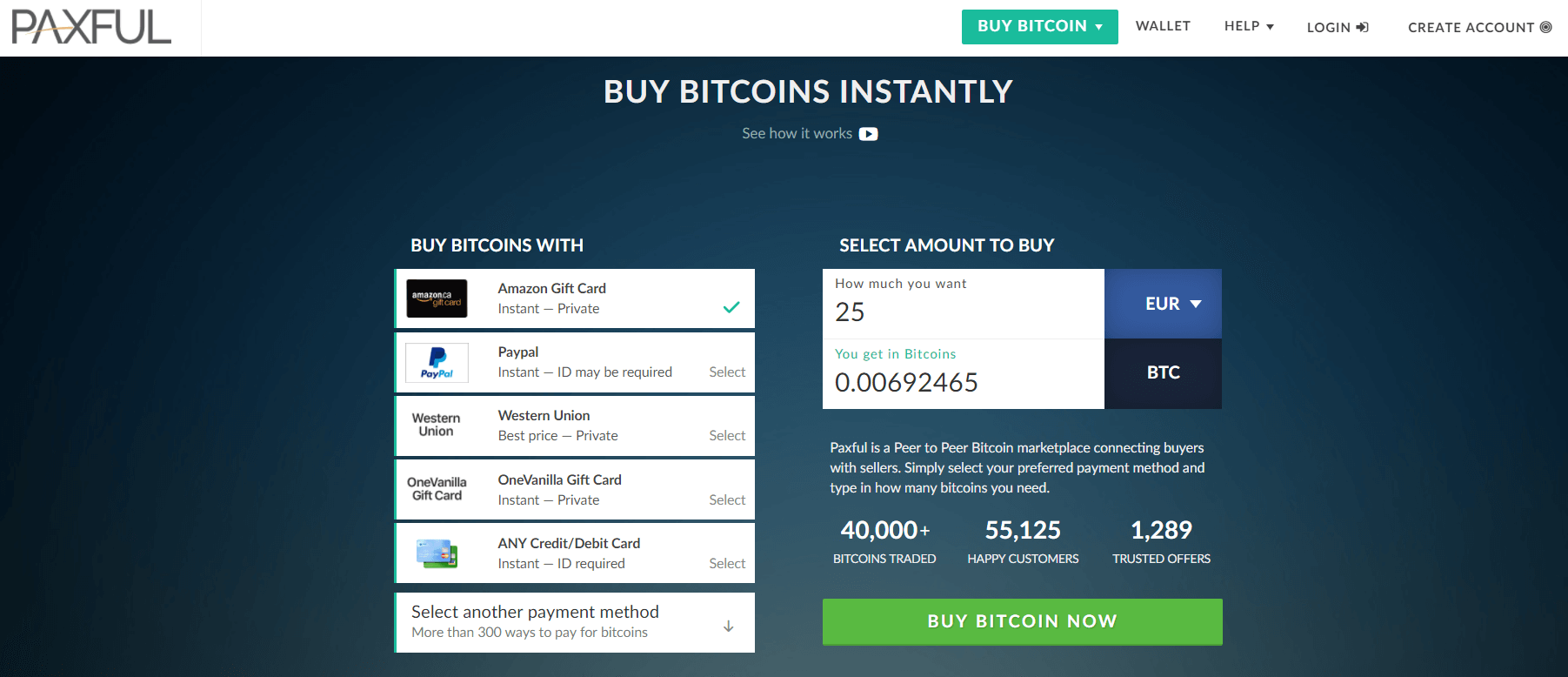 The method is not very popular on the platform though it is worthy to check the marketplace from time to time as you do not need to verify your account to be able to purchase bitcoins. Much like with LocalBitcoins, you should work with only verified users with positive trade history, as scams are a regular part of the market at Paxful.
Pros
buyers do not pay any sort of fees apart from the BTC price;
service can be sued from any part of the planet;
verification is not mandatory.
Cons
scams are known to occur;
AstroPay is not a popular payment method.
How to Make the Right Choice?
Every trader has personal circumstances to take account of. The service availability, fees and available fiat currencies for trade are crucial when choosing the platform for your BTC needs. Privacy might be a great deal important to someone while others might not be so off-putted by the verification requirements.

Take the pros and cons of this guide while checking out the available exchanges that accept AstroPay and chose the one with most suitable trade rules and functions for you.
The Best Place to Keep BTC
We would highly recommend you to use hardware wallets, no matter the number of bitcoins and time you wish to be in the market. The industry has tremendously evolved from its origins but so has cybercrime as well. Only hardware wallets can guarantee you the absolute safety of your funds as these devices operate on offline and online environments, offer private keys and are not dependent on producer's servers. You should check out our reviews about three most popular HD wallet choices – Ledger Nano S, KeepKey and TREZOR.
Ledger Nano S – See Details
Ledger Nano S acts as a chipset, as you get a wallet that contains a small chip device inside the appliance. The said wallet is used as a USB though it can also operate on its own. The installation is done through the PC connection and holds most of the safety features as other HD bitcoin wallets.

You have a screen for balance inquiry, offline/online support, independence from the producer's servers and private keys. You should check out our detailed review of the wallet.
Review of KeepKey
Developed by the TREZOR team, KeepKey has similar functions as TREZOR and other HD crypto devices. The storage is secured with private keys, while screen offers to check balances in an offline environment at any point in time.

You can read our review about the wallet, where we have investigated its security properties and provided a quick setup guide for beginners to use.
Learn More About TREZOR
Unlike Ledger Nano S, TREZOR operates like mini-computer, with its own small operative system serving as a protection measure. You do not need to plug the device into a computer to start the installation, thus you only need an online connection at the beginning stage. Much of the other features like online/offline balance inquiry, screen, 2FA, PIN codes and recovery process is the same as with other devices.

Do not miss out an article concerning TREZOR, as we have detailed out for you its pros, cons, price and how to set up the wallet.
Should you have any questions regarding AstroPay and the exchanges that accept it, that this guide did not answer, feel free to contact us directly at BitcoinBestBuy.