Bitcoin and cryptocurrency technologies are spreading in many countries. We will show you how to buy bitcoins in Ghana. You will be provided with complete information that will allow you to start using bitcoin right after reading.
Summary: How to Buy BTC in Ghana
Register an account at Coinmama for free, for example.
Verify your identity if you are looking for larger batch of purchase (optional).
Go to "Bitcoin" page, chose currency and input amount of coins you wish to purchase, clicking "Buy BTC" to start the process.
Enter your wallet address on which you will receive bitcoins.
Provide your credit card details and click "Buy" button to purchase them instantly.
Check your wallet's balance to make sure transfer has occurred within an hour.
Due to the rapid growth of the industry in recent years, we tend to seek out simpler ways to do our online trading. With the arrival of bitcoin as the first decentralized digital currency, our view of financing became much simpler, as the system operates without a central bank or single administrator. In this guide we will explain how to purchase and use bitcoin if you live in Ghana.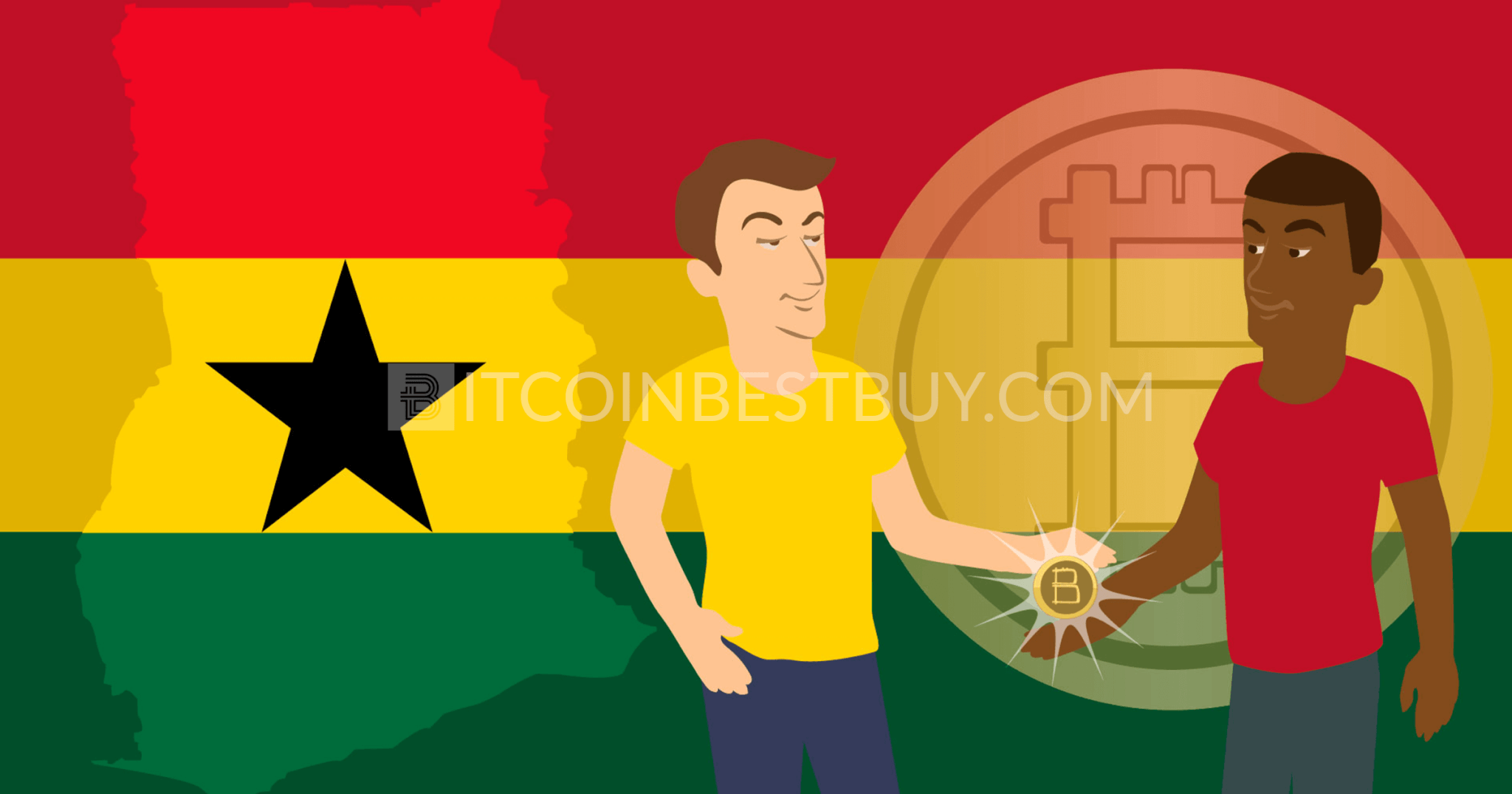 We will focus on the exchange platforms in which you can trade BTC in Ghana as a thriving new market. We will investigate Ghana's ability to exchange BTC in terms of fees, verification requirements, payment methods and security traits.
Available Payment Methods in Ghana
There are various methods to acquire bitcoins, and the most frequently used one is credit/debit card payment, which usually takes 5 business days for the transaction to complete, and fee rates are determined by the bank. We should also note that bank card purchases come with certain risk, as card's information can be stolen, which could create further problems with your cash deposit.

If you have opted for e-payment, then PayPal and Perfect Money are the most popular with online BTC trading portals. When it comes from trading with local traders, then the preferred method of payment is Mobile Money. Many of these payment methods allow traders to use Ghanaian Cedis as money of exchange, alongside with USD, EUR and other fiats.
Is It Legal to Buy Bitcoin in Ghana?
The central bank of Ghana has declared that bitcoin is not legal yet, but it is now looking to regulate digital currency activities and help its financial industry through a new bill that is currently in a parliamentary phase. However, the future of BTC in Ghana looks bright, as it has transferred into various useful platforms that could become essential to Africa. Bitcoin could be the solution for Ghana's financial turbulence.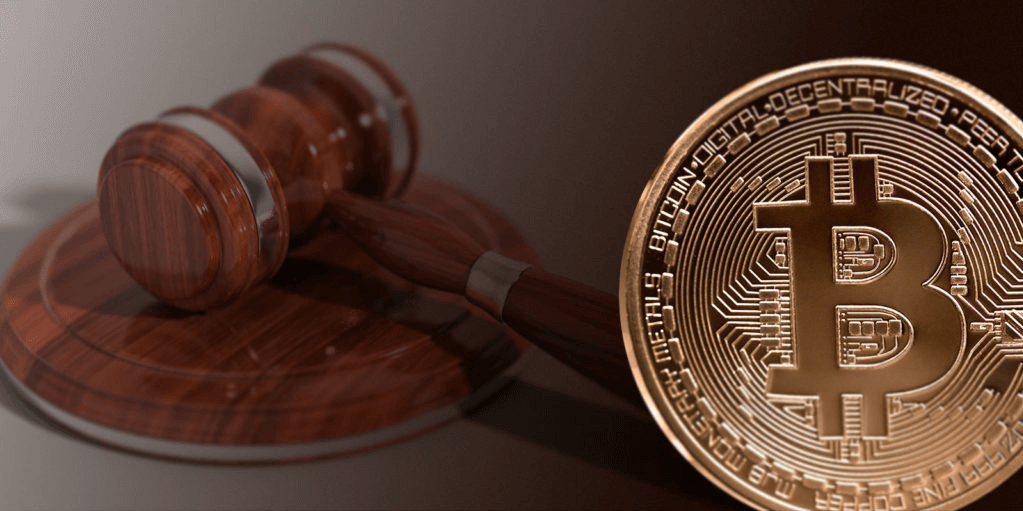 Latest news point in the direction of the Bank of Ghana slowly starting to diversify its investments. Analysts are urging the Bank to place one percent of Ghana's reserves in bitcoin. Bitcoin could be a new reserve asset and the Bank is currently studying its option investment vise. It is becoming clearer that the Central Bank needs to make BTC legal, as it is already being used on various platforms in Ghana, as well as all over the world.
Safe Places to Get Bitcoin in Ghana
There are few places where you can purchase bitcoins in Ghana. There are bitcoin Ghana online portals that trade with cryptos but you should always check their authenticity before trading. Also, there are local bitcoin traders, where you can buy BTC for Mobile Money. You can also buy bitcoins from your friends who own them, as well as by mining, which means solving complex mathematical problems in order to get bitcoins.
Paxful BTC Marketplace
Paxful is a bitcoin trading marketplace, designed to help connect buyers and sellers to easily exchange bitcoin. Paxful also provides a quick and easy way for cryptocurrency traders to pay using bitcoin.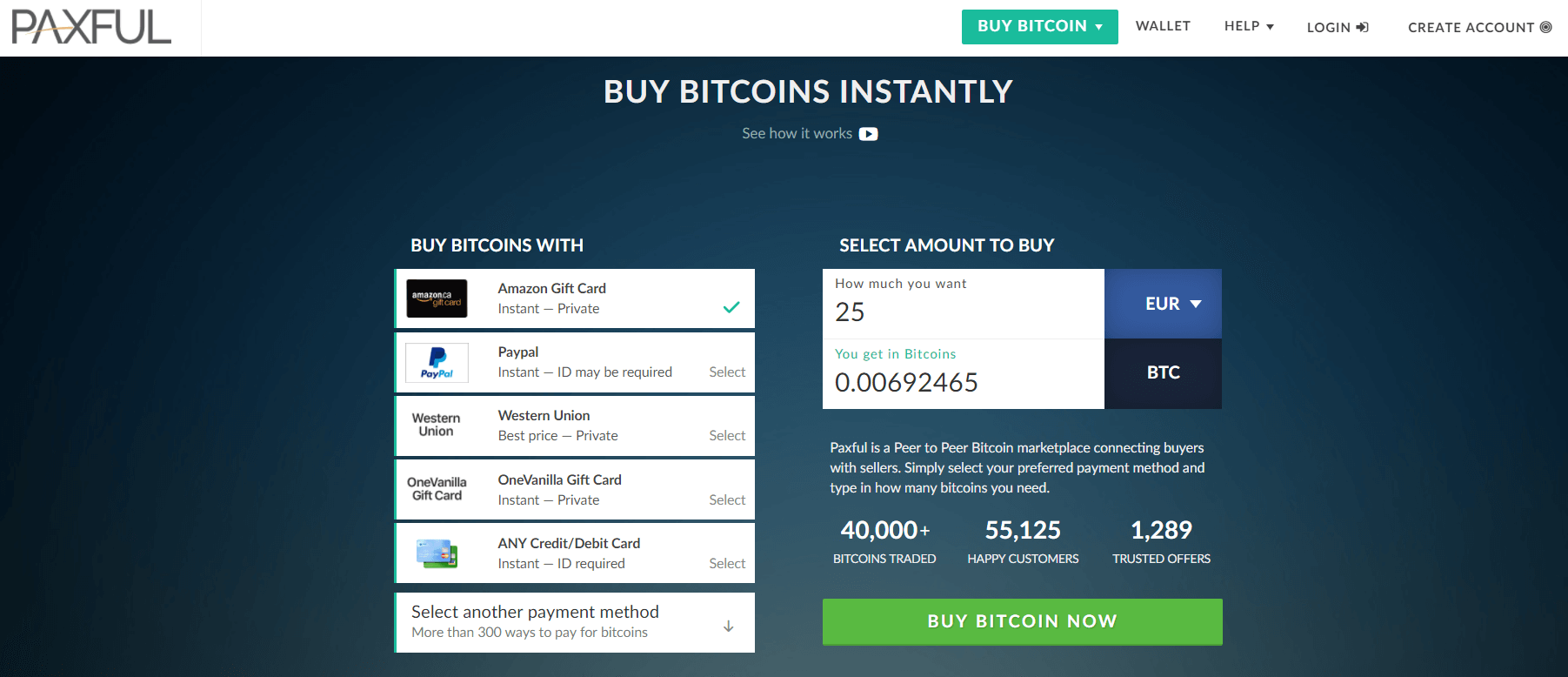 This peer-to-peer marketplace gives you the opportunity to use numerous payment methods, and because bitcoin is a digital currency, all transactions are delivered into your Paxful e-wallet. As bitcoin fluctuates more rapidly than other currencies, Paxful updates its rates online, so you are able to view them and calculate before each exchange.
Pros
helps avoid bitcoin scams through the use of their special escrow system;
over 300 ways for a person to purchase Bitcoin, such as gift cards, debit or credit cards, bank account, Apple Pay and more.
Cons
charges sellers a 1% fee on the transaction;
exchange price rates vary by seller, so you should compare rates before choosing.
Remitano
Remitano is a P2P bitcoin exchange market, which operates without the need of a banking partner. Remitano deals only with bitcoin and leaves any banking related business to the users. However, local bank account is necessary in order to trade on Remitano.

Remitano is relatively young on the bitcoin trading market, but it operates in a huge number of countries and it is clear that it targets a global expansion, so we will probably see more countries joining the list.
Pros
charges just 0.5% fee, which is lower than other cryptocurrency exchange platforms;
has a live chat, where their customers can go to and get all their questions answered and problems solved quickly.
Cons
some users have complained that Remitano withholds money longer than necessary if you use their virtual wallet;
once you upload your documents to verify your account, there is no "delete" option available.
SpectroCoin Broker
SpectroCoin is a Lithuanian cryptocurrency exchange marketplace, that offers fast and simple exchange of cryptocurrencies for a large number of local fiat currencies. Its simplicity makes it very attractive to all inexperienced newcomers who want to dabble in bitcoin exchange.

SpectroCoin deals with several cryptocurrencies and the most popular is bitcoin. SpectroCoin also accepts a large number of fiat currencies, and cryptocurrencies can also be sold and bought for gold. The platform offers a wide variety of purchase methods, with some available for unverified users while others, like credit cards, reserved only for those traders that have underwent complete verification of their identity.
Pros
one of the simplest and most straightforward exchanges;
possibility of issuing a prepaid card to its clients; these cards are very handy and can be used for ATM withdrawals as well as online and offline shopping.
Cons
has very high fees and depending on the method it charges between 20% (Payeer), to 1% for some Lithuanian banks;
has set a minimum deposit requirement from EUR 1 to 35.
LocalBitcoins
LocalBitcoins was created in Finland, in 2012, and it provides alternative methods for bitcoin trading, in order to connect bitcoin buyers and sellers in an open, peer-to-peer marketplace. LocalBitcoins customers are able to make and list advertisements, discuss options with prospective buyers and sellers and also confirm all the transaction details before going through with the trade.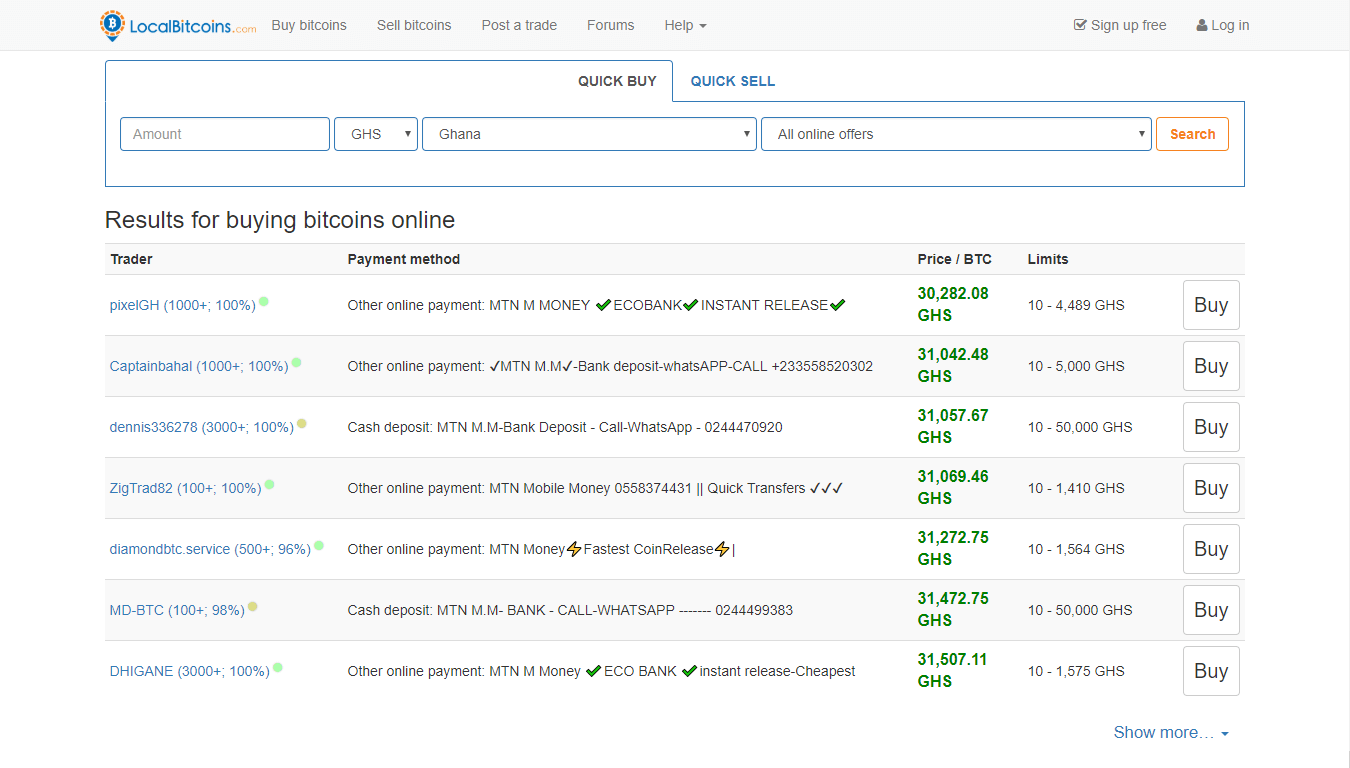 LocalBitcoins offers a variety of ways to purchase bitcoin: cash on delivery, cash via mail, PayPal, credit or debit card, Western Union, wire exchange and more. LocalBitcoins exchange also charges just 1% fee per trade and is considered to be one of the largest bitcoin P2P marketplaces in the world.
Pros
simple identification requirements (email/username, password, phone number) which is good for novice customers;
numerous methods of payment.
Cons
low security during registration seems like a good feature, but dealing with unverified accounts may lead to scams which are becoming frequent;
trade volumes are usually very small per ad.
bitcoin-otc
bitcoin-otc is a peer-to-peer marketplace which offers its customers the opportunity to conduct trading in bitcoin since 2011. Trading is done directly between two parties, without any supervision of an exchange. bitcoin-otc works as a counter between you and selling parties from all around the world.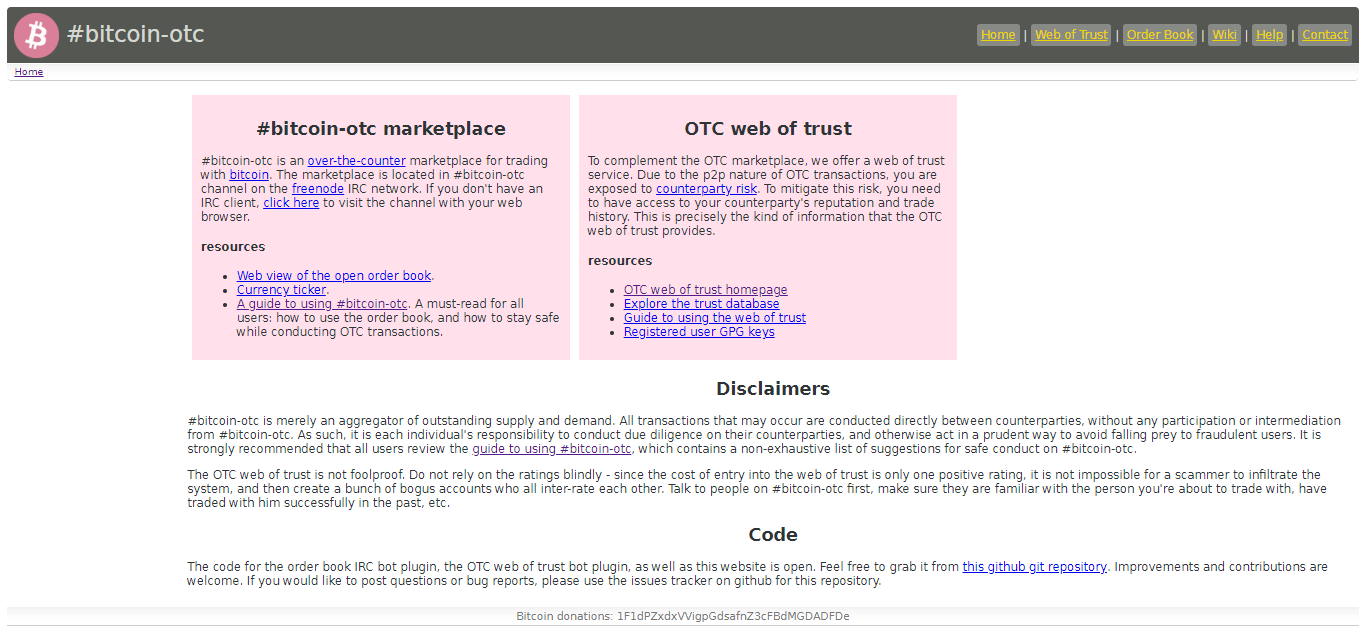 This marketplace is well-known for a reputation system called "web of trust", which was created to serve as a scam prevention system. This system enables you to access seller's trade history and reputation which ultimately helps to identify potential scams and frauds.
Pros
flexible rates and large number of accepted currencies due to competing ads;
no frequent verifications requirements imposed on traders.
Cons
the site is complicated to navigate and use;
frauds are frequent, possibly because of lesser verifications.
Mycelium Local Trader
Mycelium Local Trader is in-person bitcoin exchange proceeded virtually right inside of your digital bitcoin wallet. This exchange market is decentralized, which means that it is not connected to any bank or administrator. Since your coins are stored locally in your bitcoin wallet, the Local Trader exchange never needs to hold any of your bitcoins or fiat currencies.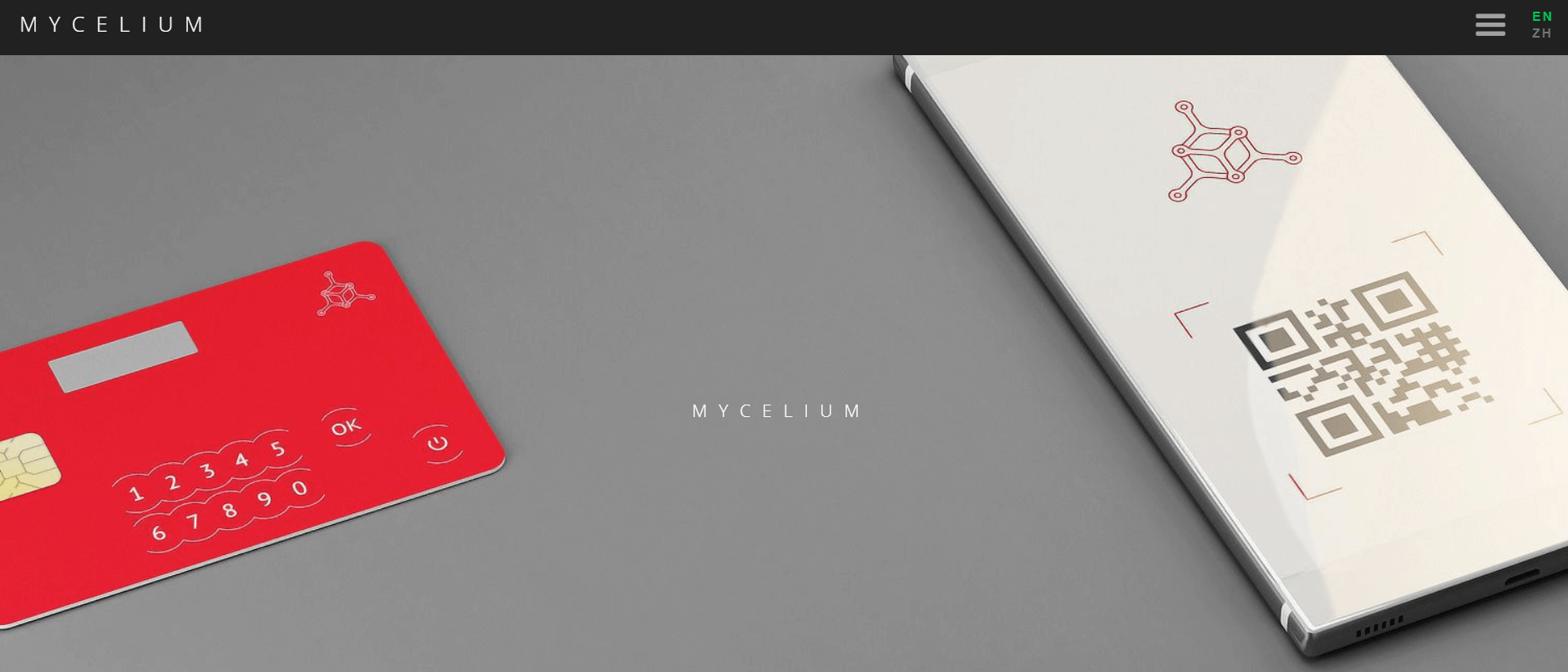 Mycelium Local Trader servers simply help arrange the exchange between buyers and sellers, manage the transaction, and calculate reputation ratings based on the completed trades.
Pros
offers a rating system for sellers and buyers based on the statistics acquired from previous trades;
wide variety of payment fiats accepted.
Cons
traders cannot report a fraud or a problem;
the app is not recommended for novice users as it does not have a web or desktop interface.
Coinmama
Coinmama is a bitcoin broker based in Israel. It was formed back in 2013 and registered in Slovakia. They specialize in selling bitcoins for credit card to almost anyone in the world. It is available in a huge number of countries, and it is still expanding.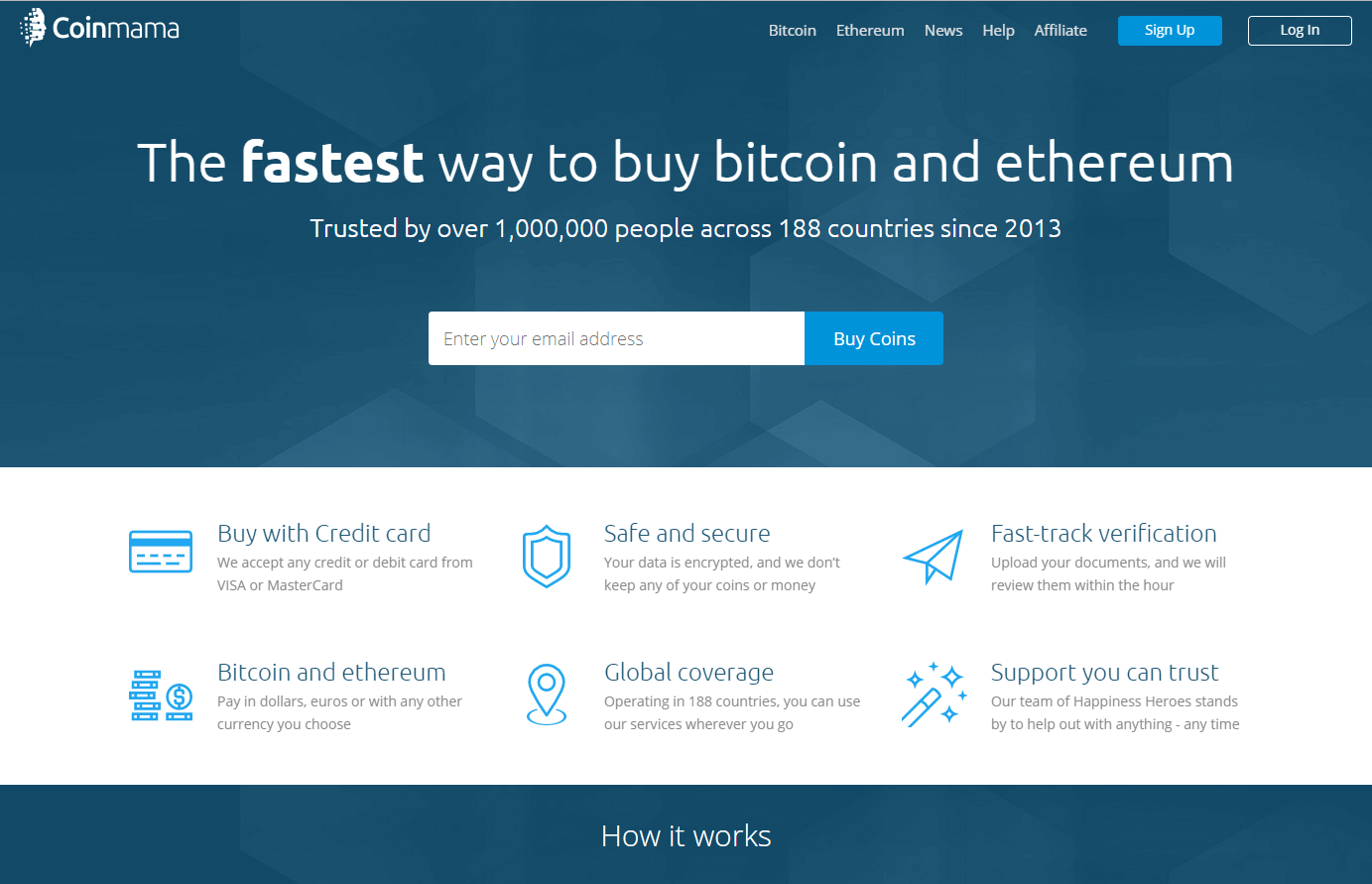 Coinmama site is always upgrading and today it is famous for its instant trades. As soon as your payment has cleared, Coinmama sends you coins. All purchases by customers are transferred directly from the company's own holdings, making transactions more safe.
Pros
high limits for purchasing bitcoins with a credit/debit card;
fast, convenient and very responsive customer service system.
Cons
high fees for buying with a credit/debit card;
numerous complaints about additional fees.
Bitcoin ATMs in Ghana
ATMs are not link directly to your bank account, and you can instantly buy or sell bitcoins on the spot. The existence of ATM bitcoin machines is a certain sign that the network of crypto-sphere is strengthening.

As for Ghana, reports are stating that the government and Bank of Ghana are warming up for the idea of installing first ATM machines in Ghana. Once this happens, it will surely give a huge boost to the economy of the Nation.
Pros
easy and private way to buy and sell bitcoins;
all transactions are conducted instantly on the spot.
Cons
high cost rates per trade (over 7%);
Ghana is yet to get ATM support.
How to Choose?
The choice you make should depend on your wishes and expectations. If you are opting for more secure transactions, than you should go for Coinmama. If you want to be able to see prior statistics and base your business doing on that, you can try than go for Mycelium. In case that you want to work with some older broker with flexible fees, than bitcoin-otc is probably what you need.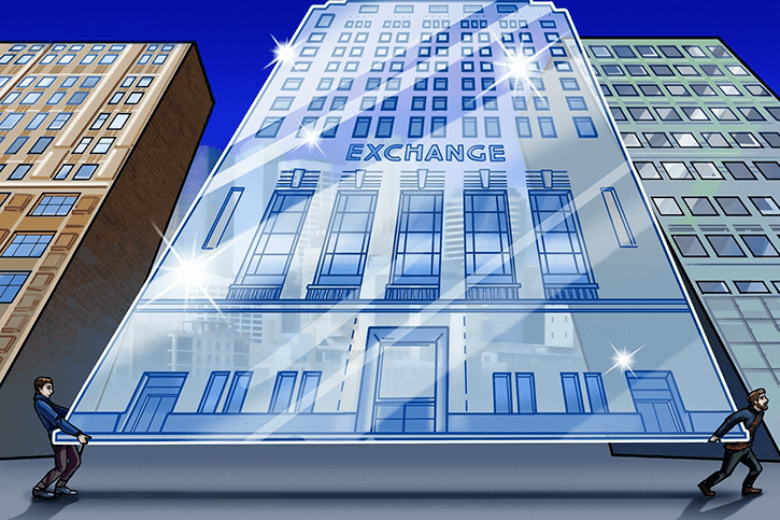 If you want more direct approach while trading, then you can easily go to LocalBitcoins or another similar exchange. We strongly advise our users to read as many reviews per exchange as possible, because other customers experiences might point you in the direction of a marketplace that suits your needs the best.
FAQ
Can You Sell Bitcoin in Ghana?
You can sell your bitcoins in Ghana via online portals, or local bitcoin traders. If you have decided to go with online portals, always make sure they are authentic, and check if their payment methods suit you. With a huge variety of payment methods per portal, you will surely find the proper one for you.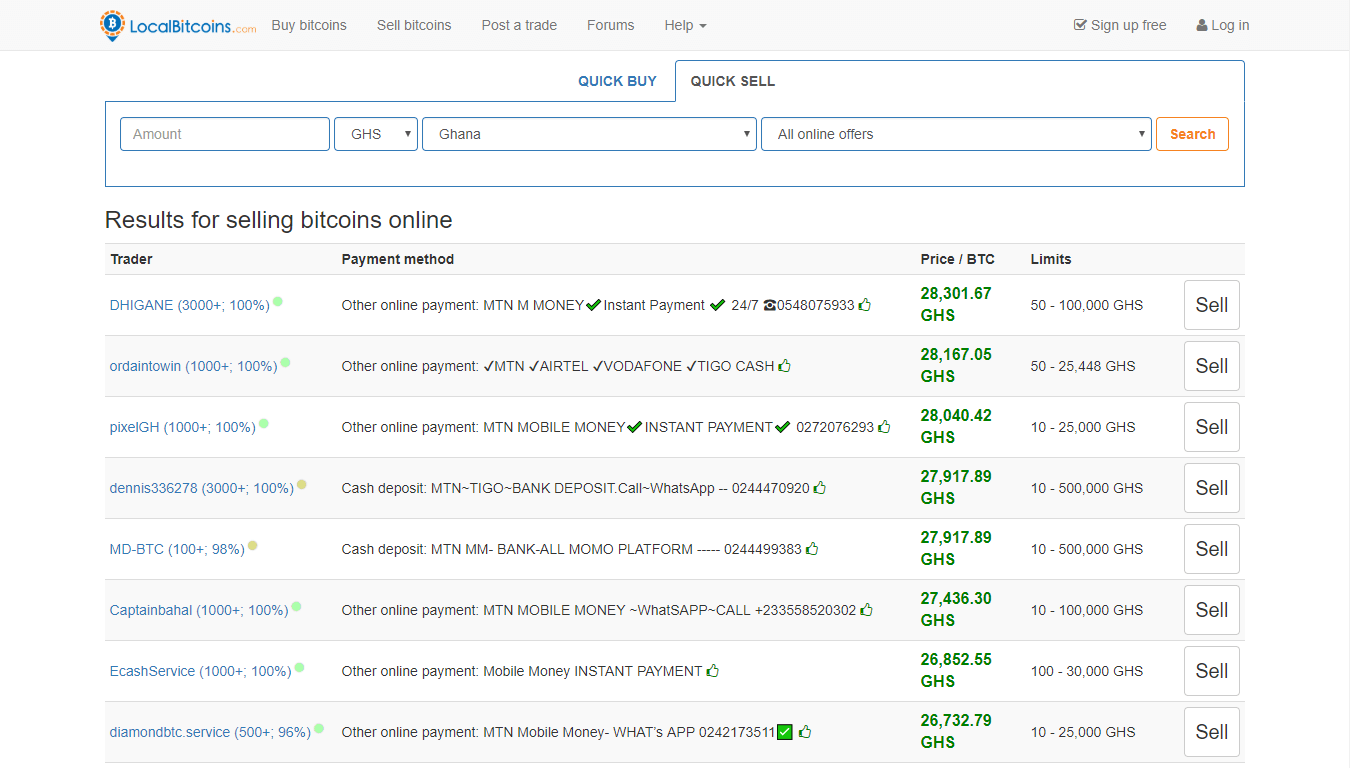 If you have chosen to do business with local coin traders you will be able to sell your bitcoin for Mobile Money. Since there are not a lot of people who trade bitcoins in Ghana, trading with them will help you identify yourself as a trader as well.
What Are Taxes on Buying and Selling in Ghana?
As Ghana's government has yet to legalize bitcoin, currently, there are no taxes or related fees for paying with bitcoin. Bitcoin is a form of decentralized currency and it does not answer to any legal entity as it is not related to banking systems and all market participants have an equal share of control.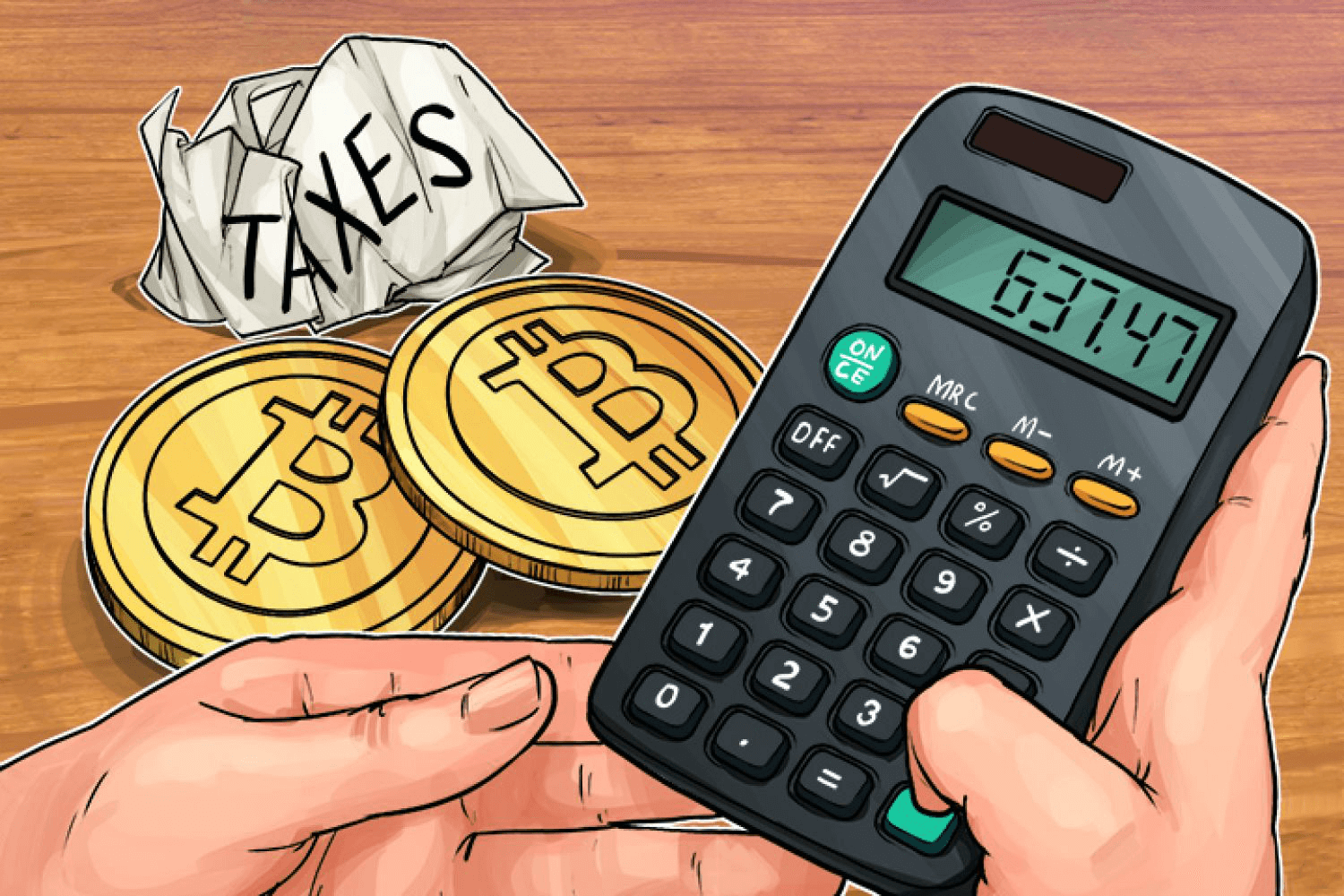 Some analysts believe that bitcoin legalization will help Ghana's economy get stronger due to how well-rounded and convenient it is. However, Ghana has not legitimized bitcoin yet, so the government did not impose any VAT or income tax implications on users.
Can I Get BTC in Ghana Without Verification?
There are several ways to get bitcoins without any verification and all of them are available to you. You can purchase coins in peer-to-peer platforms like LocalBitcoins and Paxful from sellers that do not need your personal identification. You can also use exchanges such as Coinmama, that offers small purchase limits for unverified users and instantly buy bitcoins with a credit/debit card.

It was announced that Ghana is set to acquire the first ATM bitcoin machines, and once that happens, you will also be able to get your bitcoins privately. ATMs deliver bitcoins to your digital wallet upon the insertion of cash, without any identification needed.
What Is the Best Place to Keep My Bitcoins?
So far, the safest and the most convenient place to store bitcoins is hardware wallets. Some of the most popular models are Ledger Nano S, TREZOR, and KeepKey. These digital devices provide you with your own security passwords (and other private keys) installed into them.

They look similar to USB flash-drives but with a PIN code and some additional safety measurements. If you have decided to start trading bitcoins, it is highly recommended that you purchase one of these wallets as soon as possible, in order to ensure that your bitcoins are safely stored.
If you have any additional questions and concerns, feel free to contact us at BitcoinBestBuy, and we will provide you with quick answers and attainable solutions.