If you have already stepped at the path leading to cryptocurrency world, it's necessary to be aware of both the best bitcoin exchanges as well as reliable BTC wallets. Today we're going to tell you about Schildbach Wallet and inform you about the main points concerning its usage and functions.
Summary: Guide to Use Schildbach BTC Wallet
Install GitHub if you wish to use the desktop version of the wallet.
Download or clone the Schildbach wallet from GitHub or install it on your phone.
Follow the installation and setup steps to properly create new wallet account.
Click "Request Coins" to formulate either an address or QR code.
Copy the said code(s) and provide them to the cryptocurrency seller.
Receive coins and maintain balance at the Schildbach wallet.
Getting a safe place where you can store your bitcoins became imperative in last few years. The cryptocurrency boom in 2017 left many to wonder how on earth they can protect their assets with rampant hacking attempts. Hence this report, where we go over Schildbach wallet features and functions in order to investigate how safe the wallet is.

In this quick guide, we analyze Schildbach's ability to protect your coins, its customer support, registration, fees, available cryptocurrencies and other features. Stay tuned, as we construct pros and cons of the wallet which could then be compared with other, similar platforms. We also show how to get coins using tools available to you through the Bitcoin wallet.
What Is Schildbach Bitcoin Wallet?
So, what is Schildbach wallet? The app is a product of a platform called Bitcoin.com, storage service provider as well. The product got the name from its creator, Andreas Schildbach, who designed and developed the phone version of the service. Throughout its development, the Schildbach BTC wallet poised itself as one of the user-friendly crypto stashing platforms that do not require technical knowledge from its users to be of great use.

The product is available for download and you can start use the services of app without registration or verification. Moreover, there are no regional restrictions, since anyone can download the software and use it freely. No matter if you live in USA or India, you are eligible to download the app and use it on daily basis. It also boasts of having decentralized nature, since service dependence is not needed for BTC transactions.
Schildbach Services and Features
Schildbach differs greatly from other, more usual online storing products in many aspects. Thus, it is important to list out factors and features that distinguish the wallet from others, especially since it was specifically developed for beginners in the cryptocurrency industry. In this article, we go over supported cryptocurrencies, privacy & security, fees, platforms, interface and customer support.
What Currencies Does Bitcoin Wallet Support?
As the name itself says, the wallet supports the only bitcoin at the moment, being developed by the Bitcoin.com platform. Other currencies are unlikely to be added in the meantime, even though its code is left open to developers in GitHub. Thus, for experts, other choices are available for altcoins swaps and other complex trade strategies. Starters, on the other hand, might find the Android version suitable for their needs.

It is simple to install and use, plus the backup options can be carried out without the need for traders to understand programming for BTC. Like many other digital money platforms, you cannot add money expressed in fiat currencies. Bitcoin wallet works only with bitcoins at this moment.
Privacy & Security
Traders do not need to register an account at Bitcoin (Schildbach) platform and thus are not subject to any type of verification demands. The only registration that you have to complete is GitHub if you wish to use desktop backup facilities of the product.

As for the security, you have a changing address code, as a mean of security from hacking attempts. You also have a PIN code that you can set up for sending and receiving transaction confirmations. Lastly, the backup process is carried out on your desktop, effectively allowing you to control the entire process.

Since backup is done through the third party software (GitHub in our case), the security of your files would depend on how really good your personal computer is when repelling hackers. Thus, this wallet cannot be seen as cold storage, as wallet functions only when connected to the internet. It is one of the easiest wallets to use but it is not the safest in terms of offline environment.
Transaction Fees
The only costs that you will be charged directly by the platform are network fees, which are not held by the service provider. These are paid by all companies that are involved in the blockchain and are thus subject to the transfer expense. Senders in this instance are charged, no matter if they are sending funds to other wallets or trading platforms.

The cost varies on a day-to-day basis and depends on the mining difficulty of bitcoin for current day.
Available Platforms
Currently, only Android devices are supported by the Bitcoin wallet while iOS users are yet to receive their version in App Store. You can download the app for your mobile device while Windows desktop version is not available. Apart from phones, wallet services such as sending and receiving coins cannot be accessed through desktop unless completely programmed, though you should be aware that such setup is done at your own risk.

The GitHub version is used as a backup software, where you can create a copy of your wallet in case your security has been breached or your phone lost.
Interface
The interface is very neat, with most of the functions available on the homepage. Compared to some other online wallets, Mycelium, for example, the interface of the Bitcoin wallet allows you to access all tools easily.

Apart from functions, there is also balance and historical transaction page available, through charts and other enhanced services are yet to be developed.
Support
Users can reach support figures in Bitcoin.com only since Schildbach wallet itself does not have a dedicated team. It is worthy to note that, although part of the portfolio, the owner himself updates files irregularly at GitHub and does not development team behind him to watch over the platform.

Furthermore, the interface of the storage does not include support option nor is there an official channel at GitHub as well, which is a disadvantage when compared to other, similar platforms. The only real help you can get is from the community, which is available for all other storage services as well.
Guide to Use Schildbach BTC Wallet
In this review, we are connecting GitHub with Android wallet, as it provides more security through backup functions. The entire process might be seen as complex for starters. To start off, you need to register an account and install GitHub on your computer, as shown in the picture below. You have the ability to choose a free program, though you should know that account and keys are public.

Once you have GitHub installed and ready, go to the platform's website to the Schildbach page and click "Open in Desktop" under the button "Clone or Download". You have the ability to skip GitHub by opening up a zip file but this way is much faster and easier to use.


Once created, you have a backup database now as shown in the snapshot below.

In the next step, install the wallet on your Android phone through Google Play Store.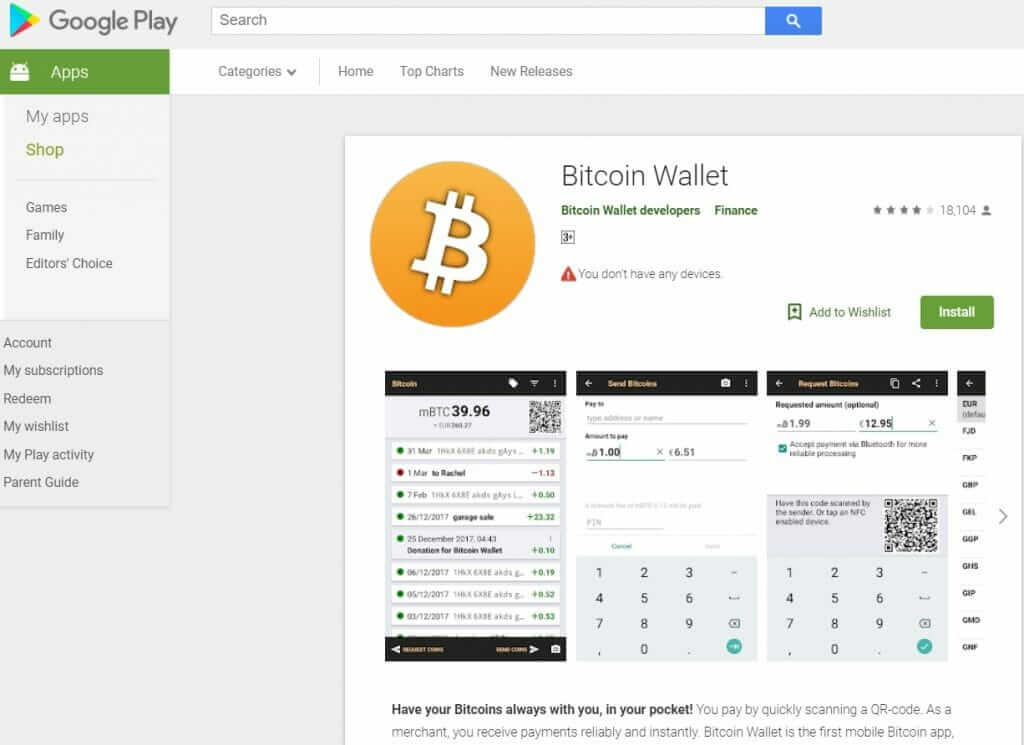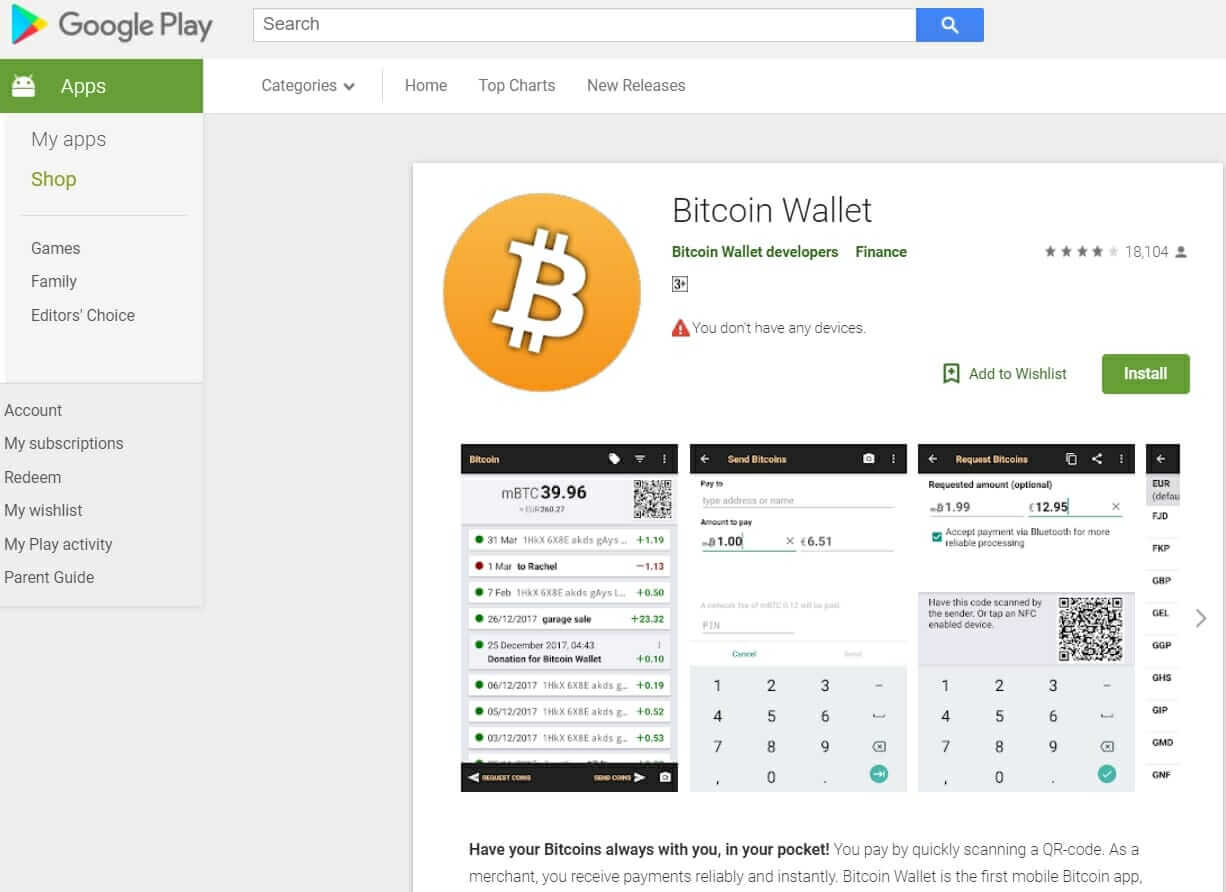 Once installed, you can click "Request Coins" to get QR or address code. Then these can be sent to sellers to get BTC or you can use it to transfer bitcoins from your other wallets.
Be sure to set up a PIN code for both sending and receiving functions, as to add another layer of protection to your account.

How to Restore Schildbach?
There are two ways to recover your wallet and coins when Bitcoin Android wallet is in question. The easier one, of course, is through wallet itself, as you select "Restore Wallet" within the "Option" page.

You will get a password code which you should keep at all times in case your backup needs to be done from outside as well. Simply click "Restore" and the program would be brought back to its original state, your BTC included.
The other way is a bit more complex since you need to do it through GitHub files available for free. Install GitHub on your computer, register an account and copy the files of the wallet available to you. The folder you need looks something like on the picture below.

You had to connect the phone with GitHub's platform as well prior to this step, in order to have those files readily available for you. Locate your backup folder in your phone and transfer it to the folder in GitHub, successfully backing it up.
Since it is encrypted, you should decrypt it with the use of below code. Make sure you copy and paste the password prior to this step as well and voila! Your wallet has now got a recovery file. Click it using your phone and your wallet shall be restored.

Advantages and Shortcomings
Pros
free to download and use;
reliable and easy to set up for Android devices;
private keys and several other security features;
recovery has two paths, with GitHub being more secure of the two.
Cons
setting up the backup through GitHub is a complex process;
although secure, wallet safety features operate only online;
fairly simple wallet, with no additional services, like altcoins swaps available;
lack of true customer support;
only BTC accepted as a cryptocurrency.
Other Bitcoin Wallets
Apart from Schildbach, there are other wallets for you to check out. They possess their own pros and cons of which you should be aware of. Thus, we made several reviews for you to check out, examples being articles about GreenAddress BTC Wallet, Ledger Nano S and Ethereum Wallet.

GreenAddress BTC Wallet – See Details
GreenAddress, being an online "hot" wallet, has many similarities to Schildbach platform. Thus, we made a quick tutorial on how to use the product, what are advantages & disadvantages and many other features of the wallet.

Review of Ledger Nano S Hardware Wallet
If you are looking for superior security, then hardware wallets should be definitely on your radar. Ledger Nano S is one of the best and trusted choices in the HD storage market and we made a detailed review on how to properly set it up, and use it.

Learn More About Jaxx Liberty Wallet
Crypto desktop wallets are known to be quite reliable as long as your computer holds up against viruses. Jaxx wallet platform is one of those storage programs that provide several security measures that ensure safe exchange and storage of cryptocurrencies.
Firstly, it is possible to use already-generated private keys, since the 12-word backup phrase is portable, similarly to hardware wallets. Additionally, the platform underwent a major redesign, now known as Jaxx Liberty. If you are looking for a comprehensive guide on how to use the wallet and what are its features then you should read our article about the platform.

Due to its complexity, if you happen to have a question(s) regarding the Schildbach platform, do not hesitate to reach for us at BitcoinBestBuy.