If you happen to live in Europe (or anywhere else), Kraken is an exchange that you should not miss to investigate. Thus, we made this Kraken guide on platform's various services, trade functions, fees, advantages, and disadvantages. This review about Kraken exchange also provided comparison analysis with other competitors in the market, while handing out a detailed step-by-step guide on how to buy bitcoins safely and easily.
Summary: Buying Bitcoin at Kraken Exchange
Create a Kraken account (completely free).
Activate your account by the link at e-mail.
Go to the "Funding" page and click "Deposit" button.
Select the fiat currency that your bank account is pronounced in and complete the order form.
Provide your account details depending on the method opted (SEPA, SWIFT or Wire). The transfer can take several days.
Once you have account balance go to the order page and fill up the volume of bitcoin you desire to buy.
Click "Buy XBT" and finished the process.
Many people have been asking around for bitcoin and when is the right time to start investing in cryptocurrency, especially now when news revealed a major movement in the market. The movement was caused by a bitcoin fork that split the digital coin into classic BTC and bitcoin cash, creating many doubts within the potential investor base.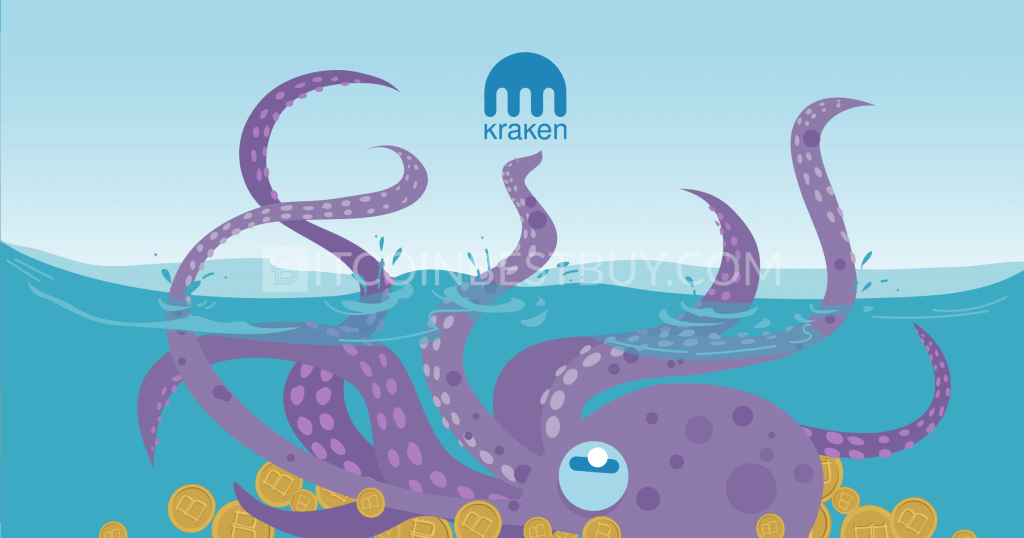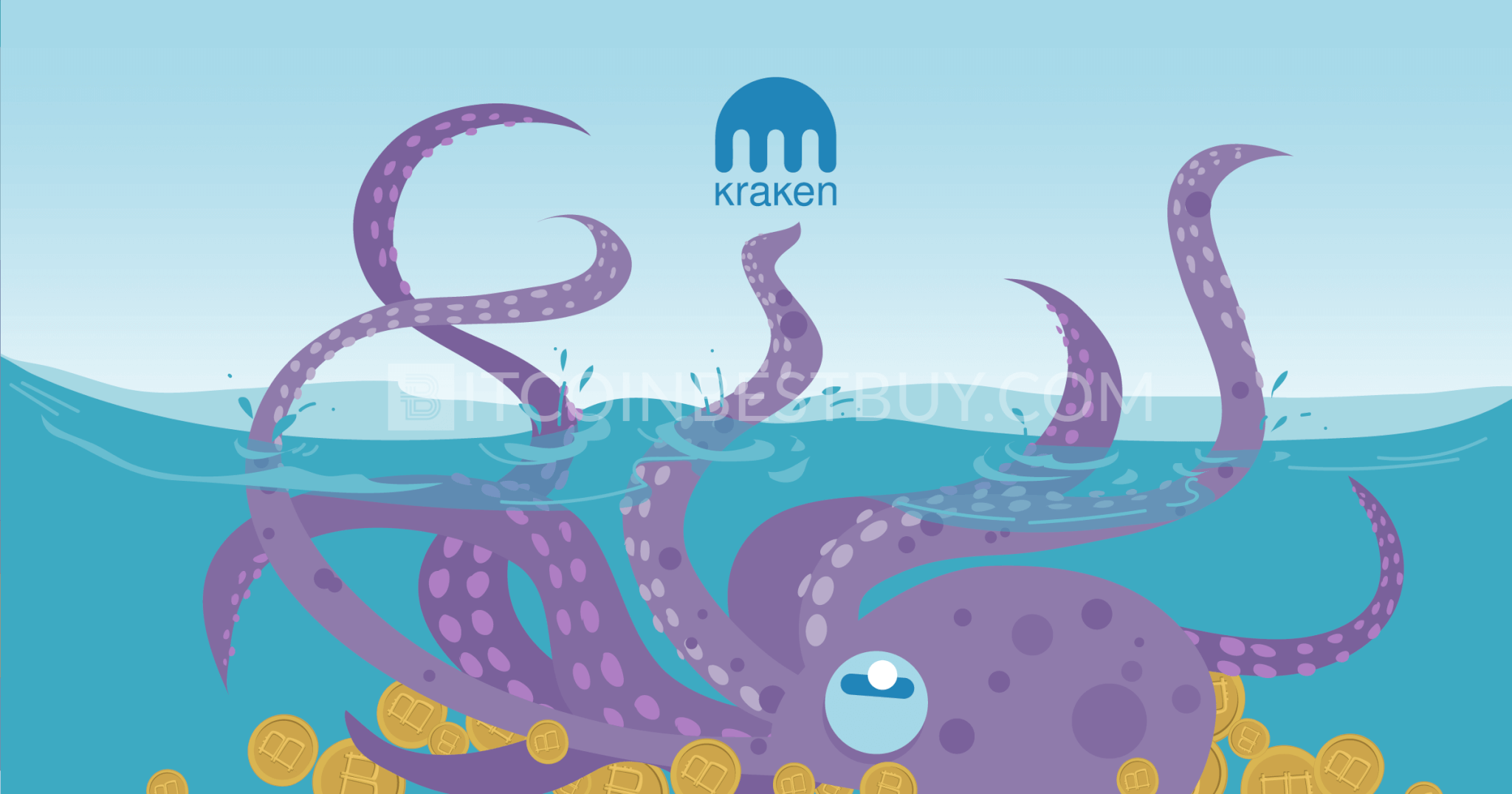 Our answer to the said question is now! There is no better time to start buying and selling BTC than the moment when you have funds you wish to invest, as the currency is highly volatile in value while infrastructure is large.
What Is Kraken?
When it comes to EUR bitcoin trade, there are few competitors that can overtake Kraken as the exchange owns a large portion of the market share in Europe. The broker was established San Francisco, USA in 2011 with headquarters still remaining in California. Being one of the first established bitcoin exchanges, the platform grew its network worldwide, including almost all regions of the world in its service coverage.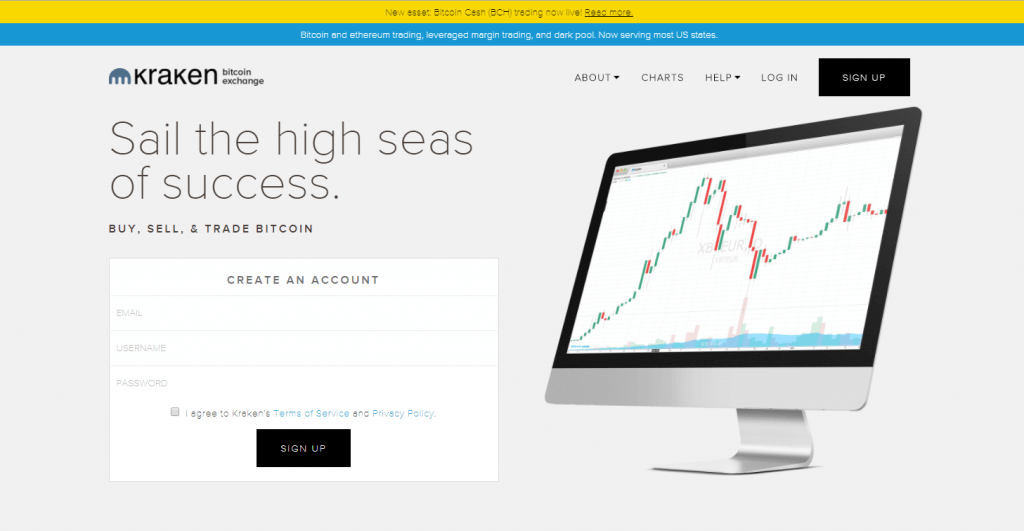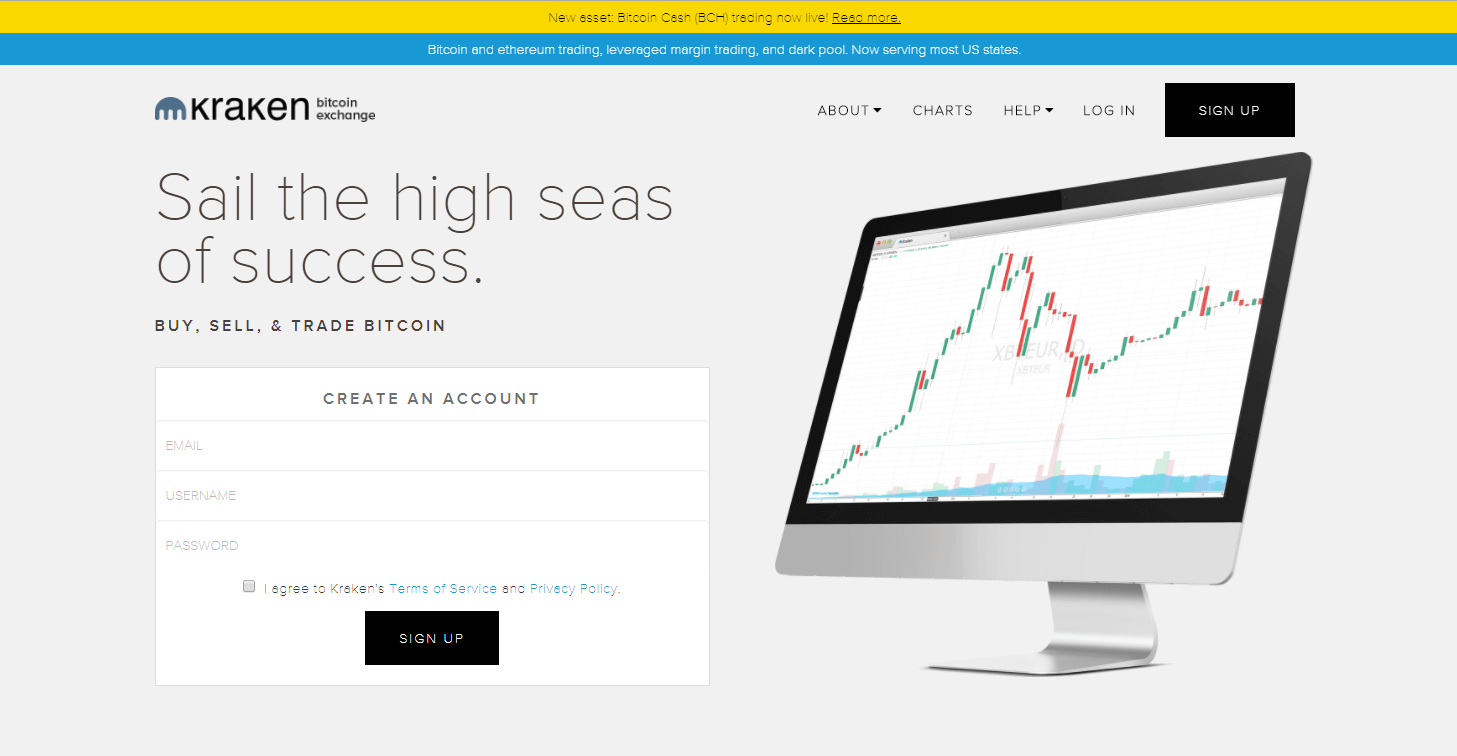 Since 2011, Kraken has established itself as a secure marketplace where traders can purchase and sell bitcoins on daily basis without fear of losing their assets and funds.
Available Services on Kraken
Currently, Kraken offers a trade for 15 cryptocurrencies and 5 fiat currencies. Apart from bitcoin, you can also engage in a number of trade conversions between coins and fiat currencies, such as EUR to ETH (Ethereum), USD to LTC (Litecoin) and many other exchanges.

Accepted fiat currencies are EUR, Japanese yen, USD, Canadian dollars and British pounds, thus covering most of the portions of the bitcoin customer base needs. In addition to browser marketplace, the exchange has also released a mobile platform apps, supported by both Apple Store (iOS) and Google Play (Android).
Trading
The trading services at Kraken have been developed to assist investors when seeking the right value at the times when BTC currency (and of other altcoins) fluctuates greatly.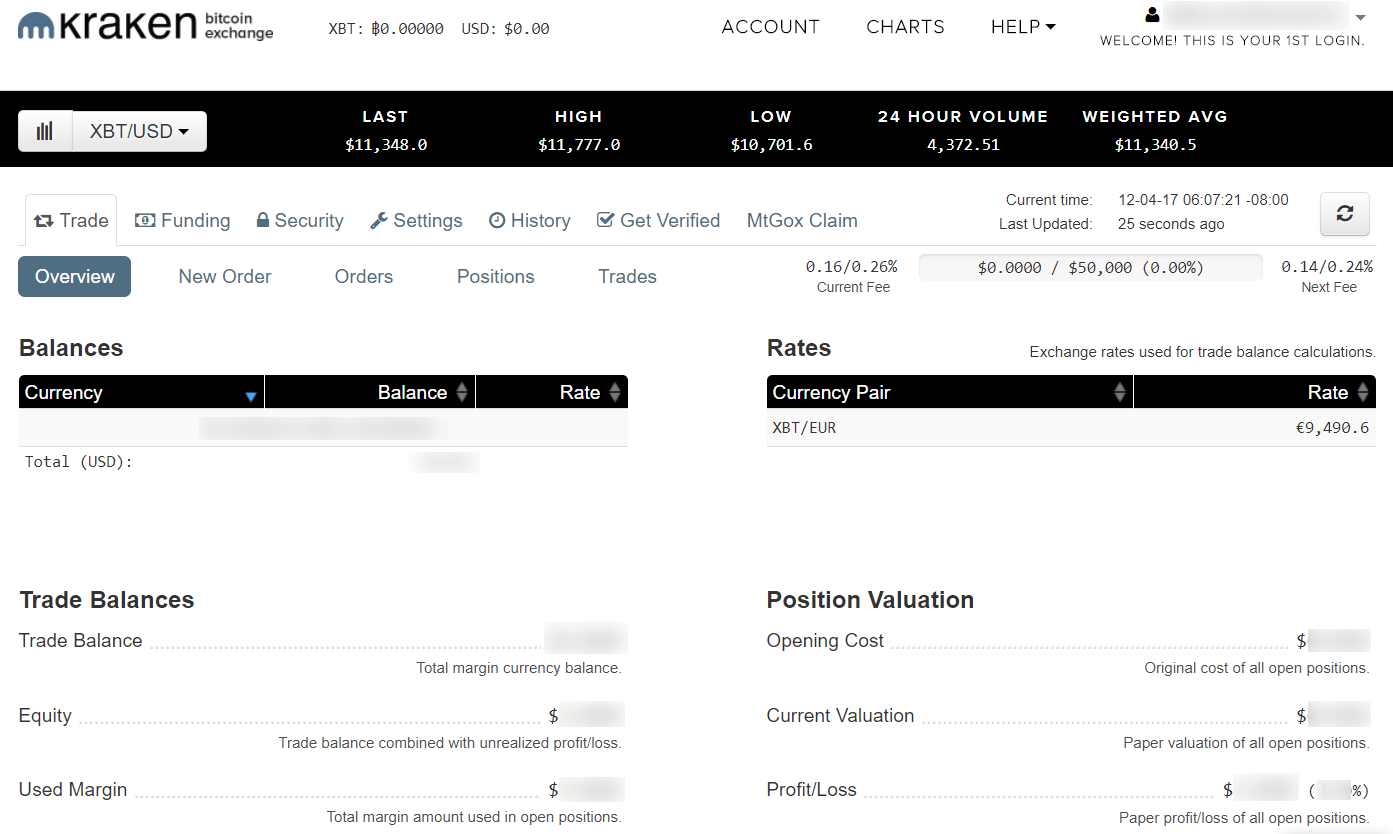 The functions that are at your disposal at any time are:
currency exchange (you are able to trade a stock of digital currencies with fiat money through order options that specify either a value or volume of the coins/money needed);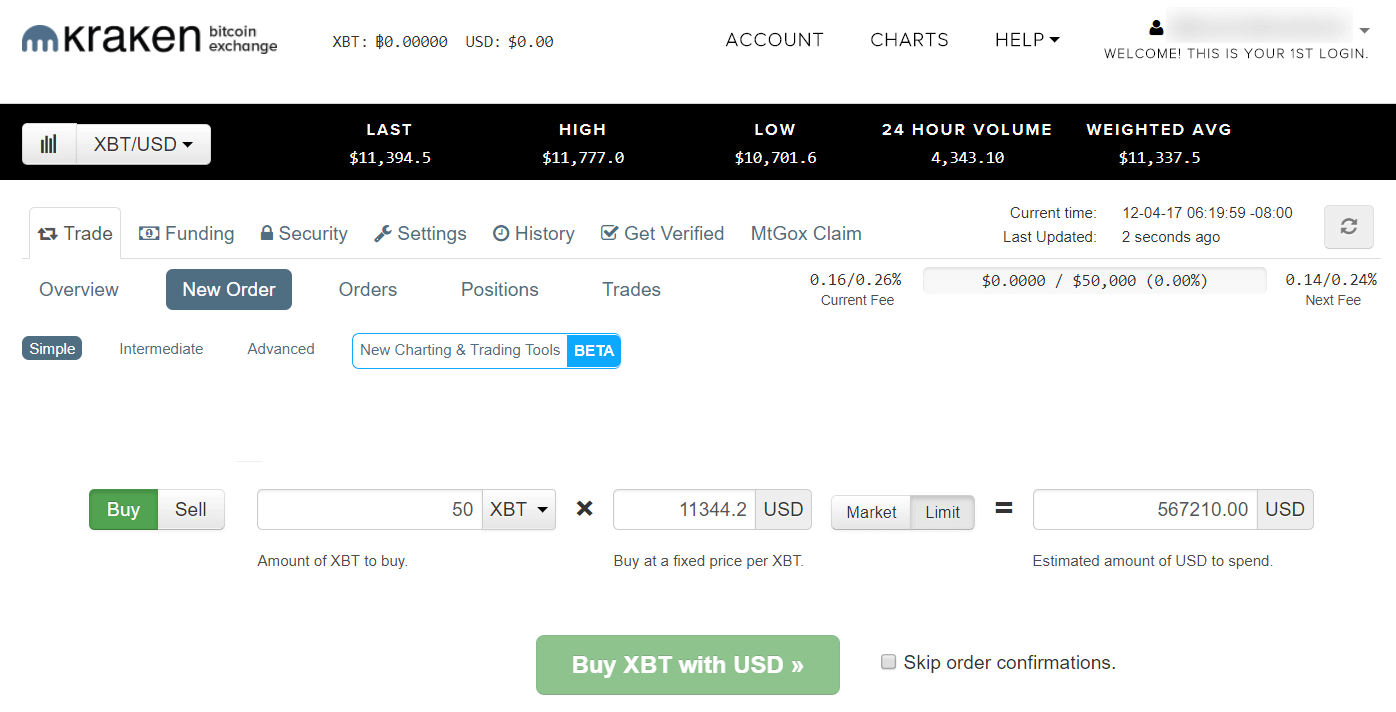 leverage trading (you are able to open up an order that is larger in value than the funds or coins you have, aiming to catch favorable trends in the BTC market);
margin trading (margin trading allows you to reserve the funds to seek out the future value of bitcoin that would be favorable for you);
market price protection (the system would protect your trade orders should the price fluctuate by 5% to 10% in unfavorable direction by canceling the order and return your funds back from the position);
price value charts (the value of bitcoin is tracked in real time, with Kraken proving you with graph expressing the price movements in different time frames, hours, days and months).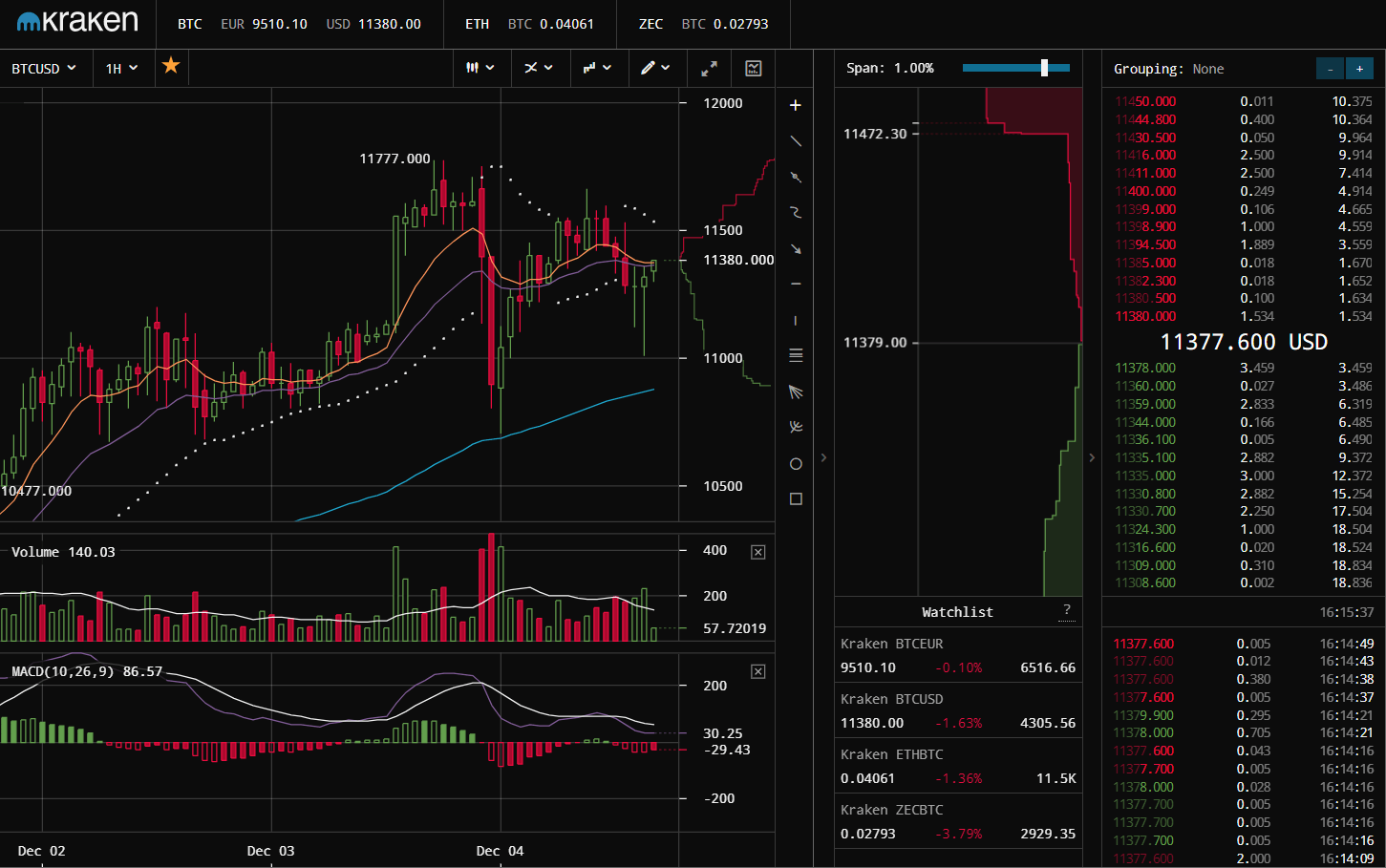 Funding
The ability to purchase coins at Kraken relies on depositing funds and coins to your wallet balances. Depending on the country you live in, different deposit methods are available for you to use. For European traders, SEPA transfers are available (for EEA member states only) while American traders can count on wire bank transfers only.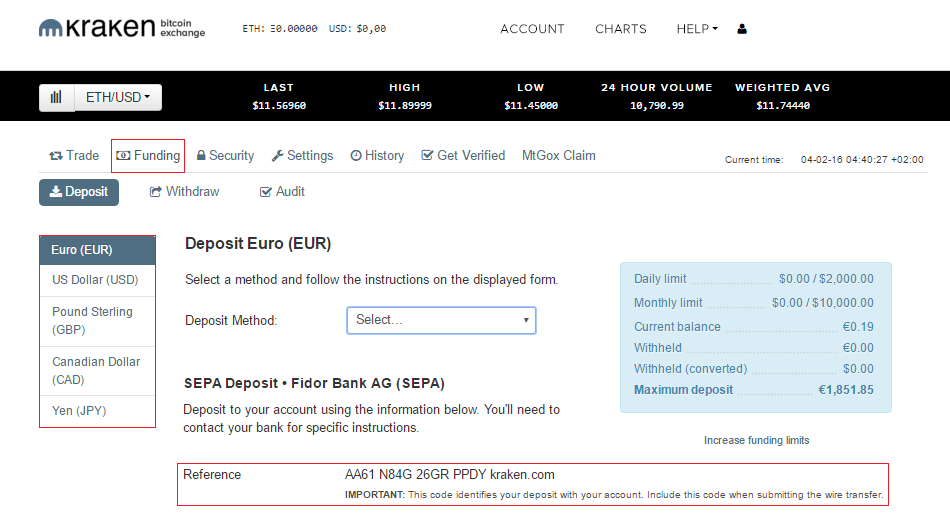 EUR is the fiat currency that holds most of the liquidity as a large number of customers uses the SEPA bank transfers while the deposit itself is free of charge.
Kraken Payment Ways
Kraken accepts only bank deposits as of yet. There are several bank payment methods that are available for traders registered at Kraken. European investors can use SEPA transfers expressed in EUR while the US traders have wire and SWIFT bank transfers at their disposal.

Traders from Canada have an option of wire deposit expressed in CAD while Japanese can use JPY domestic transfer through the bank as well. It is important to note that these transfers can take quite a bit time to be processed, from 2 to 5 business days.
Fees
The fees are structured according to the payment method you can use and on the overall transaction service. The bank transfers are mostly conducted for free with exceptions being USD deposit ($5), SWIFT transfer ($10) and wire transfer expressed in EUR (Fidor: €5, SMBC: €10).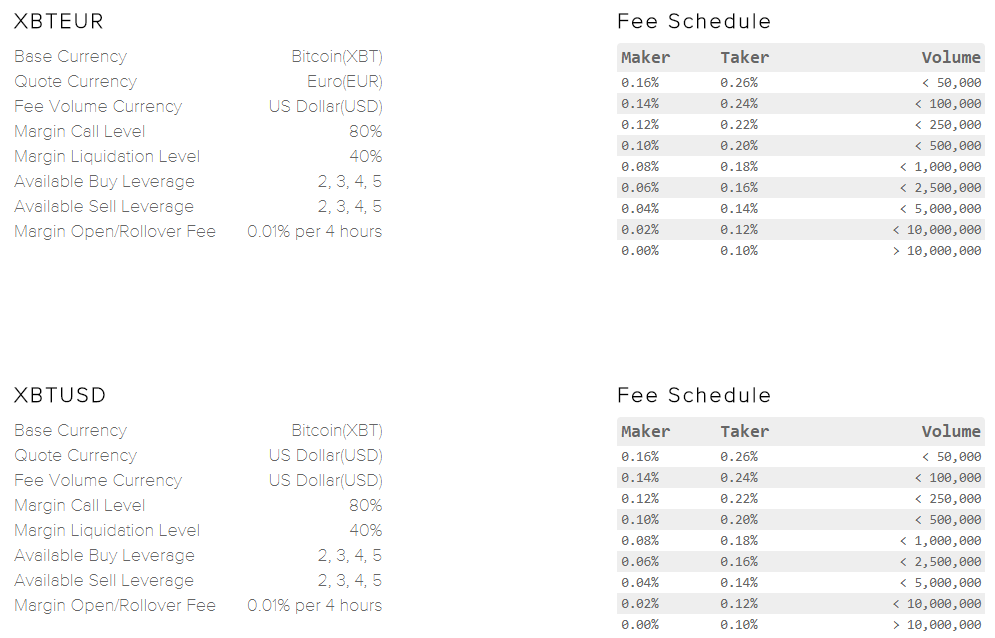 The trading fees are divided into trader and maker fees and the level of the costs depends on the traded volume you achieved for the past month. Maker fees can range between 0% and 0.16% while taker costs can go between 0.1% and 0.26%.
Where Is Kraken Available?
Kraken's services are available worldwide, allowing traders from any part of the world to buy and sell bitcoins online. With different accepted fiat currencies, traders have a variety of choice when it comes to bitcoin purchase. No matter if you live in UK, Canada or India, you would be able to use services provided by Kraken bitcoin exchange.

Is This Exchange Legal?
The Kraken exchange is a licensed US bitcoin broker that offers its services globally. Since 2011, the company has built its reputation and network tremendously while adhering to the US and European regulations set by the government.

How to Use Kraken?
Now you have a picture of what Kraken is all about, from fees to payment methods and services that are offered to you. The first thing that you should do when you register your account is to keep an eye on price charts to see the BTC value trends.

At the beginning stage, we would advise you to start with the direct purchase and sell activities, leaving leveraging and margin grading for later on as you gain experience.
Account Types
Although there aren't exactly types of accounts such as individual and corporate as per say verification tiers provide the distinction clearly enough. Lower tiers (0 and 1) are meant for beginners who are looking for small purchases and learning experience. Tier 2 comes with larger purchase limits and is deemed to be for people who are more serious about bitcoin investments while tiers 3 and 4 are for organizations and the purchase limits are quite big.
Creating a Kraken Account
It takes less than 5 minutes to register an account at Kraken and is completely free. The only verification that you would need to undergo at this stage is the email confirmation, without the requirement to provide your personal information at this stage.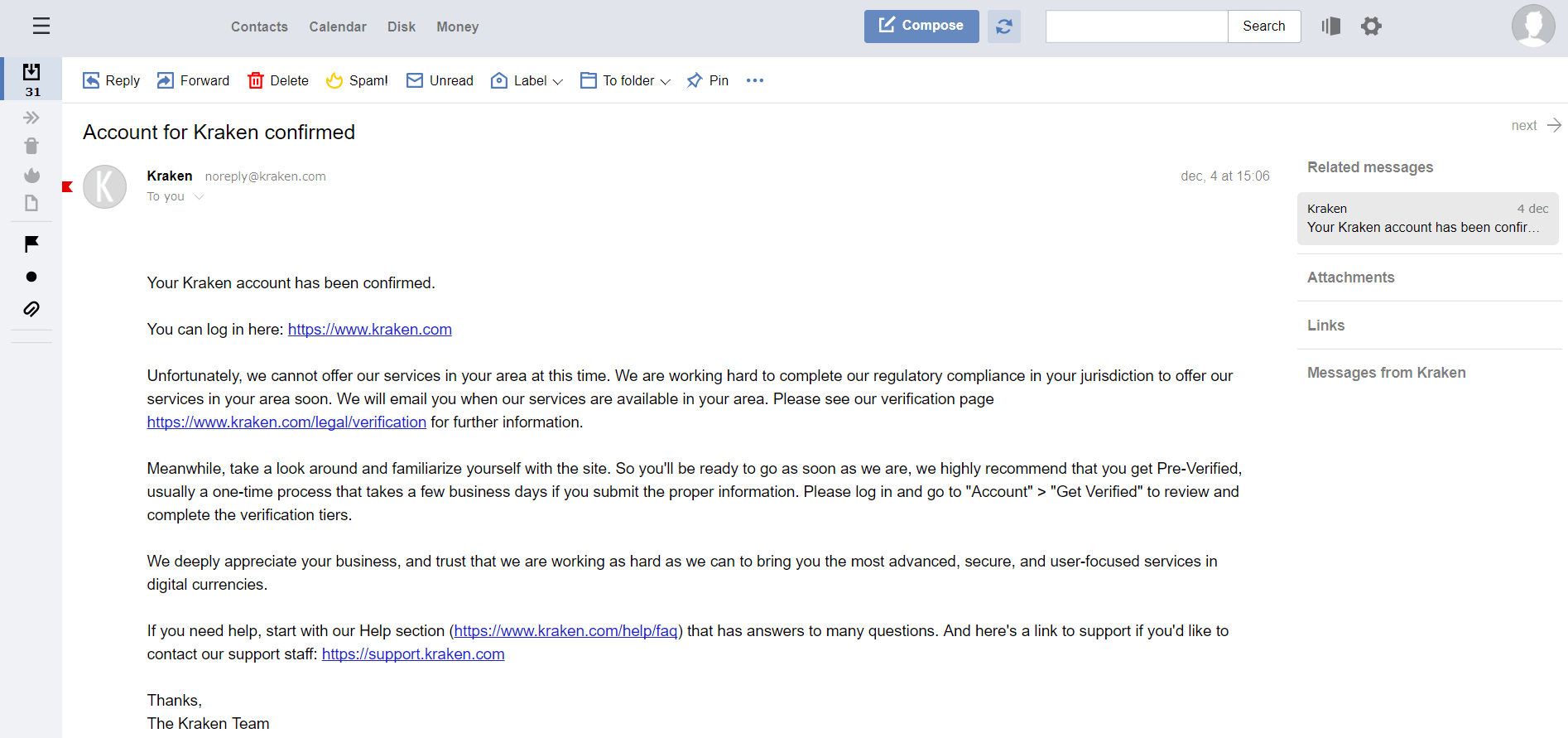 Verification
The verification process is divided into 5 tiers, each of them having their own requirements to be met should you successfully attain them. Take a note that higher tiers also require that lower tiers have been completed as well.
Tier 0 is designed for traders that are meeting with Kraken platform for the first time as deposits and withdrawals are not allowed. Only email verification is needed for successful completion.

Tier 1 requires your personal details with only your phone number verified. The coin deposit and exchange would then be allowed to you.

Tier 2 would allow you to start depositing and withdrawing both digital and fiat currencies while the verification would require your address.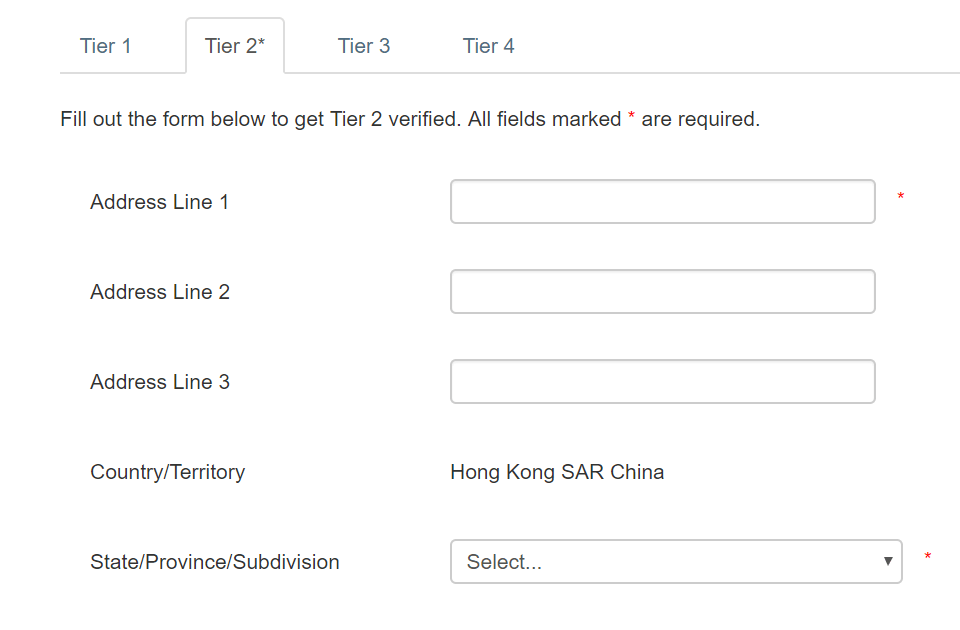 Tier 3, to be completed, would require from you scanned ID and proof of address. In return, you get a lot bigger purchase and deposit limits.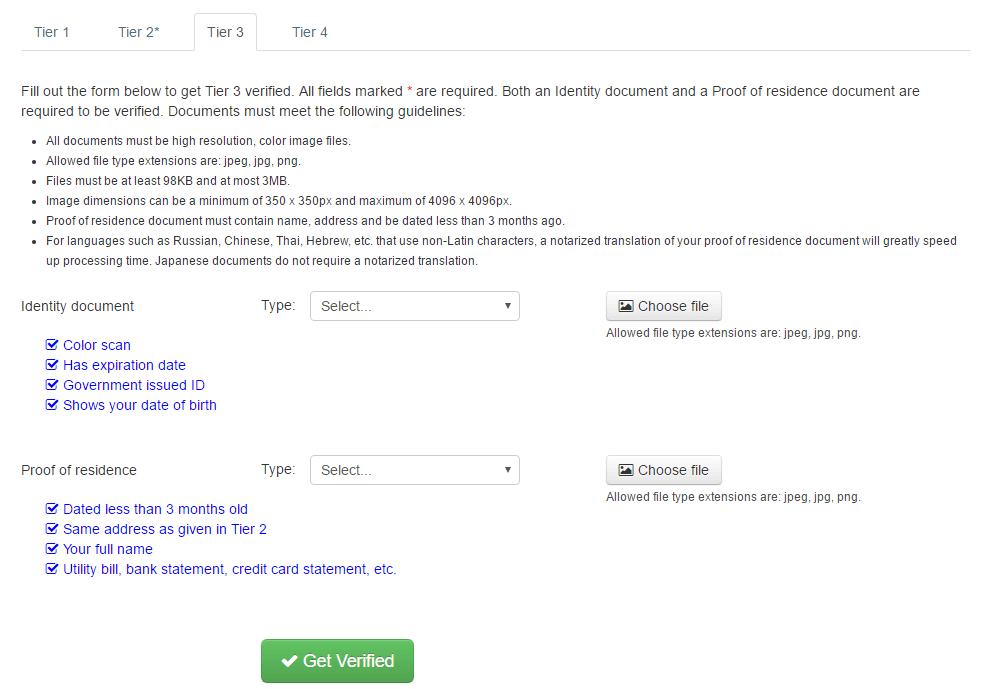 Tier 4 is reserved for those investors and organizations that are looking for a long-term relationship with Kraken. Apart from ID and address, you would need to provide the signed application form and KYC documents.
Customer's Support
Currently, Kraken's customer support has a quite negative reputation as the responses are slow due to the heavy traffic and customer demand. In addition, the issues that customers had in recent months regarding their accounts were addressed only days after the problems started, leaving many clients frustrated.

Security on Kraken
The main reason why Kraken was formed is that due to the Mt. Gox collapse, company's head manager, Jesse Powell, made a decision to create an exchange that would store funds and coins in an offline environment, rather than holding all assets on the platform. Thus, the trading liquidity is supported by a margin of company's capital, leaving rest in a safe environment.

Trader's security consists of 2FA, email PGP (Pretty Good Privacy) encryption, and settings lock (prevents changes in the account for a given time period).
Tutorial: Buy Bitcoins with Credit/Debit Card on Kraken
Unfortunately, you cannot purchase bitcoins with credit or debit cards at Kraken but what you can do, is to use the bank account that is connected to that card. Thus, the first step is to register an account at Kraken by clicking "Sign up" button at top right of the homepage.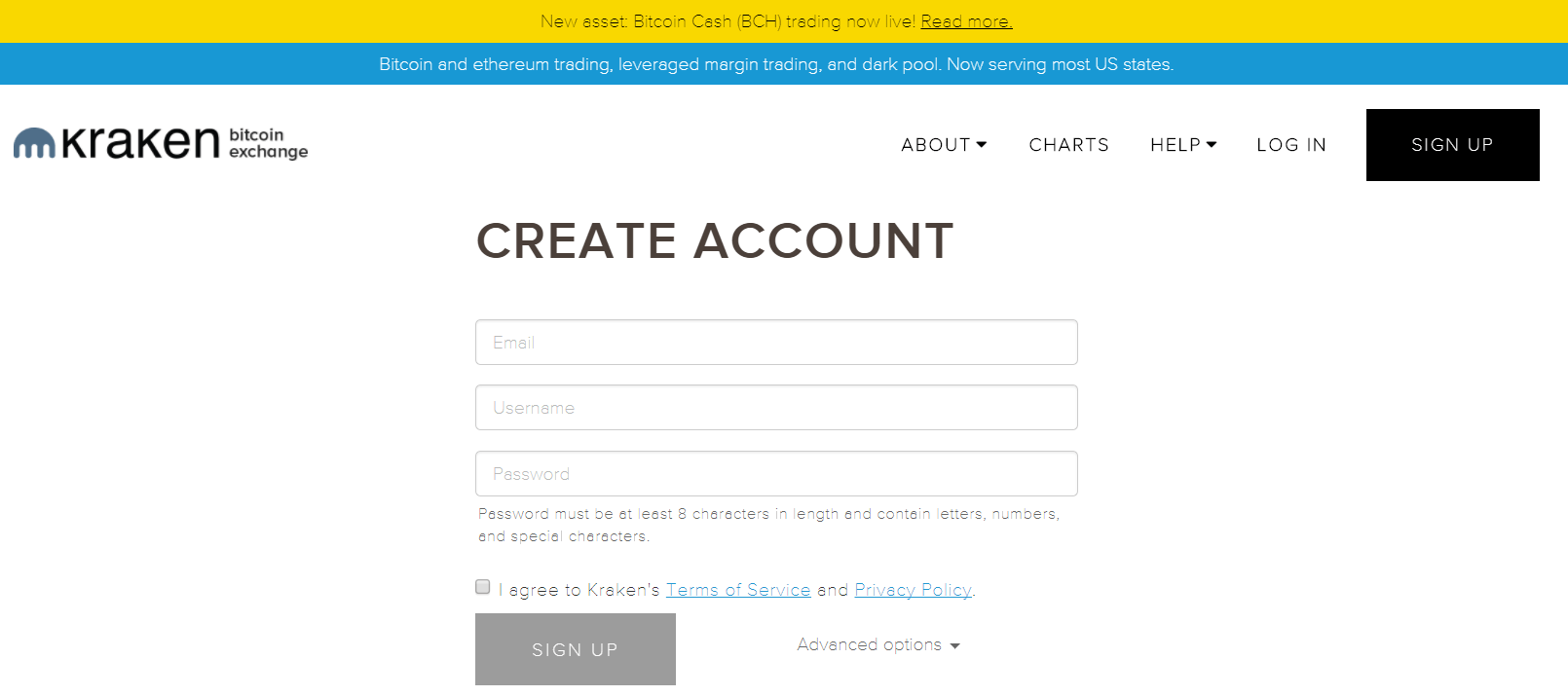 You will receive an email, providing you a link where you can activate your account. In next step, you need to verify your identity to the tier 2, meaning that you should provide scanned ID, phone number and personal details.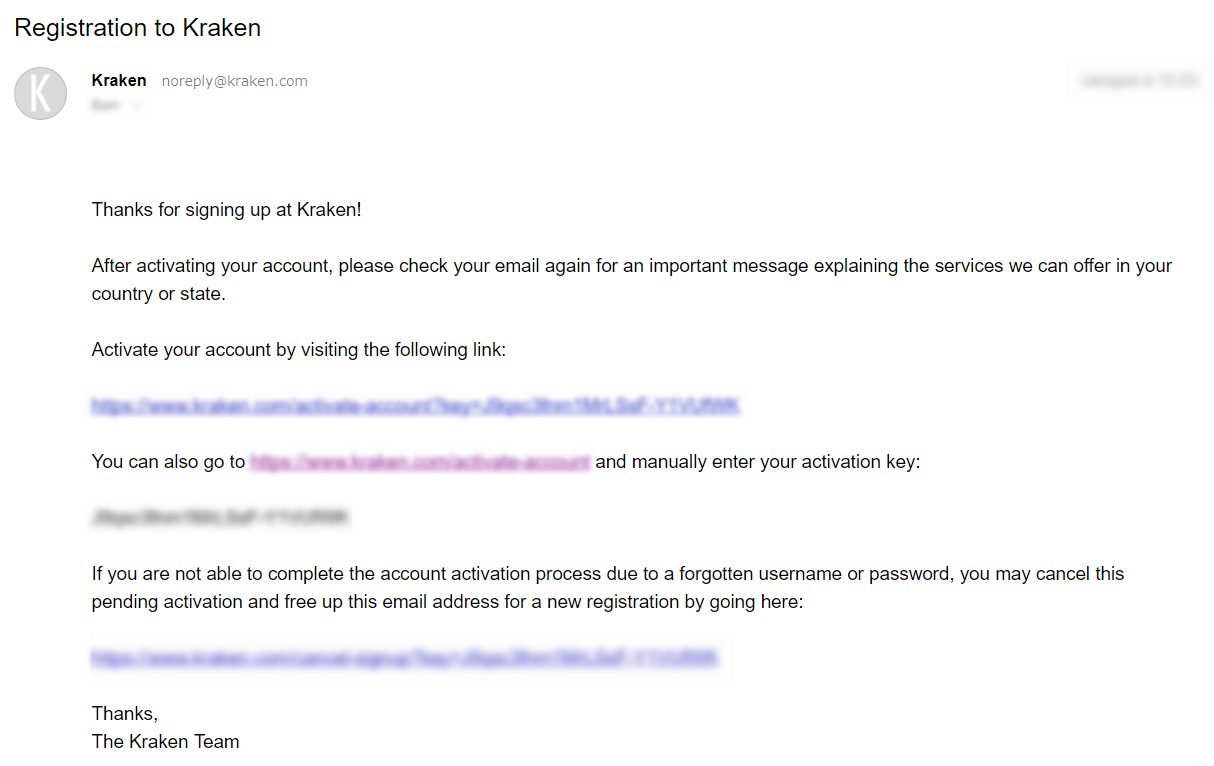 After verifying your account, go to the "Funding" page and click "Deposit". Choose the fiat currency that your bank account is expressed in and fill out the order form. You would need to provide your account details depending on the method chosen (SWIFT, SEPA or Wire).

The transfer would take a couple of days to complete. Once you have balance in your Kraken account, go to the order page and fill out the volume of BTC you wish to purchase. Then, simply click "Buy XBT" and complete the process.
FAQ
What About Limits?
Purchase limits depend on the verification tier achieved. With tier 0 and 1, you are not allowed to deposit funds needed for trade. With tier 2, you can deposit $2,000 daily and $10,000 monthly, while tier 3 would land you $25,000 daily and $200,000 monthly limits. The largest purchase limits reside in tier 4, landing you right to deposit $100,000 daily and $500,000 monthly.

Is Kraken Scam or Not?
Since 2011, the exchange established itself as one of the leading euro bitcoin traders, earning a reputation of a reliable partner when it comes to coin transactions. The funds are kept in an offline environment, securing the marketplace from hacking incidents.

How Is My Account Secured?
To be able to use all safety features, make sure you use two-factor authentication services, as well as passwords for both your Kraken account and transaction keys as well. The company keeps their funds offline, thus major hacking accounts are highly unlikely to happen.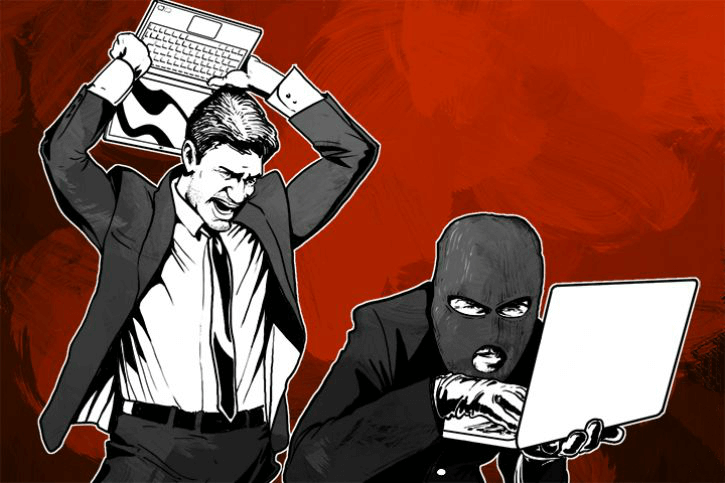 Transaction Duration
The BTC transactions take few moments only to be completed but what makes the trade quite long is the time for deposits to be carried out. Bank transfers can take up to 5 business days, so keep that in mind when you are planning your bitcoin investments.
How to Withdraw My Bitcoins from Kraken?
Once you have bought bitcoins at Kraken, you can withdraw them to your wallet's address by clicking button "Withdraw" located in the middle section of the order page.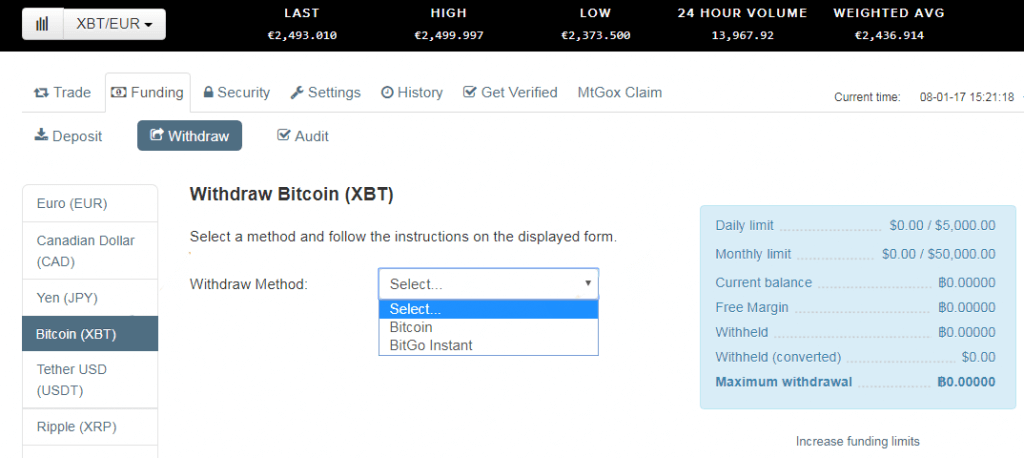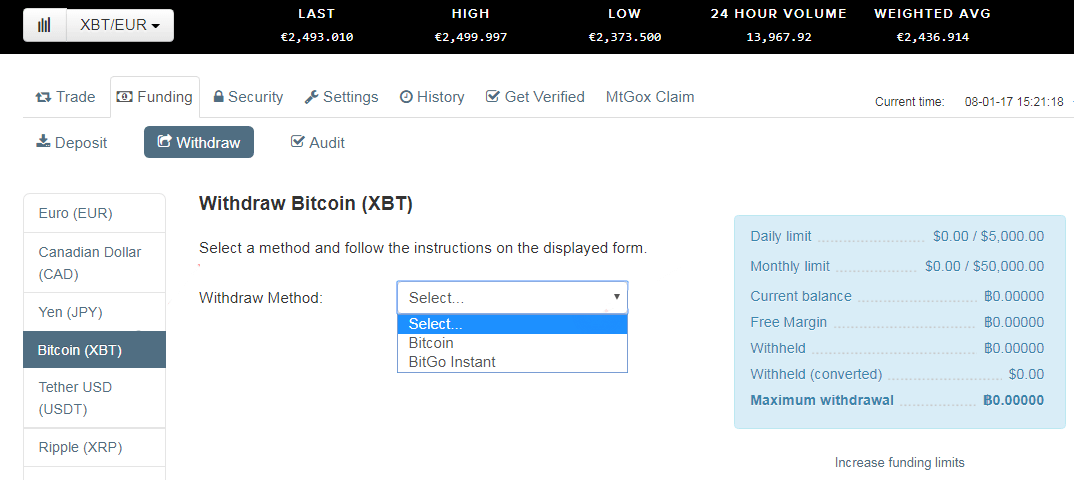 You should choose withdrawal method, depending on the wallet you use and then add an address that your wallet has provided you with.
Does Kraken Have BTC Wallet?
Kraken does allow you to keep the coins in your account, thus acting like a wallet in that sphere of trade. The coins cannot be used to purchase online goods and services but can be transferred to other accounts in Kraken or to your other wallets.

Comparison with Other Exchanges
Although reliable, Kraken might not be the best choice when compared with other exchanges, thus we have compiled a comparison report with other similar brokers, BTC-E (WEX) and Gemini.
BTC-e (WEX) vs Kraken
The BTC-e (WEX) was an exchange that offered its services globally before its online platform was taken down by US regulatory bodies in 2017. The reason for the shutdown was that owner of the site was accused of for money laundering activities and is faced with $110 million lawsuit according to the various news reports.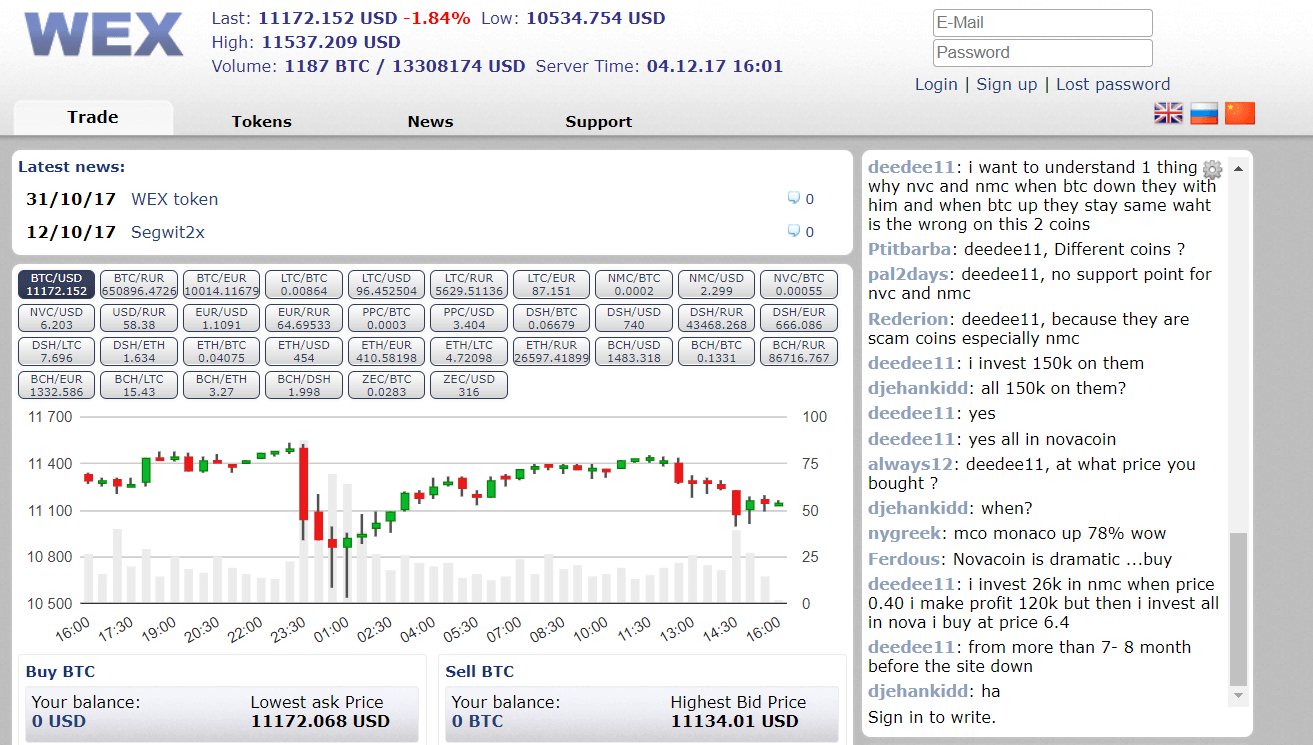 Kraken vs Gemini
There are a lot of similarities between Gemini and Kraken in terms of BTC trade. Both require you to verify your account before you would be able to purchase bitcoins. Both have low transaction fees and use bank transfer only as a deposit method.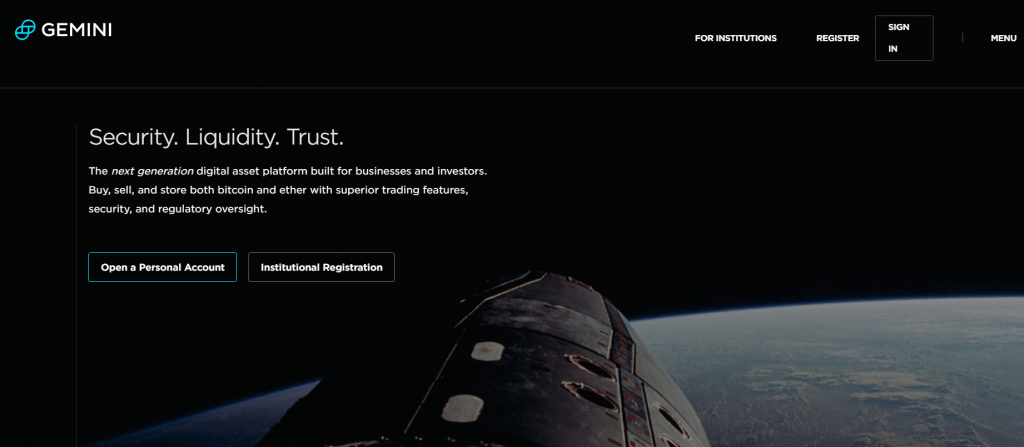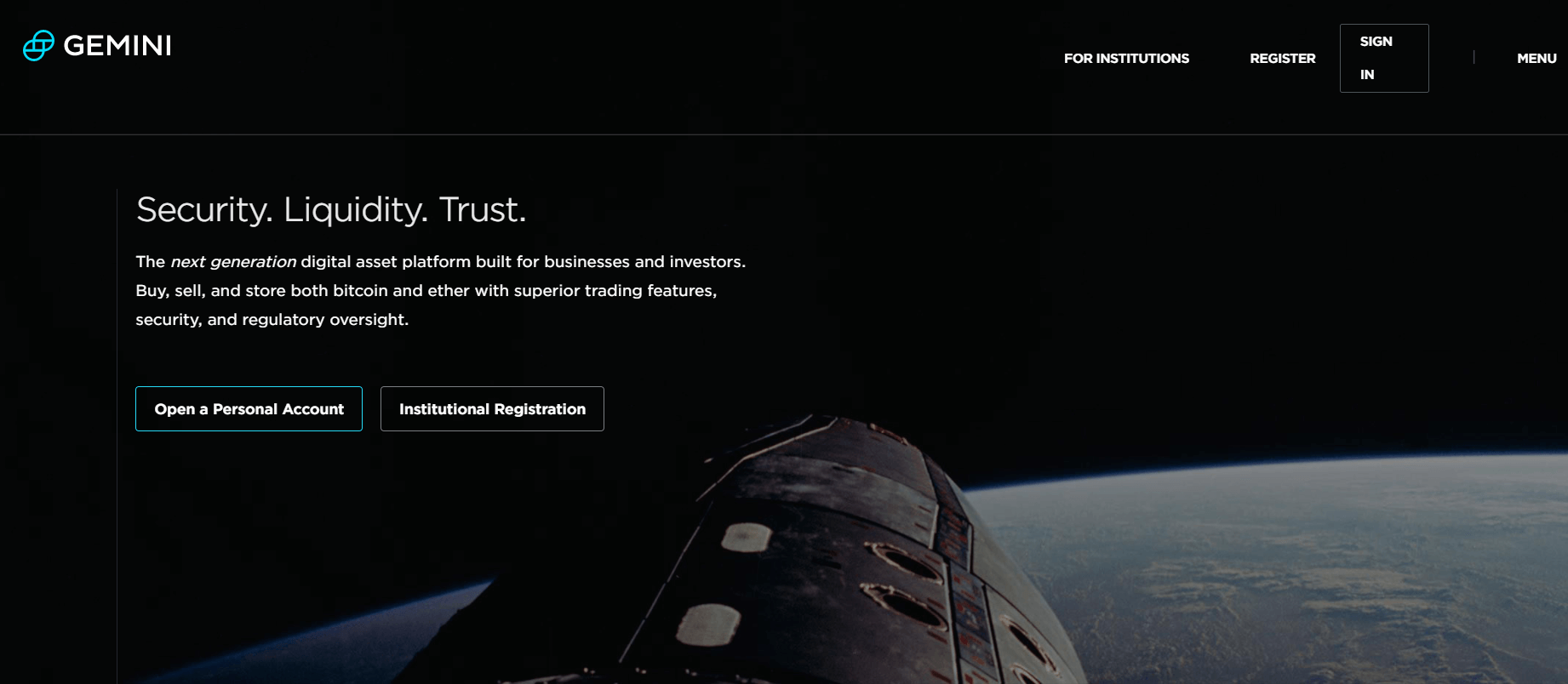 What distinguishes these two exchanges are the regional service availability and available currencies for trade. Gemini offers only two cryptocurrencies (BTC and ETH) and one fiat currency (USD) while Kraken has a large offer of coins and real money. Additionally, Gemini is available in 52 countries while Kraken is present globally.
Does Kraken Have a Mobile App?
Kraken offers downloadable applications on mobile platforms for users that wish to have better surveillance tools of the bitcoin market. The app is available on both iOS and Android devices.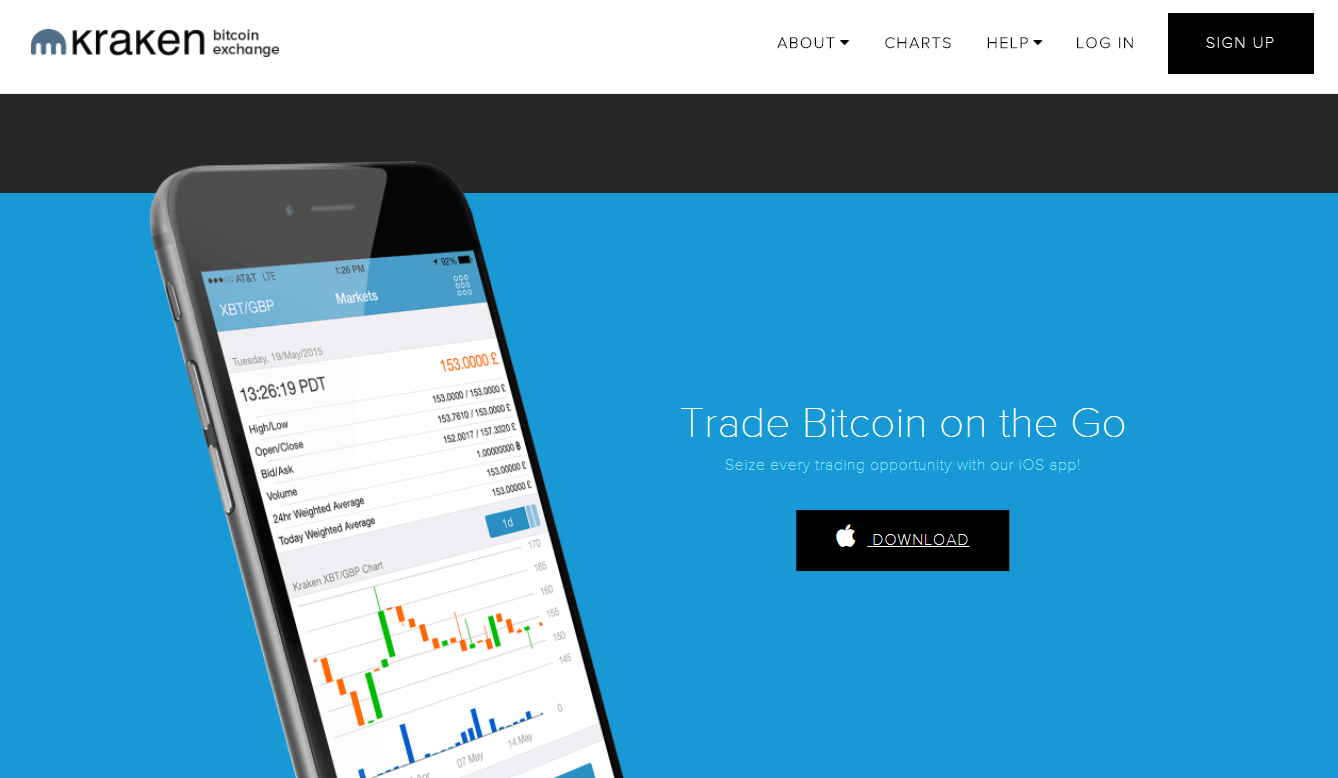 Advantages
The advantages of the Kraken exchange are:
low transaction fees;
support for large number of altcoins and fiat currencies;
services are globally available.

Disadvantages
The disadvantages of the Kraken exchange are:
only bank transfers available as a deposit method;
verification of an identity is needed for a BTC trade;
long response time of the customer support;
bank deposits can take up to 5 business days.

Alternatives to Kraken
Apart from Kraken, we would strongly encourage you to check out other bitcoin exchanges out there, as they vary in terms of fees, purchase limits and verification requirements. At BitcoinBestBuy we have compiled reviews of numerous platforms that you can use to get bitcoins.
Coinbase Exchange Review
Being one of the largest BTC exchanges in the world, Coinbase offers its services to traders from 32 countries around the globe with Europe being the most supported region. The accepted payment methods vary across the countries, with SEPA transfer dedicated for European traders, PayPal for American investors while credit/debit cards & bank transfers are available for all countries.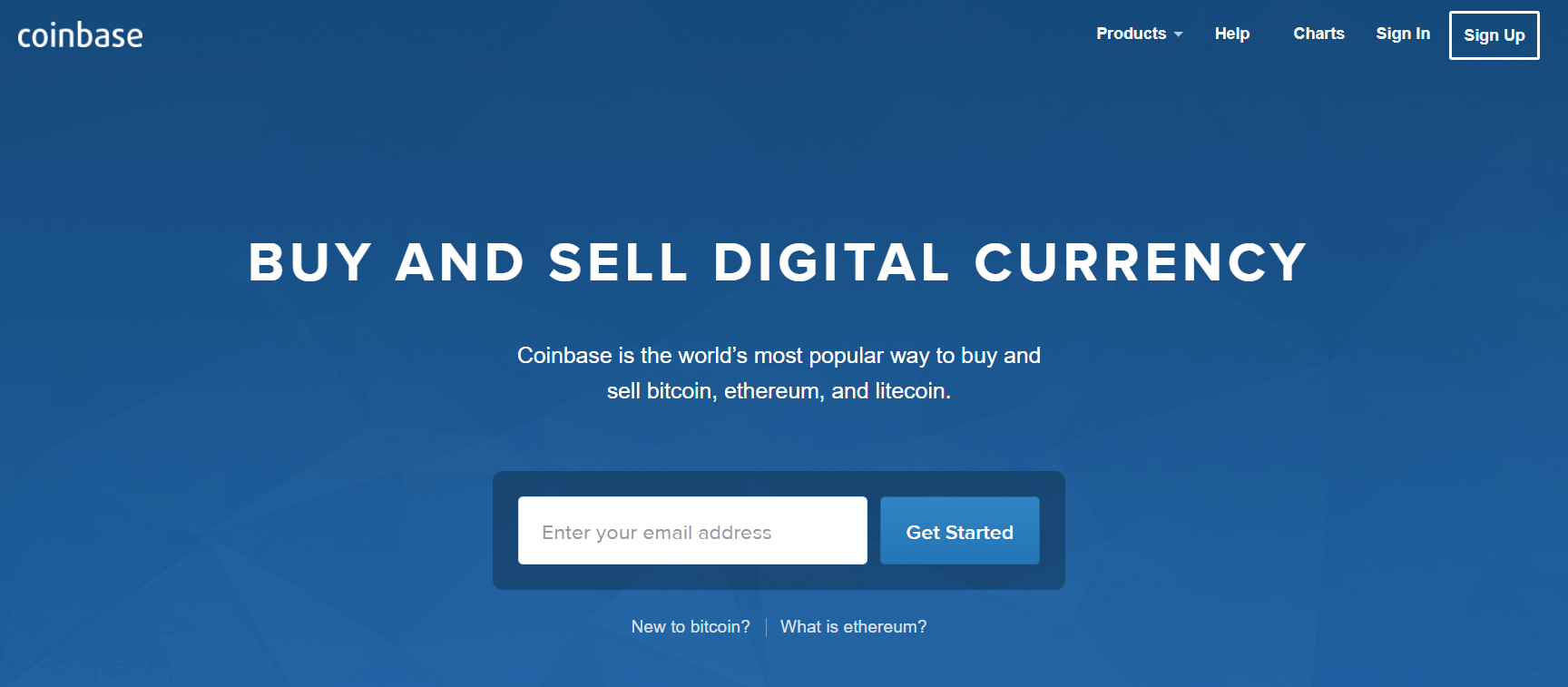 Be sure to check our review of Coinbase as we have listed the broker's fees, purchase limits, verification requirements and other relevant information.
Read About Bitstamp
Bitstamp is one of the oldest licensed bitcoin exchanges in Europe which accepts payments expressed in both USD and EUR. You should check our review about the exchange as we have provided you with in-depth analysis and step-by-step tutorials on how to purchase, sell and verify your account at Bitstamp.



VirWoX Review
VirWox became quite popular with bitcoin investors as the exchange allows PayPal deposits without any sort of verification requirements. The platform deals primarily with Second Life Lindens (SLLs) that can be used in a virtual world called Second Life and do not offer bitcoins for purchase directly.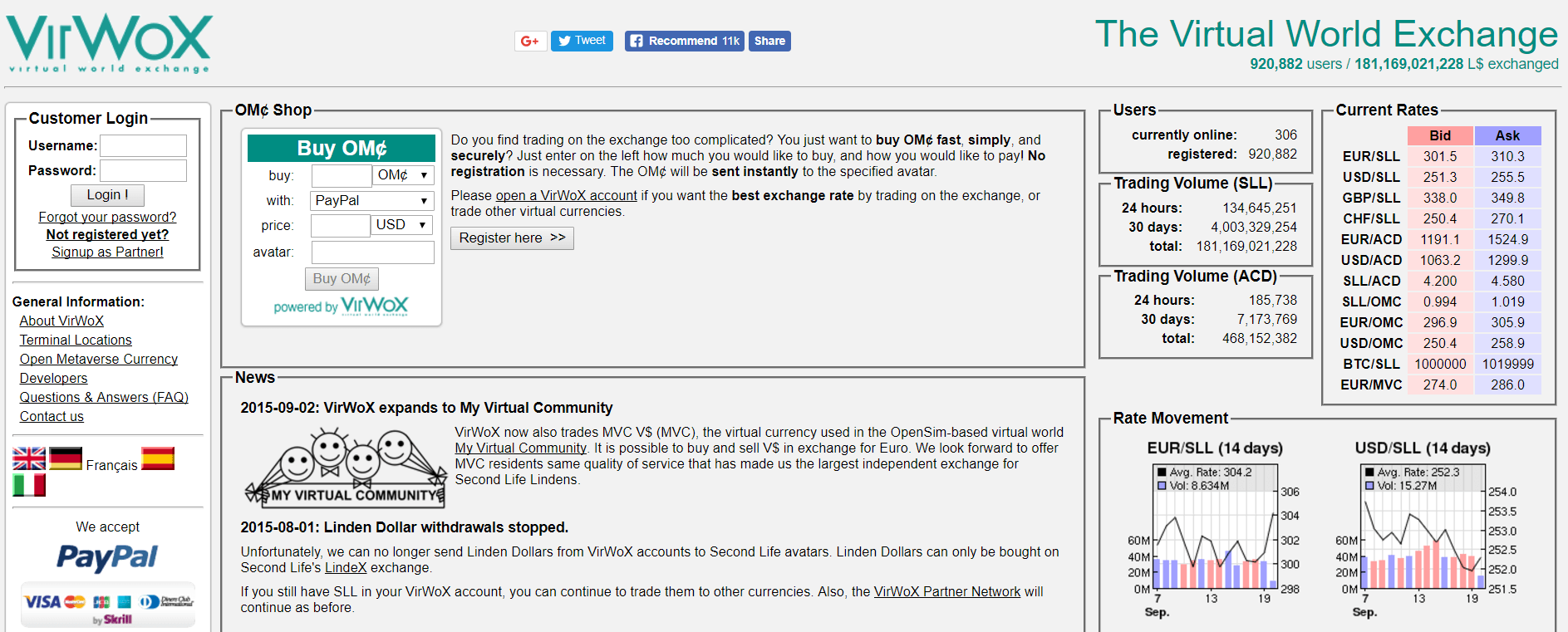 You need to purchase SLL first and then swap them with BTC, incurring double costs in the process.
We have made an exhaustive review of the exchange so you can compare it with other BTC websites such as Kraken. At any rate, if this article did not answer some of your questions, feel free to seek them at BitcoinBestBuy and we will be glad to assist you.