A crypto exchange is an online platform where you can exchange cryptocurrencies for other cryptocurrencies or for other types of assets, such as fiat money. There are four main types of crypto exchanges: traditional, cryptocurrency broker, direct trading platform and cryptocurrency funds. Crypto exchanges can be market makers that either take buy/sell spreads as commissions for the service they provide or charge a fee for it.
In this article, you will read about the different crypto exchanges there are, their availability and what you can do on them.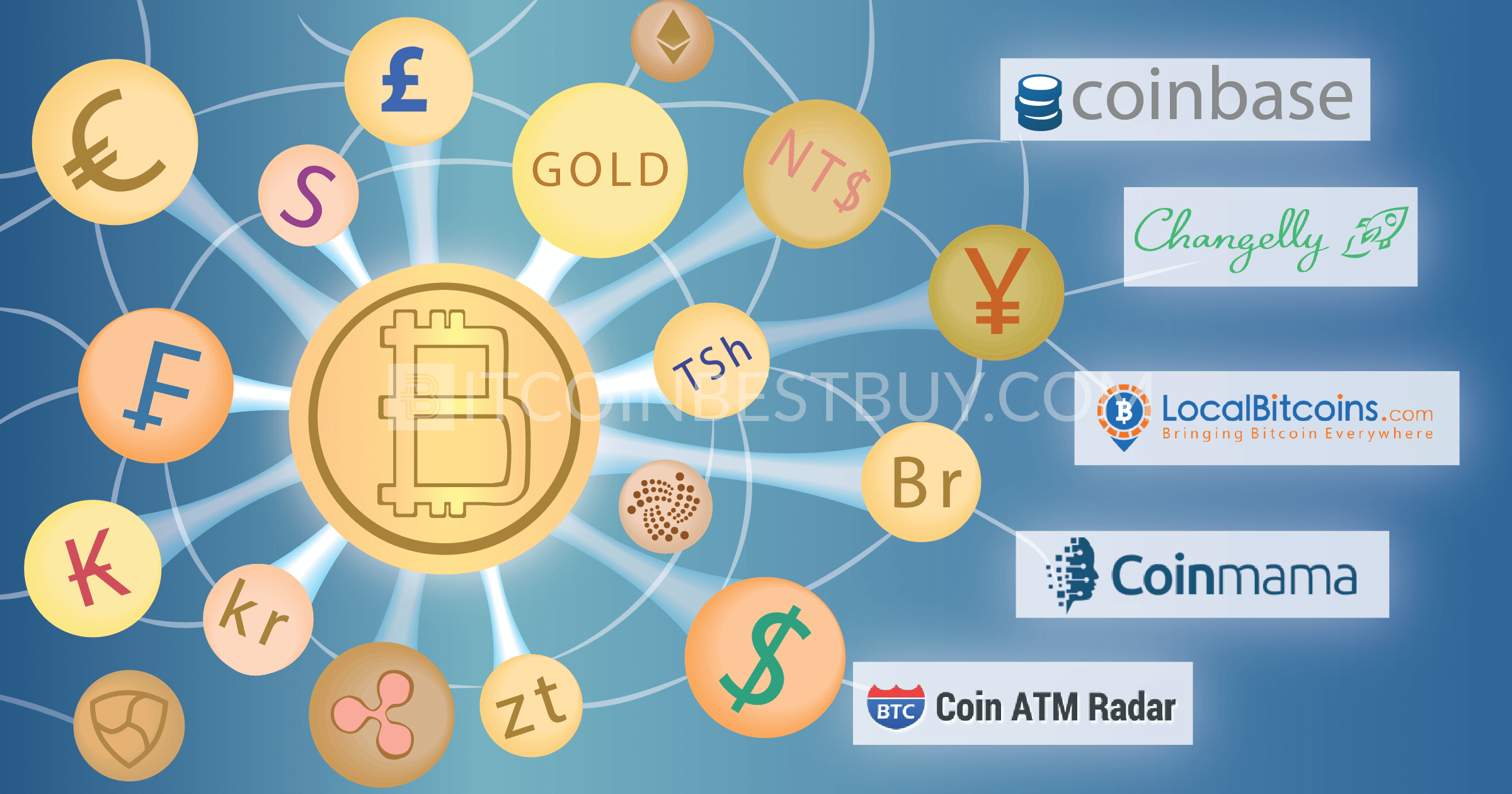 Which Are the Largest Exchanges?
Some of the largest and most popular bitcoin exchanges currently operating are Coinbase/Coinbase Pro (GDAX), Bitfinex, Binance and Kraken. These are the top crypto exchanges in the world that operate in many countries around the globe. They have a large user base, which means there are usually more buyers and sellers.
Coinbase. This a San Francisco based company and is probably the best BTC exchange for people who are just getting started in the cryptocurrency trade. This is a place where you can buy and sell several coins using USD. Once you get familiar with this exchange, it is recommended that you move on to Coinbase Pro (GDAX) for more serious trading.
Coinbase Pro (GDAX). This is related to Coinbase, as it was created by this company. It has somewhat limited choices as to what altcoins can be traded, although it does allow to trade US dollars and euros, as well as the British pound, for bitcoin. It is a good choice if you want to trade cryptocurrencies, and they give you information on their website, such as a price and rate chart and open orders.


Bitfinex. This is one of the most popular crypto exchanges, based in the US, with large supply rate of over $1.8 billion worth of daily trade It is also the largest USD to BTC exchange currently in the market. The site offers many other altcoins, apart from bitcoin while bank transfers are the only way to fund your account with fiat money.
Kraken offers much the same services as above mentioned platforms, though its specialty is EUR trade and margin trading functions. The company has been operating for a while now since 2011 to be exact and has established itself as one of the largest global players in the industry.
Where to Buy Not Only Bitcoins?
Some exchanges have a lot of options with regard to what currencies they will trade in. Let's take a look at some of them.
Coinbase will let you buy and trade with Ethereum, Litecoin, bitcoin and Bitcoin Cash. It is available in over 33 countries. The same goes for Coinbase Pro (GDAX), which is run by Coinbase.
Poloniex is a US-based exchange but it also operates in Europe. This exchange focuses on altcoins and supports bitcoin, Litecoin, Ethereum, Monero and over 80 other altcoins.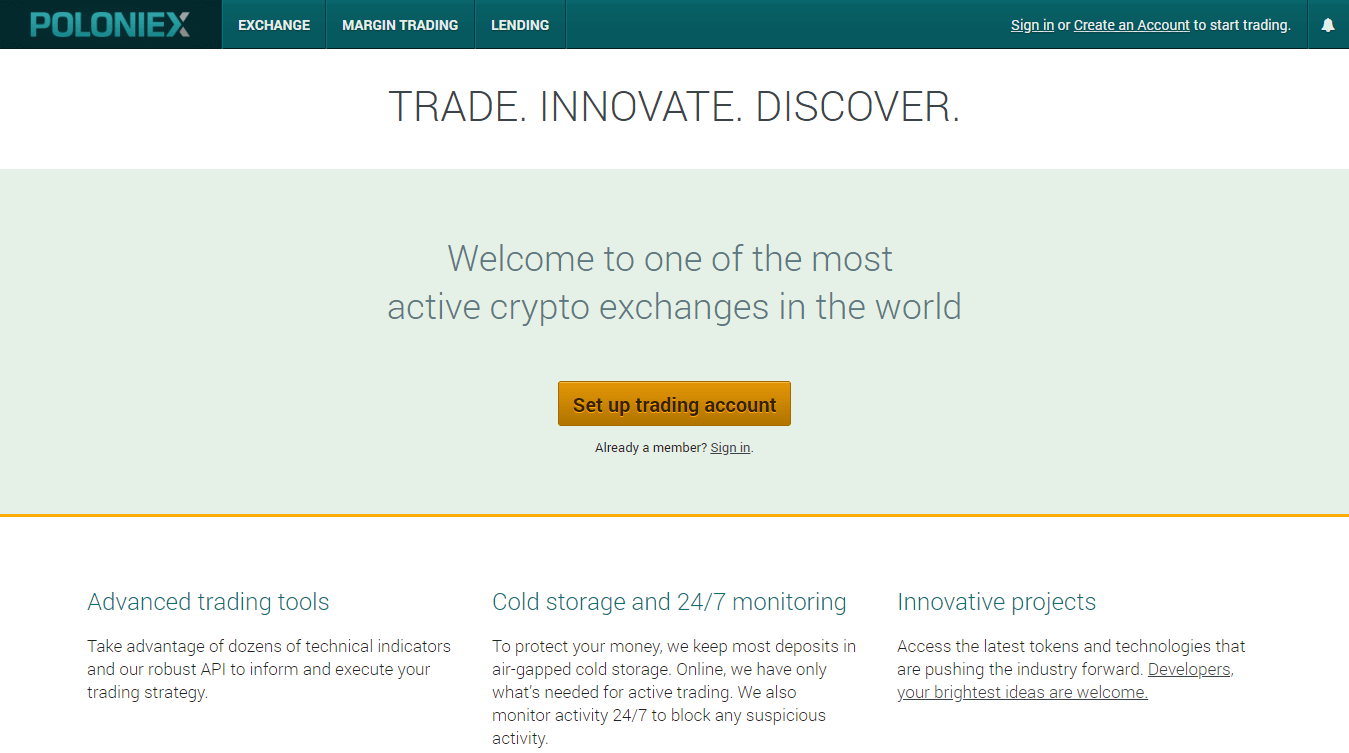 Binance has trading available in bitcoin, Ripple, Tether, Ethereum, Verge, Tron, NEO, 0x, Dash, Binance coin and over 80 others.
BitMEX.com has availability for bitcoin, Bitcoin Cash, Cardano, Ethereum, Litecoin and Ripple.
CEX.IO has support for buying and selling in bitcoin, Dash, Ethereum, Ripple and Zcash.
Bittrex allows trading in several cryptocurrencies, like bitcoin, Ethereum, Bitcoin Cash, NEO, OmiseGO, Dash, Nexium, Siacoin and Zcash. It is also available globally.
What Are the Most Secured and Trusted Bitcoin Brokers?
When dealing with cryptocurrency, there is always the question of security, no matter what platform or exchange you are using. No one single exchange can be said to be completely secure, and there have been many hacks in the last few years. For this reason, it is not recommended keeping your cryptocurrency on exchanges, but to transfer them to a safe wallet when you are not trading.

That being said, some popular and widely used bitcoin exchanges, such as Coinbase Pro (GDAX) and Coinbase mentioned above, do have some security features that you can enable. These include two-factor authentication and the requirement for a strong password. Additionally, these exchanges are even insured, so you can feel a little safer should anything happen on their end.
Which Bitcoin Exchange Has the Lowest Fees?
Within most bitcoin exchanges, transactions done entirely in cryptocurrency are normally free of charge. Another type of transactions, such as bank wire transfers and credit card top-ups do usually have a fee. Another common type of fee is the trading fee, which most of the time is between 0.1% and 0.25% of the transaction, but can sometimes be up to 1%.
CEX.IO is probably the exchange that has the lowest fees when it comes to credit card deposits, with 3.5%, and withdrawals, with 1.2% while bank deposits are conducted for free.
Coinbase charges $10 for incoming wire transfer deposits, and withdrawal stands at 25 US dollars. The fee for credit card deposit is 3.99% and the trade fee is 1.49%.
Coinbase Pro (GDAX) has a standard fee between 0.10% and 0.30%, with credit card and bank withdrawal fees equal to those of Coinbase.
Binance has one of the lowest trading fees right now in comparison to the others, only 0.1%, and this can get even lower if you use the Binance coin.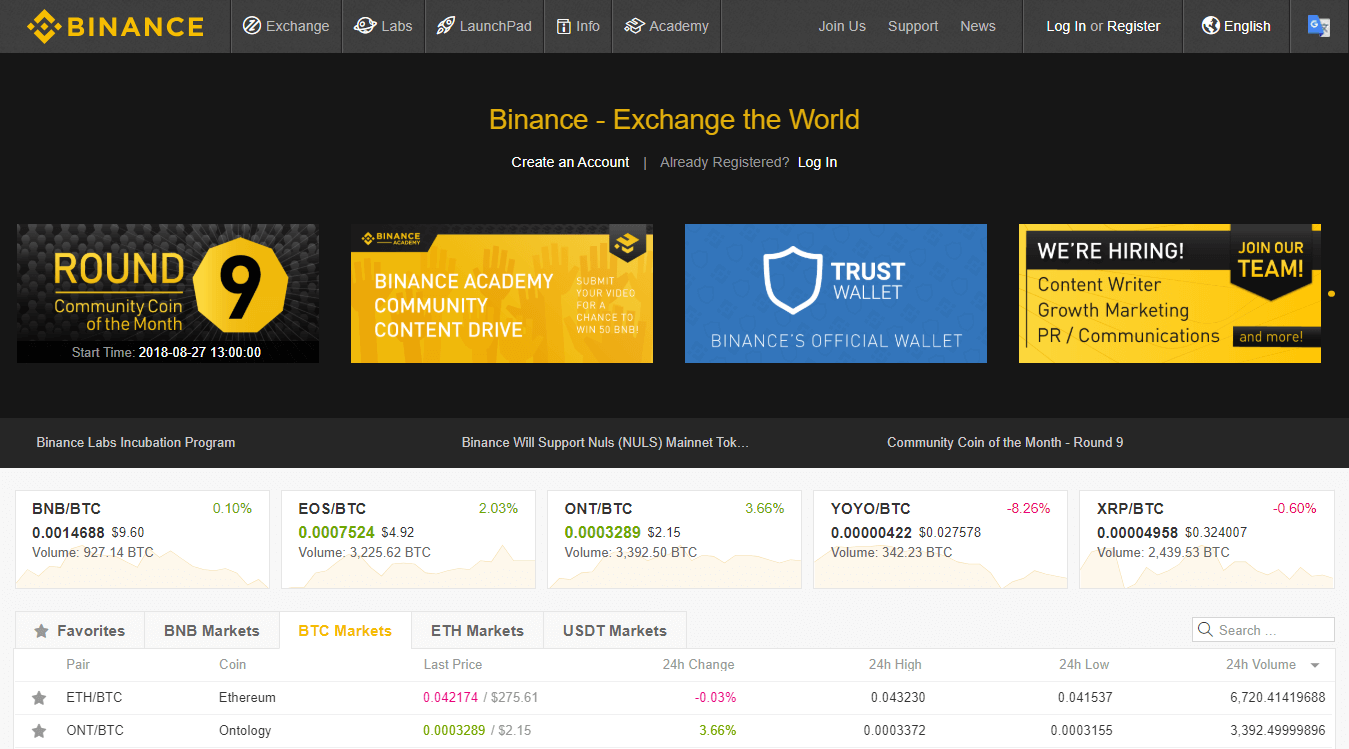 Which Are Private to Use?
Several bitcoin exchanges let you use their services without having to verify your identity. All you need is an email and a password and you can start trading right away.
The advantage of this is that you can avoid providing any personal information to exchange, such as name, address, date of birth, or a copy of your ID, and you do not have to wait for that information to be validated. On the other hand, some exchanges have limits in the trade volume and withdrawals for unverified users.
Among private bitcoin trading platforms, the following can be counted: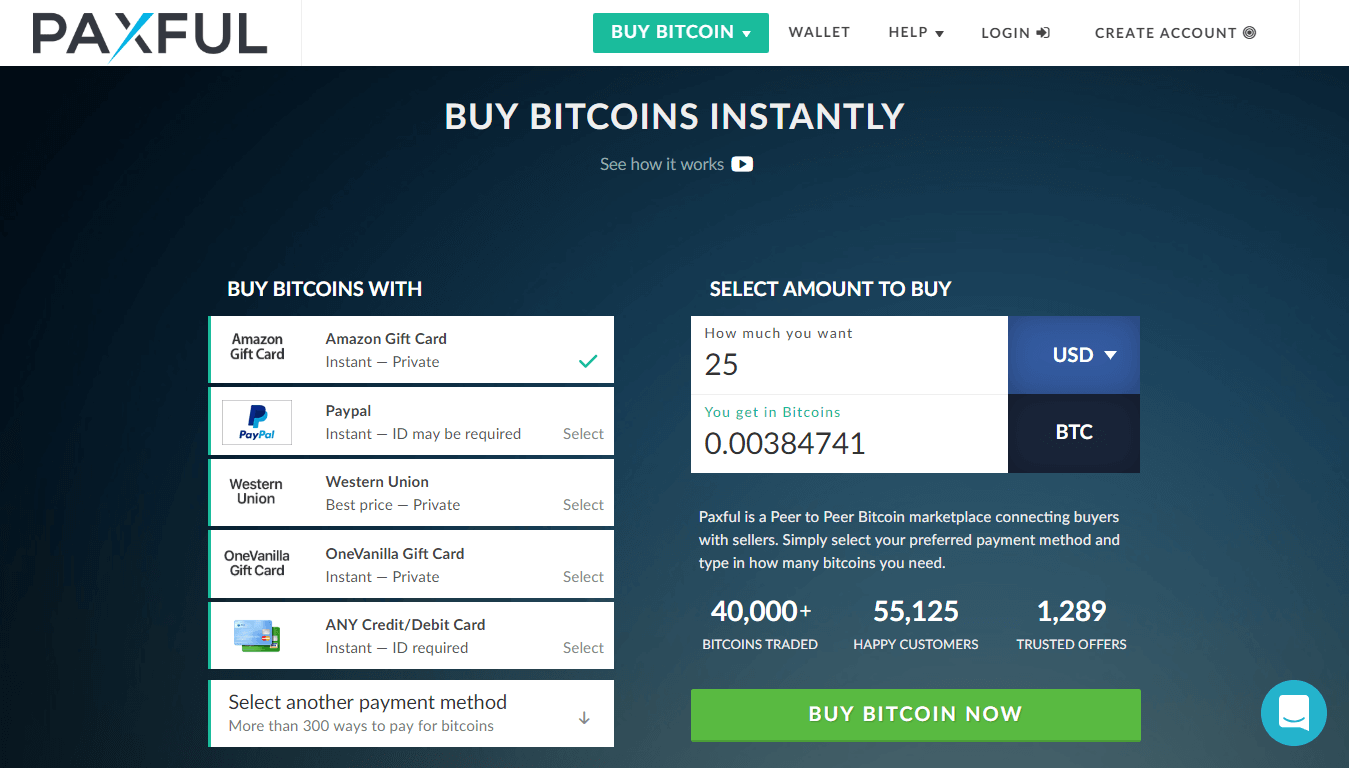 What Exchanges Offer Global Services?
Crypto exchanges have services in many places over the world, but not all they are available everywhere. Some exchanges that have the largest global presence are: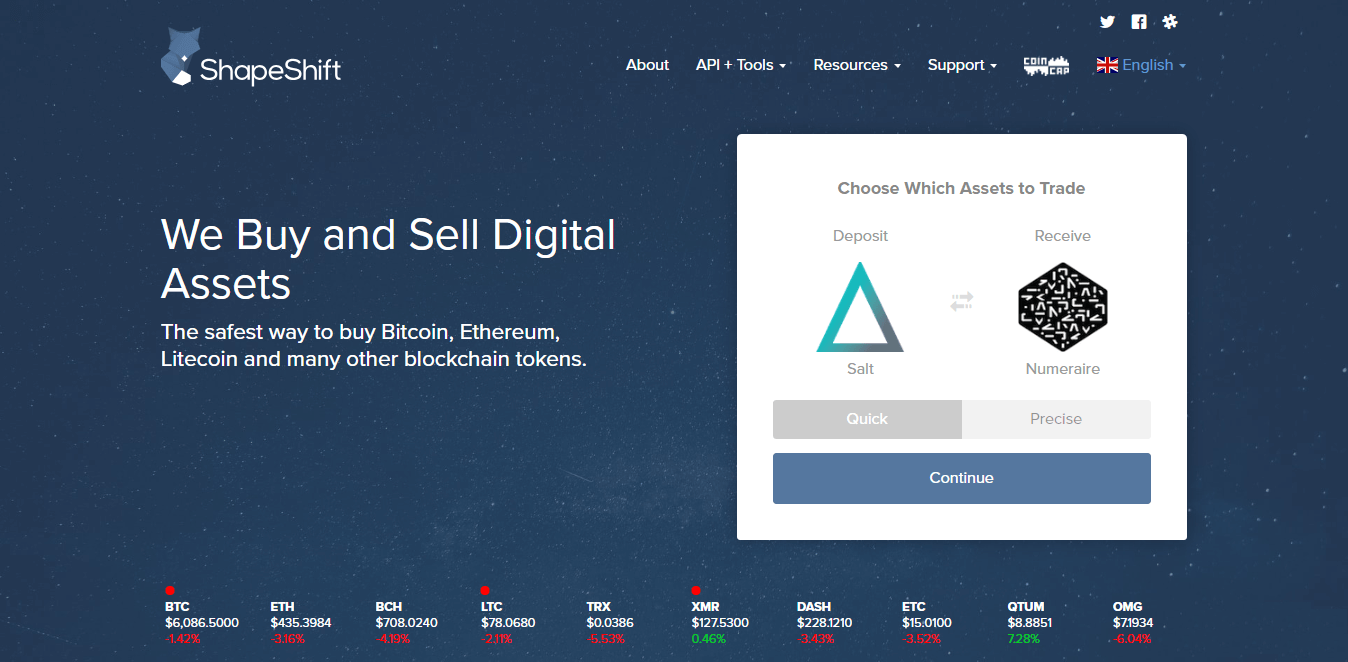 What Platform Offers Most Fiat Currencies and Payment Methods?
Not all bitcoin exchanges are able, or willing, to let you use any payment method or currency. Credit card payments, for instance, are not always accepted because credit card transactions can be contested and reversed by the user, so they tend to be avoided. Some exchanges do accept them, though. While some exchanges prefer trading in altcoin, some will also let you use several fiat currencies.
CEX.IO has a good selection of fiat currencies and payment options, including US dollar, euro, British pound, Russian ruble. Plus, as mentioned above, their fees are reasonable. It also accepts credit card deposit and withdrawal (Visa and MasterCard), and bank deposit and withdrawal (SWIFT and SEPA).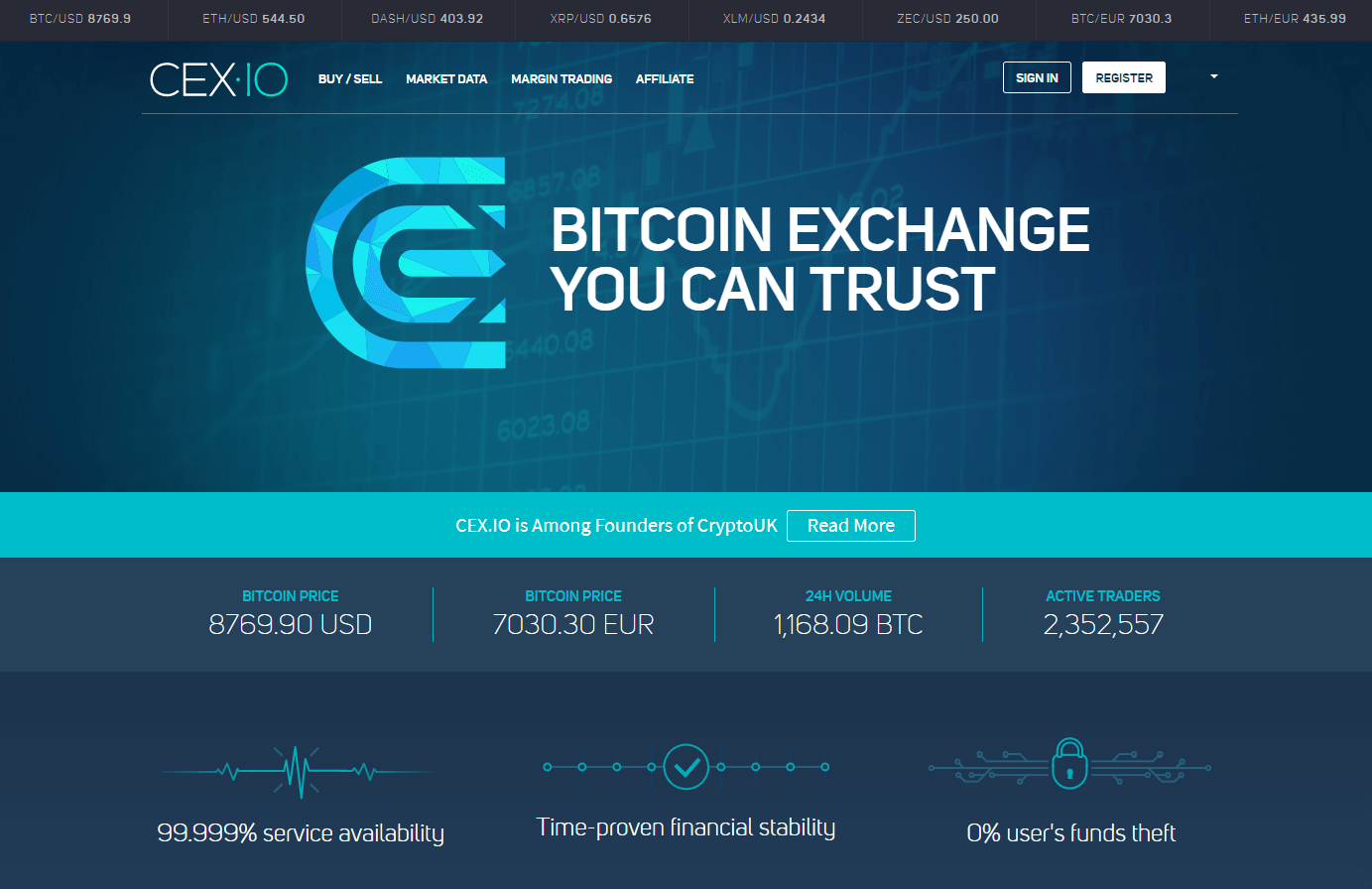 Coinbase accepts payments in US dollar, euro and British pound, as well as debit card payments, and bank transfers.
Coinbase Pro (GDAX) is aimed towards more experienced altcoin traders, and it accepts US dollars, euros and British pounds. Same day wire bank transfers are available, too.
Let's Sum Up
As we have seen, there are several different types of bitcoin exchanges. Some of them offer a wider array of services and options, while others are geared towards more experienced users or traders who are interested in large-amount transactions. It would be difficult to say what the best exchange is, if there is even such a thing.

Some of them are not available worldwide but are popular in certain regions of the world. The fees that users are charged for doing business in these exchanges also vary greatly from one to another. If you are considering trading bitcoin, then it is recommended that you take a look for yourself at what exchanges are available for you, to see which is the one that best fits your needs.
We made a list of exchanges per country that you should check out. Make sure to bookmark this page (hold Ctrl and press D or ⌘ Command + D) for future reference.
Exchange / Beginner-Friendly
Countries
Currency
Deposit Method
Quick Take
Review
Trust & Total Score

Top 30 Global Bitcoin Exchanges in the United States / Canada / Australia / UK / Europe

Coinbase
CAD AUD SGD
(deposit or withdrawal) (withdrawal only)
The best way to buy bitcoin online in the United States, Canada, Australia, the UK & Europe. Liquid, low-fee US-based bitcoin exchange that holds multiple currencies. Due to our referral program, when you sign up and buy or sell $100 worth of bitcoin, you will earn $10 of free bitcoin!
Coinbase Review
A+ / 9.85
Coinmama
incl. (22 states)
Allows purchases of bitcoins with credit card to nearly everyone in the world. Available only in 22 US states.
Coinmama Review
A / 9.65
Changelly
incl.
Instant cryptocurrency and BTC exchange with user-friendly interface. Fees are higher than the average as it provides speed and privacy (no ID verification).
A / 9.60
CEX.io
incl.
ETH, Crypto Capital
Well-funded reputable bitcoin exchange. Great option worth checking out.
CEX.io Review
A / 9.55
LocalBitcoins
incl.
All Currencies
WebMoney, Skrill, Gift Cards
The most private way to buy Ƀ through a P2P exchange. Cash, PayPal, gift cards, and more. Operates everywhere!
A / 9.50
VirWox
incl.
Moneybookers, Skrill, Paysafecard, SOFORT
Buy bitcoins with PayPal: one of the main methods that people use to buy bitcoin is through PayPal. They charge a 10% commission fee for PayPal/BTC trading.
VirWox Review
B+ / 8.75
Coin ATM Radar
incl.
All Currencies
A global map of bitcoin ATMs. The most private way to buy bitcoins with cash and without a verification of ID.
N/A / 8.70
LibertyX
Buy Ƀ instantly with cash at thousands of local stores. LibertyX is the largest nationwide network for BTC purchase with cash.
B+ / 8.65
BitQuick
CAD
Buy bitcoins with cash via cash deposit or with bank transfer. Fees are higher than average.
B+ / 8.55
Poloniex
incl.
69+ Crypto Pairs
69+ Coins
The best cryptocurrency exchange. Great fees and liquidity.
B+ / 9.70
Coinhouse
3D Secure, Neosurf vouchers
Coinhouse offers relatively high buying limits. Popular in Europe.
A / 9.45
Kraken
CAD
Europe's best bitcoin exchange available for US and Canadian traders. Recommended for larger amounts of bitcoins.
Kraken Review
B+ / 9.30
GDAX
CAD AUD SGD
ETH
One of the biggest bitcoin exchanges in the world. It is owned by the Coinbase. Great for traders with technical knowledge and offers good liquidity.
A+ / 9.85
Wall of Coins
Peer-to-peer bitcoin exchange that allows you to buy and sell bitcoins easily.
A / 9.45
Paxful
incl.
Gift Cards, 150+ Payment Methods
Peer-to-peer bitcoin marketplace, connecting buyers with sellers. Over 150 payment methods.
B+ / 8.90
Bitfinex
8+ Coins
One of the biggest bitcoin exchanges. Excellent trading fees, located in Hong Kong. USD bank transfer wires (both withdrawals and deposits) are available.
B+ / 9.15
Blockchain.info
The most reputed online wallet. It is encrypted by a default and is very secure.
Blockchain Review
A+ / 9.50
BitPanda
SEPA, Neteller, Skrill, Sofortüberweisung, Giropay
BitPanda (ex-Coinimal) is a European bitcoin broker that enables purchasing bitcoins with credit or debit cards.
BitPanda Review
A / 9.45
ePayments
incl.
Receive and make cross-border payments absolutely for free. Save money making instant mass payouts.
A / 9.45
BitSquare
incl.
59+ Crypto Pairs
Bitsquare is not to be bypassed for the more technically knowledgeable traders.
A / 9.35
Bittrex
incl.
190+ Crypto Pairs
190+ Coins
Focuses on security and adding new crypto pairs, which is quite positive. Great option that is worth checking out.
A / 9.20
WeSellCrypto
incl.
Super easy purchasing of Ƀ with PayPal. Simple checkout, coins delivered in seconds.
B+ / 9.15
ANXPRO
incl.
CAD AUD HKD SGD AUD CHF
Trusted Ƀ exchange located in Hong Kong that provides a safe and reputable marketplace for you to buy and sell bitcoins.
A / 9.10
SpectroCoin
incl.
London-based BTC exchange with extremely easy to use interface and great security. Cheapest bitcoin debit cards for only $9. Good users reviews.
B+ / 9.05
Mycelium Local Trader
incl.
CAD
Send and receive bitcoins using their mobile app. The Local Trader feature is great!
A / 9.05
Cubits
incl. excluding
+ 19 Currencies
Multi-purpose platform to buy, store, and exchange bitcoin. Great merchant tools. High fees. Fast KYC process.

On December 11th, 2018, Cubits was forced to administration and reported bankruptcy. The key reason is that it couldn't recover after financial losses caused by fraudsters in February.

B+ / 9.00
HitBTC
incl.
Crypto Pairs
The most advanced bitcoin, Ethereum, litecoin and monero exchange to buy and sell cryptocurrencies. Great option that is worth checking out.
B+ / 8.95
Coinify
DKK
Trade bitcoin securely, fast and easily. Good for EU merchants.
A / 8.85
Bitstamp
incl.
SEPA
One of the biggest bitcoin exchanges in Europe. Operates outside of the United Kingdom.
Bitstamp Review
A / 8.80

The Best Local Bitcoin Exchanges in Canada

Quickbt
CAD
Canadian safe and trusted bitcoin exchange. Pay instantly using your INTERAC debit card or 3K+ cash payment options.

On December 10, 2018, QuickBT stopped its service.

A / 9.65
QuadrigaCX
CAD
One of the largest Ƀ and ether exchanges in Canada.
A / 9.55

The Best Local Bitcoin Exchanges in Australia

BTC Markets
AUD
Popular bitcoin exchange in Australia that offers low fees.
A / 9.85
Buyabitcoin
AUD
Easy-to-use site to buy bitcoins in Australia. Offers quick cash purchases.
B+ / 9.20
Hardblock
AUD
POLi
Australia's fastest way to buy and sell bitcoin.
B+ / 9.15

The Best Bitcoin Exchanges in China / Taiwan / Japan / Hong Kong /Korea / Singapore / Asia

ZBcom
incl.
HKD
The most popular cryptocurrency exchange in China, opened in 2017.
A / 9.40
Maicoin
+ 12 Asian Countries
TWD
Buy bitcoin in Taiwan with local bank transfer or cash.
B+ / 9.30
Bitoex
TWD
Great to buy bitcoins in Taiwan with cash (over 5,000 locations at convenience stores).
B+ / 9.25
Bit Flyer
The most popular bitcoin exchange in Japan, also available in USA.
A / 9.65
Coincheck
Popular Japanese Ƀ and Ethereum exchange platform.
A / 9.60
Gemini
ETH
Fully regulated, licensed bitcoin and ether exchange.
A / 9.75
Korbit
The largest BTC exchange in South Korea.
A / 9.65
Coinplug
Great to find a bitcoin ATM in South Korea to buy bitcoins with cash
A / 9.60
BitKan
Alipay
Bitcoin marketplace and wallet service located in China. Accepts both WeChat and Alipay.
A / 9.55
Quoine Exchange
HKD SGD IDR PHP AUD
Popular Japanese BTC and ether exchange for multiple fiat currencies (INR, HKD, SGD, IDR, PHP, AUD).
B+ / 9.50
Coinhako
SGD, MYR
Can be used to buy bitcoin in Singapore with local bank transfer.
B+ / 9.45
Bitcoin.co.id
IDR
The biggest bitcoin exchange in Indonesia (also check out artaBit and tuker.in).

On March 14, 2018, Bitcoin.co.id, an Indonesian BTC marketplace, was renamed to Indodax.

B+ / 9.40
bx.in.th
THB
The first bitcoin exchange in Thailand that offers Thai baht fiat trading.
B+ / 9.30
Luno
IDR, MYR, NGN, ZAR, SGD
Bitcoin exchange that offers wallet and exchange services in Singapore, Indonesia, and Malaysia (formerly known as BitX).
B+ / 9.20
Coins.ph
PHP
The most popular BTC exchange in the Philippines. Can also be used to receive and send remittances.
B+ / 9.15

The Best Bitcoin Exchanges in India / Pakistan

Unocoin
The largest bitcoin exchange in India.
Unocoin Review
B+ / 9.45
Zebpay
The most popular Ƀ exchange in India. Simple and easy to use bitcoin wallet.
Zebpay Review
B+ / 9.40
Urdubit
PKR
The easiest way to buy bitcoins in Pakistan.

Urdubit exchange has been shut down due to State Bank of Pakistan prohibition.

B+ / 9.05
Remitano
+ 20 More
20+ Currencies
New P2P bitcoin escrowed service, where you can buy/sell bitcoin locally (similar to LocalBitcoins).
B / 9.00

The Best Bitcoin Exchanges in Mexico / Brazil / Argentina / Chile / South America

Bitso
MXN
Pademobile
Mexico's largest bitcoin exchange. Fund your balances with a bank account or with cash (137,000 physical locations).
B+ / 9.45
Chip Chap
EUR, MXN
Safetypay
Allows Mexican users to exchange Ƀ to Mexican Peso through 5,000 brick-and-mortar stores and partner ATMs in Mexico.
B+ / 9.30
Bitex.la
incl. except
ARS BRL CHP MXN
The most popular bitcoin exchange in Latin America that offers buy and sell bitcoin transactions in Argentina, Brazil, Chile, and Mexico.
B / 9.15
SatoshiTango
South America incl.
ARS
Fast and secure way to buy and sell bitcoin in Argentina using a credit card or local bank transfer.
B+ / 9.35
Mercado Bitcoin
R$
The largest BTC exchange in Brazil and South America.
B+ / 9.30
FoxBit
R$
The leading bitcoin exchange in Brazil.
B / 9.25
bitInka
PEN
South American bitcoin exchange to buy and sell bitcoin in Peru, Venezuela, Bolivia and Brazil.
B / 9.20
Guarani Bitcoin
PYG
The most popular Ƀ exchange in Paraguay.
C+ / 8.70
Surbtc
CLP, COP
The largest bitcoin exchange in Chile and Colombia.
C+ / 8.60
Surbitcoin
VEF
The largest BTC and digital currency exchange in Venezuela, peer-to-peer cash options and bank transfer.
C+ / 8.20

The Best Bitcoin Exchanges in Israel

Bit2c
Bitcoin exchange that allows trading between Shekel and BTC.
B+ / 9.40
Bits of Gold
Same-day bitcoin buy/sell service platform located in Israel.
B+ / 9.25

The Best Bitcoin Exchanges in Dubai, UAE / Saudi Arabia / Middle East

BitOasis
AED
The first bitcoin exchange and BTC wallet in Middle East including Dubai. Protects your digital assets using a multi-signature technology.
B+ / 9.30
Indacoin
incl.
The quickest bitcoin purchases with no registration.
B+ / 9.25

The Best Bitcoin Exchanges in Nigeria / Africa

Nairaex
NGN
Perfect Money, WebMoney
The biggest Nigerian bitcoin exchange to buy and sell Ƀ using Perfect Money and WebMoney with Nigerian Naira at lowest fees.
C+ / 8.50
BitPesa
Africa
KES NGN TZS UGX
Bitcoin startup in Africa that offers to buy bitcoin with a mobile phone as well as remittance service.
C+ / 8.30

The Best Bitcoin Exchanges in Russia

Xchange.is
The most popular bitcoin exchange in Russia. Variety of deposit options.
B+ / 9.15
Yobit
350+ Crypto Pairs
The largest Russian cryptocurrency exchange. Low fees and high liquidity.
B / 9.05
Bestchange
Yandex, Qiwi, Perfect Money, Sberbank, Alfabank, VTB24 + 30 More
Bestchange is the oldest Russian bitcoin exchange. You can buy bitcoin with Russian Rubles through a bank transfer, cash, Yandex Money or PayPal.
B+ / 9.10

The Full List of Bitcoin Exchanges Worldwide

xCoins.io
incl.
Fast approval for new users, instant for recurring clients. Visa, MasterCard, and PayPal are accepted.
B+ / 9.25
Shapeshift
incl.
30+ Crypto Pairs
30+ Coins
Cryptocurrency exchange that offers its users to buy a variety of altcoins without the need to register.
B / 9.20
Bitcoin.de
incl.
SEPA
The largest Ƀ exchange based in Germany.
B+ / 9.15
CoinsBank
incl.
OKPay, PerfectMoney
You send them money, they give you bitcoin debit card. Users say that they charge enormous fees (formerly known as Bit-X).
B / 9.10
Cryptopay
incl.
Visa bitcoin debit cards in GBP, EUR and USD. Cards must be loaded with bitcoin prior to being uploaded into online interface.
B+ / 9.25
Vaultoro
incl.
Gold
Gold
The first gold to bitcoin exchange where you can trade bitcoin directly for physical gold. Located in Switzerland.
B+ / 9.30
BitBay
PLN
The most popular bitcoin exchange in Poland available for EU citizens.
B+ / 9.10
c-cex
Crypto Pairs
Crypto to crypto exchange and a fiat to crypto exchange.
B / 8.70
BitBargain
A P2P marketplace that connects buyers with trusted sellers. Get bitcoins in the UK quickly, safely, and at a competitive price.
B+ / 9.05
Anycoin Direct
CAD
EPS, Mistercash, SOFORT
Dutch bitcoin exchange that offers instant buying and selling bitcoin transactions in Europe and Canada.
B+ / 9.00
Paymium
SEPA
The first European bitcoin exchange founded in 2011 and located in France. They provide fiat euro to BTC exchange service.
B / 8.95
HappyCoins
SEPA, iDeal, Bancontact MisterCash, GiroPay, MyBank, SOFORT, Interac.
Safe, fast, transparent and cheap bitcoin exchange service for those who wish to buy and sell cryptocurrency at no hidden fees.
B / 8.90
Xapo
incl.
Mobile wallet and vault with a useful app. It offers a debit bitcoin Visa card.
B / 8.90
247Exchange
incl.
All currencies
Fair prices and good reputation but verification process takes some time.

Currently, the website of 247exchange doesn't work. In September 2018, it was announced that the team of 24exchange is looking for investors to finish 247: Platform & App development.

B / 8.85
Bitit
incl.
CAD AUD NGN
Buy bitcoin online with a 3D-Secure debit or credit card. Also offers cash option in more than 150,000+ stores using Cashlib, Neosurf, Flexepin or vouchers.
B / 8.80
CoinCorner
UK-based bitcoin exchange with a great interface. The wallet is beginner-friendly, easy to use, and quite intuitive.
B / 8.75
Bittylicious
Instant
Reliable bitcoin exchange in the United Kingdom that offers easy way to buy bitcoins using a UK bank transfer. Low fees, fully guaranteed and very simple.
B+ / 8.70
CoinGate
Moneypolo
Bitcoin payment processor and exchange, enabling individuals and businesses to accept payments in bitcoin and receive payouts in USD, EUR, GBP.
B / 8.65
Cashila
European Ƀ payment gateway and bitcoin-to-euro conversion service. Cashila is focusing on B2B services only.

As of 1st of June 2017, the broker Cashila stopped its operations, and it no longer offers its services for traders.

B+ / 8.60
Coinfloor
PLN
Coinfloor is one of the UK's top exchanges. It uses 100% multisignature cold storage.
B / 8.55
Coinfinity
Bitcoin ATMs, SOFORT, Bitcoinbon
Austria's leading bitcoin broker that offers services for consumers (buying bitcoin with cash) and businesses (accepting bitcoin payments).
B / 8.50
Bity
CHF
Bity Kiosks (Bitcoin Cash ATMs), SOFORT
The easiest way to acquire or sell bitcoins in Switzerland, France, and Germany. Bitcoin cash ATMs are located in Geneva, Lausanne, Zürich, Montreux, Neuchâtel.
B+ / 8.45
Safello
SEPA, SOFORT, iDeal and Handelsbanken Direct
Safello is the safe and simple bitcoin exchange for European customers in 37 countries. Instant buying and selling with online bank transfers.
B / 8.40
Bitsane
SEPA, OKPay, Advcash
Bitsane is a spot trading exchange for BTC, Litecoin, Ethereum and other crypto currencies.
B+ / 8.45
BTCX
SEK
SEPA
BTCX is the oldest Swedish bitcoin exchange. You can buy bitcoin with Euros (SEPA) or Swedish Crowns (SEK) through Swish or a bank transfer.
B+ / 8.35
Bitwala
incl. excluding
+ 20 More
SEPA, SWIFT
World's leading bitcoin prepaid card & blockchain banking that allows global bank transfers to over 200 countries.
B / 8.30
Buysomebitcoins
incl.
Gift Cards
Buy BTC with credit card instantly. Credit/debit and gift cards accepted. No ID verification required.

The exchange BuySomeBitcoins has been acquired by SIFR ltd. The website currently doesn't work.

B+ / 8.25
WEX (ex BTC-E)
excl.
PaySafe, PerfectMoney
WEX (ex BTC-E) is one of the oldest bitcoin exchange in the world. On the 28th of July 2017, US authorities seized the btc-e.com domain name.

All the websites of BTC-e trading platform (including such domain names as btc-e.nz, wex.nz and wex.link) were shut down on November, 2018 by the U.S. government.

C / 5.10
BTCChina (CLOSED)
excl.
Crypto Capital
BTCChina, one of the leading Bitcoin exchanges in China, is permanently shutting down on Sep 14, 2017.
B / 8.45
Should you have questions regarding this "top 100 exchanges" article, feel free to drop a comment to us at BitcoinBestBuy, so we can improve it in the future.