As we've already represented many platforms, wallets and services which provide the professional support and meet the interests of people in popular cryptocurrency issue, we couldn't leave unmentioned the outstanding Bitgo wallet. We've tried to make the detailed review of BitGo wallet in order to help you to become aware how it works.
Summary: How to Use BitGo Wallet
Register an account at BitGo and go through e-mail verification process.
Set up 2FA and recovery code, backing up the key on and off your computer.
Go to the "My BitGo Wallet" page and click "Receive" button.
Copy address code or QR code and send these to the seller or to your other wallets.
Receive coins and check your balance to make sure that you have received correct amount.
With the rapid growth of cryptocurrency industry, traders around the world are now searching for the right combination of safety and functionality in wallet platforms. Many new players have entered the game, while old companies are trying to improve their portfolio to catch up with changing times.

This quick guide revolves around one of such companies, called BitGo. The platform is evaluated in terms of its ability to protect clients' funds, fees it charges, verification & registration process and other important wallet services. At the end of the review, we construct pros and cons section for you to use and compare to other wallets.
What Is BitGo Wallet?
BitGo is a cryptocurrency wallet and vault service provider that offers its portfolio for both individuals and organizations. The company was established in 2013 by Mike Belshe and Ben Davenport, with its headquarters located in Palo Alto, California. The main milestone of the enterprise was in 2014 when $12 million was received from Redpoint Ventures as a part of venture capital funding.

The platform processes over $10 billion worth of transactions on monthly basis since traders from around the world can and do use its products. The company offers extensive portfolio for its clients, including wallet, offline vaults, API tools, and Freshdesk (online support). At the end of 2017, the company also made a huge fundraising project, collecting over $42 million to improve bitcoin's ecosystem within its platform.
Services and Features
BitGo did not become one of the more popular online storing platforms without a good set of services for its clients. Through recent fundraisers, a platform developed several features and functions that you need to be aware of them being a security system, fee structure, number of cryptocurrencies, its customer support, multisignature wallets and secure vaults.
Reliability and Security
BitGo offers several layers of protection for its users. The first is the IP address whitelist, that you need to confirm each time you sign in from a different computer. Next is the two-factor authenticator (2FA), which could be used through Google Authenticator or Yubikey. Apart from computer authentication, you can also use iOS or Android devices as an additional factor of login, to protect your account from hacking attempts.

As you register an account, you get a recovery key for your wallet in case platform or your balance is jeopardized. The key should be stashed in your computer and printed out to effectively safeguard it from attacks. Unfortunately, the key is publicly generated, thus is not considered to be a private key.

As a last layer of defense, you also have password manager and email notification system. The notification tool is handy to have on at all times, as it will notify you when another user try to reach your account.
As for the reliability, BitGo is known to have a stable server environment, with very little downtime recorded in past few years. The company invested large funds up to 2017 to increase its reliability and service availability, meaning that a large number of customers can use the platform without any issues.
BitGo Wallet Fees
The platform offers two distinctive fee programs for users to choose from. You have a "Pay As You Go" and "Business Accounts", with the first being the more popular choice for traders. You pay up to 0.25% of outgoing transfers, which is considered as a little bit high fee, especially if you happen to move bigger volumes of bitcoin around.

Business accounts are meant for organizations and investors with large trading assets and coin volumes. The fees are structured according to the monthly volume achieved, while the cost program itself is established on a case-to-case basis.
Accepted Cryptocurrencies
Depending on the chosen fee program, the number of accepted cryptocurrencies varies as well. Supported coins are thus organized as following:
Pay As You Go: bitcoin, Bitcoin Cash (BCH), Bitcoin Gold (BTG) and Litecoin (LTC);
Business Accounts: bitcoin, Bitcoin Cash (BCH), Bitcoin Gold (BTG), Litecoin (LTC), Ethereum (ETH) and Ripple (XRP).

Customer Support
You can contact support department directly through their side website called Freshdesk, which is dedicated to customer relations, by posting an online support ticket. You also have an extensive FAQ section on the same page, where most of the wallet-related issues are answered.

BitGo is yet to develop a live chat communication, meaning that your issues solvency depends on the customer support's working hours and level of ticket traffic.
Multi-Sig Wallets
Wallets at BitGo all require multiple signatures for transactions to take place. This feature allows time for you to react in case the said transfers were not made by you. You can set them up through GitHub files available for you by copying them to your desktop computer. All cryptocurrencies have the same feature with their wallets.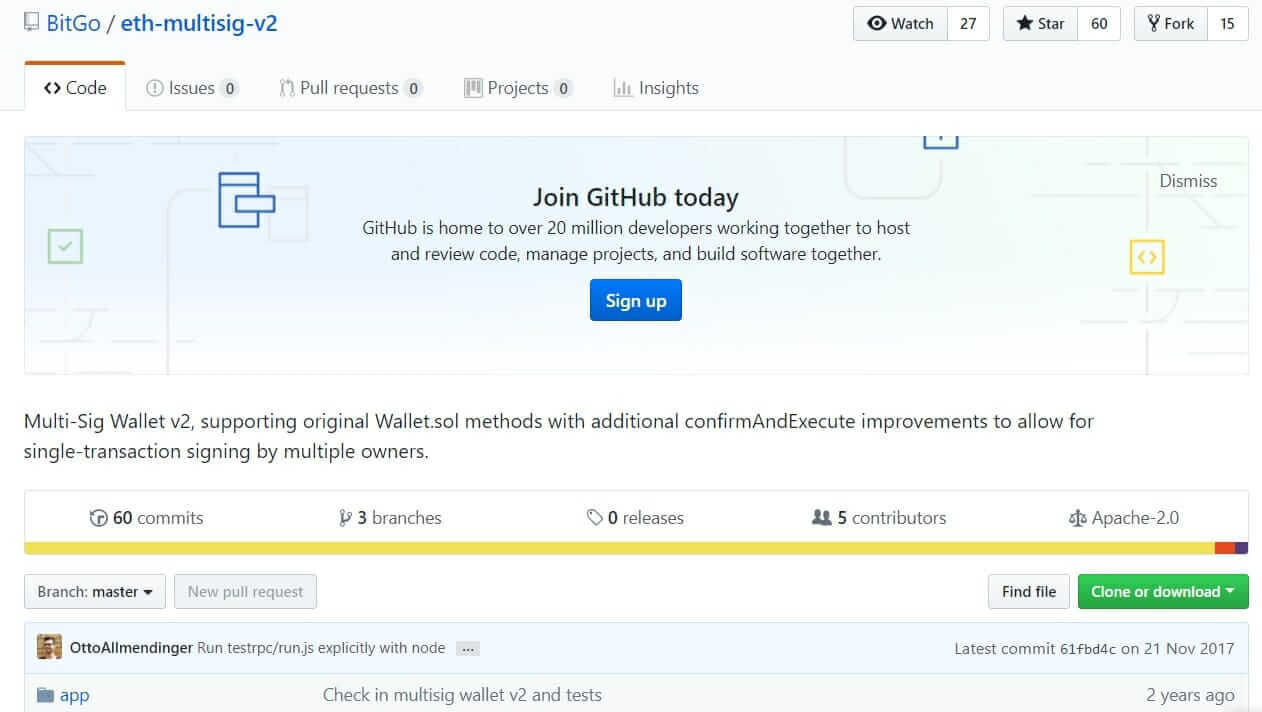 Apart from multisig products, you also have an option to use BitGo Instant, which is available for business users. Transfers are instantaneous, with a promise made by a company to never make double-spend transactions.
Offline Vaults
Offline vaults did offer several more security functions for you to use, back in 2015 when the product was active. Currently, it was brought back to development, due to the issues is seen in encrypting the keys and recovery codes. You would download the console on your computer, turn off the internet connection and generate your own private keys.

The potential reason why vault is not functioning at the moment is the Bitfinex's hacking incident in 2016, where almost $70 million was stolen in coins.
Privacy
When registering an account, you are required to provide your actual first & last name, email and password. Apart from the sign-up form, you are not demanded to provide any sort of personal documentation. Nevertheless, the company reserves the right to ask scanned ID in case it feels a breach of security or website's rules has occurred. Thus, it would be prudent to provide real and correct information about yourself.

How to Use the BitGo?
Once registered, you should set up 2FA immediately. After you set up the authentication, head over to "Wallet" page click "My BitGo Wallet" to access the transaction page.

Once there, click on "Send" or "Receive" buttons, depending on whether you wish to get or provide coins from your balance. You will be redirected towards the transfer page, where you can generate QR or address codes. Enter the volume you wish to get or receive and you are all set.

When receiving, you should be able to see an ever-increasing number of wallet addresses. The said process helps you protect your funds, and no matter what code you copy, it still counts in your total balance.

FAQs
How Long Does Transaction Take?
Transactions made through ordinary wallets take up to 10 minutes to conduct, depending on confirmations made. You can use instant wallet service if you wish to instantly send or receive coins. Do take into account that transfer fees would increase, due to the higher priority inquiry for the blockchain network.

Does BitGo Have a Mobile App?
BitGo, at this time, does not offer any other platform for you to use, including iOS or Android app. Since 2014, the company has not made an announcement regarding mobile platforms, meaning that it is not planned to be developed at this stage.
For phone users, there are other variants that are available, Mycelium and Schildbach wallets being examples.

Benefits and Downsides
Pros
globally available services;
multisignature wallets available for all cryptocurrencies;
several security tools available.
Cons
offline vaults currently not available;
no mobile apps supported for iOS and Android users;
high transaction fees.
Bitgo Wallet Alternatives
There are many other alternatives to BitGo out there. They differ in services offered and in many other aspects. Thus, we made a number of platform reviews that offer storage products for their clients. To properly understand just how good BitGo really is, you should familiarize yourself with its competitors. Thus, check our review about Coinbase, TREZOR and Jaxx wallets.
Coinbase BTC Wallet – Read More
Unlike BitGo, Coinbase does offer vaults in its portfolio. The only issue with the exchange is that only 32 countries are supported at the moment since it operates as both wallet and exchange platform.

Read our review of the Coinbase's wallet and vault services, as we go through its security features, wallet functions, accepted cryptocurrencies, fees and verification demands.
Find Out More About TREZOR
If you are looking for best available security, you should seek hardware (HD) wallets out, especially TREZOR. One of the first ever physical crypto storages, TREZOR offers online and offline cold storage of your coin, as an insurance of your assets. Take a look at our review of the product to get a better idea of what device actually is.

Review of Jaxx Wallet
If HD wallets are too expensive and you distrust online wallets, then desktop wallet like Jaxx might be the right choice for you. Head over to our Jaxx tutorial on how to properly set the program up and what are its pros and cons that you should know about.


Should you encounter an issue that has not been covered by this guide, feel free to contact us directly at BitcoinBestBuy, and we will ensure to get back to you right away with needed answers.