Another country where the cryptocurrency has gained popularity is Nigeria. This is a good reason to talk about how to buy bitcoins if you live there. We will also see which BTC exchanges are accepting the Nigerian Naira.
Summary: How to Get Bitcoin in Nigeria
Create a free account at an exchange of your choice, that supports Nigerian region (Bitkoin Africa in this quick guide).
Verify your email and proceed towards full verification by clicking "Verify Account".
Once identity check is finalized, click "Buy or Sell Now" and locate the seller that suits your needs.
Once you have located the seller, click "Buy Now" and review trade agreement.
If everything is up to your satisfaction, click "Review and Confirm" to start the transaction process.
Choose the payment method from the list and click "Pay" to get coins in your balance.
To withdraw from the exchange, click "Wallets" tab, then "Bitcoin Wallet" and finally "Withdraw" to transfer out BTC.
The bitcoin industry is a true hit worldwide. It also underwent a massive expansion in Nigeria recently. A lot of newbies are hopping on board, trying to earn something on the crypto market. But the truth is that you cannot start trading BTC without any prior knowledge.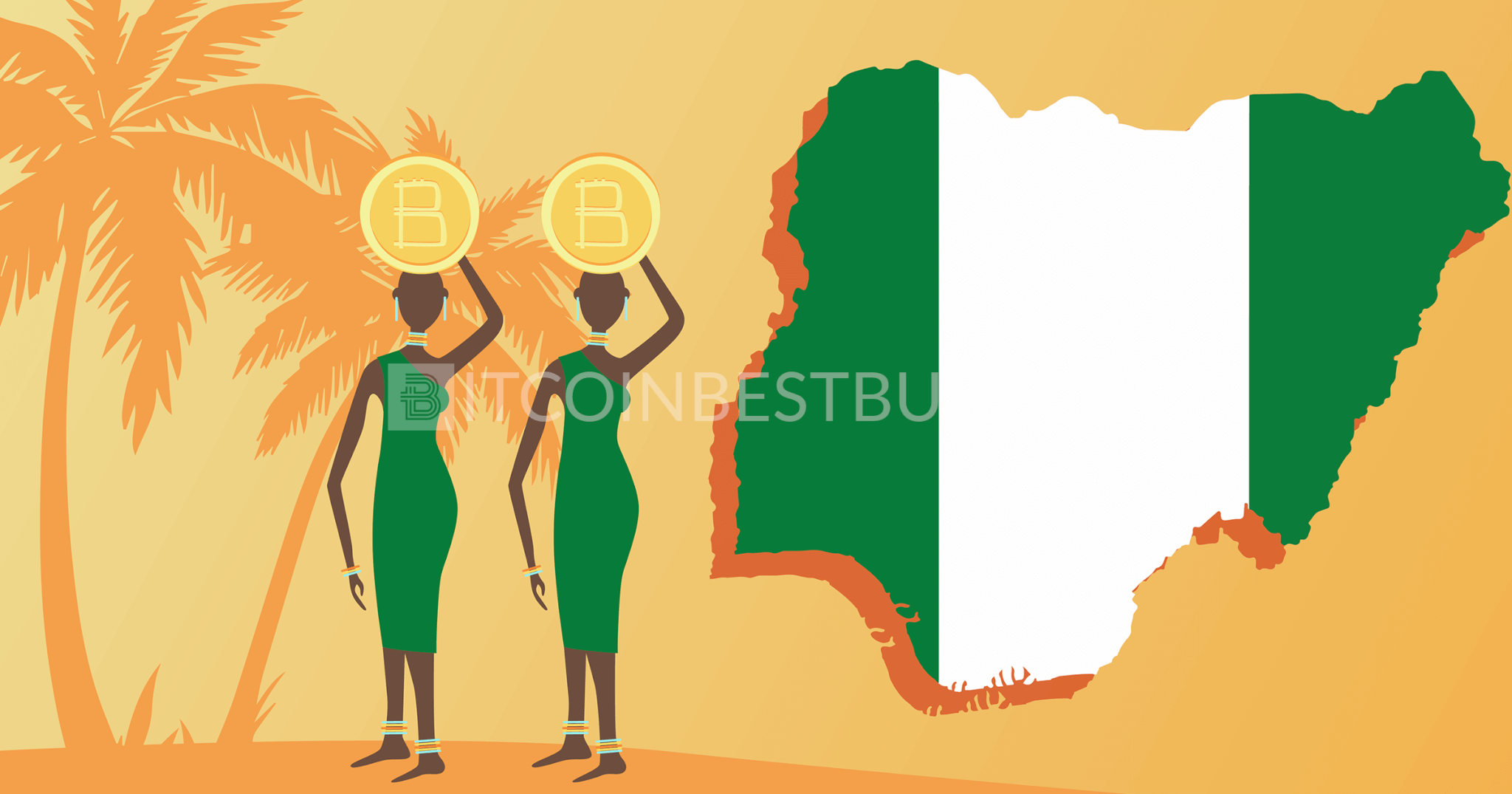 That is why this article is focusing on tips to buy bitcoins in Nigeria. We will discuss the legality of the market in this country and analyze available purchasing options. You will also read a detailed step-by-step guide on where and how to buy BTC.
Legality of BTC in Nigeria
There are no restrictions or official bans when it comes to using and trading bitcoins in Nigeria. However, the crypto market is not regulated, which opens a lot of room for scams. The Central Bank of Nigeria issued a statement last year emphasizing that "they do not have an option to regulate or control BTC."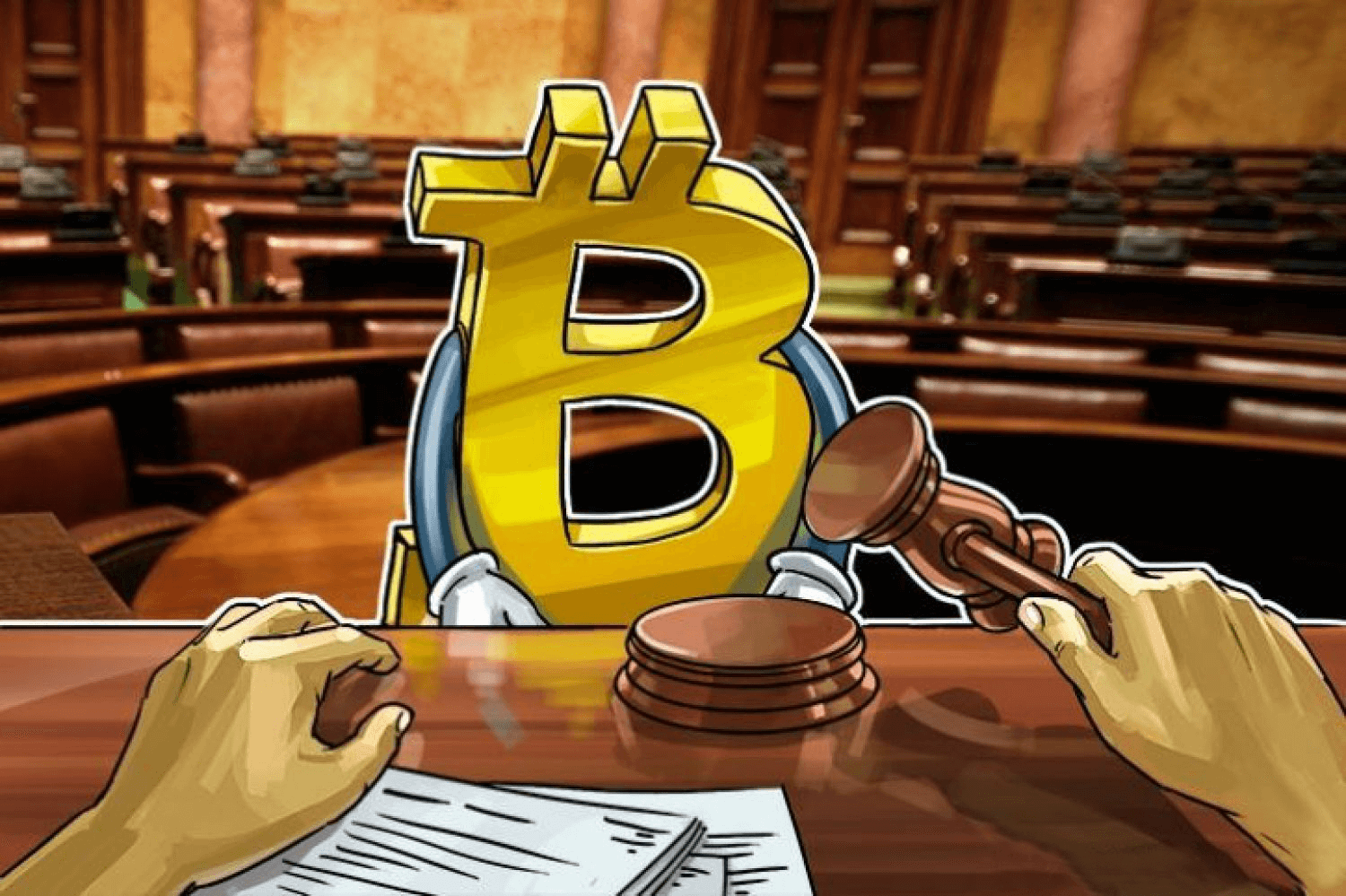 The authorities in Nigeria are still working on finding a way to adopt blockchain, which would pave the way to regulating the crypto market. Until that happens, you need to be careful when trading BTC. The positive side of this is that you are currently not required to pay tax on any profit you make.
Where to Buy Bitcoin in Nigeria?
Our analysis confirmed that there are over a dozen available options for buying BTC in Nigeria. How are they different and what are their advantages compared to the competition? That is what you will find out in the following section, where we review Bitkoin Africa, Luno, Remitano, and other popular platforms.
Bitkoin Africa
Bitkoin Africa is based in Lagos and it focuses on serving the crypto enthusiasts in Nigeria. The platform's peer to peer system allows you to buy and sell bitcoin, as well as bitcoin Cash, Litecoin, and Ethereum.

Before you can start trading, you need to create an account and verify your identity. You will need a working email address, a Bank Verification Number, a phone number, and a valid bank account. It might seem that the verification process is a hassle, but it is for your safety.
Bitkoin Africa uses an escrow system to protect users against scams. Posting the desired trade is simple and can be done in a couple of clicks. Once you choose the desired trader, you proceed to finalize the transaction where you need to choose a payment method.
You can pay by debit card or directly from your bank account with NGN. The fee is 0.5% regardless of the transaction size.
Pros
escrow system protects against scams;
simple process for buying and selling crypto.
Cons
verification requires effort.
Luno Exchange
Luno offers its service in Nigeria, Malaysia, Indonesia, South Africa, and various countries across Europe. The company was established in 2013 and it is based in London. It offers services of trading and storing bitcoin and Ethereum. If you only want to use Luno as a wallet, it is enough to register with a valid e-mail address.

In case you want to buy or sell BTC, you need to pass identity verification. There are three account tiers available on Luno. The first level requires just some personal details and a phone number, but it will only allow you to trade up to NGN 200,000 in total. Sending them a national ID or passport and a proof of address can raise your limits up to NGN 10,000,000 per month.
Some of the platform's safety features include Two-Factor authentication, using SSL and PGP encryption, as well as storing the majority of funds offline. Accepted payment methods include credit card and bank deposit in NGN, EUR, IDR, MYR, and ZAR. Makers do not have to pay a trade fee, while takers are charged from 0.20% to 1% depending on trade volume. Various deposit and withdrawal fees also apply.
Pros
you can also use it as a BTC wallet;
no trade fee for makers;
Cons
low limits without proving your identity.
Remitano
Remitano is not a classic crypto exchange, put a P2P platform allowing people to easily buy and sell cryptocurrencies. It only requires email for registration, which means that you can stay anonymous on the website. That leaves some space for scams, which is why you should pay attention to your trading partners. Make sure to take a look at their profiles, check if they are verified members, and read the feedback from other users. The escrow system is in place, but you can never be too careful.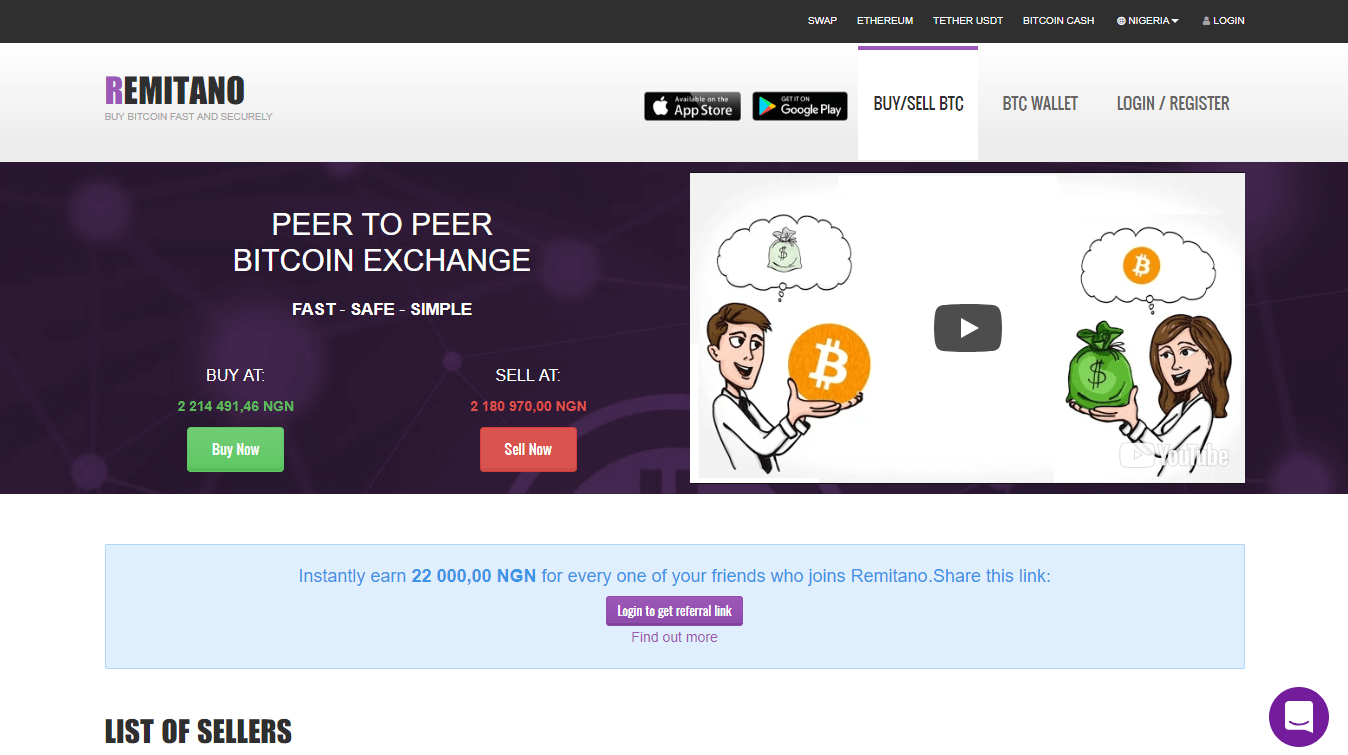 The company is registered in Seychelles and operates in over 50 countries, including Nigeria. You can use bank transfer to buy BTC with Naira on this platform. The fee for each trade is set at 1% and it is paid by the takers.
Pros
no need to verify your ID;
quick and straightforward process.
Cons
be careful of potential scams.
LocalBitcoins
LocalBitcoins is a European-based company that was founded in Finland in 2012. The idea of the service is to provide users with a maximum level of privacy. You can use LocalBitcoins to find buyers or sellers nearby. Although that enables you to meet in person to arrange the trade, it is not recommended for security reasons. If you stick to the platform, you will be protected by the escrow system.

Bitcoin is the only supported cryptocurrency on LocalBitcoins. However, the website offers more than a dozen payment options. The most popular ones in Nigeria include National bank transfer, but you can also choose cash deposit, PayPal, or Skrill. The platforms accept NGN and charges 1% fee to the person who posted the advertisement.
Although the website offers a quick and private way to buy BTC, be careful of possible scams. Our advice is to carefully analyze the profile of the user you want to purchase from.
Pros
various payment methods accepted;
no need to verify your ID.
Cons
plenty of room for scams;
only supports bitcoin.
Tanjalo – New BTC Exchange
Founded in 2017, Tanjalo platform is a fresh addition to websites that allow you to purchase BTC. In fact, this is the only thing that you can do via their website. They do not allow selling bitcoins, and they do not support any other crypto coins.

However, Tanjalo offers the simplest buying process of all the services we tested, and it does not demand to verify your identity. The homepage allows you to enter the desired amount of Naira you want to spend, and automatically calculates how much BTC you will get. In the next step, you will need to provide a valid address of the wallet where you want coins delivered.
The payment can be made with the debit card, credit card, or by using a bank account registered in one of the eight Nigerian banks supported. The payment process is secured by PayStack, which is a reputable company in Nigeria.
The downside of Tanjalo is that they fail to include other details about security and they do not reveal trading fees to the public. If you compare their rates with other exchanges, you will find that using the platform does not come cheap.
Pros
the extremely simple buying process;
allows you to remain anonymous.
Cons
fairly new company;
high fees that are not revealed publicly.
Mycelium Local Trader
Mycelium Local Trader gives you the opportunity to purchase bitcoins through a live person-to-person transaction. You will need Mycelium wallet to be eligible for this service, but there is a free download available for PC, Android, and iOS. When you start the app, you will notice the "Buy bitcoin" tab. Enter your location there and the software will list the nearby traders. Select the one that you think is trustworthy and agree to a meeting.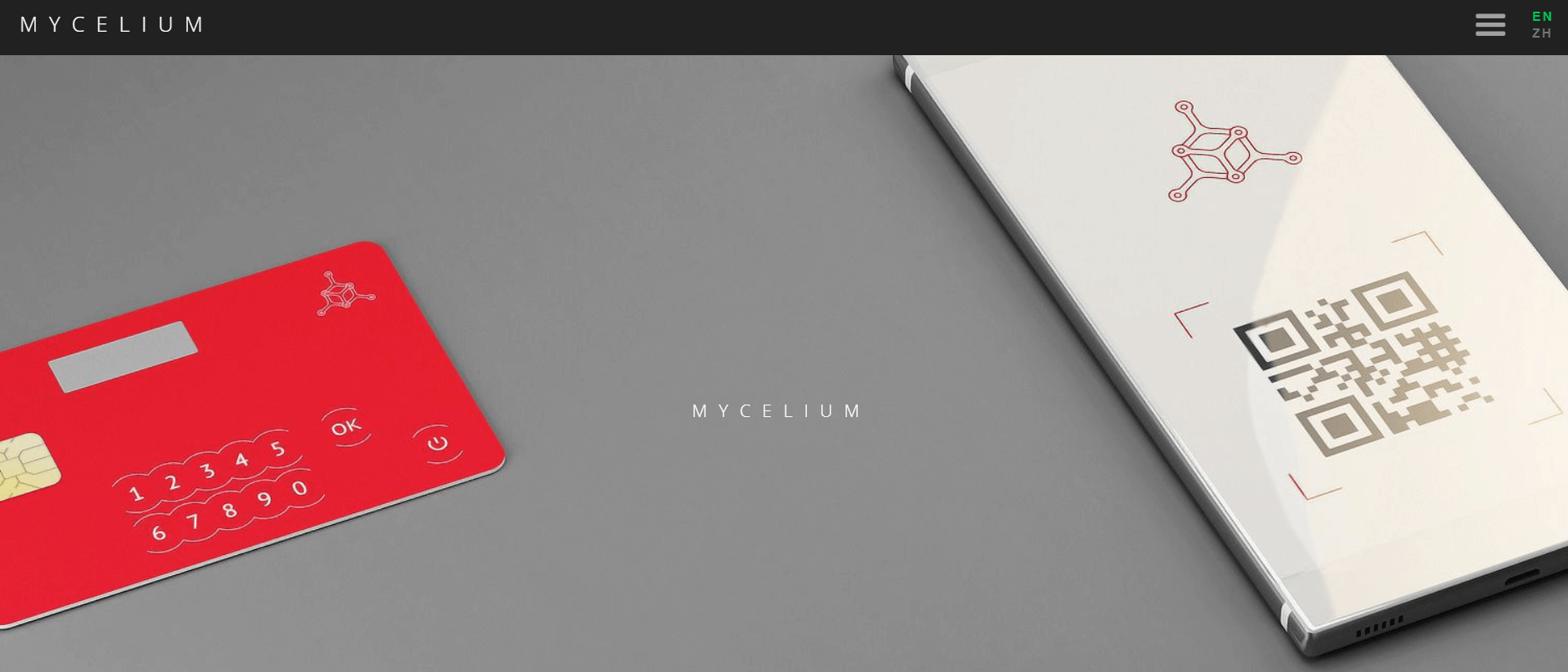 The payment arrangement is completely up to you, which means you can even give the seller cash in person. Once they confirm the transaction, the funds will quickly transfer to your wallet. The platform does not charge you anything, but the seller might require a fee.
There is a high risk involved when using Local Trader, as you do not know the trading partner you are going to meet. Always avoid taking big sums of cash and arrange meetings in public locations.
Pros
the platform takes no fees;
enables person-to-person transactions.
Cons
NGexchanger
NGexchanger is a Lagos-based company, founded a couple of years ago. It supports over a dozen crypto coins, including bitcoin, Ethereum, Litecoin, bitcoin Cash, Ripple, Cardano, Tron, EOS, bitcoin Gold, Steem, Dashcoin, and Ethereum Classic. Once you register with a valid e-mail, you can trade currencies worth up to $1,000 every day. Confirming your identity will remove this limit.

The platform is secure, but it is not reliable. NGexchanger manually processes all transaction, which means they could take hours to finalize your order. Their FAQ explains that the rate calculated will be the one at the moment of processing. Theoretically, this gives them a lot of room for scamming you.
The service also does not come cheap. The official fees are only N50, but the rates they offer are unfair. For example, if a Litecoin is worth N400 in other exchanges, purchasing it via NGexchanger will cost you N500.
Pros
high limit for trading without verifying your ID;
supports more than 10 crypto coins.
Cons
unfair rates;
manually processed transactions can lead to scamming.
NairaEx
NairaEx was established in 2015, and it did not take them long to position themselves as one of the most trustworthy crypto exchanges in Nigeria. Only verified users are allowed to buy and sell on the platform and the sellers even have to provide their bank information. If you are a buyer, sending them a copy of your ID card, passport, or voter's card will be enough.

You can create an order by using the intuitive NairaEx interface. Simply choose "Buy Orders" and create one with the amount of Naira or BTC you want to purchase. The platform supports bitcoin, Ethereum, Litecoin, bitcoin Cash, and Perfect Money.
Then you are required to send the payment to the company from your account in one of about 20 Nigeria-based banks. Once you do that, send them proof along with the reference ID, and you should have your crypto delivered in less than 12 hours.
Pros
very reliable;
simple trading process.
Cons
requires ID verification;
processing time is longer on weekends.
BitPesa Broker
BitPesa is based in Nairobi, but it has offices in Senegal, Nigeria, Luxembourg, and London. It was founded in 2013 and it has been growing ever since. The company has to comply with various laws and regulations. That means it is reliable and safe for your funds and personal information. You will need to pass a rigorous verification process, which can take up to two weeks before you can start trading.

Fortunately, buying bitcoins via BitPesa is simple. Go to the "New Transaction" tab and select the currencies you want to trade. Place your order and choose one of two payment methods – Paga or Bank Transfer.
Once they receive your Naira, it should not take more than an hour for you to receive coins to your wallet. There are no fees, but the company earns through rates, so be careful to choose those that work for you.
Pros
extremely reliable and safe to use;
quickly processes your orders.
Cons
the slow and rigorous verification process;
rates can vary.
ShapeShift
ShapeShift is a Switzerland-based company founded in 2013. It is an excellent place for converting one crypto coin to another. The process is completely anonymous and it does not require any kind of registration. While this keeps things private, it also prevents the platform from accepting fiat currencies. You cannot use NGN or any other government-declared currency on ShapeShift. Trading is restricted to cryptocurrencies.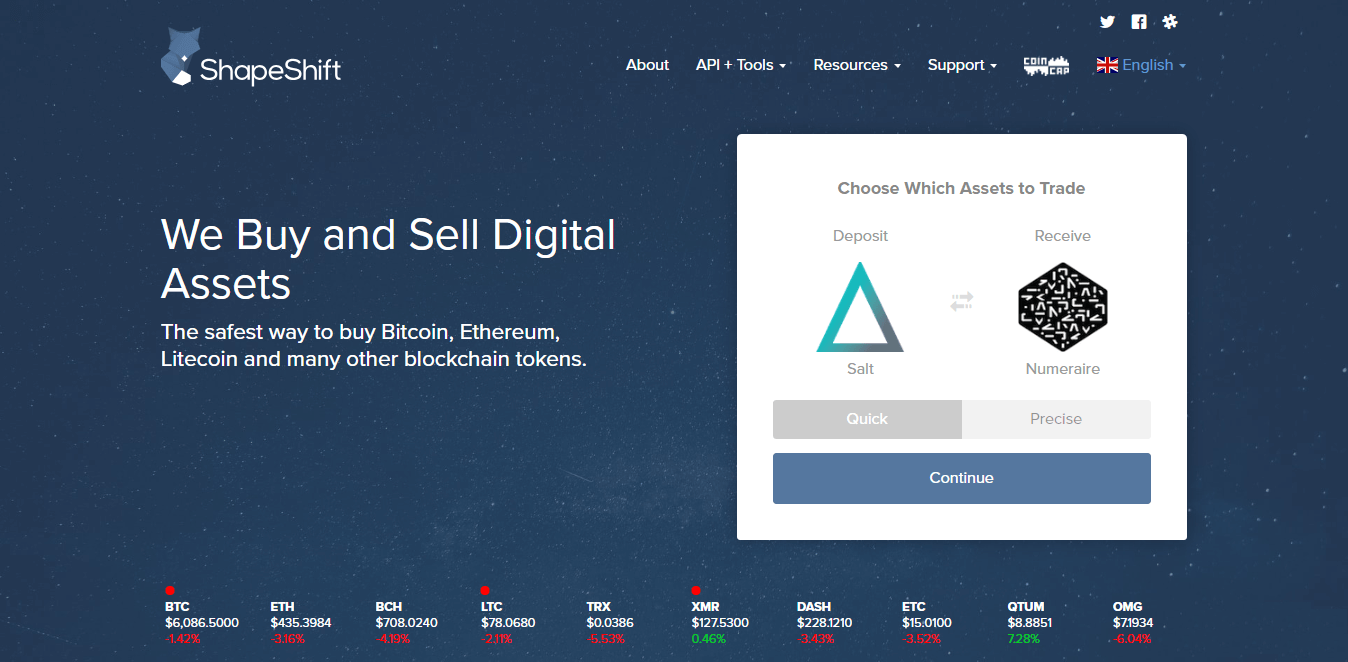 The conversion process starts by choosing the coins you want to swap. More than 30 digital currencies are supported. Next, you will be asked to provide the destination address of the desired wallet, as well as a refund address in case anything goes wrong.
ShapeShift will provide an address for you to deliver the coins you want to swap. As soon as the delivery is completed, the system will automatically send the other currency to your wallet. The only fee involved is the miners' fee and the company does not charge anything.
Pros
no charges, except for the miner fee;
you do not have to register – completely anonymous;
plenty of crypto coins supported.
Cons
does not support fiat currencies;
fees not shown transparently.
Marketplace #bitcoin-otc
#bitcoin-otc is an internet relay chat (IRC) channel that focuses on connecting users that want to buy and sell bitcoins and other digital and fiat currencies. Keep in mind that this marketplace is nothing else than a way of communication between potential trading partners. It does not participate in the exchange directly, so it does not take any fees.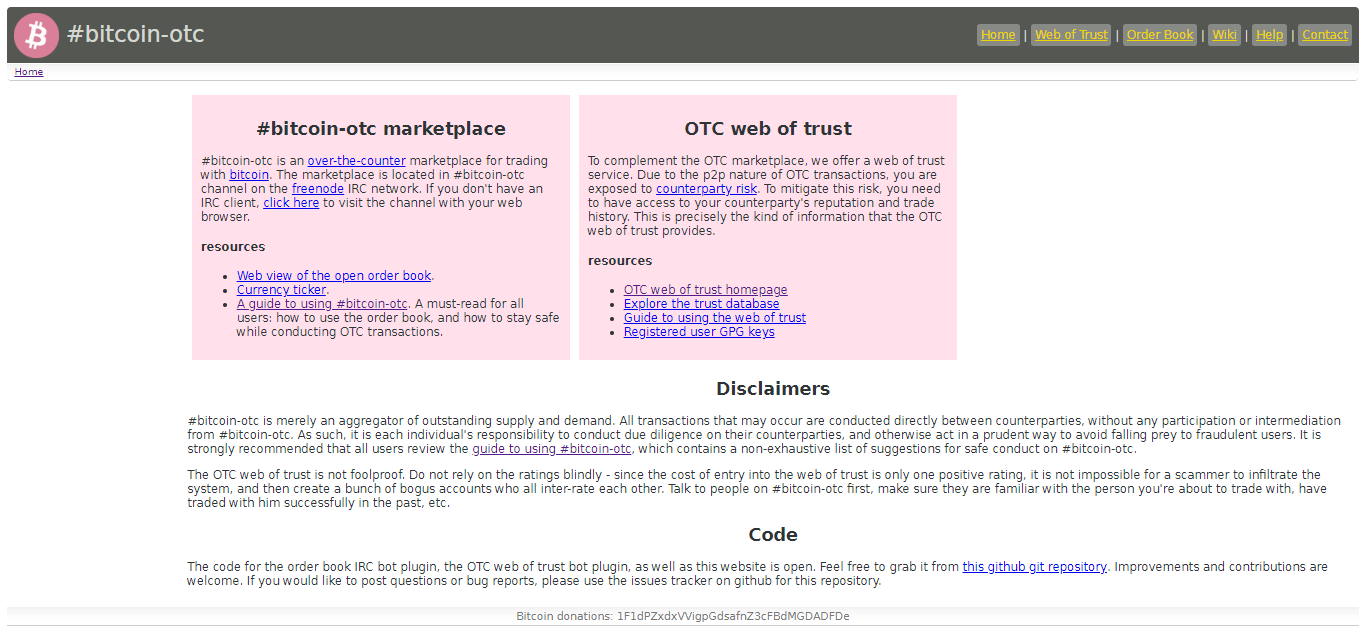 It is important to notice that sellers might charge something depending on the deal you agree on. The "anything goes" policy is also applied to the accepted payment methods.
There are two ways to access #bitcoin-otc – from your web browser or via an IRC client. The marketplace is anonymous, and you do not have to register for an account. If you are not used to IRC chatting, it might take some time to get used to the platform. Make sure to read the guide carefully to learn the right commands and rules of behavior.
Pros
all currencies accepted if a deal can be achieved;
does not require ID verification.
Cons
takes some time to get used to it;
quite risky if you are not careful.
Instant Gold Nigeria
Instant Gold Nigeria was established in 2007, although they started supporting bitcoin later. They are based in Ibadan and only serve Nigerian residents. The registration process requires an e-mail address and basic personal details. The trading limit is set at $500 per day for an unverified account, but you can remove this restriction if you verify your ID and postal address.

The list of supported crypto coins is limited to Ethereum and bitcoins. You can, however, use several payment methods, including bank transfer, PayPal, Neteller, WebMoney, and others.
The process of buying BTC is the following. You make an order and the system provides you an invoice with the reference ID. You can use a bank transfer, credit card, or internet-based payment to deposit the required funds to Instant Gold Nigeria. When the company confirms the transaction, you receive your bitcoins in no more than 24 hours.
Pros
exists for over a decade;
supports several payment methods.
Cons
the trading limit for unverified accounts;
takes time to process orders.
Naira4Dollar
We have serious doubts about the legitimacy of Naira4Dollar. They are in business since 2006, but the company still does not seem trustworthy. The owner recently revealed that $15,000 was stolen from the wallet used for this business, which raises suspicions over liquidity.

You will be required to enter your personal and financial details during the registration. We were not thrilled by the fact that Naira4Dollar asks us to enter our bank account number immediately. The entire website could look a lot better since the interface is confusing.
Fortunately, the process of buying BTC is not that difficult. You just need to generate an order and you will get the details on how to send the payment. After the transaction was confirmed, you will get your funds in maximum 24 hours.
Their primary source of income is through rates. The company supports bitcoin, as well as PayPal, WebMoney, and Perfect Money.
Pros
relatively simple trading process.
Cons
cluttered interface;
questionable liquidity.
NigeriaGoldExchange
The company is based in Port Harcourt, Rivers State, and has been in business since 2009. Today, they support bitcoin, Ethereum, bitcoin Cash, as well as several other e-currencies. They accept Naira, and the most popular payment method are cash payments. The fees are clearly stated on the website, which speaks in favor of transparency. However, the services of NigeriaGoldExchange are expensive, especially for small transactions.

During the registration process, you will need a working phone number and a valid e-mail address. This two-factor authentication adds another layer of security. Buying BTC is a quite simple process where you just need to follow the instructions. You can keep track of your orders easily via your account on the website.
Pros
quite secure;
easy to find your way around.
Cons
high fees, especially for small amounts.
ICE3X Bitcoin Broker
ICE3X or IceCUBED X was established in 2013 in South Africa, but the company expanded its support to Nigeria recently. This platform is a live exchange with its own stock, which speaks in favor of its liquidity. You do not have to worry about the security of the funds, as most of them are stored offline.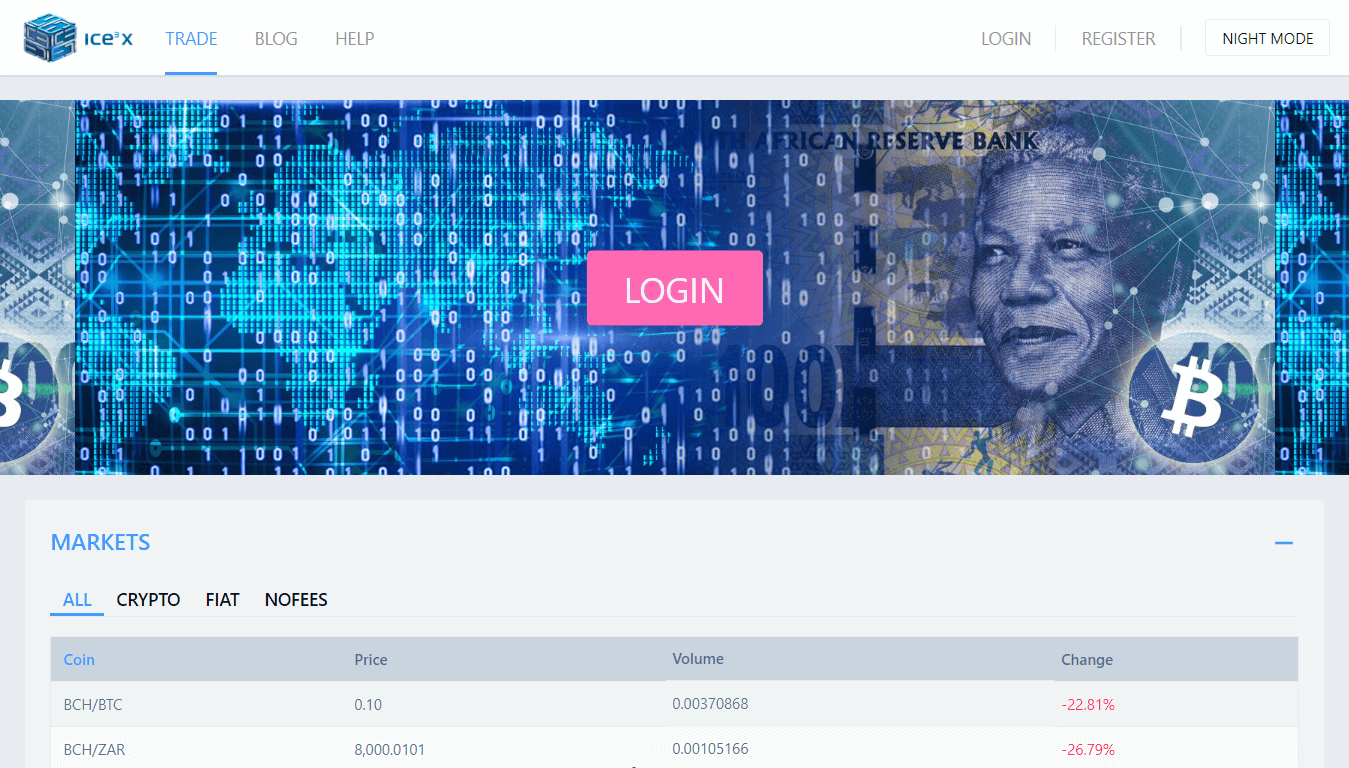 The fiat currencies supported are ZAR and NGN, while the platform also supports BTC, BCH, DASH, DOGE, ETH, LTC, XMR, and ZEC. In total, there are more than a dozen trading pairs in the Ice3x exchange at this moment.
You only need an email address to deposit and start trading. However, if you want to withdraw funds, you will need to verify your account by providing personal details such as ID and mobile phone numbers, postal address, and bank information. When it comes to fees, they vary depending on the currency and the trading volume, but they will not exceed 0.5% per trade.
Pros
excellent liquidity;
extremely secure;
supports several crypto coins.
Cons
requires verification for withdrawals.
Wink Payment
At first glance, Wink Payment website looks simple to use. We like that it is not crowded with unnecessary information. They immediately pinpoint that they focus on buying and selling only bitcoins and Perfect Money. The company is based in Lagos and only serves customers in Nigeria. It has been that way since they were founded in 2010.

Creating an account will require entering personal information, including your name, date of birth, phone number, and postal address. Fortunately, there seems to be no ID verification involved. Purchasing BTC via Wink Payment is a fairly simple process.
There are no fees involved, but the company offers slightly worse rates than worldwide popular exchanges. That is how they make a profit. The only accepted fiat currency is Naira and you can use a couple of payment methods, including bank transfer.
Pros
easy to find your way around;
fair rates compared to similar platforms.
Cons
does not accept other crypto coins.
Naira2USD
This e-currency exchange is based in Onitsha, Anambra State. It supports several crypto coins, included but not limited to Ethereum, bitcoin, Ripple, USDT, and ZCash. Please that they have an option for buying "Other crypto" but without specifying which ones, what is a bit confusing.

When it comes to methods for paying, you can use bank transfer and internet payment. Although they are Nigerian-based, this fairly secure platform serves the entire world.
The registration process requires you to enter your phone number, but there is no two-factor authentication. There is a $1,000 restriction per trade if you use an unverified account. Sending Naira2USD a government-issued ID and proof of address will remove this limit. They earn their profit through exchange rates, so it might be a good idea to compare them with other platforms before processing your order.
Pros
  supports several cryptocurrencies;
  fair exchange rates compared to similar companies.
Cons
no two-factor authentication;
requires verification to remove trade limits.
Paxful
Paxful is a platform for direct peer-to-peer trading between two traders. The crucial reason for their extreme popularity is that they offer more than 300 payment methods depending on your location. When it comes to Nigeria, the most popular method is National Bank Transfer, but you can also use MoneyGram, Western Union, Amazon Gift Card, and others. Some of these might require ID verification, while others let you to remain anonymous.

The only accepted crypto is bitcoin, and the purchasing process is a piece of cake. You select the offer that suits your needs. Each trader will publish their rate along with the minimum and maximum amount and accepted methods of payment. Paxful accepts NGN and other fiat currencies and only the seller pays a 1% trade fee.
The escrow system is in place to keep security at a high level. It is still on you to choose the trader you want to do business with, and you need to rely on the trader's reputation and feedback history.
Pros
more than 300 payment methods;
no fee for the buyers.
Cons
some methods require ID verification;
room for scams.
Bitcoin ATMs in Nigeria
We were not able to find any working bitcoin ATMs in Nigeria via Coin ATM Radar. There were some reports on possible setting up of these machines, but none of them were installed so far. The alternative that you can use is ExKash or another debit card available worldwide.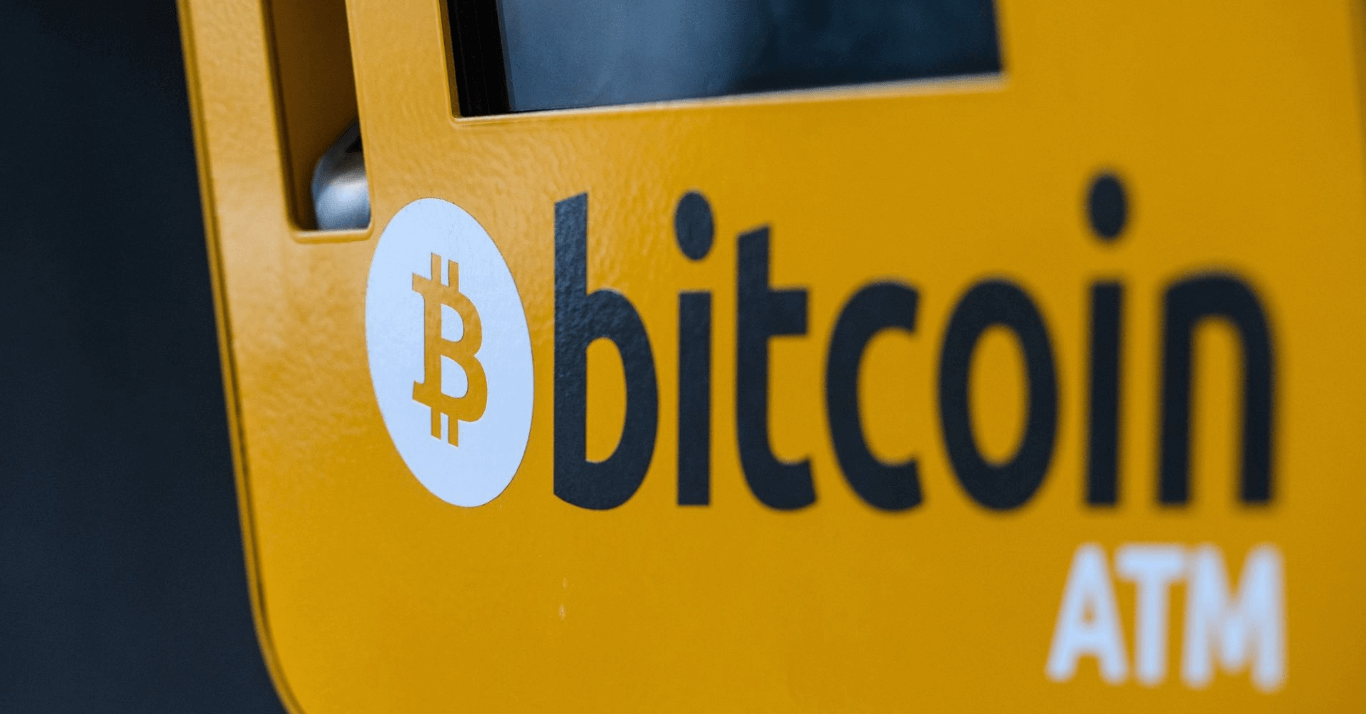 This card is directly connected to your BTC wallet. You just need to enter it in any local ATM, and you can get cash in exchange for your cryptocurrency. Most of these debit cards cost about $70-$100. The rates that you get for the exchange are harsh, and the fees are higher than when using an online platform.
Pros
debit cards that you can use on local ATMs.
Cons
no bitcoin ATMs in Nigeria currently;
high price and fees.
Guide to Buy Bitcoin Using Bitkoin Africa
If it is your first time buying bitcoins online, you want a user-friendly process that will not be a hassle. In our opinion, one of the swiftest ways to complete a purchase is to use Bitkoin Africa. Everything takes just a couple of minutes and you can have crypto in your wallet in no time!
Register
Visit the Bitkoin Africa website from your web browser. Click the "Register" button in the upper-right corner.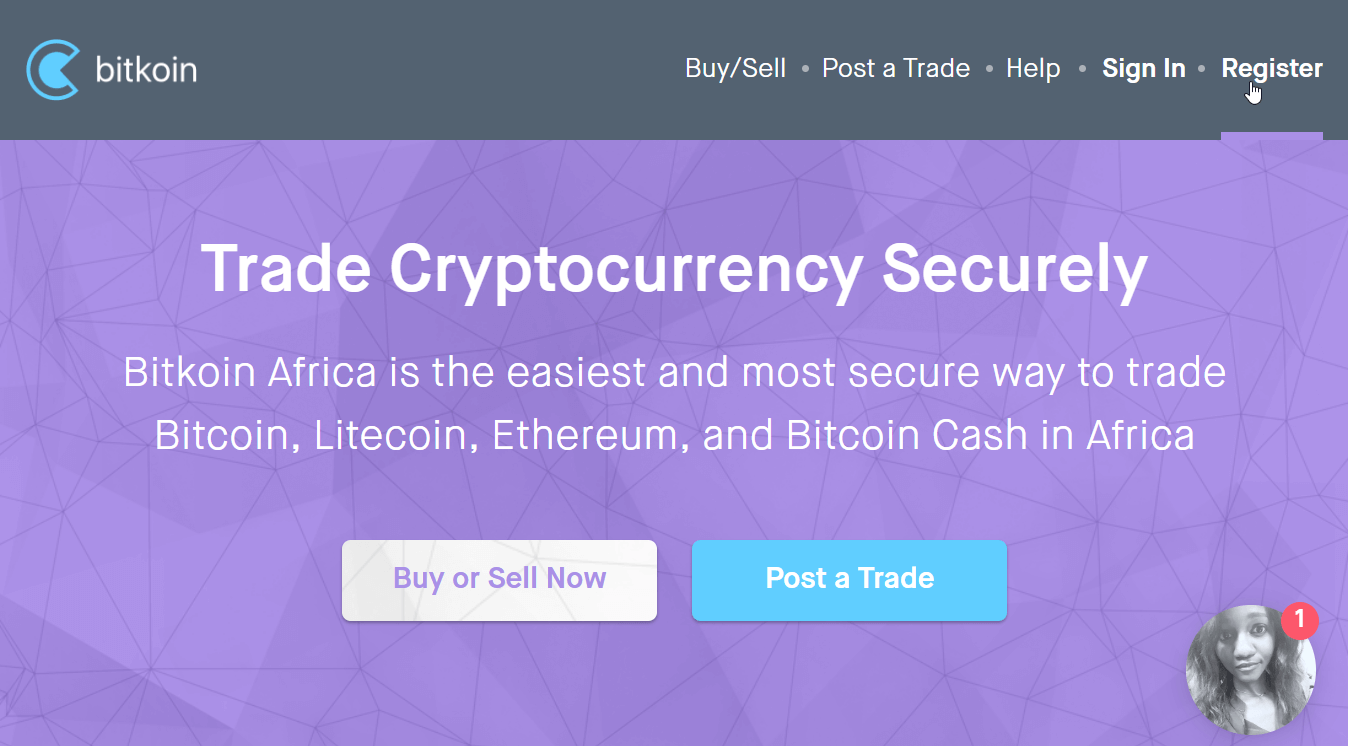 A form will appear where you will need to enter some basic personal info, including name and date of birth.
Choose the desired username and password (we suggest a random string of at least 32 characters). Confirm your email address by clicking the link in your inbox to finish the registration process.
Select Preferred Bitcoin Seller
Once your account is verified, you can access the trading platform from the top menu or homepage.

Now you can enter the details of your transaction. For this example, we selected Buy bitcoin and the amount of 0.01. The platform will list the available sellers that suit the chosen criteria. It is up to you to select the trader you want to do business with. We suggest trading only with users who verified their accounts.
Hit the "Buy" button to proceed to the next step.
Confirmation of Transaction
You will see a screen that will show all the details of the transaction. Take your time to double-check that the conditions are right for you. Can you find a better price per bitcoin? Did you enter the exact amount you want to purchase?

If everything looks okay, feel free to click on "Review and Confirm." The system will calculate the 0.5% trading fee and show you the total payment.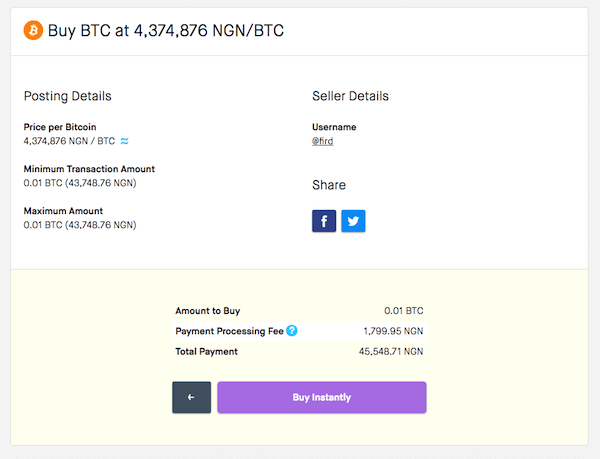 Click on the "Buy Instantly" button to finalize the transaction.
Choose Payment Method
The only thing remaining is to conduct the payment. The first option is to pay with a credit card by entering your card details.

Alternatively, you can use your bank account. Bitkoin Africa supports six banks in Nigeria. Enter your account number in one of those institutions. Use your date of birth and your mobile phone (2FA) to finalize the process.

If everything was processed correctly, you will get a payment confirmation.

Your wallet balance on the website should make your BTC available in less than an hour.
Frequently Asked Questions
How to Sell Bitcoin in Nigeria?
Most of the platforms listed in this article can also be used for selling bitcoin. However, we recommend using a reputable exchange, such as Bitkoin Africa or Remitano.

You will be required to post an advertisement to get your offer listed. This includes specifying the price at which you want to sell your coins. The majority of the platforms also demand your bank account details so that they can know where to send your cash.
At some point, another party will choose you as the desired trader. As soon as they make the payment, you will get your money and the BTC will be sent to them.
What Are the Taxes on BTC?
At this moment, there are no taxes on BTC or crypto transactions in general in Nigeria. Experts are urging the government to find a way to regulate the market and enable citizens to pay normal income tax on profits from transactions. However, it does not seem that will happen any time soon.

While no taxes is good news, that also means the regulations in Nigeria do not see the BTC market as legal. That leaves plenty of room for scams and other issues, including the volatility of the market and bankruptcy of the exchange.
Safe Place to Store Crypto Coins
Some trading platforms also offer free wallets that you can use to store your cryptocurrencies. However, it is not advisable to hold your funds there for a long time, especially if we are talking about large amounts.
There are two types of wallets you can use – software and hardware. Exodus and Electrum are an example of the former, and they represent a fairly safe way to store crypto coins.

However, the safest option is using a hardware wallet, such as TREZOR or Ledger Nano S. These devices are the best protection against stealing your BTC you can get.
Although this guide has touched upon several important aspects of buying bitcoins in Nigeria, contact us directly at BitcoinBestBuy should you have any questions that have not been covered by this review.