If you are a veteran crypto trader, you should be familiar with the concept of coin or bitcoin wallets. If not, do not worry, as in this guide we will pass over the topic of BTC wallets and how they work. In further details, we will approach Xapo wallet.
Summary: Guide to Use Xapo Wallet
Download the Xapo app on your iPhone or Android device.
Verify your email and provide personal details, including your name, date of birth and country of origin.
Create a password and PIN codes, both of which should also be written on a piece of paper and safely stored.
Finish off verification of your identity by making a selfie and uploading a scanned ID.
Click "Add Money" to deposit fiat money into your account.
Tap "Buy more BTC" and provide amount you want to get according to your balance.
You can withdraw coins after the transaction to other wallet addresses by taping "Transfer" button (optional).
Xapo is a company based in Hong Kong that specializes in providing wallets and vaults for people interested in maintaining safe online bitcoin fund.

In this review, we will focus on Xapo's crypto platform, its facilities and advantages provided. We also provide a step-by-step guide on how to use the wallet.
What Is Xapo Wallet?
Xapo is an online platform that offers wallet and vault services for its customers, free of charge. The company started out its operations in 2014 and was strictly a wallet-oriented business, based in Hong Kong. Later on, the company also opened its own peer-to-peer (P2P) exchange platform where you can purchase and sell BTC as well as keep them.

As with other online storage providers, the Xapo platform offers its services worldwide, with no restrictions set on particular countries. The only real limitation comes from government bodies in case they have forbidden cryptocurrency trade and usage within their borders. The same goes for the exchange platform, where you can purchase coins from anyone using Xapo's debit card through USD purchases.
Difference Between Xapo Wallet and Vault
As mentioned before, Xapo offers wallets as one of its options for storing bitcoin. One of the other options offered by Xapo is maintaining a vault. Now, to understand the difference between a vault and a wallet, you have to be familiar with the concept of liquidity. Liquidity, roughly defined, is the facility of how you can convert the asset into currency. Thus, cryptocurrency is a medium of such transaction, switching form an asset to digital money.

A vault keeps the cryptos in cold storage capacities. It means that it would be more secure to keep online and backed up properly from the website's security measures when vaults are in question. However, it will not be easy to convert the currency into fiat money nor to withdraw coins to external storages as well. If you plan to earn BTCs from faucets, the simple wallet is solution for you, not vaults.
The wallet option provided by Xapo is all the same, save for the flexible liquidity compared to maintaining your funds using a vault. The vault solution is considered the core product. Xapo vaults operate from three physical geographic regions: America, Europe, and Oceania.
What Currencies Can You Store?
When it comes to the range of cryptocurrencies Xapo allows you to store, it limits their number to the only bitcoin. This can be quite the hindrance for traders who use other currencies beside BTC. As stated by the platform's support and website, any transactions using different coins, such as Bitcoin Cash, will not be received from Xapo, while funds sent will be lost for good.

As for the fiat money, you have an option to use USD, GBP, EUR and many other fiats when funding your account.
Privacy
Privacy is a keyword when it comes to dealing with bitcoin, one of the features that made cryptocurrency famous is the ability to use it with virtual, absolute privacy. This mainly is due to its decentralized nature. However, most registered financial entities and exchanges that deal with bitcoin, and are regulated, need to verify identity before allowing you to use their facilities.

Xapo, in this case, is one of these financial entities, as it requires identity verification and even taking your phone number to verify your identity.
Interface
One of the important aspects, when you consider using an online wallet or exchange, is the interface. The interface of any website, in general, could be a major attraction element or the contrary. Owners should always take into consideration the different types of people to visit their website.

Xapo's interface can be considered as user-friendly. It presents the core products in the open, the mobile app to check your wallet on the go, the Vault, and to proceed to buy bitcoin.
Are There Transfer Limitations?
As many exchanges retain Transfer limits on trading bitcoin, Xapo also follows the trend. However, what can be considered a downside is the fact that Xapo does not have a clear limitation policy governing bitcoins transfers. Meaning, the transfers are controlled and limited in a volatile manner, as claimed by the platform, in order to address the diverse and ever-changing nature of the crypto market.
Is There Customer Support
Though Xapo does not provide Live Web chat customer service, they do offer their customer service in other forms. You can contact the support team in form of a ticket, which takes about an hour to be responded to.

Queries are noted down in their FAQ section and can be reached by simply searching for it on the website.
Security of Xapo BTC Wallet
Normally, if you have some amount of bitcoin that you will not use in the foreseeable future, it is recommended that you store them in a vault rather than in your wallet. Not only it is more secure, it would help you allocate your bitcoin that you are willing to spend and that you are willing to save for later on.

Vaults offer cold storage and insurance of your coins while regular wallet has 2FA, PIN code, 6-digit computer-to-phone authenticator and password manager as means of securing your account.
Xapo Debit Card
Not only does Xapo offer an online wallet and vault services for BTC, but Xapo offers other alternatives as well. One of those is the Xapo Debit Card. Provided that you intend to use bitcoin to buy goods and services, the Xapo Debit Card can be quite handy, taking in consideration that you already have a considerable amount of money expressed in bitcoin.

Xapo Debit Card is issued by "Wavecrest." The payment network covering many payment services, such as Visa. However, you will have to trade-off with anonymity and your information shared by these payment services. It is a necessary measure in order to enjoy the wide array of payment services. The payment of the card fee is charged in bitcoin, an adamant policy to Xapo Debit cards.
How to Setup and Use Xapo Wallet?
In the following sections, we will show you how to properly setup your Xapo account and use tools available to you to send, maintain and receive money, no matter if it is fiat or crypto. We start off by registering an account and creating your wallet. Then, we move on to security measures, while finishing the guide with receiving and transferring coins around.
Setup Xapo Digital Wallet
You need to download the Xapo app on your phone first. Go to Google Play or Apple store to get the wallet for free, downloading it as an APK file.

Then, follow the registration steps by providing your phone number PIN code and other relevant information about yourself.

All keys should be written on the piece of paper and stashed somewhere safe, where you cannot lose them. Now, you can connect your phone account with a web browser as well, by providing your 6-digit authentication code.
Next Step – Set Up 2-Step Verification
2-Step Verification is an extra measure of security followed by many famous websites around the world, such as Google, Facebook when you need to sign in using a different device and many more. 2-Step Verification is a process of verifying your credentials on two different devices. You start off by clicking "Security settings" on web browser platform and then checking the option of 2FA.

Then, download the Google Authenticator and scan the QR code provided to you as an additional factor of authentication when logging in your account.
How to Receive BTC in the Wallet?
There are two ways to receive coins on your Xapo account. The first is to send a request to other parties if you happened to purchase coins from them. Click on button "transfer" and receive coins either form other Xapo accounts or from other wallets in your possession.

The second method is to purchase coins directly from Xapo, by clicking "Buy Bitcoins" which is located at the top of the page.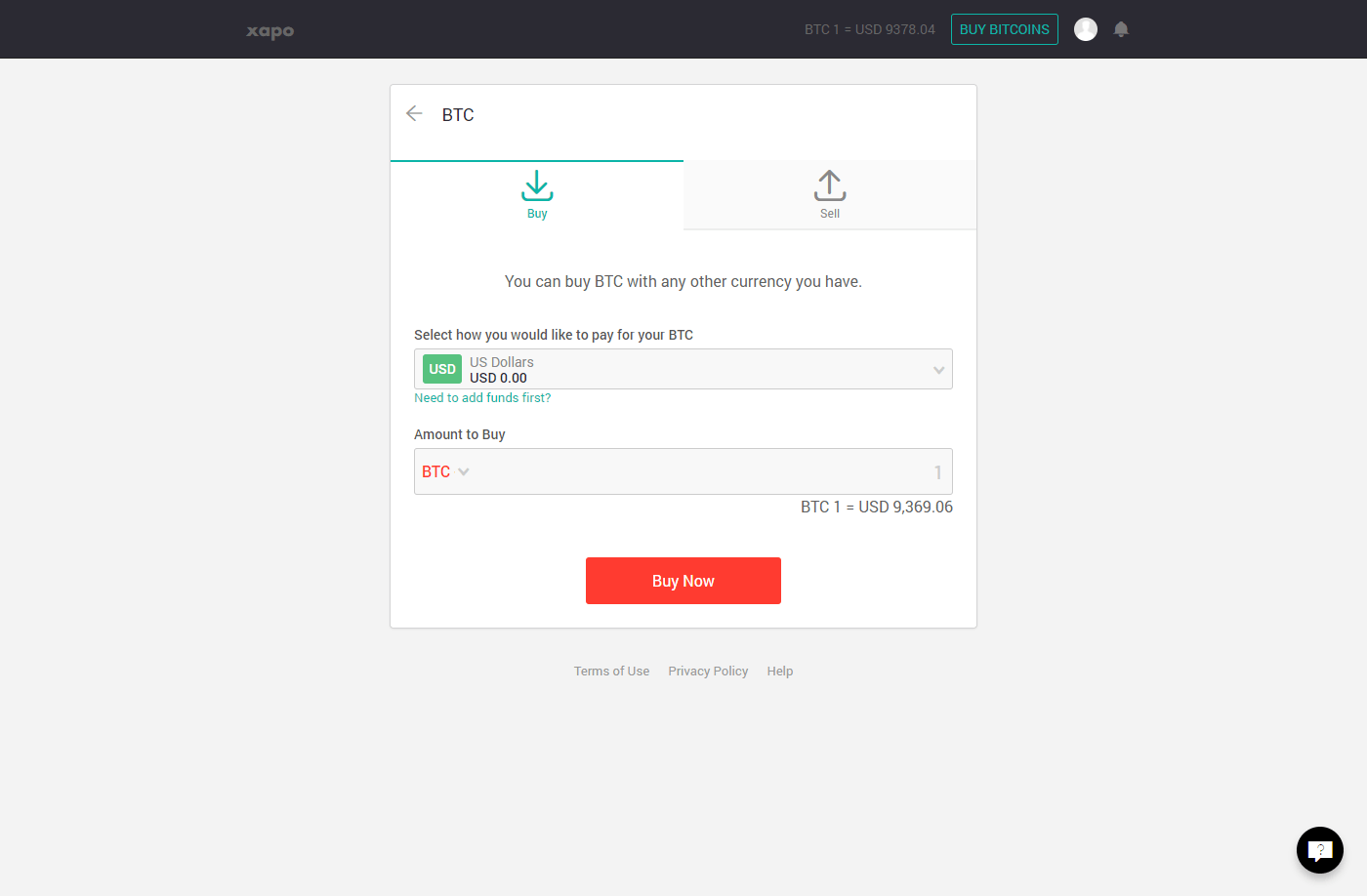 Then fill out the order form, choosing your payment method and the amount you wish to purchase.
Backup Xapo Wallet
The most basic method to backup your wallet with Xapo is to transfer your funds from the wallet to the vault. As we mentioned before, Vaults offer extensive security measures and if you are able to spare two working days, you can easily retrieve the funds from the vault after passing with some security verification.

Basically, your address contains three keys, as a reference to every transaction. One of these keys is a backup one to track it, which is called a multi-signature wallet scheme.
How to Transfer Funds from Wallet to Vault?
The process is quite simple as you start with "Transfer" tab, directing you to the send/receive page as shown in the picture above. Then, click "Bitcoin Cold Storage" and choose it as an option to start the process. Put the amount you wish to transfer, ending the process.

Remember, to retrieve the funds in the vault, you may need roughly 48 working hours for the transaction to be fully in effect.
Does Xapo Bitcoin Wallet Have Mobile App?
Clearly, this is the case. The Xapo bitcoin wallet cannot operate using a desktop browser but only your mobile phone, whether it is an Android or an Apple. In order to create an account and verify it with Xapo, you will need to download the app on your mobile and verify via the 2-Step Verification process.

The app provides other facilities next to just activation. You can use it to access your account and view your balance in the Vault or your wallets using tips of your fingers.
Xapo Wallet Advantages and Shortcomings
Pros
easy to manage;
the user interface is considered to be very user-friendly;
the 2-Step Verification process provides security measures and protects your funds.
Cons
storing in Vaults can be cumbersome to day-traders or those who prefer to have immediate access to their bitcoin funds;
limited cryptocurrency options;
no privacy.
Alternatives of Xapo Wallet
The best thing in any market or a product base is variety. Luckily, there are alternative websites offering banking service like Xapo if you think the scheme is not quite suitable for you. To mention a few of the known sites as such, you can use Blockchain and Mycelium, offering you the option of maintaining an online wallet, or GreenAddress and BitGo.
BitGo Wallet – See Details
BitGo is operating with the same methods of Xapo. A cryptocurrency financial company based in United States, California. It was founded in 2013. BitGo offers the multi-signature wallet system just like Xapo as well, making it one of the secure enterprises operating this market.

In 2016, Bitfinex, a cryptocurrency online trading platform was hacked, most of the pilfered funds stolen from ot wallets. This prompted Bitfinex and BitGo to develop the multi-signature wallet system for added security. The system now adopted by Xapo using their wallets.
If you would like to understand more detailed information about BitGo, you can check our in-depth review of the platform.
Learn More About GreenAddress
GreenAddress is yet another alternative place to consider if you are seeking services provided by Xapo, but not very keen on enlisting their assistance to maintain your bitcoin funds in their wallets or vaults.

GreenAddress is adopting the multi-signature wallet system as well, a favorable by recent online bitcoin vaults due to the extra security measure and assurance. Also, GreenAddress allows you to quickly skim through your account without any security impairment by checking your account without altering any changes.
GreenAddress supports the usage of many currency exchanges such as Kraken, BTCChina, and other exchanges. It also includes 2-Factor Verification, for which we made a detailed report as well that you should check out.
Read about Mycelium
Mycelium Local Trader deals with local bitcoin sellers and connect them with potential buyers, arranging a meeting in person. Normally, trading with Mycelium makes use of BTC wallets. It can be considered as an Uber service for BTC traders.

Mycelium also offers the service of maintaining a wallet as well. Thus, facilitating the bitcoin trade with potential traders with relative speed, making it a favorite with a wide array of bitcoin traders who prefer the relative privacy of information.
If you are interested in checking our Mycelium and establish a wallet using their services, make sure that you had a look at our detailed in-depth review of them.
What About Blockchain?
Finally, another option to consider if you are seeking the services of maintaining a bitcoin wallet is Blockchain. The platform is based on web browser only and is completely free to use, much like any other online wallet.

Blockchain offers the option maintaining a wallet. All that you need to do is to create an account for free and use its address to stash bitcoin. Xapo only works with BTC as other crypto coins are not available for storage at this platform. Blockchain supports a wider range of currencies. You should check our review about the Blockchain, as we list out its advantages and disadvantages.
In case you have inquiries that this guide did not touch upon, contact us directly at BitcoinBestBuy and we will provide you with answers as soon as possible.